Joined

Sep 11, 2009
Messages

2,922
Likes

4,700
Location
March 2022 - Exhaust Painting
Exhaust has been a sore part on the bike with the faded, rusty appearance.
Bought in September 2021 and painted in March 2022, thanks to commitments, laziness and back pain. Nippon Ryo Pylac 1000 Heat-Resistant Black Spray Can MRP ₹ 487.00, got ₹ 195.00 discount with effective price ₹ 292.00. Got from Santha Paint House.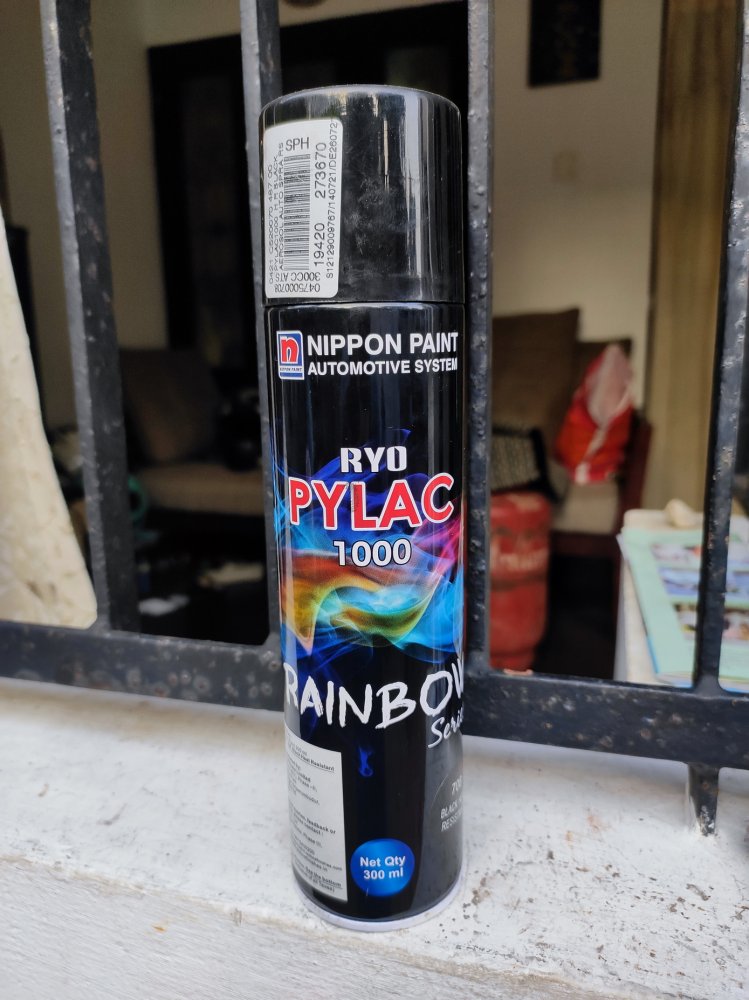 Removal. One nut ant bolt near rear foot rest.
One bolt on either side of the exhaust underbelly.
Two nuts on engine head.
These two nuts are difficult to access. Only the 1/4 inch drive would fit (maybe the 3/8 too). 1/4 to 3/8 to 1/2 adaptation vs direct 1/2 inch drive

With everything unfastened and some wiggle, the exhaust comes off. Can be pulled out with some twisty moves.
Cover up the exhaust port.
Removed the covers.
Condition of exhaust. Dirt + tar + rust. No holes.
Started off with diesel and wire brushes.
Then with stolen wire sponge and vim liquid.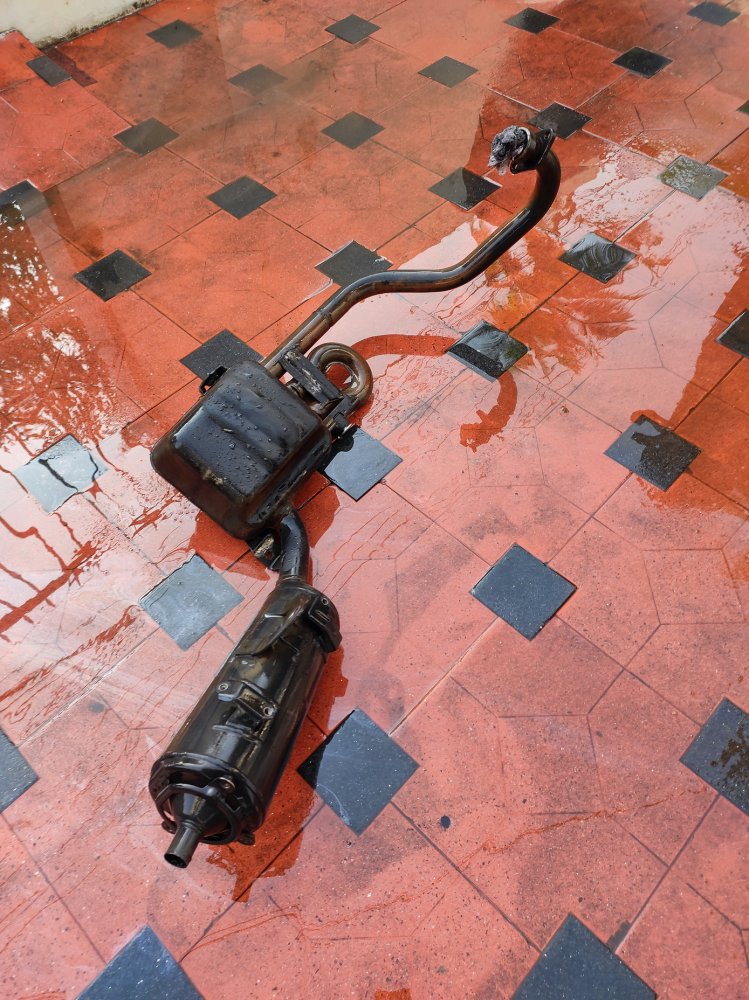 Ended up wet sanding with 400 & 800 water paper.
Once more vim liquid.
Painted two coats with 30 min gap.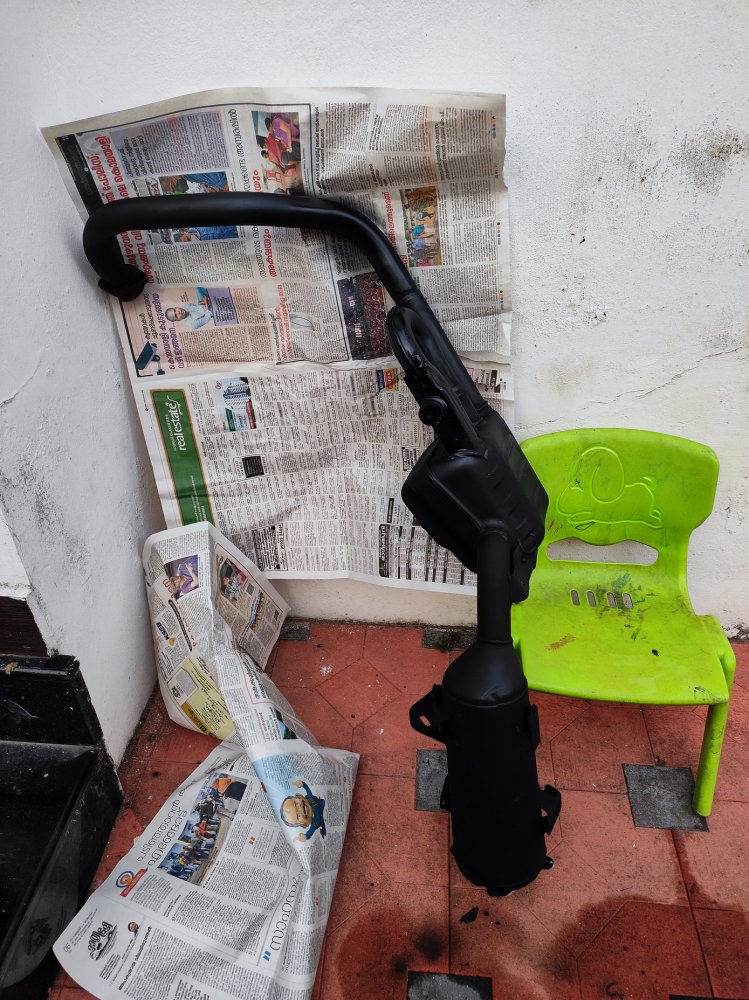 Left to bake in sun for 3-4 hours.
New exhaust cover.
Old broken cover.
Old vs new.
Forgot to buy rubber grommets and spacers (again). Reused the old ones.
Ready to install.
The incomplete look. Electric bikes would sorely miss those.
Positioned before install. Chances of scratching is high, reason for installing the cover later.
Exhaust Pipe Gasket - 21C-E4613-00 - ₹ 22.00
Recommended replacing every time refitting the exhaust, but not mandatory.
Installed the gasket.
Hook up the exhaust port first
and align and install the rear bolt.
Install rest of the bolts and and tighten up and done.
Old gasket and carbon build-up.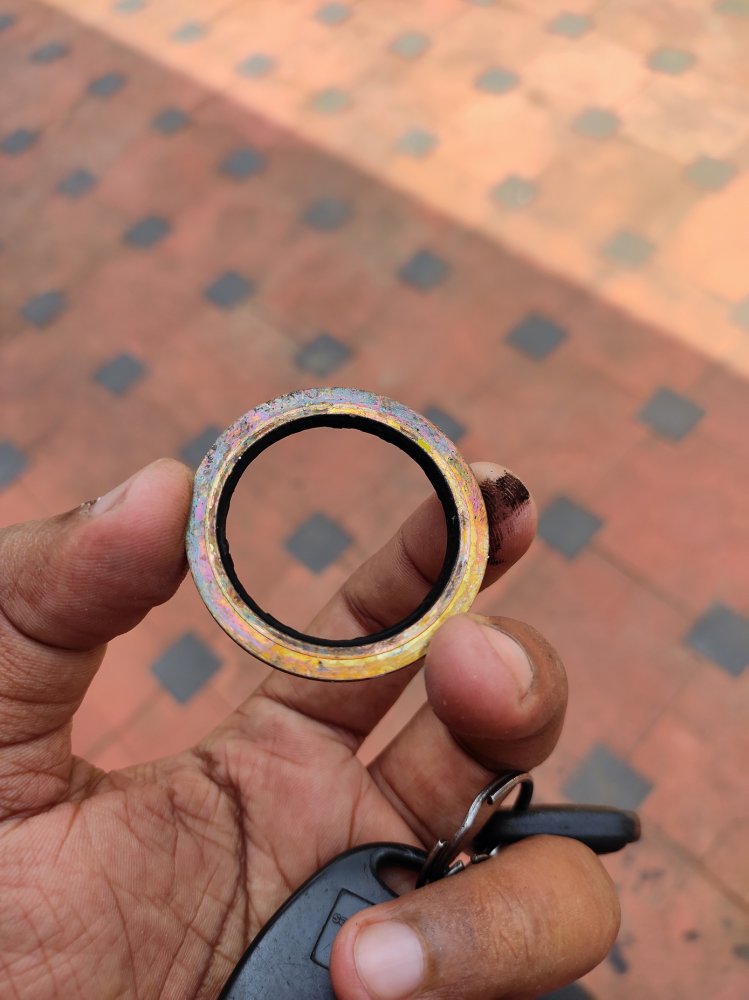 Old ones were rusted, so bought new ones
and replaced later.
There would be fumes and unpleasant smell for some days till the paint bakes and settles down.