Joined

Jan 16, 2016
Messages

14,146
Likes

5,175
Location
We lost a full 2 year because of the Covid-19 pandemic and its after effects which means we have lost valuable 2 years which are not going to come back in our life. Finally, we decided to start our tour on 12th of October 2022. For some reasons, instead of our usual long time drives, we planned for a short drive and long stay. This time we were 12 people altogether, and yes all are senior citizens.
We rented a traveller at a fixed rate for 5 nights/6 days duration covering around 800/825kms to and fro for which we had to pay Rs.40, 000 lump sum (no one was willing to come for per km rate basis since the total distance is less but more days stay). The plan was 2 nights stay in Ooty and remaining days at Wayanad district (Kerala).
We left on 12th October early morning (5 AM) and reached at Ooty at around 4 PM. We left our place with 28/30 deg temperature and reached Ooty were it was 11deg and with that sudden change of weather, no one is interested to move for any outings instead preferred to stay in the hotel for the rest of the day.
We didn't have any advance booking for any hotels hence we stopped in front a premium hotel saw first on the Coonoor Road. The name of the Hotel was Glanton Manor (exact location is at Charing Cross, Coonoor Road, Ooty - 643001). The tariff rate of the rooms starts from Rs.2500 to 5000 per day depends on rooms. Since we needed 6 rooms for 2 nights we have negotiated the rate down to Rs.1600/per room per night which they finally agreed.
Glanton Manor - front view
The Room - spacioius enough for 2 people​
And after checking in, people wanted to have some hot tea and some of us didn't have jackets/sweater to counter the Ooty cold we all decided to go out for some short shopping. Again, at 8 Pm we all went out for dinner (as we found the hotel restaurant is very expensive - 4/5 star hotel rates). We experienced some sort of difficulty in getting proper sleep due to sudden drop in temperature (rooms didn't have heater facility)..
13th October
- We left the rooms at 8:30AM, had breakfast and then proceeded towards Elk Hill Murugan Temple. As the name reads, the temple was on top of the hill (Elk Hill).The temple is situated 1 km from the Rose Garden and about 4 km from Ooty Railway Station. It is one of the revered temples in Ooty and one of the best places to visit in Ooty.
Temple is dedicated to Lord Murugan. The highlight of the place is a 40 feet tall statue of Lord Murugan that stands tall outside the enclosures of the temple and attracts pilgrims and devotees from far and wide.The statue is a replica of the Murugan Statue in Batu caves, Kaulalampur Malaysia. In addition to that, the temple premises also have idols of Lord Ganesh, Lord Shiva, Goddess Shakthi, Nava Kanika, Navagrahas, etc.
There are two modes of entry to the temple, one to climb about 400 steps or further drive the vehicle up to the top and then can walk across to the temple (best suitable for older people or those who not able climb steps).
Reach the top by climbing steps​
Steps - view from top​
When we were there, hardly any people around hence we could see the darshan conveniently. After spending around 10 minutes, we left the place and proceeded towards Botanical Garden
Entrance of Botanical garden​
You love plants and flowers, then you will love this place. The garden is maintained by the Horticultural Department of Tamil Nadu The entry fee is Rs.50 for adults and extra payment for camera.

After spending about one hour in the garden we further proceeded to the Boathouse. The entry fee is Rs.15/- for adults (Rs.10/- for kids). Inside the Boat house there are some games and amusement items other than the lake boating. There are different types of boats available and we hired a motor boat which can accommodate 14 people and the cost is Rs.1400 for the full boat (though we were 12 people, we had to pay the full amount Rs.1400), Duration of the boating is 20 minutes for a round trip on the lake.Nothing much to see in the lake other than few ducklings swimming in the sides of the lake.
The whole group​
Some sort of drizzling/light rain started after the boating and people were busy in some shopping. We then finished day 2 after the shopping headed towards out hotel.
14th October - Day:3
With that, we already spent 2 nights in Ooty, decided to check out the rooms in the morning itself as we don't want to come back to the hotel instead drive out of Ooty and reach anywhere in the District of Wayanad and stay there in the 3rd night.
En route to Wayanadu, our plans were to visit Doddabetta peak and Wenloc shooting garden/hill.
Doddabetta is the highest Peak in the
Tamil Nadu
and is about 10 kms. from Ooty bus stand. The name Doddabetta literally means 'Big mountain' in the Badugu Language, which is so in reality. It is at the junction of Western and Eastern Ghats and offer beautiful vistas of Nilgiri Hills range.
9th Mile Shooting Point
also called as
Wenlock Downs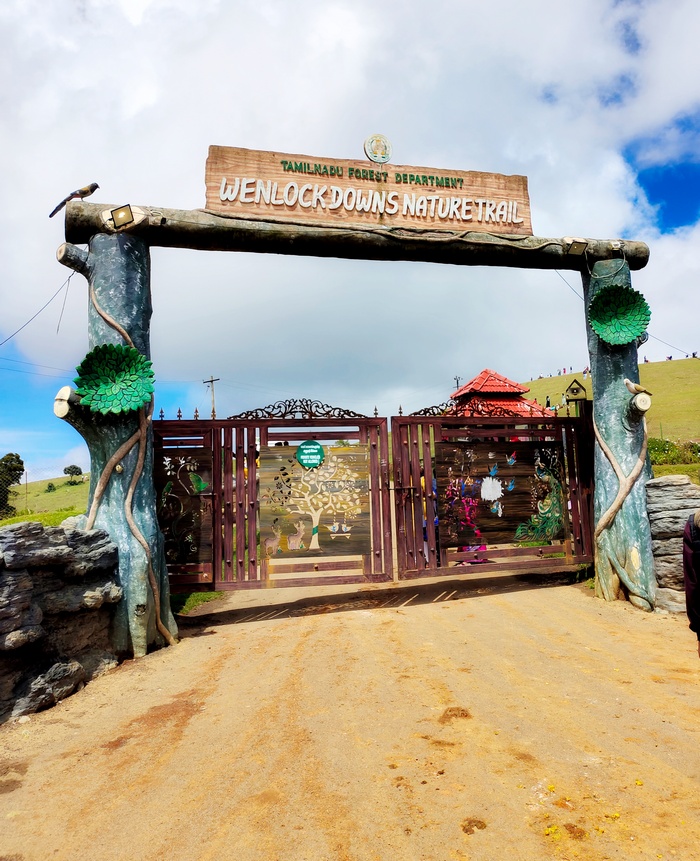 Wenlock Downs, 9th Mile Ooty is a scenic tourist spot, 15 km away from Ooty. The location boasts of vast meadows sprawling out to, what seems like infinity. The place appeared in many Indian movies like Deewana, Kuch Kuch Hota Hai, Raja Hindustani and others. And the locals, thus, nicknamed 9th Mile as Shooting Medu.
This shooting spot in Ooty is a part of the Wenlock Downs, and together with 6th Mile, 9th Mile Ooty adds up to the beauty of the town's landscape. The entry fee for Ooty 9th Mile is ₹30 per person
With that we completed our Ooty plan and proceeded towards Sultan Battery (Wayanad District in Kerala).
.....to be continued.....