Gentlemen,
Last month had been on a weeklong trip to Sikkim. Going to north Bengal makes me somewhat irritated, as the main arterial road connecting Calcutta with Siliguri (NH 34), although been repaired recently and being upgraded to a divided four lane road, is always in bad stape. I have never found it in satisfactory condition. It is a completely undivided road, passing through densely populated areas, with lots of cycles, rickshaws, buses, trucks, roadside markets, etc, to make driving very difficult. Last year I made a trip by this road and the distance of slightly over 600 KM took me fifteen hours while going and fourteen hours while returning. This time I again made a bad decision to return by this road and was struck at a place named Dalkhola for over four hours, in a traffic jam. My friends usually make a trip by this road by driving at night, when the volume of traffic is low and there is lesser number of people on the road.
But a friend of mine once told me sometime earlier that he took some other road to travel to north Bengal. He recommended that I travel via Dumka, Bhagalpur and Purnea. Since then I was thinking of exploring that route but it effectively meant that I have to drive about 80 KM through the state of Jharkhand and I am not at all fond of Jharkhand roads. Just last December I had a very bad experience of travelling via NH6 (Calcutta Bombay Road), travelling from Jamshola (OR-JH Border) to Chichira (WB-JH Border), via Bahragora. In my opinion Jharkhand presently has the worst possible roads in the whole of India. But my friend said that the roads at least in those areas were manageable, so I decided to give it a try.
Left Calcutta shortly before four O'clock in the morning, accompanied by my wife and twelve year old daughter. As I stay in north Calcutta, with minimum traffic so early in the morning, could reach the toll bridge on river Hooghly (Ganga) in less than ten minutes, hitting NH2 (Calcutta Delhi Road) immediately.
My first brief stop was on the Azad Hind Dhaba on NH2, where I was the first customer. Had to wake up those people up though. But they immediately helped us with coffee. Here is a photo of me, almost religiously cleaning up the windshield and the headlamp.
Crossed Barddhaman soon. Just after Barddhaman there is a road which goes towards Bolpur (NH 2B). Of course it is a very good road, though undivided and two lane. The distance is also lesser here. But I was not much familiar with this road, so decided to take the Panagarh-Illambazar Road instead, as I had travelled by this road many a times. The road looked amazingly beautiful in the morning.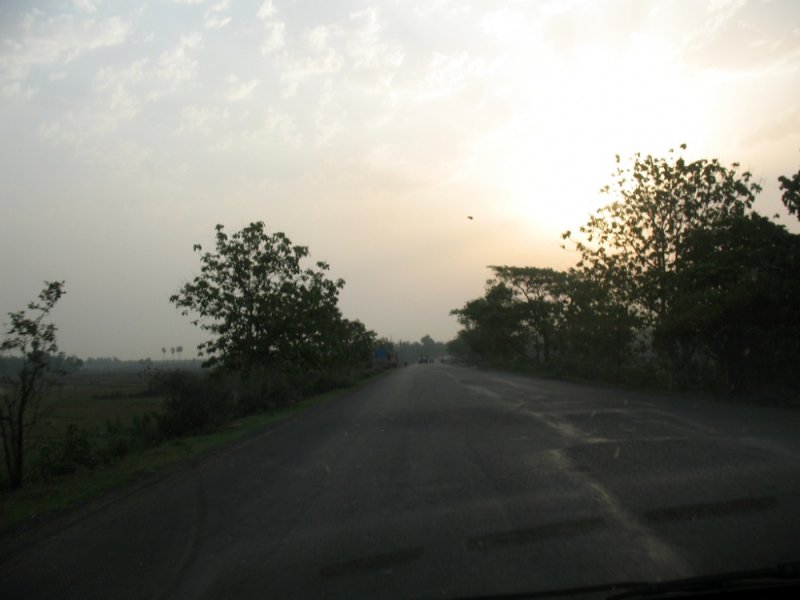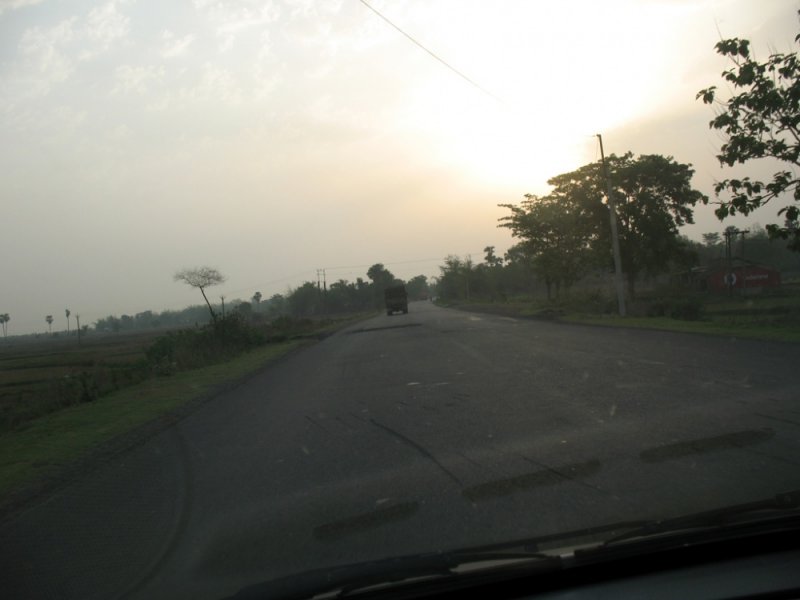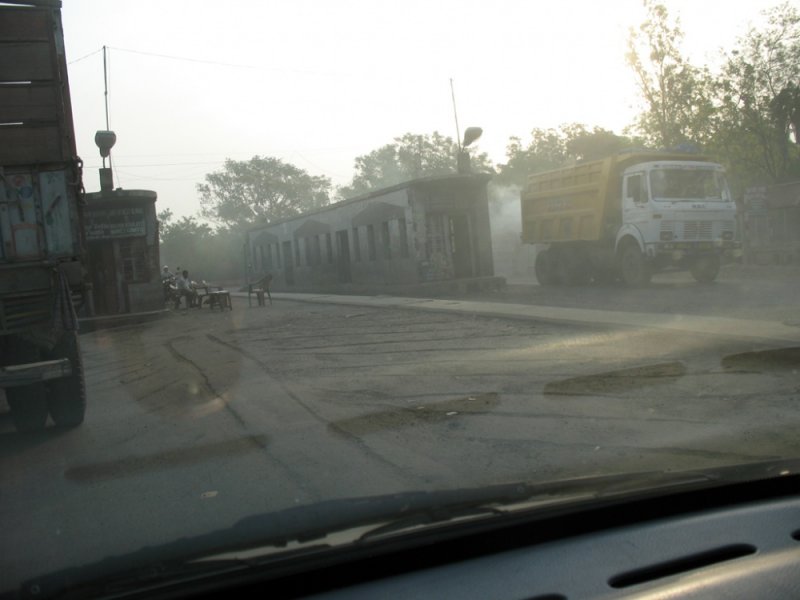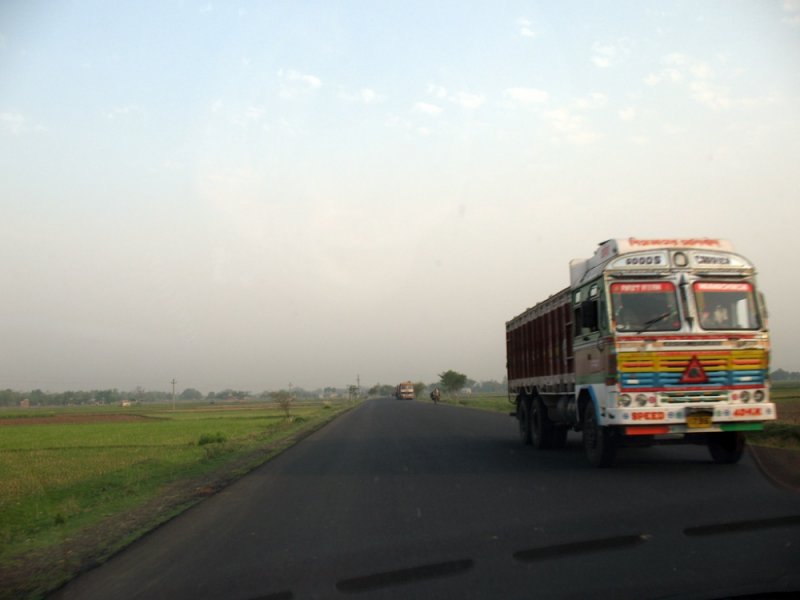 The road to Dumka branches off the Panagarh-Moregram Road after Siuri town and immediately after Mayurakshi River, where there is a small barrage called Tilpara Barrage. The road even crosses through a small forest.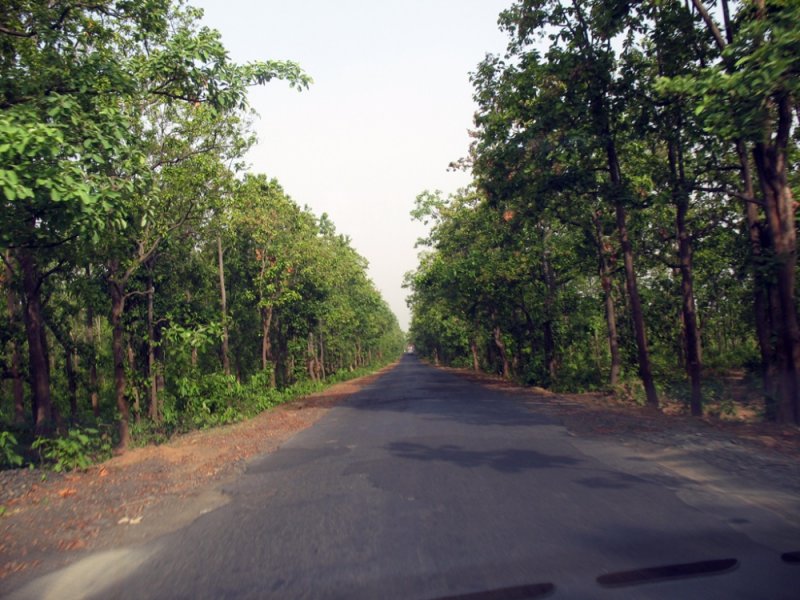 The road was good when we entered Jharkhand. Small hills on the roadside were an added attraction.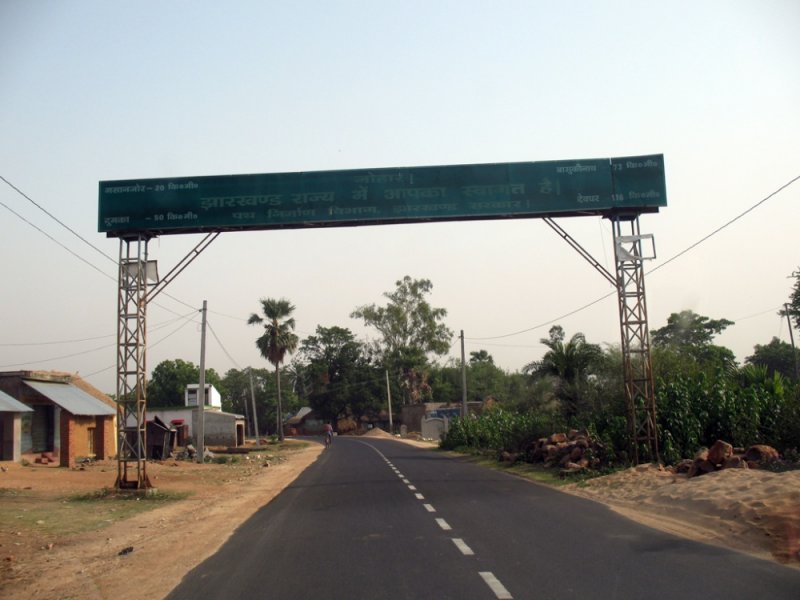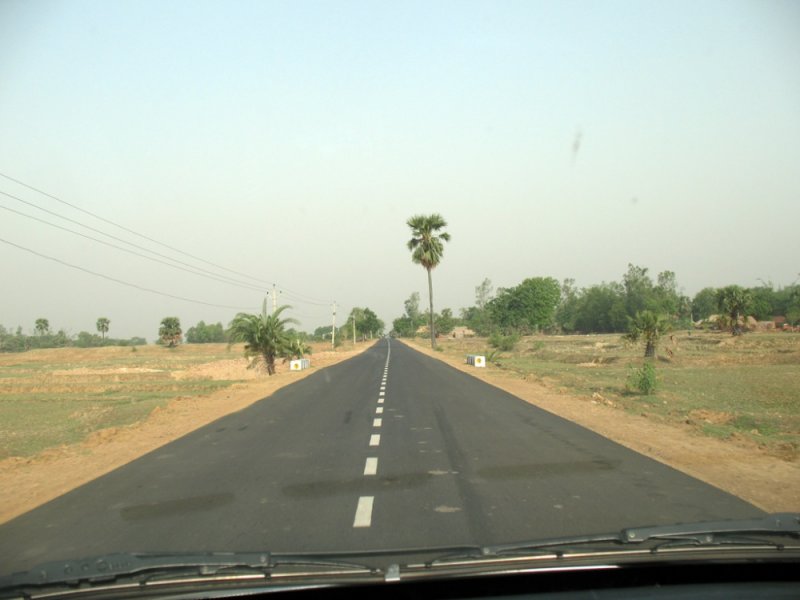 Soon reached Messanjore dam. And the road continued to be good, at least for the first twenty KM or so inside Jharkhand.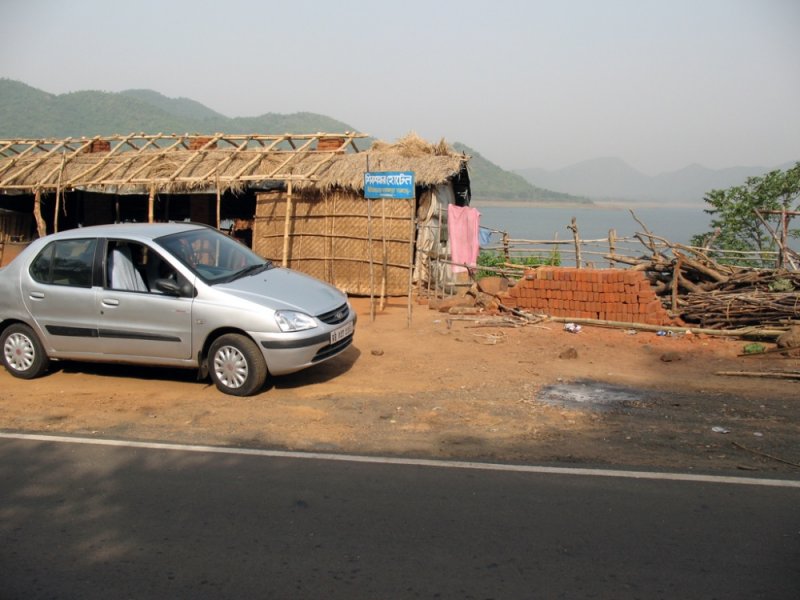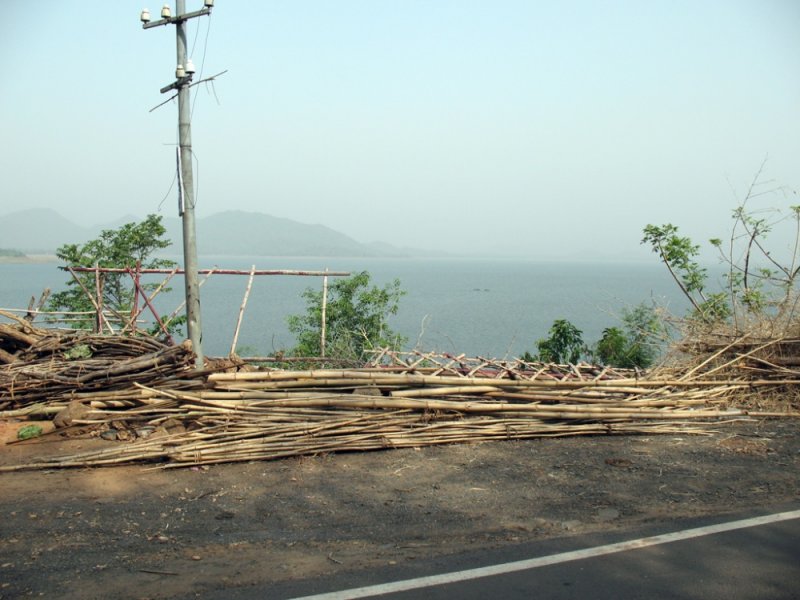 But my luck soon was out and the road turned bad. The locals advised us to take a small road on my left, which were used by the small cars of the locality.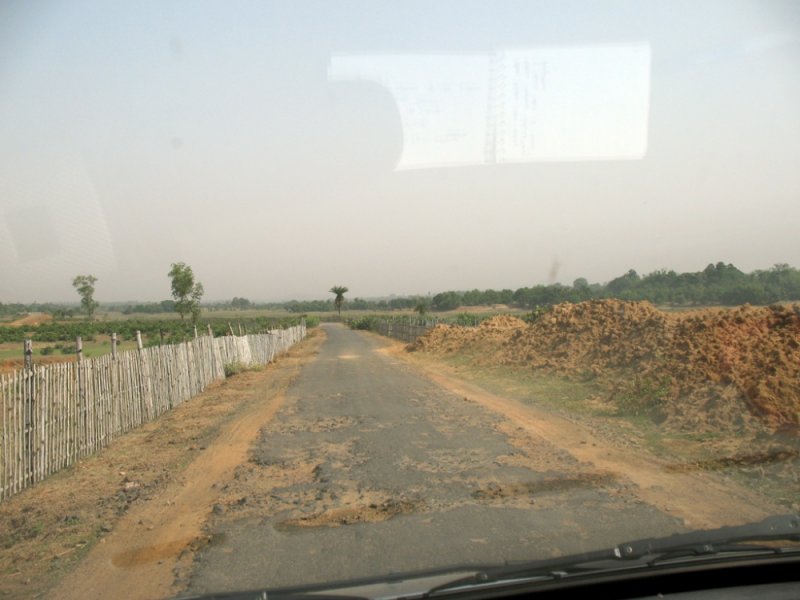 I cannot say much about this road, except that it passes by a small airport, named Sidhu Kanu Airport. From there the road improves till Dumka town. From Dumka town the road goes to a small town named Hansdiha, which is three or four KM ahead of Bihar-Jharkhand border. It is this road which may be some concern, in case any one of you ever needs to use this road. It is full of unexpected potholes and speed breakers. Please try to drive it in less than moderate speeds.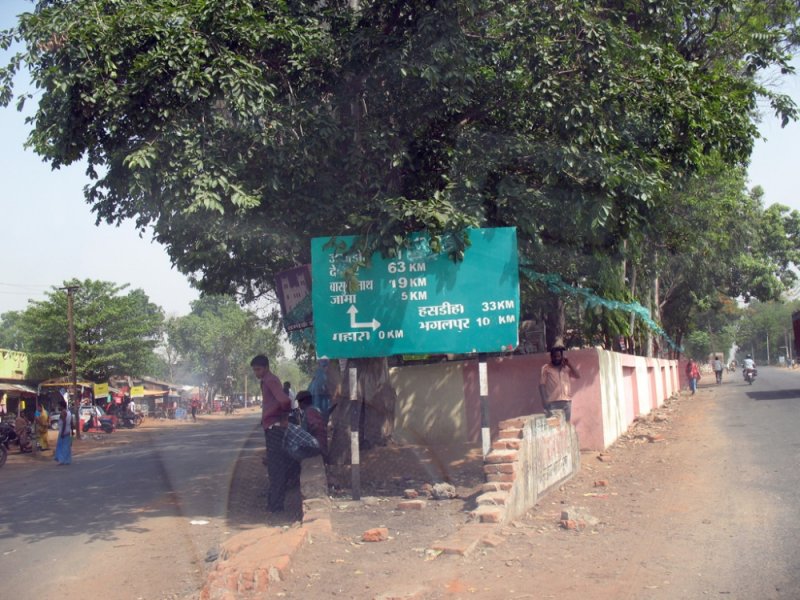 But after night comes the day. And soon the state of Bihar arrived. In my opinion, this state boasts of the best possible roads in eastern India. Incredibly good roads. No speed breakers. Proper signboards showing the directions and distances.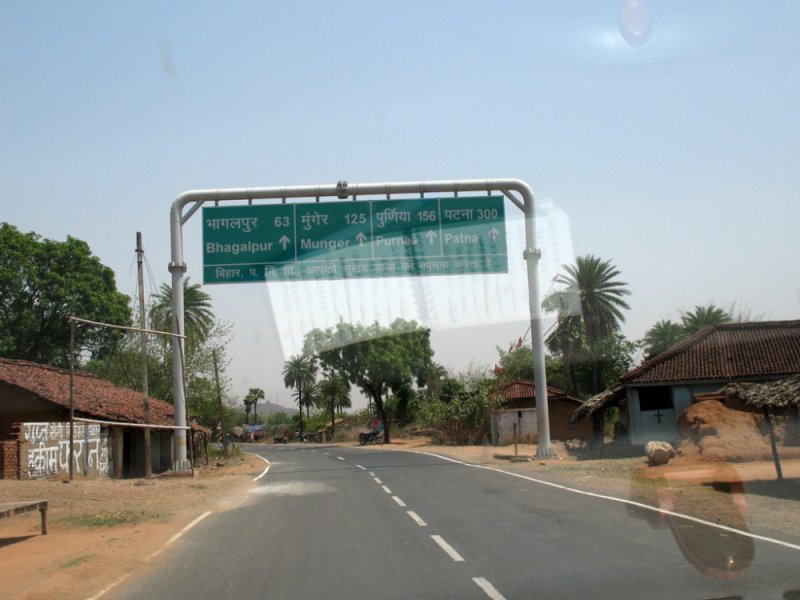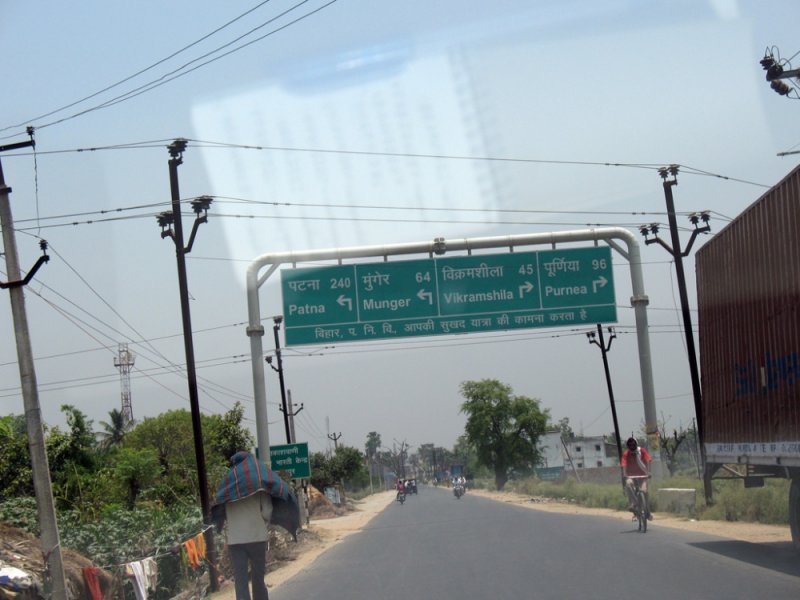 It is only in Bhagalpur town where I had stopped to seek direction. From the Google map, I knew I had to cross the bridge on river Ganga (Bikramshila Bridge). Here is the approach to the bridge.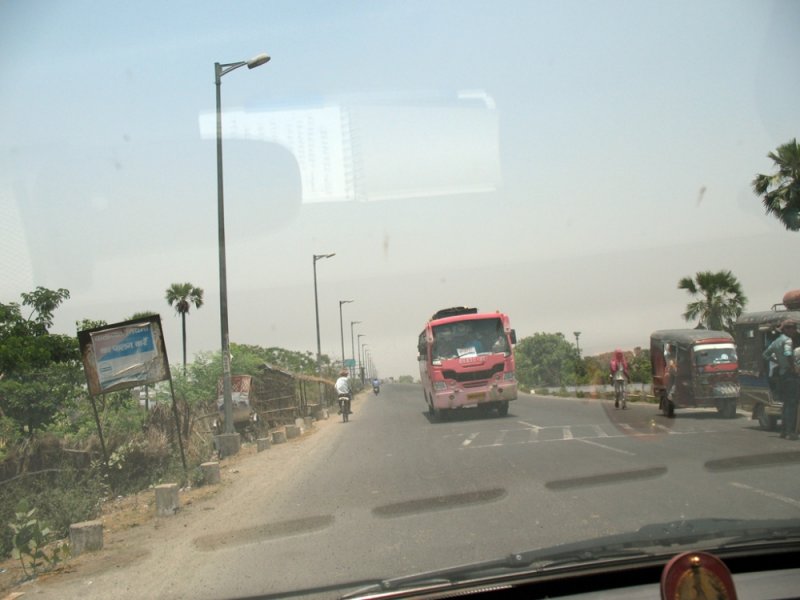 Passed the bridge at exactly 12 noon. I had my lunch in a dhaba, about 20 KM after Bhagalpur, on my way to Purnea. Slightly better than average food but it was good that they also had separate clean toilets for ladies. The road to Purnea was being widened, as I could see. But no cause for concern, as it had minimum traffic. And Punea had a properly marked bypass road. Crossed Purnea slightly before three O'clock, from where Siliguri is just a breeze, with an excellent four lane divided road.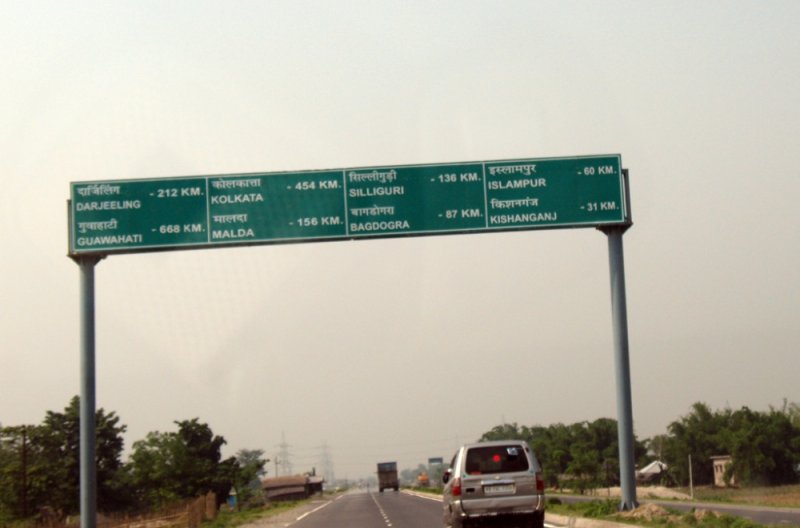 Reached Siliguri a few minutes before five and checked in to Mainak Hotel, run by West Bengal Tourism Development Corporation. Although I could clearly see that their services had come down over the years and the rooms deserved a facelift, it is very near to NH 31 and has a secured parking lot.
Thanks for reading. Shall post the remaining portion of my journey soon.
Regards,
Rahul Biswas
Calcutta
Last edited by a moderator: