Joined

May 23, 2011
Messages

1,043
Likes

23
Location
They say it is better to take a break and go on soul-satisfying hiatus when you are stressed out. I say a good holiday needs no time! Although this trip required planning. And planning I was for last 2 months to make it a memorable one from my thicker half! We have traveled to some important places in India and this place was on our agenda for a long time. What better way to check it out of list on the occasion of 2nd Anniversary, I thought.
So, I completed all the air travel bookings by August and thought of giving a surprise to wifey in the month of Travel. Boy! did she like it? A woman always loves surprises even if she pretends not to

*hard learned lesson*
Anyway moving on with the travelogue, we took a 6 day sojourn to God's own country, which is in our country, Kerala. It is the land of green, I would say.
Nov 26: Day1
: A trip like this does create some sleepless nights, so packing was done a day before and we were ready to make the trip. Couldn't sleep, so saying that we got up early would be a misnomer. But we did. It was a misty morning start to our headway to Mumbai, to catch our Jet flight to Kochin. Took a Shivneri, instead of Neeta's, Shivneris are always on time.
Landed in Kochi and were pleasantly surprised with the kind of infrastructure this city had to offer. On a very loose count I would have seen around 25 *big* car dealers in and around Kochi, with names ranging from Porsche to Jag! They don't call Kochi as Kerala's dubai for nothing. Or is it the money routed from there!! Stayed a night in Kataribag and roamed aimlessly in MG Road and broadway. Soaking in the intermittent rain and innumerable shops. It surely was a shopping arcade with stress on GOLD jewellery! Keralites love their gold ornaments.
Nov 27: Day2
: Took an early morning cab from Kochi to Munnar, a place we have read about so much, and were ready to explore. Reached around mid day, with small stops enroute for clicking snaps on different waterfalls. I must say cab wallas do click some nice snaps, even with my DSLR. We had booked a homestay somewhere near town. It had a magnificent view of the town (see pic below). To our surprise the home stay was relatively empty with one more foreigner couple lodging up. Put our bags and started meandering around. We both just love meandering. It was raining hard this time, so bought a couple of umbrellas, and took some unchartered roads for trekking, clicking snaps. Amazing experience! Returned in the evening and witnessed an hour performance by Kathakali dancers. Those expressions are etched in my memory now!! To our surprise found out that homestay has home grown wine. Ordered a bottle and sipped away to sleep.
Nov 28: Day3
: Knock, knock! (no response), Bang, Bang, thud thud! I got up, it wasn't a dream, opened the door, found our home stay caretaker standing outside with an apologetic expression. He mumbled, "Saar! It is a strike today, it is not possible for you to move around Munnar". I was still sleeping I believe, so could not understand him.
Finally after an hour got up, freshened and went down for breakfast. That's when found out, it was a day-strike for the dam issue! No cabs, no shops, nothing will be open. Day ruined! After a lot of pleading and nudging caretaker managed to get hold of an auto-walla who showed us around. Avoiding hordes of people shouting slogans. Saw the beauty of Munnar, tea gardens. The place looks like it has been touched by various shades of green. Breathtaking views from Mattupetty dam, echo point, eravikulam national park! Munnar is a proper hill station untouched by senseless urbanisation.
Came back home to another surprise, strike had been extended to next day. The day we travel to Allepey!
Nov 29: Day4
: Our caretaker was a real help. He arranged for a cab who agreed to travel in the wee hours and reach Allepey before sunlight, so that we could avoid any chances of chaos. Took the journey, reached allepey, found a room to crash in for 4 hours, got up, got ready and moved to houseboat. This strike was turning out to be a blessing in disguise. Almost no traffic. There were hardly any houseboats running, so backwaters were empty. Lovely sights and what a stark contrast from cold milieu of Munnar to hot and humid weather of Allepey. Houseboat ride was a thing to remember. Food left a taste which still resonates in our minds. Breathtaking.
Nov 30: Day5
: Another reason for this trip was to attend our close friends' wedding. So took a trip from Allepey to Guruvayur. In 5 days covered more than 800 Kms and reached a place which was again so different from earlier two. Everything about Guruvayur is religious. Stayed close to temple.
Phew! man I am tired writing all this. I am sure you must be tired reading it as well. So let me stop and let you a peek on some of the pics we took. Hope you like them.
PS - We spent more than 34 hours in travelling, 75% of our trip expense in cab fare, 20 hours eating, captured more than 1K pics, but still could only see a bit of Kerala. Wish we get there back soon. Left to explore: beaches

Misty morning start in Pune - Day 1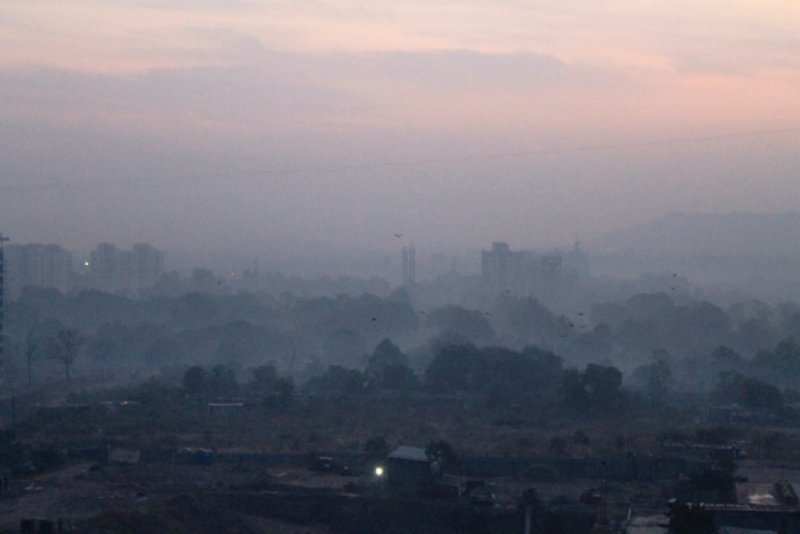 Waterfall enroute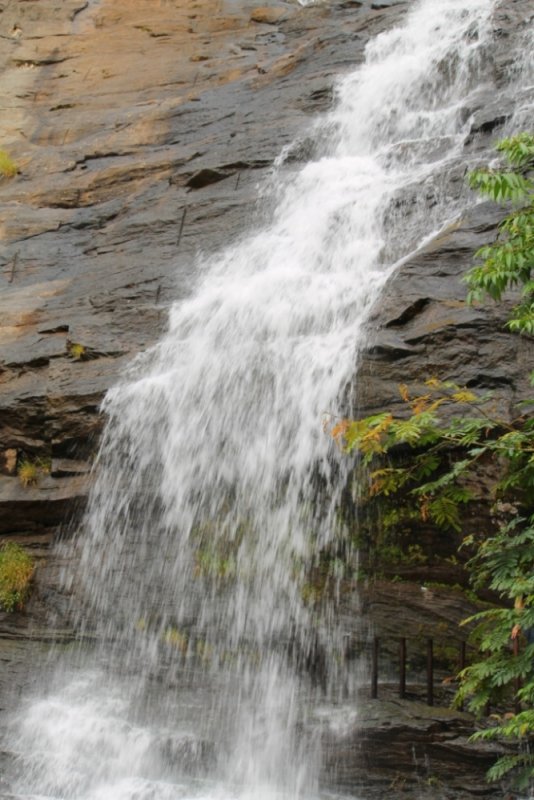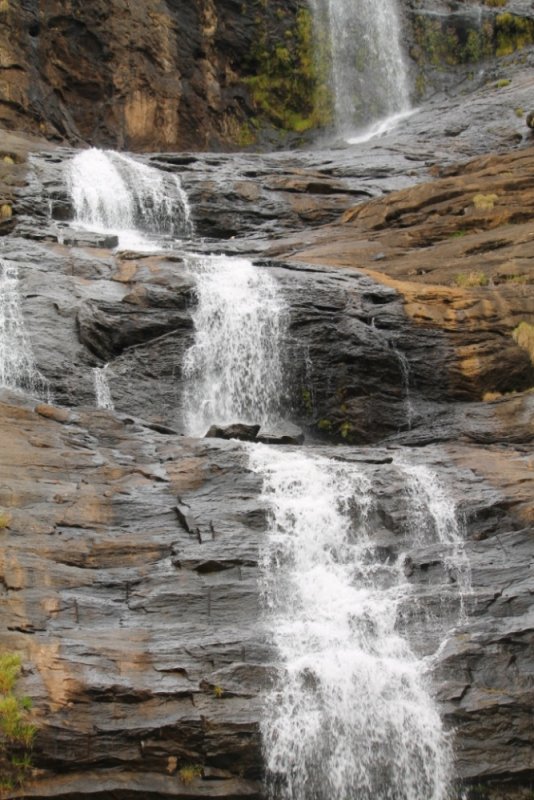 One of the horde of monkey relaxing near waterfall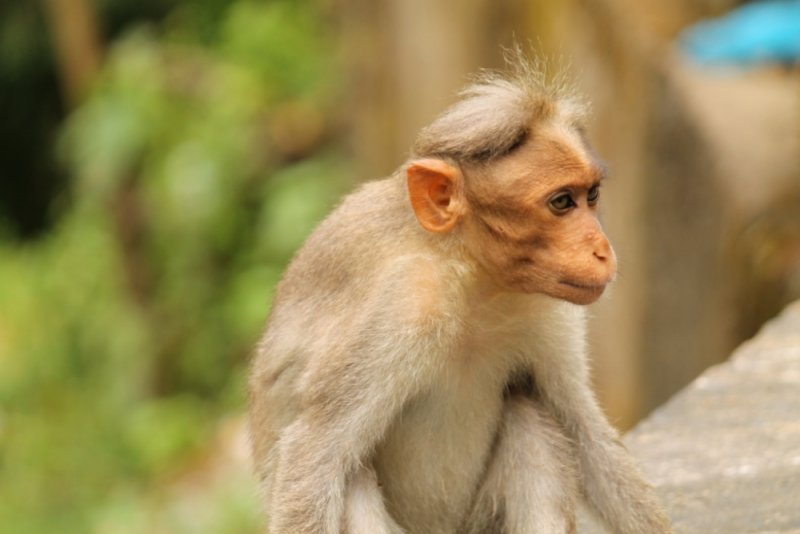 View of Munnar town from our stay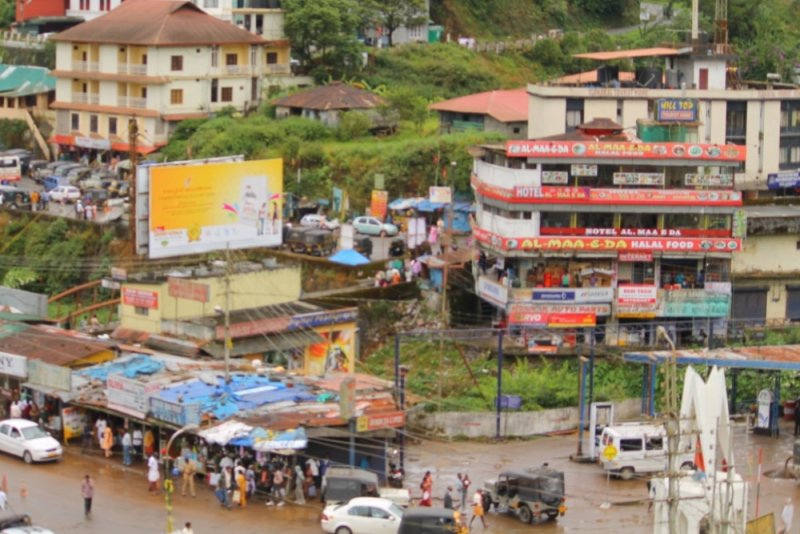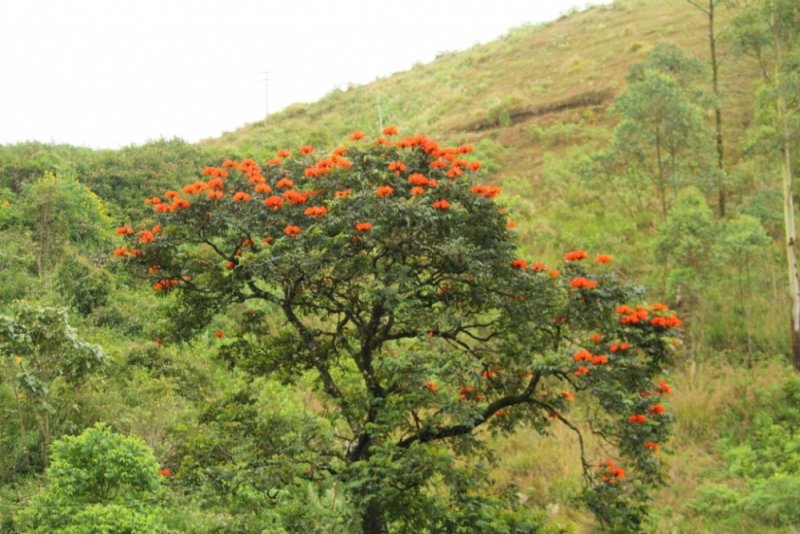 Kathakali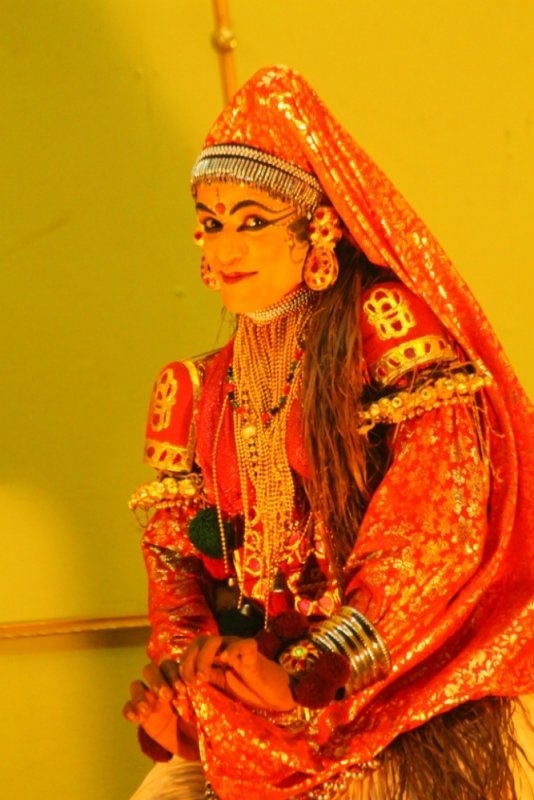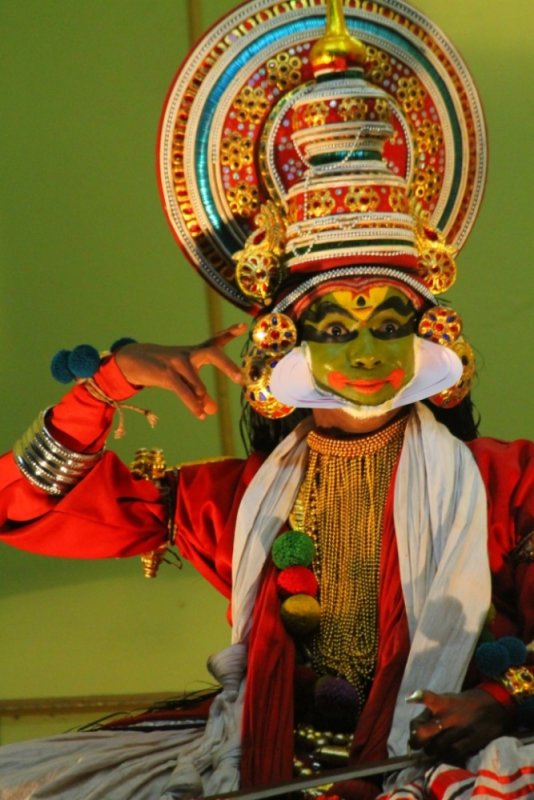 Tea gardens in Munnar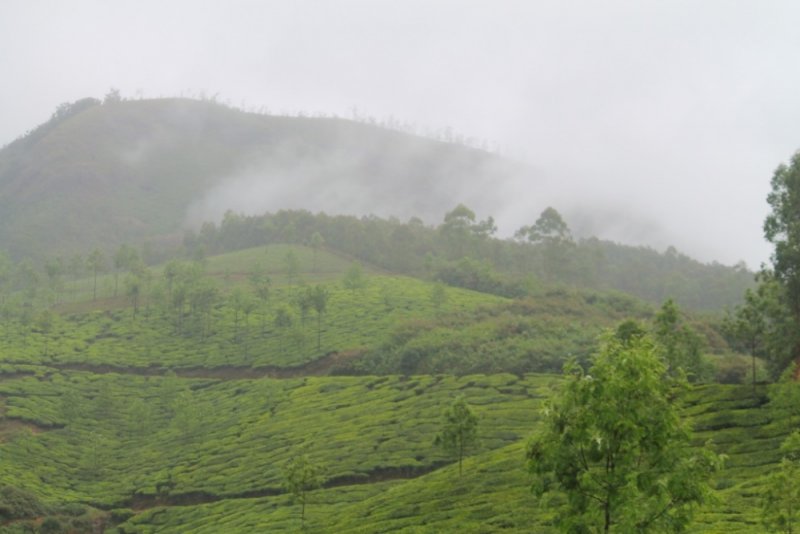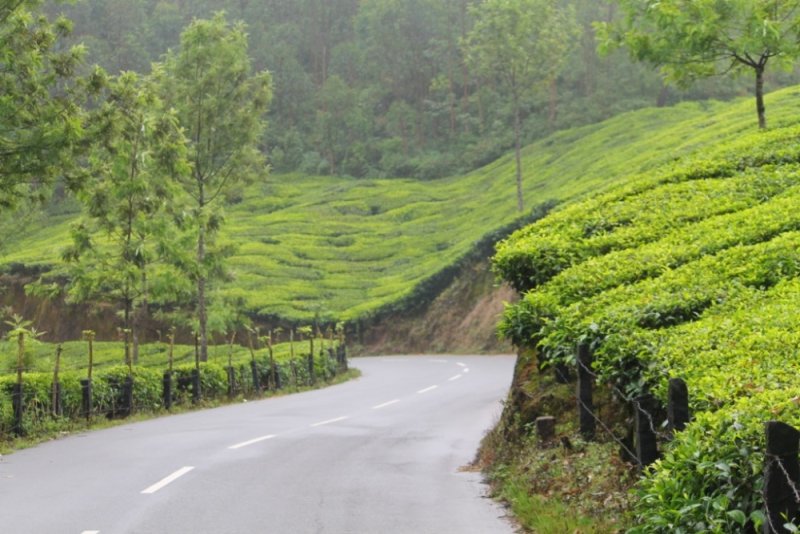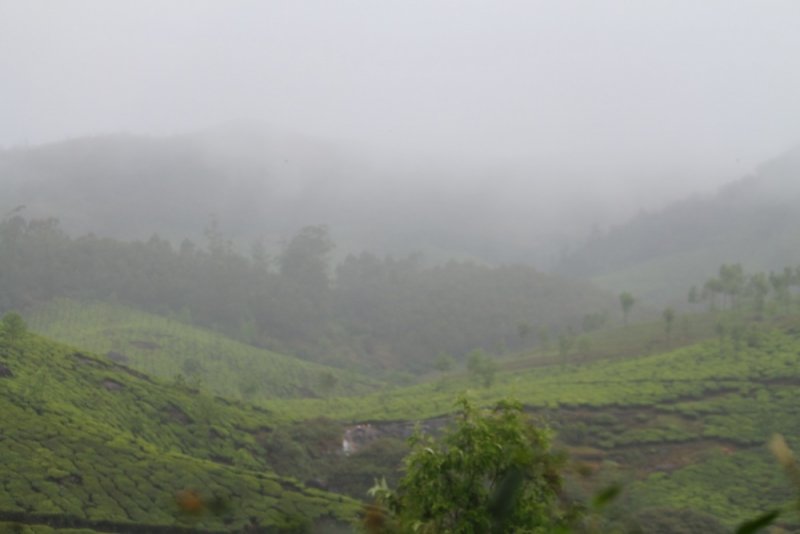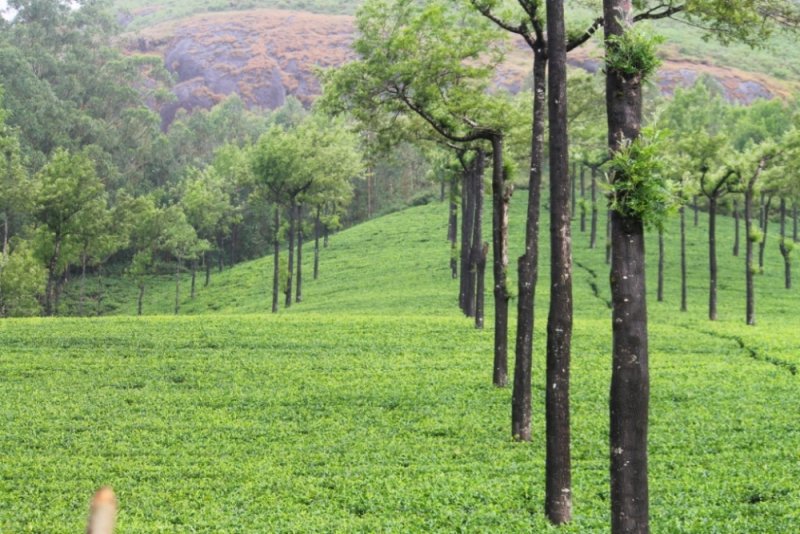 A tree earmarked for natural bee plantation