Joined

Aug 6, 2011
Messages

6,206
Likes

4,219
Location
This is how everything happened:-
Today I and my friend went to the railway station for some work at about 5:30 am,while returning back from the station,on a turn around we were turning our car at about 40 kph and suddenly in no time two girls dressed in school uniform appeared from nowhere on a red Activa,bruised with the front bumper of the City on the left side and fallen down on the road(actually I am quite out of words for explaining it completely,so let this pic explain it):-
White car-Honda City of friend.
Red thing-Activa.
Yellow line-Our way.
Blue line:The path for Activa.
In the second pic:
Blue line:The wrong way the Activa took.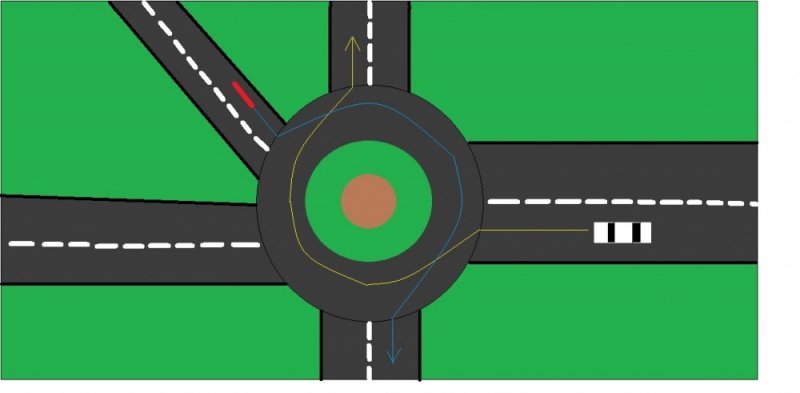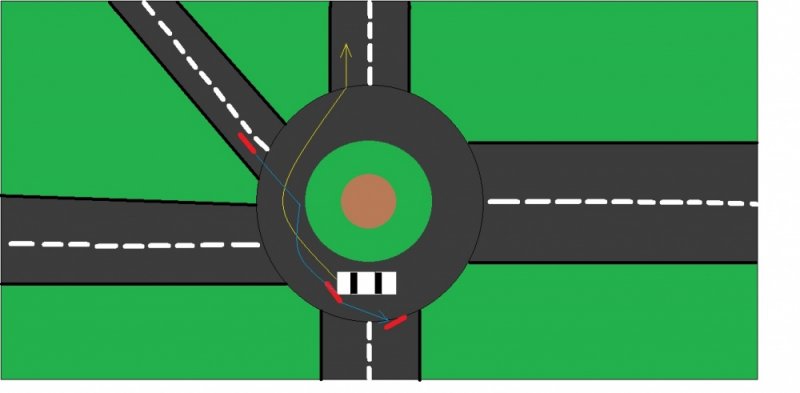 We were just crossing the turn around and suddenly Activa appeared from nowhere,due to panic my friend applied hard brake but was unable to steer the car towards right,as a result the Activa's rear portion bruised with the car's front bumper at the left hand side and the scooty fallen down on the road injuring both the girls.
As soon as the accident happened I shouted at the friend 'Bhaga,bhaga(flee flee)' but in the nervousness the bogged the car down and as a result we had to stop as now some people(morning walkers,some more vehicle owners and one autowallah) had already surrounded the car,so I rolled down my window and said "Bhaisahab,gaadi side mein toh lagane do(Bhaisahab,let us park the car on side)".
So we parked the car and I came out instructing the friend not to come out in any case,just lock the car and stay inside until I ask him to come out.So some of the guys said "Iss,driver ko bahar nikaal(call this driver out)".
I:Why?Sir,I am the owner of the car.
People:Chala toh woh raha tha,bahar nikaalo isse(he was driving,get him out).
I:Mein toh hun,aap log kaho kya karna hai(I am here,tell me what to do).
One man rushed towards the driver seat and violently pulled the handle.
I:Dur hat be(keep away).
People:You guys were driving like mads,you have hurt the girls,you people drive big cars and think that other people have no life etc etc etc..
I:Its not our mistake,she was riding scooty like hell.
People:We saw you guys,you were driving at 100 kph.
I(in full anger):Tujhe mein pagal dikhta hun be?Tu mod dega yahaan gaadi 100 pe?Muh band rakh.(I look mad to you,you will drive here at 100 kph,keep your mouth shut).
I opened the driver's door and said "Yeh raha driver,jisme himmat ho haath laga ke dikha(this is driver,whoever is daring enough just touch him)".
Saying this I took the driver's seat and got him on the front seat and started driving saying "Hum nahi le ja rahe inhe hospital,tum logo ko jyada chinta hai toh le jao(We are not taking them to hospital,you people are more caring,then take them yourself)".
I started moving the car despite of having some people standing in front,but then an elderly aunty knocked on the window and I stopped and rolled down the window:-
Aunty:Beta accident toh aapki gaadi se hi hua hai na(beta,its your car which got involved in accident).
I:Yes aunty,but it was not our mistake.
Aunty:But the girls are injured and one is seriously injured,then you guys must take them to doctor.
I(After thinking for sometime):Okay aunty,get them in.
Now I,aunty,uncle an both the girls were in the car and friend was riding the scooty.
We made calls to their homes and soon the parents too arrived.And when we met them then we were like whoa!

They had one policeman with them and within 15 minutes the friend was arrested.I asked why?And response was simple
"FIR".Causing accident due to negligent driving!!
Though the friend was soon out(jugaad and all) but the SI instructed us to file a case demanding the investigation of the matter.This will easily save the friend.
Now my questions are:-
Should we file such a case?
Should we try to settle down the case outside only?
One girl was unconscious due to head injury,will it give them any advantage?
When we know its not our fault then should we keep standing strongly and approach court?
The girls were on their way to tution,they had no helmet and no DL,will it give us any advantage?
Note:We are not ready to pay even a single penny to the family members of the girls at any cost because its not a fault of ours.
Last edited: