Joined

Jul 23, 2020
Messages

293
Likes

494
Location
This was a long term wish waiting for the right time as we had to plan for our finances and work way in advance because we would be away from all this for 23 days. We began purchasing our tents, winter gear, tyres and other bike accessories and started planning our routes by the first week of July. We decided to start on July 23rd. The plan was for the 3 of us to go to Kanyakumari and ride till Ladakh on the NH 44 via Central India and return back via Western Coast.
The three members for this ride would be
1.Myself on my Duke 390 a.k.a Ryuk,
2.Ayyappan on his RC 390 a.k.a Assasino and
3.Jayganth on his Himalayan a.k.a Nanook.
With everything ready and packed, we decided to start from Ayyappan's place. We all got together at his home, washed the bikes, polished, lubed and loaded the luggage into the bikes. The bikes were all set and ready.
Nanook would be the Fully loaded motorcycle with the panniers carrying our Electronics and other essentials. The tents and sleeping bags mounted on top of the panniers and a Rucksack to carry all of Jay's clothes. Ryuk's one saddle bag had all of the tools, lubes, oils and coolant that we would need for the trip. The other had my winter wears and a rucksack mounted on the rear seat had all my clothes. Assasino had a Tail Bag with Ayyappan's clothes and a sleeping bag mounted on top of it. With everything ready, we tried to get as much sleep as possible. But as we all know, no rider can get a good night's sleep before a ride. Call it Ride anxiety or happiness or anything. This was too big a dream for the three of us to sleep peacefully.
Day 1: Coimbatore to Kanyakumari
We woke up at 5 AM, got ready at around 6.30 and wore our gears. A dear friend of ours, Dhanush, came to send us off. He would Ride in his Duke 200 till the Eachanari Temple and part ways with us. We Stopped at the Ukkadam LOA BP petrol bunk and tanked up our Bikes. We parted our ways with Dhanush at the temple and continued our ride towards Kanyakumari.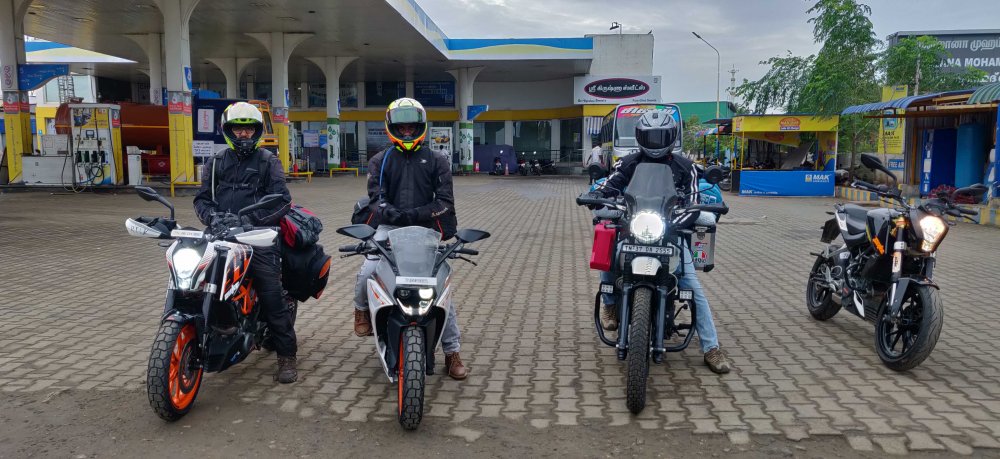 Our destination was Tirunelveli. We were invited by our friend Jeyanth to camp in his office as they had a lot of open space surrounded by agricultural lands and wind mills.
We had our breakfast at Dindugal and reached Tirunelveli at around 3.30 PM. We first went to Jayanth's home, had some refreshments and went out to have lunch. We went to a nice restaurant and had our lunch. We started to his factory which was around 20-30 kms outside Tirunelveli. He guided us in his Duke 390. After looking around the factory for sometime and admiring the windmills, we then started towards his office which was further 10-15 kms away. We reached there around 7 PM.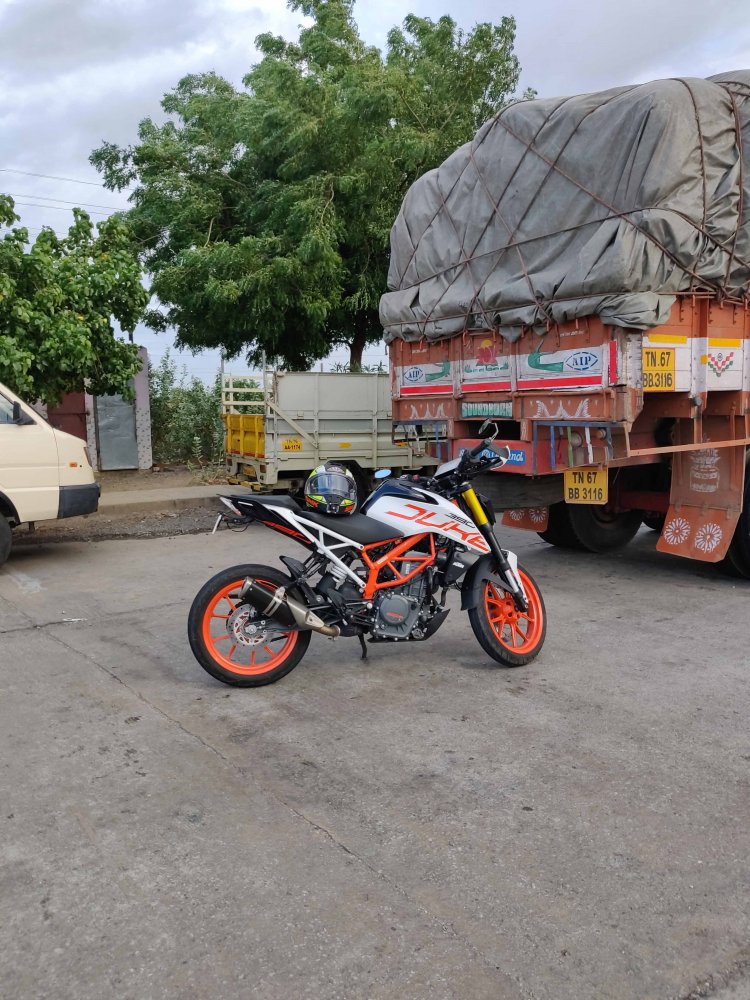 Day 2: Kanyakumari to Bengaluru
As we wanted to start the trip by watching sunrise at Kanyakumari, we got up at 4.30, got ready by 5.30 and left. Jayanth and his friend rode along with us in his Duke 390. We watched the sunrise from the spot that we came during the ECR ride. Its a much less crowded spot to watch the sunrise and to be honest it gives a much better view than the Tourist spot.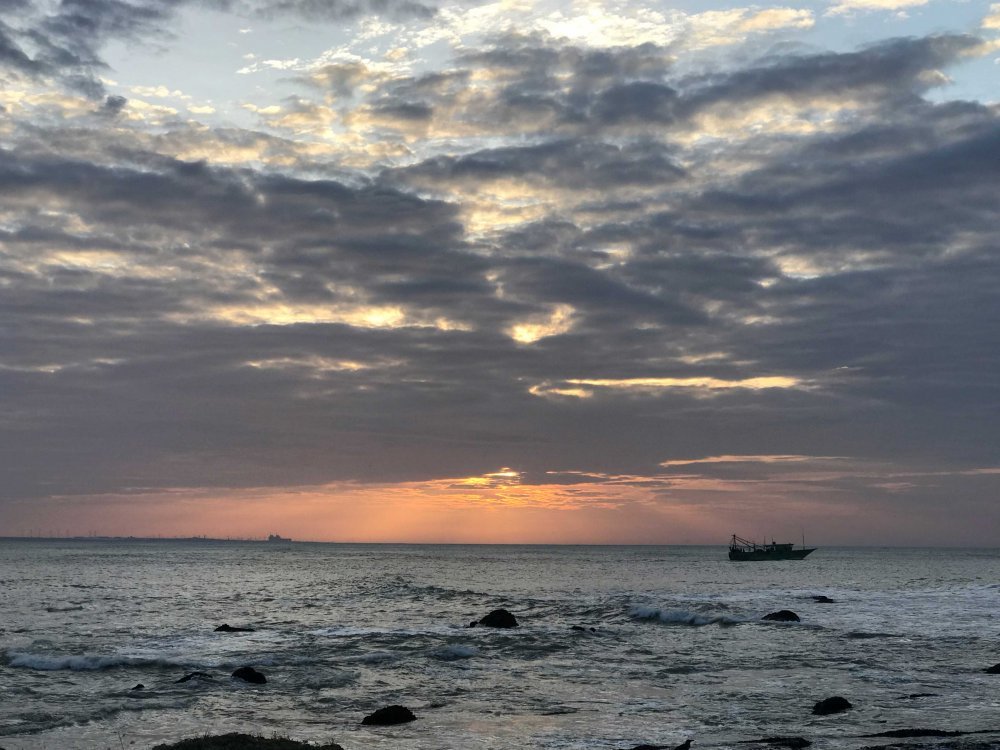 We then proceeded towards Banglore, quickly taking a pitstop in Jayanth's office to take Bio Breaks. On the way Ryuk, just after leaving Tirunelveli, started giving some troubles. The bike would randomly switch off for a second and start again. We went to the KTM showroom which was on the highway just after Virudhunagar. There they had only KTM sales and only Bajaj bikes were serviced. So we then decided it would be waste of time going into Madurai and decided to get the bike serviced at Karur since the service centre was near Karur and our KTM mechanic in Coimbatore, Senthil Anna had already informed them about our arrival. They quickly got out the diagnostic tool and found the error and then cleared it. But even after that the bike still turned off and on again. We meanwhile met with our college friend Venkatesh and had lunch with him. We then proceeded to Bengaluru after wasting nearly 2 hours without getting any positive result as the diagnostic tool wasn't showing any errors. We then stopped near Salem to have tea. It was around 4 PM.
After riding for an hour, we reached Krishnagiri, where it suddenly started pouring out of nowhere. We Stopped in a small shed to cover our bags. We asked our friend in Bengaluru if it was raining. He said it hasn't been raining, so we decided not to wear our rain gears. We waited some 10 -15 mins in the shed and then continued our journey. We reached Electronic City around 8 PM and met with our friend. We had initially planned to stay somewhere here and then wake up early and proceed towards Hyderabad. But then we decided we would ride till Hyderabad since we were very fresh. Thats when Bengaluru traffic showed us its true colours. It took us 3 hours to reach Yeshwantpur. By the time we reached Yeshwanthpur, it was 12 PM, hungry as hell, and Bengaluru traffic drained all of our energy. We had some food at a restaurant and booked an OYO room nearby. We have successfully crossed our 1st State.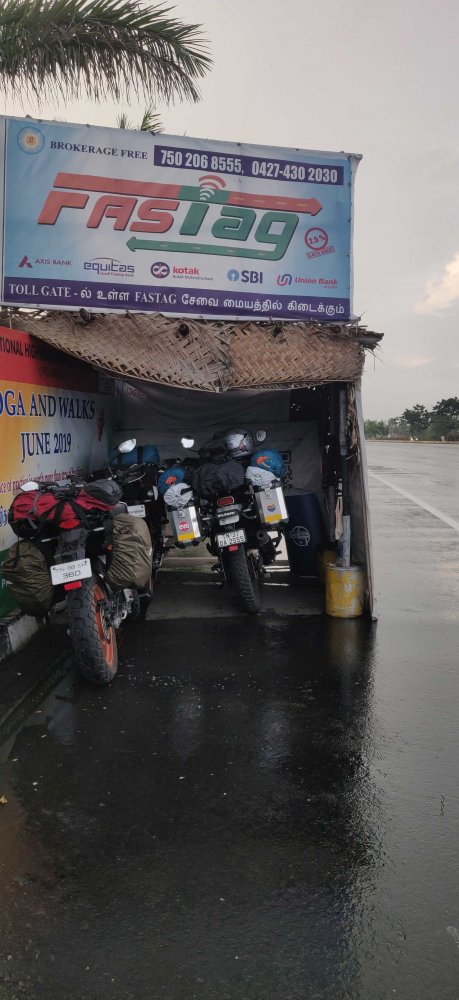 Day 3: Bengaluru to Hyderabad
The stay was amazingly cheap for the size, cleanliness and quality. We woke up quiet late had complimentary breakfast, lubed our bikes and proceeded towards Hyderabad. Surprisingly my bike didn't give any troubles. We stopped anywhere and everywhere to take pictures, get in the vibes, take bio breaks. We knew the roads were great and we could cover the distance pretty easily.
On the way, we saw the newly opened KIA factory. It seemed like a never ending campus. It was so long. We stopped somewhere before Anantpur to have lunch. We had some amazing Lunch.
We proceeded to Hyderabad. Somewhere near Kurnool, we stopped for Tea. It was at this moment my bike screwed us up. After having tea, when I switched on the bike it was showing Low Battery. After One crank, the bike suddenly switched off. The error code JG. 1.7.3 which was for battery dead was displayed. It amazed us because we have been riding for such a long time. We then Jump started my bike using Assasino and rode. Then the bike again kept switching on and off randomly. After Sunset, it started drizzling. We suspected it to rain heavily. So we stopped and wore our rain gears. After some time it stated raining heavily and some time later my bike suddenly stopped and refused to start at all. At this moment my friends were some distance away from me. This was when I missed buying an Intercom device. Somehow after 5 mins my bike started and I rode as hard as I could to catch up with them. Luckily they were waiting near a shelter nearby and were about to call me. Then we rode to Hyderabad, where our friend Manikandan had booked a Room for us. We were struck in Hyderabad's traffic too. I keep wondering why some expressways don't allow bikes. It wasted a solid 2 hours for us to come to the other end of the city, drenched in rain, luckily our rain gear withstood the rains. We reached our room and Mani had bought us food to eat. It was so relaxing after a hectic day. 2 states done.