Joined

Apr 25, 2016
Messages

1,261
Likes

2,045
Location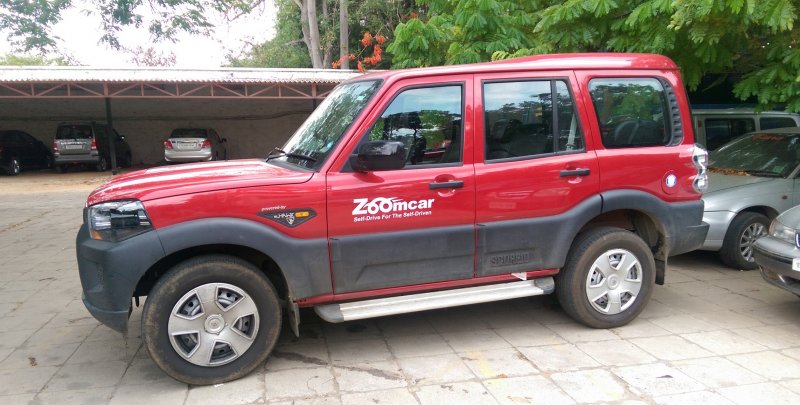 ​
Why Zoomcar?
Well, the trip was planned with a very short notice of 1 week. As far as I searched, there are only two (legal?) options for car rentals in Coimbatore: Myles and Zoomcar. Myles had only one 7 seater (XUV500) which was already booked so I was left with Zoomcar's Scorpio. There were several private and small scale renters available but they all had one or more of the below problems:
- Innova's were not available (summer holidays)
- Pricier at 2.5 to 3.5K per day, just for the car.
- Did not meet my 1100 KM driving requirement for 3 days. Most of them had 300KM per day limit.
- Do not operate as a registered business; no proper bills; and do not accept card payments.
- Road side assistance not guaranteed.
- Damage clauses are expensive or not defined.
- One of them even asked to leave my original driving licence with them until the car is returned.
So, I went ahead with Zoomcar's Scorpio which is their only car choice in 7 seater category.
Booking:
Zoomcar's
website
as well as android app were very user friendly, booking process was a no-brainer. A refundable security deposit of ₹5000 is collected during booking. They also linked my PayTm account for faster refunds/reimbursements. With their hourly rate calculations, I was able to book for 3 and a half days and got 11XX free kilometers costing ~ ₹11500, including fuel.
Change of Location:
I was all set to pick my car on 11-May at 3pm. However, they called me at 10am and said the allotted Scorpio has mechanical fault and was instead offered a Honda City at the same cost. I explained my situation of 7 passengers and quickly they were able to find another Scorpio at a different location in Coimbatore. They also offered to reimburse taxi fare due to this location change.
Delivery:
I reached their pick up location (a public parking lot) some 20 minutes earlier to ensure I have enough time to walk around and check for damages and fix them if needed. The allotted Scorpio was a 2017 make and had only 42XX km on the ODO. The Scorpio's interiors were full of mud and dust - rubber carpets, dashboard, center console, seats, all of them. The person quickly vacuumed it and did some basic checks like wipers, headlights, blinkers etc before starting the check out process which is completely paperless
. Everything was done on my phone including ODO entry, document checks, fuel level, interior and exterior checklists and some rules:
- Hefty fines if driven above 125 kmph.
- No pets allowed in the car.
- Fuel bills should have vehicle number on them and originals to be submitted during drop off.
- Free KMs and cost of excess KM.
​
Even after the vacuuming he did, the car stunk like anything inside. I had to visit a nearby car wash place and got the seats and dashboard wiped down with their cleaner and transferred my car's perfume to the Scorpio right away. The stinky smell took almost a day to reduce its intensity.
The Scorpio S4:
I did some Googling to find out what variant of Scorpio is provided by Zoomcar and it was the S4. I quickly recalled TAIger Brian who also bought an S4 and also penned down his wonderful ownership review. I read through it once again (
link
) and mentally prepared for its pros and cons (some of them listed below). Please note that these are just my perceptions of driving this vehicle for about 1000 KMs and not a review of it by any means.
Power Cut:
The night before the journey, I was transferring chargers, wires, dashcam, phone holder, tyre inflator etc from my car and was shocked to learn that both the 12V sockets in the Scorpio were not working. The backlight on the sockets were working fine but no power output from either of them. With my
recent similar experience
in my car, I believed it would be the same case with the Scorpio and decided to open the panel below steering wheel. Then came the worst part, the user manual instructed to remove two screws near the steering adjustment knob and I couldn't find even one. I did not want to risk breaking the panel without knowing the procedure and called up Zoomcar customer support. They advised me to visit any car service center and get it repaired with proper bills for reimbursement. Luckily, CAI Mahindra was on our way in the journey so I stopped by at their service center as our first stop. We reached at 8:45am and they were just opening their shops. Looking at our fully loaded car, the service adviser instantly called up a technician who replaced both the fuses, even without opening a job card. Apparently, 2017 models do not have the screws anymore. The panel was secured only by plastic locks and they replaced the fuses in no time, free of charge. It would have been a nightmare without power to keep the phones on charge and dashcam throughout the journey. No wonder why I see praises of Mahindra service on our forum, kudos to them
.
Driving Experience:
I loved the idle state of the engine and one can feel its prowess just by this note. With windows rolled down, the turbo whistle is so nice to the ears at low speeds. I like to cruise at around 80-90 kph and overtaking at these speeds is a bliss even without downshifting from 5th gear. Just push the pedal and there is immense power on tap. There is no noticeable difference with AC usage, unlike my Tiago whose AC is power hungry and brings down the driving experience at slow speeds. I did not feel comfortable driving the Scorpio above 100kph as the brakes weren't confident enough to my liking and the jumpiness of the suspension setup. Third row passengers suffered a lot with all those bumpy and jumpy movements clubbed with literally zero AC for them. The entire car almost dances (as rightly said by Brian) even for small undulations of roads. Thankfully, only a very few stretches were bad, and I was able to maintain 70+ all the way through the trip. The clutch seems to have an early biting point, too early that I shot up RPMs during up-shifts. I then learned to let go off throttle completely before pressing the clutch, especially during gear shifts at higher RPMs. There was also a loud metal rattling noise at low RPMs as early as 1000 RPM, which I believe is an issue in this specific vehicle. I had to down-shift at about 1100 RPMs and could not really use the low end torque of the engine.
There is not even a single bottle holder in this mammoth of a vehicle. I felt like a rich man in my tiny little Tiago, but almost a beggar in the Scorpio in the space department. The door pads had no pockets whatsoever. The only two cup holders, placed ahead of middle seat are positioned at a 45 degree angle and are shallow. Totally unusable except for small 500ml bottles:
center]
To add to it, there is no place to keep personal belongings either, except for a coin holding cubby which held my smartphone. Glove box is a joke and was already filled up by user manual and Zoomcar's paperwork. All other items and wires had to be kept on the center console, wherever possible:
Seats are positioned high and my daughter was happy with the outside view which she do not get in my low slung Tiago seats:
No audio system on S4. Thankfully, Zoomcar had installed this Pioneer HU with 4 Blaupunkt speakers:
After about half an hour's driving, I pushed the AC re-circulation button to get fresh air but only for a few seconds. It would automatically switch back to re-circulation mode. I had to lookup the user manual to figure out this weird setting and recommendation by M&M. One has to press the button 7 seconds for it to permanently switch to fresh air mode. And this is remembered only until the key is slotted in. Not cool!
Installed dashcam on the lower end of front windshield using double sided tape. Visibility of the cam was just about okay to capture anything up front:
At the Pamban Bridge:
Drop Off:
On our way back, we stopped at the popular Thalappakatti Biriyani for lunch and it delayed our return trip by a good 2.5 hours. Thankfully, there is an option to extend the booking within their app and as long as there is no other booking for the car, we can keep on extending by the hour. I did the extension for an hour and paid Rs 230 for the additional hour (Saturday). Drop off procedure was also seamless and was completed within minutes on the app. Security deposit was refunded to my PayTm account the next day, along with fuel reimbursement charges. All in all, it was a good experience with Zoomcar's service. I would definitely rate them 9 out of 10 for such a much needed service in India.​