Joined

Sep 25, 2017
Messages

345
Likes

286
Location
1.
Background Story:
I just turned 18 and learnt driving from my Father (yeah cause i had tooo much interest in cars) and felt that i had no need to go to a driving school. Got my DL and started taking out the humble Alto for highway/college runs. Now since it had aged and run well (2,00,000 kilometers in 7 years with just front axle replaced and regular servicing done!!!!) It had to be changed. Moreover, our family of 6 couldn't travel together even while we 6 had to travel together for only once or twice in a month. So come 1 December, 2018 we posted our car on OLX. Hundreds on messages and calls we got. Nearly 50 people came to check the car (most of them were time-passers!). One fine Sunday morning and i got a call from a serious buyer who said he's coming with money to buy the car. He came checked the car, didn't even moved it. He just started the engine and put all gears to check them.
He was surprised to find a Alto which had run 2,00,000 kilometers in this condition. So he finalised the deal and off went our Alto. It was emotional cause it never ever broke down anywhere and went to almost full India with us.
Now as we sold our Alto, we only had 1 bike left for daily commute which was used by my Father and i had to rely on autos and cabs. Due to some reasons we only looked at used car market.
Our humble Alto:
2.Options considered:
A. Tata Safari
Many people have dream cars such as Buggati or Lamborghini's, but my dream car was always the Safari Dicor.
Positives:
1.Big, Hulky beast which whenever comes in RVM of any small car, the car gives side.
2.S-P-A-C-E this beast screams space whenever you enter it.
3.Torque'y diesel engine.
4.Many features such as heated side view mirror, defogger, power windows
Negatives:
1.Usual Tata ASS
2.Maintenence
B.Tata Manza
My Dad's office's colleague had a Manza and i also sat in it many times. This was also one of my favourites.
Positives:
1.Space, rear seat could accomodate 3 adults with some space left for a small child.
2.An overall nice package with many features.
3.Poor resale. This was actuallly nice thing for me as i was getting Manza's for just mere 1.4-1.7 lakhs
Negatives:
1.Rattles here and there.
2.Famous Tata ASS.
Well, no other options were considered and due to many FNG's scaring me by saying that Safari has too much maintenace costs, we finalised on a Pre-Owned 2010 Tata Manza Quadrajet Aura (ABS) model with 75k on Odo.
3.Buying Experience:
While browsing OLX, found a nice looking Manza 2010. Next day went with my Father to check out the Manza. he had all service records. We thoroughly checked the car from outside and it was spic and span. Then we asked for keys and my Father started the car and it came to it's glory.
Finalised the deal in Rs._______ . Well i would not disguise the price and would like you all guys to guess it.
Next day we went to owner's house and again checked the car and it was as same as before!!

Gave him money took the keys, did the paperwork and we were ready to take her home!!
When we started the car the fuel gauge showed that the tank was full, which wasn't when we checked the car previous day. Asked the owner and found it was a gift for us!!!
4.Ownership Experience:
Positives
Extremely silent engine and even when revved the engine note sweet but not loud like a free flow exhaust!!
Wind noise is damped very well even at speeds of about 100-120
Seating position is very comfortable and one does not get tired after long journeys
Interior space & Quality
Feeling of premium interiors
Default speakers are more than sufficient and has a good bass. No need for an upgrade.
Nice pep in engine even on highway runs!
Negatives
Ride is bumpy at high speeds when there are undulations in the road.
Auto lock is not present above 20 kmph. Need to manually lock the car every time.
No Dead pedal.
Well my Father had taken the car for some work and would return in 2-3 days so more pics at that time. Please sorry i only have 1 pic with me now!!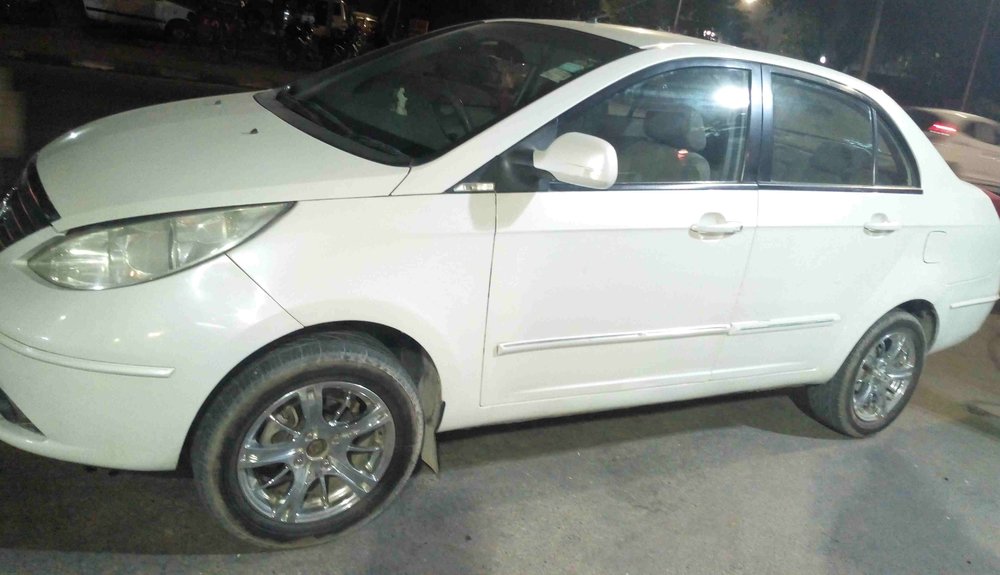 This was my first review and i tried to keep it as much comprehensive as i could. Please point my mistakes so i can be better at writing. :)
How was the 'upgrade' from Alto??
1.More road respect (you know road bully done with alto's and nano's or 800's
2.Not a highway champion but a nice ride to be in on highway journeys. Easy cruisability even at speeds of 120-130kmph
3.Revv-happy engine (of-course India's national 1.3 Mjd under the hood)
4.S-P-A-C-E
Hope you guys loved the review.