This is just a trip report of my recent visit of two of the astavinayak temples out of eight. The temples are from Pali and Mahad.
Route :
Pune – Chandani Chowk – Mumbai Pune expressway – Khalapur – Pali – Mahad – Mumbai Pune expressway – Chandani Chowk – Pune
Pune – Chandani Chowk
A pretty straight forward route. The key is how quick you come out from Pune traffic to join NH48 at Katraj. Too much of two wheeler traffic zig zagging throughout this route, one needs to be very alert. Trucks will give you accompany throughout this patch.
Chandani Chowk – MPEW - Khalapur
Again a straight drive towards expressway. This patch is of approximate 20 Kms, but is filled with traffic. The diversions are not present and entire patch was free from road construction.
Opted breakfast at Radhakrishna Pure Veg near Wakad. The hotel is decent which is located right on NH48 with good parking and one of the cleanest washrooms. The location on google maps is
https://www.google.co.in/maps/place/Shree+Radha+Krishna+Pure+Veg+Wakad/@18.610424,73.7496617,197m/data=!3m1!1e3!4m5!3m4!1s0x0:0x2d524b74ed01f4e3!8m2!3d18.6108166!4d73.7498568
MPEW remains awesome to drive (on weekdays). The potholes are patched with tar so no worries now. Though you can feel those undulation inside your vehicle. The trucks are still hovering on all three lanes throughout the highway. Talegoan toll plaza was not crowded, I could not see any dedicated Fastag lane here. Though all lanes were filled with non fastag vehicles. Paid Rs.230 and zoomed up to Khalapur Toll.
If you want to go to Pali then you need to get your vehicle at extreme left lane once you are near to Khapaur toll. Also note that there is no sign board stating the way towards Pali, though you can see a small board entangled on the divider once you enter toll lane (that's too late). There were many cops seen on the left curve which takes you towards Pali, but they were not stopping any vehicle.
Khalapur – Pali
The start of this road itself will welcome you with jumbo potholes. This is single lane state highway with too much truck traffic. The roads post Durshet village are good but still you need to keep a keen eye on road for potholes, they appear from nowhere and are enough big. Seen lot of cattle's roaming on the road as well.
Pali is small village which is famous for Shri. Ballaleshwar Ganpati. You need to enter into village and proceed slowly through narrow lanes towards temple. There is ample parking space near temple which is free (was surprise to see free parking at one of the famous spot). The temple is open from 5:00am to 10:30pm on all days. As per practice one need to take darshan of "Dhundivinayak" first then followed by "Ballaleshwar", both these temples are beside each other.
Just outside the temple you can see "Hotel Vithu Mauli" which is pure veg and offers good food as well.
Temple of Shri. Ballaleshwar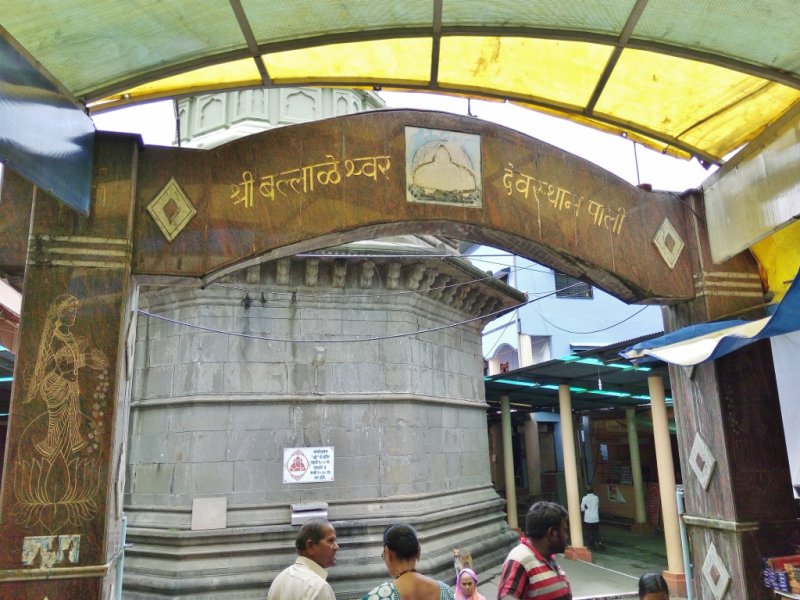 There is god in each one of us
"Sarasgad" as seen from parking lot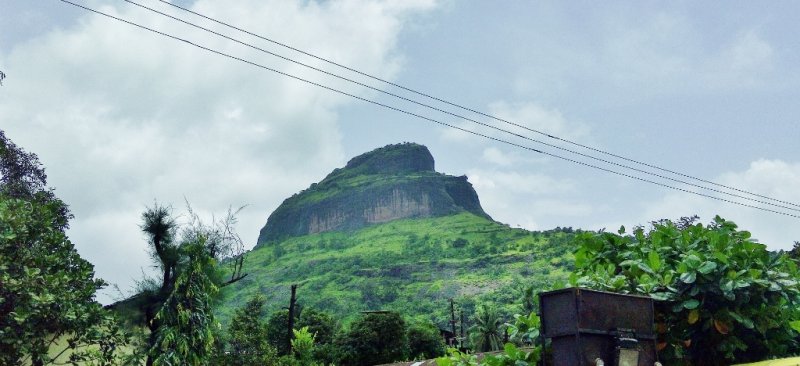 Pali – Mahad
You need to come back till Khalapur again through all those pot holed filled road. Again there is no sign indicating turn towards Mahad. There is an intersection just within 3 Kms from Imagica which states Pune at left and Mumbai on right. One needs to take left (towards Pune) to join a "T" within 100 meters. Here you need to take right to cross overbridge on expressway towards Khalapur. Once you come on other side of expressway you will find one sign boards stating way to "Varadvinayak Temple" (Just after BP pump on your right). The left turn as stated by signboard is good for small vehicles, whereas the buses needs to reach up to old Mumbai – Pune road and come from other side. I took the small vehicle road which was narrow without any further sign board, but the road somehow reaches temple. Ample parking place in open ground which is chargeable at Rs.20.
Varadvinayak temple is situated near small pond. It is said that the idol was found immersed in this pond. This is one of the Ashtavinayak where you can enter into shrine and take blessings by touching the idol.
Mahad - Pune
One has to join old Mumbai Pune road to come to expressway. I gone approx. 8 Kms ahead to see abandoned plane model (which I have read in some travelogue). It is located next to NH48 and is kept for shooting purpose. One can click the pics but can't take any vehicle inside (I done it somehow).
My Grand posing with plane
Came back and joined expressway towards Pune by paying Rs.173 as toll. Need to mention the "Food Carnival" after Talegaon toll at the end of expressway is pathetic in food quality. The food is highly priced with less quantity. One can use this stop only for loo breaks.
Thanks for reading !!
Last edited: