Word of Caution:
Lengthy travelogue of our journey, Pune – Mysore – Pune
If I recall properly I understand that once in blue moon I have made resolution to myself. A resolution was to travel along with family to newer destinations.
My Resolution
Now when I say "along with family" then there comes an importance of proper planning. If you have kids / tots in family then getting leaves for travel is challenging thing. Hence I thought to do long travels only when schools have vacations.
Preface:
Last vacation we done Pune – Hyderabad – Pune. My family enjoyed the drive and now willing to come along with me somewhere longer. So now was the time for schools summer vacations, the big question was where to go?
I have shortlisted Gujarat first but due to blazing summers we cancelled it. Same happened with Madhya Pradesh. So now somewhere in south was the option, so started planning for Mysore – Ooty. While browsing through some sites came to know that Ooty is having peak season this time. I am very much clear what these "peak seasons" meant in hill stations hence after discussion with wife i cancelled it. So now what!! Only Pune – Mysore – Pune!! That's it!!
We quickly calculated days for travel and submitted leave applications in respective offices. I was wondered to get it sanctioned within 2nd hour while wife took 2 days more for getting it sanctioned. With the leaves in hand our main part was over. Now the plan was which route, where to break, what to see, how to go etc.
I invested few of my office hours along with office internet  reading forums and travelogues. For route details got in touch with HVK. The route advised was,
Pune – Kolhapur – Davangere – Chitradurga – Neelmangala – Kunigal – Bellur cross – Nagamangala – Pandavpura – Srirangapatna – Mysore.
I am a person who drives sedately and avoid night driving as much as possible. So there was a need for break in journey. I was confident enough to drive 10-11 hours along with family. So after analyzing in google maps I made it final to break our first day journey at Tumkur. While on return, I have decided to break our journey at Hubli.
Day 1:
Bags got packed and time was decided which was to leave Pune maximum by 5:30am. To wake up on time everyone gone into bed early. I don't know whether it's with me or what but I have habit of spending sleepless night prior to drive day. To add to this, there were 3-4 alarms set altogether in mine and wife's phone which started buzzing in wee hours.
I was surprised to see that my wife and son were ready by 5:15am itself. We loaded our car with luggage and water bottles. After a short prayer I cranked the engine exactly at 5:30am. The journey started!!
The good thing when you start early is that you don't have to face traffic. This helped me to touch highway from my home within couple of minutes.
Summary of entire route :
Pune - Mysore - Pune
Overall the journey on NH48 was very peaceful. On the way after Hubli, found many coconut trees and sellers selling tender coconut beside. Wondered to see those trees in that area as there is no mark of seashore nearby.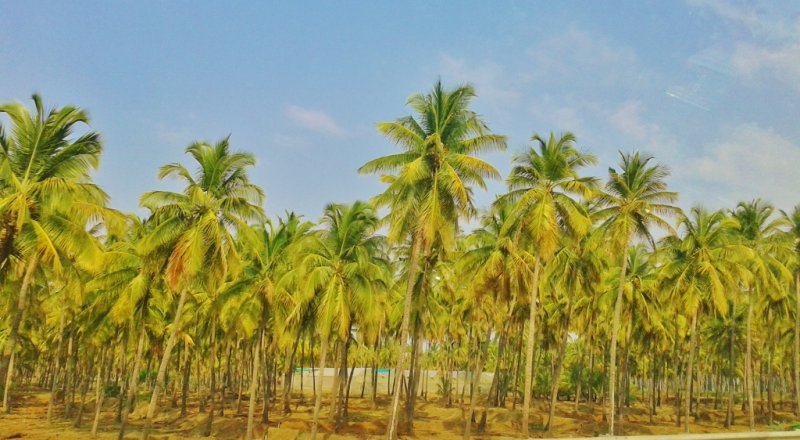 We have safely reached our planned destination for the day which was Tumkur !!
Contd.
Last edited: