The itch to buy a solid SUV always existed it was the Fortuner though that i was in awe of approx 4 years back, since the waiting was high and i couldnt wait i had bought a used civic then with an intention of booking a Fortuner parallely.
Somehow with time and priorities i also ended up buying the XUV to cover my extensive and regular highway runs and the civic stayed on with me for 3 years till i sold it late last year, from the moment i took the token the itch got reignited - i had to have a proper 4x4 SUV. The XUV played the perfect highway softroader for me and proved to be super VFM.
Since there was garage space with the civic gone, i set my sights again on a proper 4x4 SUV. I decided i wouldnt be biased towards the Fortuner and would do a through research from scratch before plonking in the moolah.
My requirements were as below :-
> Your Budget: Still thinking, cant make up my mind! Sorry about that!
> New or Used: Open to New and low mileage used
> Your Location: Mum/Pune
> Top Five Priorities: 4x4 with Low ratio compulsory(no AWD business), Average to low maintenance, Long term workhorse, Decent in Space for 5, 7 is a bonus, Decent FE, VFM and reliable.
> Monthly Running: About 1500 kms
> Type of Fuel: Diesel only
> For What Purpose: (Eg: Regular Use, Off-Roading) :- Regular Highway usage, Mild to Medium offroading.
> Seating Capacity: 5 minimum, 7 with front facing rows a big bonus, jump seats ok too as a compromise!
> Type of Segment: SUV only.
This discussion happened in this thread :-
http://www.theautomotiveindia.com/f...-suv-edit-bought-mitsubishi-pajero-sport.html
Special thanks to TAI family in helping me making my choice, your inputs were most helpful.
the following were the shortlists :-
1) Force Gurkha
:- Ever since i did the detailed factory TD , my heart was on it. I always thought this could be an ideal 2nd or 3rd vehicle but not a first for practical reasons unless you are an enthusiast. Also delivery timelines wasn't confirmed and i had no idea really when the production version might come out. This will remain an SUV i would want to surely own in the future, not now, not yet.
2) Tata Safari Storme
:- After having reviewed the Storme in detail, i was fully aware of its strength and weakness, the biggest issue for me was Tata's laziness in having the 4x4 version in VX version only, 16.5 lakhs on road for a STorme with no kit and a ESOF didnt cut the ice for me. Again my view is native indian vehicles are made for a price, i wanted Japanese reliability and durability in this purchase. My need this time was something which will outlast me. The Storme was hence dropped. The LX 4x4 could have tempted me just about if priced well but it dint exist.
3) Tata Xenon
:- I barely begun to consider it and Tata ensured I didn't buy it. Despite repeated requests they couldn't offer a TD - so pathetic was the response that i ruled it out immediately without any further consideration.
4) Xtrail/Endeavour/Santa Fe
:- Santa Fe was a softroader + putting 30 lakhs on a Hyundai SUV didn't work with my puny head. Endeavour too old in the tooth and the Xtrail pricey with no appeal for me.
5) Toyota Fortuner
:- This was the sweet spot for me, a new one though commanded a premium price which it does not justify and hence i thought a used might be a better bargain. This was in the list, it was butch and big, capable and durable and i have always wanted it. Top of list.
6) Pajero Sport
:- I didn't consider it initially seriously enough but a reluctant TD in a city made me like it, of all i had TDed so far - this stood different , the thing which hit me was build quality and patton tank like feel. This went to second in the list.
7) Mahindra Rexton
:- It didn't appeal me for some reason and though i took a TD in 10 mins i realized this is not what i want, i have an XUV which is gizmo loaded and this time i wanted something which could take abuse, go where there are no roads and come back as well in 1 piece. Its super VFM for what it offers, but i didn't want it.
So after all the above hoopla, I had the T-Fort standing mighty tall on my list and the Pajero Sport a distant second. I then started an intensive grueling research for over 2 months to understand everything i could about the 2 vehicles to help me make up my mind. I have spent going through every possible content and collateral in every possible internet sites in god knows how many languages including translating ukranian stuff to english. When it comes to buying a car i just like to understand every little thing. I even accessed a few sites which were not accessible from india unless you use a proxy (yes i am talking automotive sites).
In the interim I started looking at the used market, fortuner retains it's value well while pajero sport is hard to find, I nearly liked one paj sport that had hardly 6k on odo when an influential devil told me to rather go for a new one, so from then new it was.
Also parallely started getting quotes from multiple dealers to get the onroad price for me. Toyota dealers hardly offer any discounts but with some push offer a few accessories thrown at you. Meanwhile the Mitsubishi Pajero dealer in Pune(Pethkar) didnt appeal to me and my interaction with them wasn't as confidence boosting. However i decided ill go and have a look at Mumbai as well at Aquest Auto(Mitsubishi Mumbai dealer). So on the diwali saturday i went to Aquest looking for a TD and unfortunately they didn't have the TD car - it was sounding all in favour of the T-Fort, there is a new Wasan dealer at Panvel with new grand showroom which is where i nearly ended up booking the T-Fort. Just then received
a call from Aquest MD himself that he will be arranging a comprehensive TD for me at my farm the very next day
. I asked him if i can TD it off-road and he only said do whatever you want and only then put the booking amount. That was the confidence i was looking for. My previous TD of the Pajero was city only and limited to an extent.
Aquest guys promptly arrived the next morning at my farm about 80 kms away from the showroom for a full day TD as i please. Impressive and unheard of when it comes to TD. I couldn't be thankful enough for that gesture, i Tded it in really bad roads and rallied off-road to my hearts content and that when i realized this thing is something else - its not skin deep. I realized I need to do further research and i did - boy am i glad.
My dilemma peaked - i just couldn't decide between new Fortuner vis-a-vis the Pajero Sport, the T-Fort was no longer numero uno in the list - it had a contender and a worthy japanese rival. I decided i need to get in to specifics of my priority and needs and compare these behemoths in details. i must have done atleast 10 different comparisons in 10 different ways and no matter how i did it, the 2 came pretty close - hardly a difference of point or two. Super Dilemma!
I had spent 100s of hours researching the vehicles online - i had lost all sleep.
Here is how some of the pointing looked like, again these are done by my priority and would be different for different buyers. I did it several times to ensure i don't get biased i did it early morning, late nights and different times to see if the result changes(binary, scale of 5, scale of 10 etc) - crazy stuff! Some of them i am embedding below ;-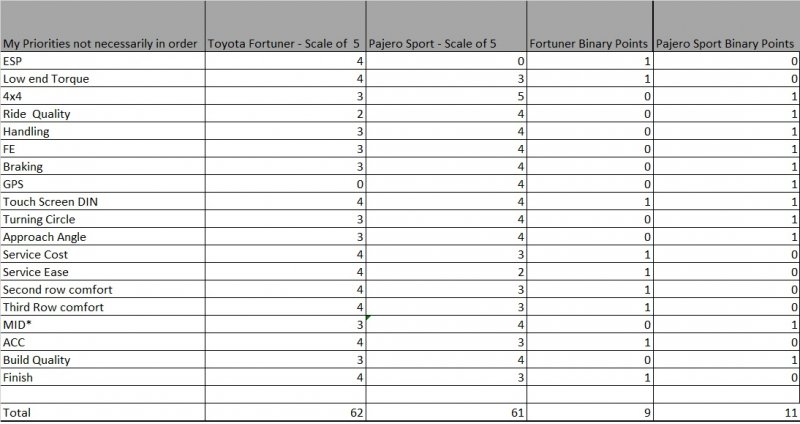 I didn't include all features, but including features which mattered to me the most in the decision making ex:- Fortuner has HID with washers but the Pajero has projector lamps.
So no matter whatever i tried both ended up pretty much close to each other. Fortuner was a safe and common bet, whereas i secretly began liking the Pajero !
Subsequently I had detailed talks with the MD of Aquest Auto Mumbai and he and his team went way out of his way to ensure I am fully satisfied and they will back me in after sales as well and not just pre sales. The end of year discounts were too mouth watering with offers like free comprehensive zero depreciation insurance etc. The Fortuner meanwhile comes with zitch discounts, anyways money was not a factor i was not going to base this decision on a couple of lakhs plus minus did not make a difference especially as you are anyways spending over 25L. My only worry with Pajero was will i get the same service post the sale - will spares be available on time and can i maintain the vehicle for a long time to come.
Finally woke up one fine morning and made the decision, it has to be the Pajero Sport for me - but i wanted the MID as well which was not part of the Anniversary edition model, Again Aquest MD came to the rescue and i got a MID fitted as well. I did extensive research on cruise control as well as the foreign model has it standard - my research outcome was it could be fitted but parts need importing from thailand - more on this later

. The Pajero Sport also came out much cheaper to me more than a lakh and a half less than the T-Fort on road thanks to buying in December.
I had asked for VIN numbers of white and silver models and wanted to a PDI before i select the vehicle, as destiny had its way i saw a blazing red model standing in the showroom as i arrived to make a choice, my kid said she wanted that one - I did a full PDI on the red as well as a white one and decided ill go with the red, brand new color that came from chennai just the day i reached to make the final call. That was it decision made and booking amount done with a promise that i can pick it up in couple of days. My special instruction to Aquest was not to let anyone touch or drive it - even for registration, ill do it myself. The MD(Mr.Narayan) was himself present on the day of booking and made it all happen, as promised everything went on time and we set off from the showroom.
I would very strongly recommend Aquest Auto Mumbai given my experience with them and outstanding response they gave to me at all times.
. I had even reached out to HM India in the process and the response was surprisingly positive all the time.
Fresh out of the showroom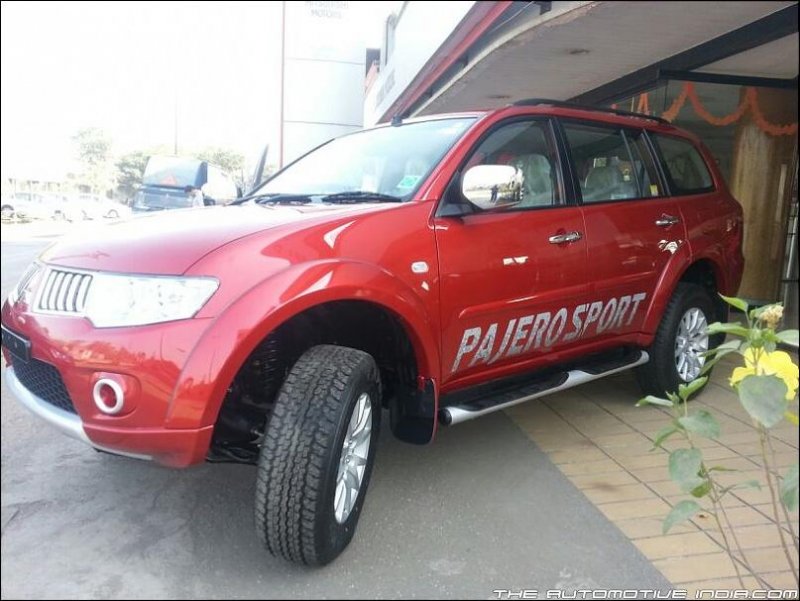 The Dark Knight ensuring a safe arrival and tailing the new red beast:-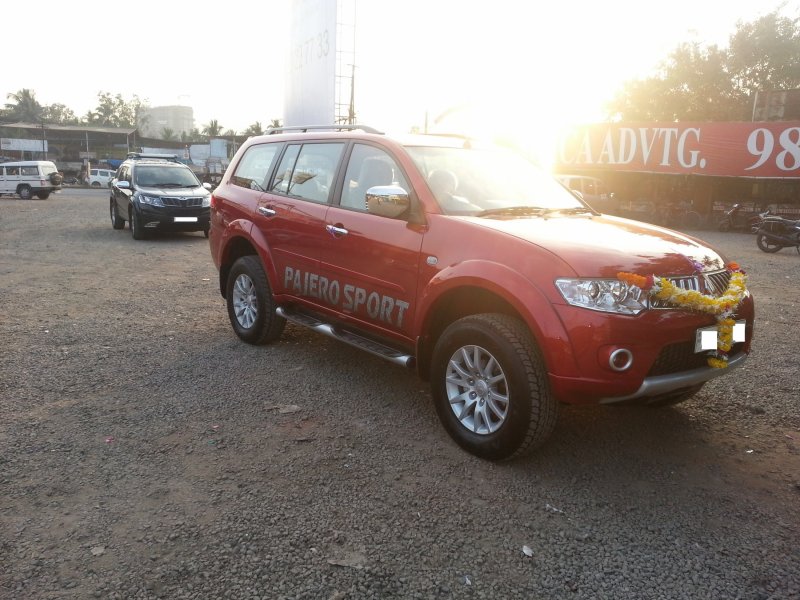 I wont rewrite the vehicle review again and will rather use this thread for ownership updates -
the detailed review can be seen here rather
-
http://www.theautomotiveindia.com/f...itsubishi-pajero-sport-test-drive-review.html
Special Thanks to Sam Dinkar as well in helping with the selection process. More pictures and add-ons done so far to follow.
Finally to add, i have great respect for the Fortuner, but ended up having even greater respect for the Pajero Sport!
Edit :- First Service Report here
Edit :- Cruise Control Installation here
Edit :- Second Service Report/6 months

Edit :- GPS Tracker Added

Edit :- Third Service Report/12 Months

Edit :- 3.5 Service Report/18 Months Service

Edit :- 4th Service Report/24 Months Service

Edit :- TPMS Installation

Edit :- Maps Update

Edit :- 4.5th Service/30 months

Edit :- 5th Service/ 36 months/ 40K kms run

Edit :- Bulb Upgrade to LED

Edit :- 6th Service, 50K, 42 months Report

Edit :- 7th Service 60k Report


Last edited: