Background
I was looking for a new car in the market since my Santro was getting older (2005 model). I'm the lone driver in our family. Santro was bought by my elder brother for his commuting purpose, but since he shifted abroad some 8-10 years back, it was me who was using it.
I'm from Pune, where you'll find very heavy traffic, if not maddening. So I used to prefer my 2-wheeler (Hero Honda splendor and Honda shine now) for commuting to office (approx 25 kms to and fro). I was driving the Santro only on weekends and seldom on weekdays for office ride. Now since last 4-5 years, I started using Santro more regularly for my daily commuting due to neck and back complaints, thanks to some lovely roads here, especially during monsoon. So, got used to it very much with daily ride and outstation rides too (read scenic Konkan). In all those years, I enjoyed my riding with her very much. It was really nice, fuss-free experience with Hyundai.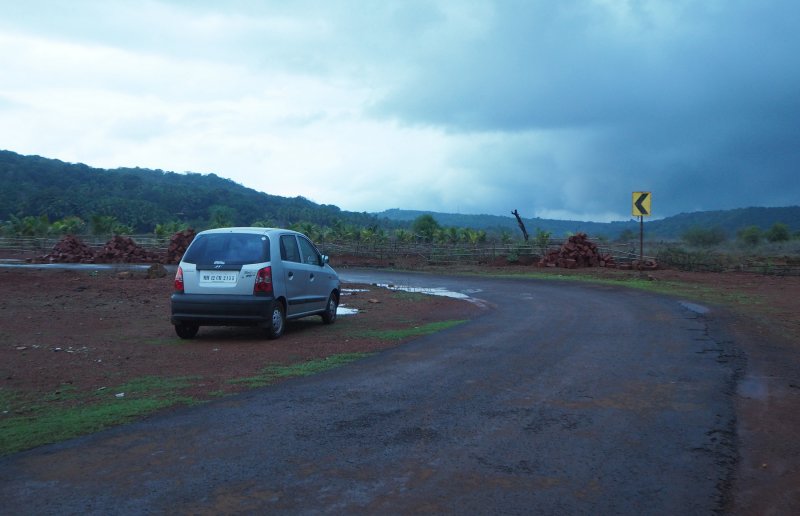 Requirements and shortlisting
So now, with her getting old with 12+ years, we thought it's time to get a new one. We were mainly looking for a bigger Petrol hatchback or a compact suv with the budget around 8L OTR. Build quality + airbags, ABS/EBD was a major criteria for me (So was not considering Maruti!). Some choices which were running in my mind were:
Hyundai i20 – Pretty much tried and tested with a very good Hyundai experience. Overall a safe choice I would say.
Honda Jazz – Though I somehow did not like the overall appearance of this car, it wasn't a turn-off for me. Also the brand value, quality and perception of Honda made me shortlist it.
Tata Nexon – Originally it was my first choice. I really liked the design the day I saw it. Was keenly following it. Even my wife also liked it very much.
Tata Tigor - Though I'm not a huge fan of sedans/compact sedans, I liked the appearance of Tigor as well. Was bit skeptical about the engine performance after reading the reviews.
Ford Freestyle – Ever since, Ford had announced Freestyle, I was following it keenly too along with Nexon. I liked its crossover type of shape and safety features. You won't get it in any hatchback/small suv under 8L. Plus, the pricing by ford was really outstanding.
From the list, Hyundai and Honda were out due to rising maintenance costs. Test drove the Freestyle at PPS Ford and liked it very much. But we thought let's wait and see if there's AT variant coming. We also needed some time to arrange for the payments.
TD and Dealership experience
Meanwhile, we went to one showroom at Satara road for checking Nexon with a prior appointment. But we could not get the TD, as they made some goof ups and sent TD vehicle away. Similar thing with Tigor.
Actually this is where my wife fell in love with Tigor more than Nexon. The SA promised to get the TD vehicle home couple of days later which never happened. And by this experience, we also did not bother to call them again.
I was continuing the online research by reading reviews, videos and checking forums. Most were in praise for Nexon. And why not? Wife was more leaning towards Tigor (AMT) since it would be more convenient for her too. I was fine with MT or AMT both.
In between, I got a call from Bafna Motors, one day about Tata Nexon and I decided to go there for the TD of Nexon. It was a nice experience there overall. I went there with my friend. We were attended well, given demo for Nexon and TD was done. I was pretty happy with the Nexon. Since AMT, which was just launched at that time, was out of my budget, I shortlisted XM variant which was very VFM.
After this, I wanted to have the TD of Tigor AMT too. So I followed up with the SA. She initially offered the TD for Tiago AMT, as they were not keeping Tigor AMT for TD. But I asked them to check if they can arrange Tigor AMT. After couple of days, I got a call from her saying that yes, it can be done. So I went there to do the TD. It was nice to see that they arranged it for me. It really shows how customer service with Tata is improving.
Overall I liked the ride quality and the convenience of the AMT. With Nexon, I somewhat had a feeling of a crammed, limited view from driver's seat which I did not feel much with Tigor. When the TD started, the SA immediately changed to sports mode. Now I'm getting the reason for that. The engine performance is quite relaxed in default city mode.

One concern with me was driving AMT on inclines since there is no clutch pedal. And since Tigor does not come with hill hold feature, I'll now have to rely more on the handbrake. But rest, it was very smooth ride. Also the Harman system was fantastic. So I went home very much satisfied with Tigor too.
And this is when my confusion started. Never thought I would be so confused while choosing between these two. Since there was no news on the AT version of Freestyle, it had already taken a backseat. Though Nexon AMT was out of budget, the MT was already all over my mind. And now with Tigor AMT ticking many requirements, I was confused like anything. On top of that, the SA was pushing me for the June month offers where Tata motors were offering free one year insurance on both. Wife was really getting upset with me as whenever she'd find me, I was researching about cars only with my mobile or PC. :D
Final Decision
Finally, after a hell lot of thinking, discussion, research decided to go for Tigor due to following points
Convenience of AMT, as most (more than 70%) of my driving was going to be in city.
Easy to drive for wife as she also would be driving it sometimes. (One of the main reasons. Don't think I need to explain in detail here, do I? ;) )
Was able to save around 50k as Nexon XM was touching 8L, while Tigor touching 7.50 or even lesser.
Some additional features being the XZA variant such as, driver seat height adjustment, many utility spaces, stylish alloy wheels, CSC, fog lamps etc.
For June, Tata was offering the first year insurance for free. So the OTR for Tigor XZA was 7.34 here in Pune. I opted for zero dep with additional 4k. Received some corporate discount and 5k on accessories too. I opted for seat covers, steering cover, front and rear bumper protectors. The delivery date was decided around 10th of July.
So I completed the payment formalities in the first week of July, and requested a PDI, to which they agreed. The TAI's list for PDI was really helpful here. During PDI, I observed that the creep function was not working as expected. The car was not taking off after releasing the brake pedal. May be this had more to do with the slope in the basement, where we were doing the PDI. Rest everything was fine. I asked them to check the creep thing again. To which, they agreed to check it on road with me on next day again. So we checked it on road and it was working without any issues. Another nice experience with the dealership on fulfilling customer requests!
Delivery
So after my go ahead with PDI, they arranged for the registration and we decided the delivery date on 9th of July. On the day of delivery, we went to the showroom at 10.30. The car was ready on the delivery ramp, with accessories fitted and final cleaning in progress. We completed the formalities and they explained all the documents in detail. After this, we performed a Pooja and distributed some sweets and a small gift for our SA. They also offered us some chocolates! So with this, came home happily with our Tigor XZA.
My wife doing the initial Pooja at the showroom: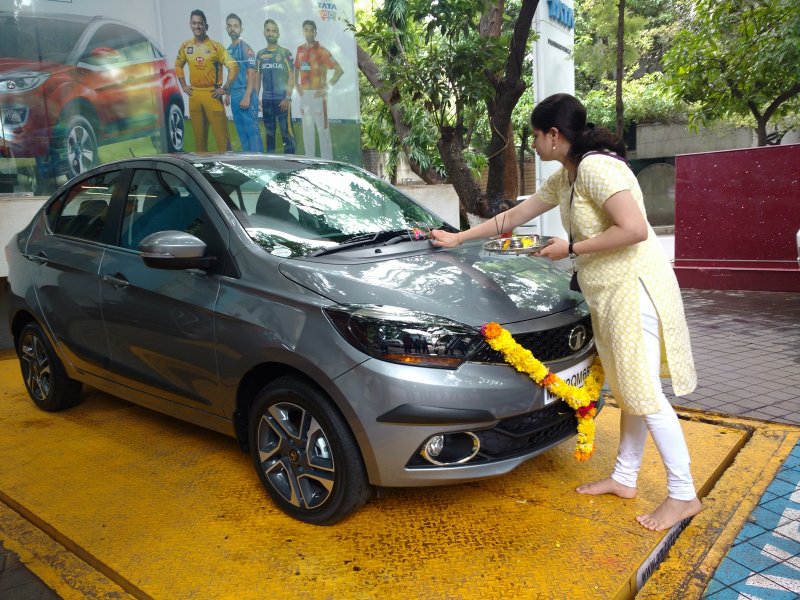 Me after returning home :)
Here are my initial impressions with some pics
Exteriors
No doubt this is one of the best looking compact sedans out there. Stylish and Sporty. I especially liked the shape at the back. Really cool. And the build quality feels good, usual Tata standards.
In our backyard -
Those alloys look great don't they? -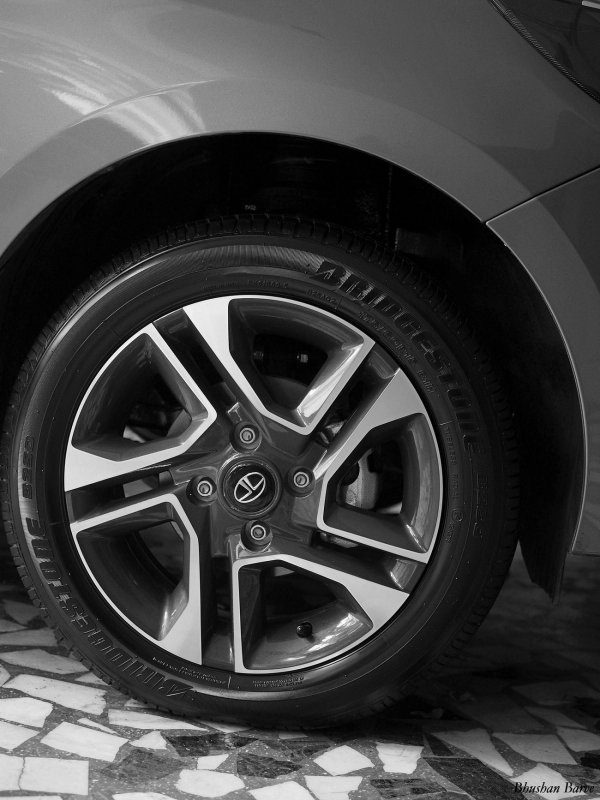 This is why you'll have to be careful while opening rear doors. See how much it pops out -
The rear antenna and the brake light LEDs below it, adds to the stylish looks -
The rear lights have this nice looking honeycomb design -
Smoked headlamps and fog lights -
Interiors
Interiors also look nice with dark cabin. Driver seat height adjustment is a good thing to have. There are some fit and finish issues observed. For e.g. glove box alignment, window beading etc.
Plenty of utility spaces at front and rear both. You'll also see a 12v charger for rare passengers, which apparently has been discontinued from June 18 models onward -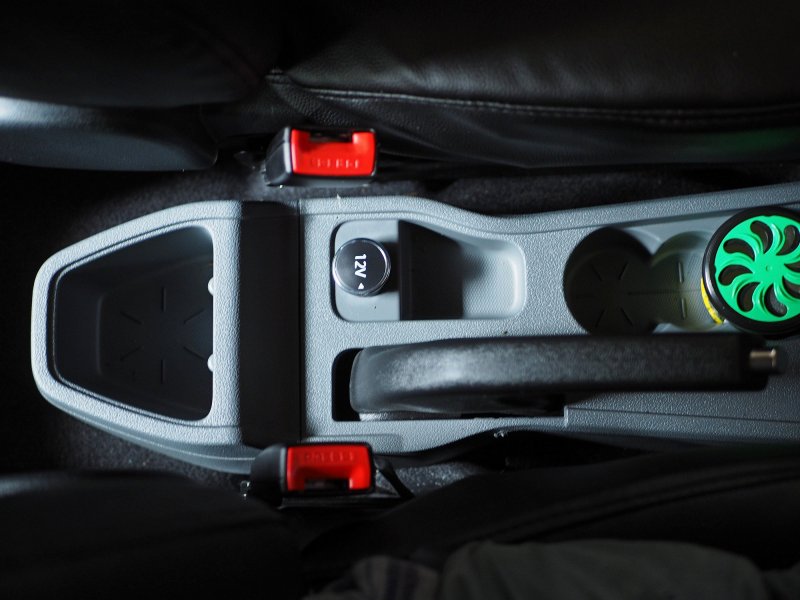 I won't talk much about the Harman music system. It just rocks! :) -
The cooled glove box holds nice space. If you notice carefully, it also has a design with Indian elephants -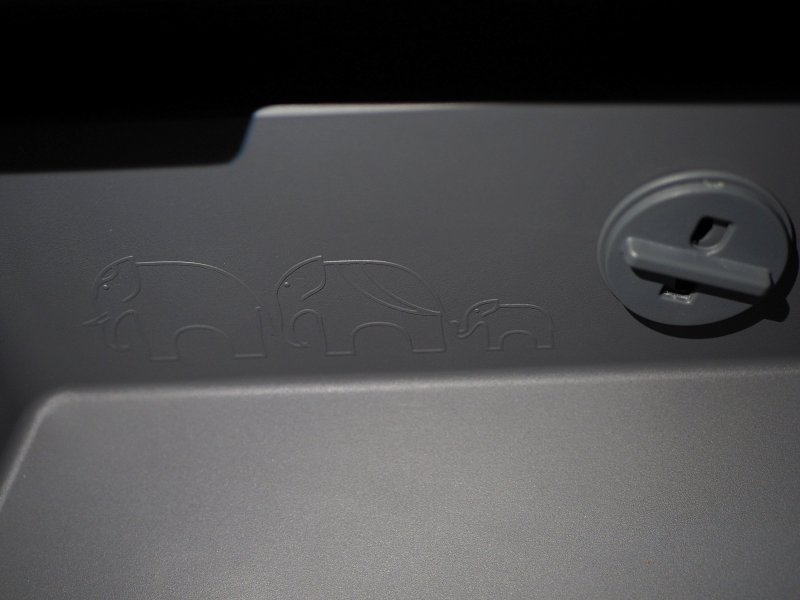 The odo shows some useful information, such as instant FE, Average FE, distance to empty, outside temp etc. along with 2 trip meters -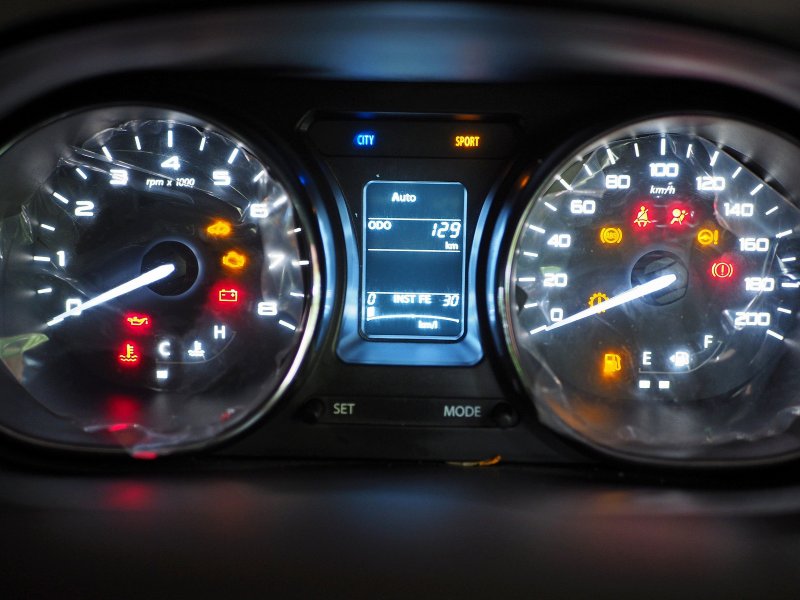 The ORVM adjustment switch is placed conveniently -
The ORVMs provide a good view but somehow I miss those from my Santro ;) -
Grab handle with a hook at the rear right sight. No hook at the left side grab handle though -
A pass holder near the driver windscreen -
Engine performance and ride quality
The NVH levels are controlled. The engine gives nice sound after starting up and settles down after that. As I said, the initial pickup is bit slow in AMT. There is some lag in gear shifting. So I would not recommend it for those who want power-packed performance right from the word go. This car is more suitable for relaxed, sedate driving style.
AMT is associated with little jerkiness, although this has been kept well under control here by Tata. Also you get less head-nods. I'm yet to check the sports mode properly. One thing I've observed with gear shifting is that, if you let your foot off the accelerator when gear shifting happens, you don't feel much jerks. There is a peculiar engine sound around 2k RPMs when the gear shifting happens. At that time you have to release the accelerator slightly. However the said sound might not be audible in case the music is on. :) I've got more than 80-90% of success rate with this method.
Things which I liked
+ Sporty looks
+ Nice interiors
+ Comfortable driving position.
+ Excellent ride quality
+ Convenience of AMT
+ Build quality
+ Harman music system
+ VFM

Things which could have been improved
The initial lack of power and pickup in city mode.
The gear shifting in AMT is sometimes erroneous. Though you get used to it after a while.
The rear windscreen view is already limited and the parcel tray makes it more limiting.
The bonnet holder socket is quite weak. It already broke during first week. Had to replace it.
The car downshifts to 1st gear at the speed below 15. I usually keep my Santro around 10-15 km speed in 2nd gear at speed breakers and it lifts pretty easily. But with AMT gearbox, Tigor downshifts to 1st gear, where you would get little jerks (which is obvious for most of the cars). It's not that Tigor would not take of in 2nd gear in this situation, but this is more peculiar to AMT gearbox. Downshifts happen automatically. Will have to adjust to that.
So this is it from me for the moment. Thanks for your patience and hope you like my review. I'm really thankful to some TAI members for answering my queries. Will keep updating the thread further with my experiences. Happy and safe driving! :)
Last edited: