Need for a new car.
Idea was to buy an automatic car for my parents as automatic would be much easier to drive.
So we started hunt for the car in May 2017 with budget around 6.5Lakhs.
Following are the cars which were shortlisted but rejected.
- Celerio AMT, rejected due to poor build quality and tiago's slightly better AMT performance.
- Grand i 10, rejected as AT model doesn't come with ABS and I feel for AT ABS is must. Grand i 10 AT performance is much better though. But Sports version costs almost 1.3Lacs more on road.
- Ignis AMT Delta/Zeta, rejected as dint like the looks, also interior and build quality. Also i am not big fan of Maruti interiors.
Reasons for choosing Tiago XZA
- VFM
- Solid build quality.
- loaded with most of the safety features.
- Amazing 8-speaker Harman entertainment system
- High quality, well-designed interiors.
- AMT driving experience was good. In traffic car pulls easily from standstill when required.
- Superb Handling and a great EPS.
Booking and Delivery
On 20th May I Booked test drive for Tiago online here
Tata Tiago
.
Immediately I received call from Tata Motors call center asking me about preferred dealership for Test Drive. As there is only one dealer here in Goa I had to go with him.
Call Center Guy informed me that they will arrange a Test Drive vehicle as soon as possible from the dealer. In next 15mins I received SMS about my Test drive booking with the dealer and also it provided contact number of the person in charge at the dealership.
Till that moment I had seen some Tiagos only on roads but never in person or never had opportunity to sit in one. I had read all the reviews about Tiago where most of reviewers had good things to say about it. Only concern was regarding the 3 Cylinder engine performance and vibration issues related to that.
So now wait for test drive started. Two days past but no call from dealer regarding the test drives. I decided to call the contact number provided to me of the dealership. So on 24th May I called the dealership and they told me that they have received Tiago XZA test drive vehicle only that morning and it should be available for Test Drives from tomorrow.
They asked me if I wanted to see the car today I can come and have a look. I agreed and went there in the evening. Sales Advisor took me to the car where its PDI was going on. Moment I saw Tiago I fell for it. It was white color car which looked just awesome. I sat inside and pleasantly surprised looking at the interiors.
Seating inside I could not believe that I was inside a Tata car. As PDI had not completed they dint allow me to start the car. They promised to get the car next day to my office for Test Drive.
Next day they got the Test Drive car to office in the evening. As I had not driven AMT before I was bit nervous to start with. But soon I got used to it and started to enjoy the clutch free drive. Sales advisor accompanying me had smartly turned on sports mode before I started driving and I was finding really easy with no lag pickup. I even tried a fast overtake just by flooring the pedal and car pulled without any fuss and I was mighty impressed. But then I realized that car was in sports mode. I changed it to city mode and I could see that there was bit lag for 1st and 2nd gears. 3rd gears onwards it was smooth.
Then I took car on an incline just to check how does it perform in start/stop scenario on incline. Here I had to use handbrakes or a quick switch from brake to accelerator to pick up the car. But car has enough power to pull up smoothly without any issues.
Finally I checked the music system which was just awesome for this price point. I do tried to check the engine vibrations and NHV, but found engine to be quiet silent at least inside the cabin. Also I dint find any vibrations inside the cabin. So at the end of Test Drive I was fully impressed and almost decided to book the car. Now I need to convince my parents for this car but that was very easy as they were sold on the looks of Tiagos itself.
On 30th May I took my father to the showroom and showed him the car and we booked the car on the same day.
Booking Date : 30th May 2017
Booking Amount : 10001 Rs
Expected Delivery Date : 17th June 2017
Car Colour : Stricker Blue
Ex Showroom price quoted : 5,55,678 Rs
Now the endless wait started. Sales Advisor had informed me that they will let me know once car is billed at the factory. A week past but no update from dealership so I call them. They informed me that there are no Stricker Blue car available at factory. They will bill it as soon as it is available. Again no update for next week. So I called them again on 12th June. They gave me same update of unviability of Stricker Blue car.
By now I had given hope of getting the car by my expected delivery date. This went on for next couple of weeks as well. By 25th June I was so frustrated that thought of cancelling the booking. I was also not sure whether now because of GST starting from July it will be good to take delivery now.
So finally on 26th June I approached Tata Motors on their tata tiago twitter handle. I got following reply from them after 24 hours.

After receiving above tweet I dint get any update for next one day. So finally I tweeted in anguish saying that I am cancelling the booking.
Finally that evening Tata Motors Regional Customer Care Manager called me. He told me that at present there are no Stricker blue cars available but they should be available by 6th/7th of July.
Now I was worried about prices being increased after 1st July but he assured me that prices will either increase/decrease by just 2000/3000 Rs. Having no other options I had to agree to him.
Now again wait started and this was getting really frustrating. I waited till 8th June but no update from Dealer or Tata Motors. I called Dealer same day and dealer gave me same answer "Stricker Blue not available"
Finally I asked him which other colors are available for that he said white. But as my father dint like white I gave him three options 1st Blue 2nd Brown 3rd Orange. Dealer told me to wait for 2/3 days more.
So on 12th July dealer called to inform that an Orange XZA is available at factory and whether he should bill it. I immediately gave him go ahead. Finally my car was billed after 52 days from booking date.
Dealer informed me that car should reach at dealership in 4/5days. Dealer provided me Chassis number which I could decode to manufacturing month July and year 2017. Meanwhile dealer called me and asked me to transfer the amount as car is already billed. I told him that I will do the transfer when I check the car in person and after my PDI.
Now I was eagerly waiting for car to arrive and finally car arrived on 20th July. Dealer called me on 20th evening to inform that car has arrived and I can come to do my PDI.
I went to dealership along with my friend next morning. For the first time I saw my car and was blown away with the beauty. Along with my friend we inspected the car.
Following are few of the points we checked.
- Chassis number
- Any scratch marks or dents.
- Interiors neatness
- Power windows.
- Tires
- All the lights
- Music system
- Phone interface and steering mounted controls.
- Battery
- AC cooling
- Engine bay
- Started the car and checked the engine.
- Coolant, Oil levels.
- Odometer read 55Kms, Sales Advisor clarified that they had to drive car for Goa border to showroom and as big Trailers find it difficult to enter Goa due to relatively narrow roads.
Odometer At PDI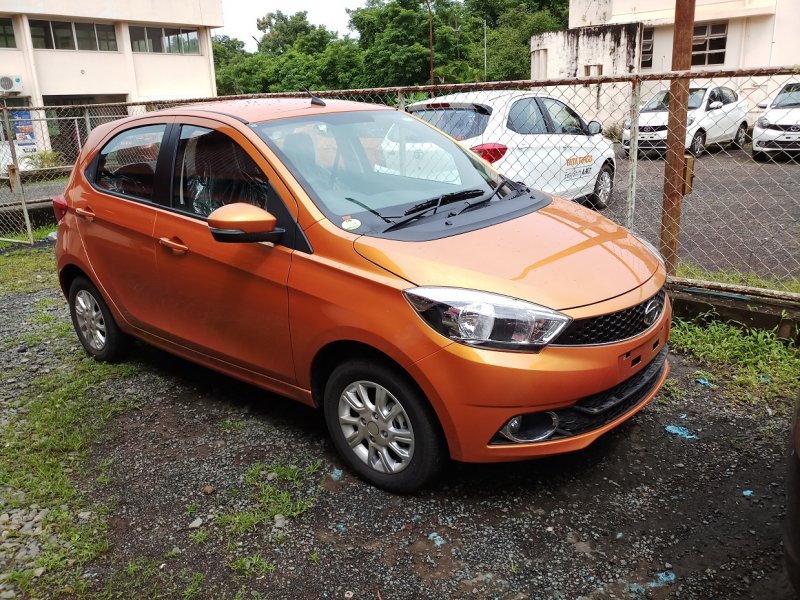 Picture during PDI
Picture during PDI
We were satisfied with the car and gave go ahead to the Sales Advisor.
As they had given me quote before GST i had to be given new prices.
Ex Showroom price after GST : 5,35,510 Rs, Reduction of 20K after GST. HURRAY!!!, felt all the wait for the car was worth it ;)
Total Amount : 6,17,567 Rs
Includes: Insurance (Bajaj Alliance[Nil Dep]- 22,276 Rs), Road Tax (48,195 Rs), AMC 2 years and Extended Warranty 2 years and 400 Rs Handling Charges :(
We immediately did RTGS transfer and told them that RTO registration will be done by us.(infact they were ready to do it for free but as i wanted number of my preference i declined).
I informed that I would take delivery on 24th July Monday as it was first day of Shravaan.
Following were the accessories which I bought
- Mats and Mud Flaps (50% Discount)
- Door Edge protector
- Dickey chrome bidding
- Seat covers
- Number Plates
Total amount 11,200 Rs
We took the delivery of car on 24th July morning along with my entire family. I dint forget a small gift for my Sales Advisor and sweets for everyone at the showroom

Car at home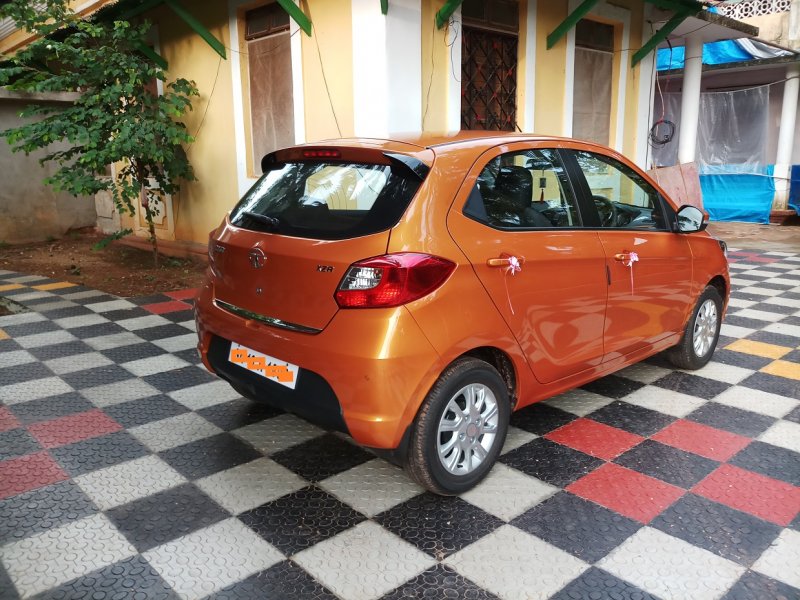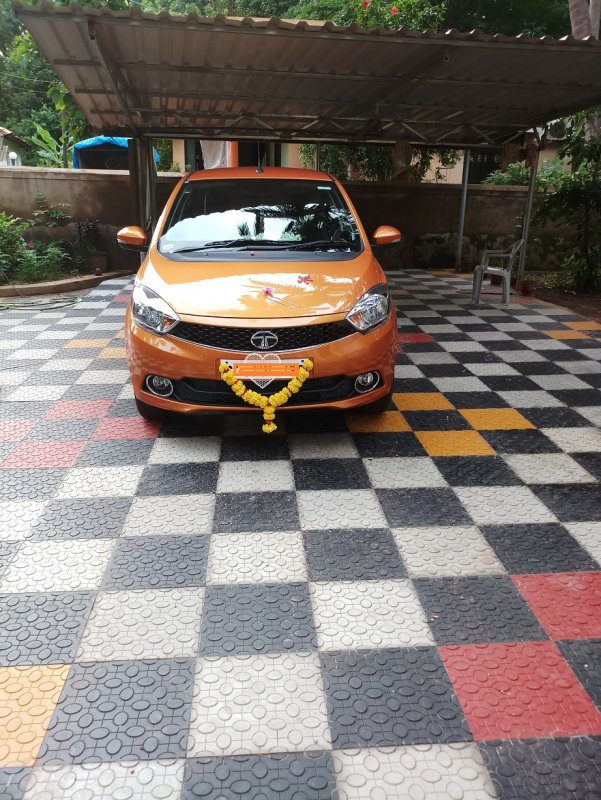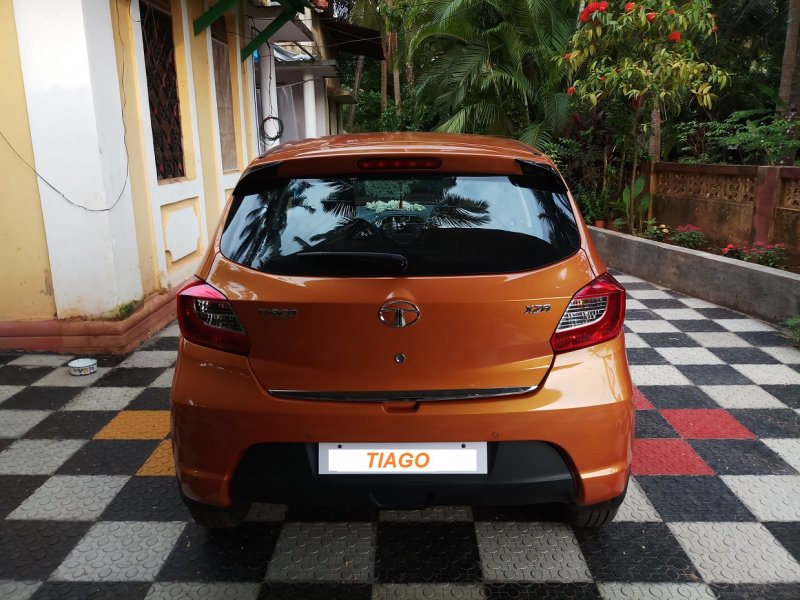 First Impression
Fit and Finish
Fit and Finish has improved tremendously for Tata Motors. I would rate it to be very close to Hyundai. Most of the panels are consistent and they are not much gaps as well.
Noise, vibration, and harshness (NVH)
With all the windows rolled up cabin is very silent and one can hardly hear engine even when music system is off. With windows rolled down engine is audible but it is well controlled. At idle I do get very faint vibrations on steering and door handles. One has to really pay attention to catch these vibrations else they are not even noticed. But there are no vibrations when car is on the move. Also there are no vibrations on gear stick at idle.
Handling, Suspension and EPS
EPS is super light at lower speeds and it weighs up very nicely as speed increase. This gives immense confidence at higher speeds and you really enjoy cornering at high speeds with lot of confidence.
Suspension is very good but not as soft as say that of Hyundai i10. It is bit stiff but I think that is good as at higher speeds above 50Km/Hr car just rolls over all the broken roads and undulations. Car feels so planted at higher speed that you get a feeling of driving a bigger car which is much above this class. I just love driving on Ghat sections with lot of turns and bends and it is just fun.
AMT Gear Box
I was bit circumspect about the AMT unit but it has exceeded all my expectations after driving car for 800Kms in all types of terrains. AMT comes with two modes "CITY" and "SPORTS". In "CITY" mode power delivery is very smooth and I feel it is adequate 95% of time. In "SPORTS" mode you get bit more power and AMT unit it bit more eager to downshift. But I feel in "SPORTS" mode car feels bit jerkier. I always use "CITY" mode and uses "SPORTS" mode just to get that extra bit of power in situations like a quick over take or getting away at traffic signals from standstill.
Initially I was not sure how AMT unit will behave on steep inclines or while climbing/descending Ghats. But it has exceeded all my expectations. AMT unit puts car in perfect gear which is required either while climbing or descending the ghats. I was amazed with the accuracy at which it does that and no confused shifting at all. While descending AMT unit maintains the lower gears just to get that engine breaking which is really confidence inspiring.
I have hardly used Manual mode for doing gear shifting as AUTO mode is more than capable. When car is in 1st gear AUTO/MANUAL CREEP mode is activated which helps immensely to crawl in traffic. Sometimes I do get some jerks or erratic power delivery in CREEP mode but nothing alarming. CREEP mode deactivates automatically once car reaches 10KM/Hr speed.
CREEP mode helps to function as HILL Hold feature. When on inclined if car is stopped then CREEP modes helps by not allowing car to roll back without any brakes or accelerator inputs. It even pushes car in front without any accelerator input. That's very nice and convenient. But I feel it takes 2/3 secs for CREEP mode to engage once car comes to standstill. Similarly CREEP mode helps to hold car when reversing onto a climb. It doesn't allow car to roll down even without brake or accelerator inputs but infact pushes car onto the climb. I am very impressed with this AMT unit.
Mileage
After driving car for 800Kms I am getting mileage of 18Km/Ltr as shown on MID. I have still not calculated Tank Full to Tank Full mileage. Above mileage is with 100% AC and CITY mode with occasional SPORTS mode. I am quite satisfied with the mileage so far which I think should increase as car runs in.
AC
AC is a chiller. It chills the cabin quiet fast even after parking car in hot sun. I have so far dint find need to increase fan speed above two.
Music System
Just AWESOME!!! Already everyone knows about it so not repeating again the same.
Seating comfort
Front seats are very comfortable and it is very easy to find the idle seating position with seat height adjustment and steering tilt option. Rear seats are even more comfortable with good enough thigh support. But rear seats are good for 3 average build occupants and not so comfortable for 3 heavy build occupants.
DealerShip Experience
So far the experience at dealer is good. They are courteous and try to answer all my queries without showing any displeasure. But I still feel that the staff lacks in technical knowhow of the car. My Sales Advisor even had wrong impression about extended warranty telling me that it runs in parallel to standard warranty.
Dealership manager met me on day of delivery and assured me of improved after sales service. Let's hope for the best 
Verdict
Tiago XZA is just class ahead in terms of value for money provides to its buyer. I am fully satisfied and content with my decision. Anyone looking for an Automatic with budget around 6 lakhs Tiago XZA is the best option.
Some Random Pictures in different Goan Landscapes.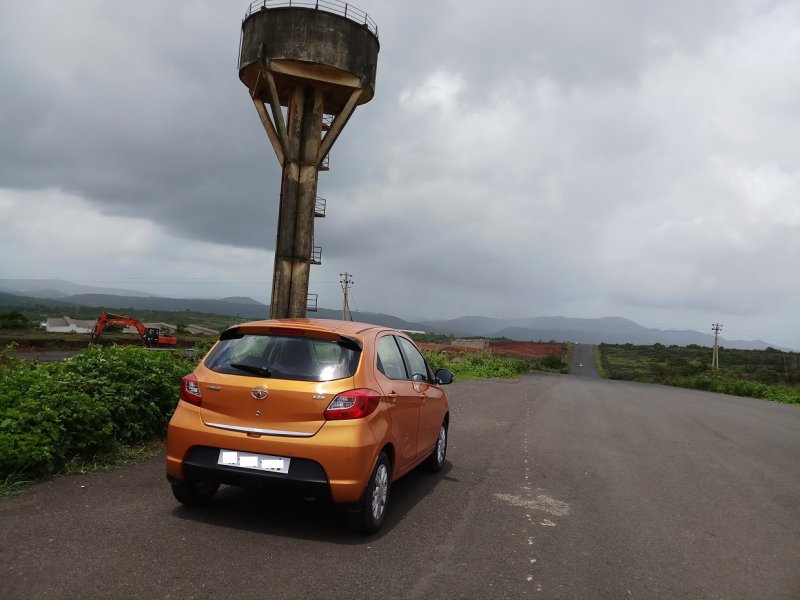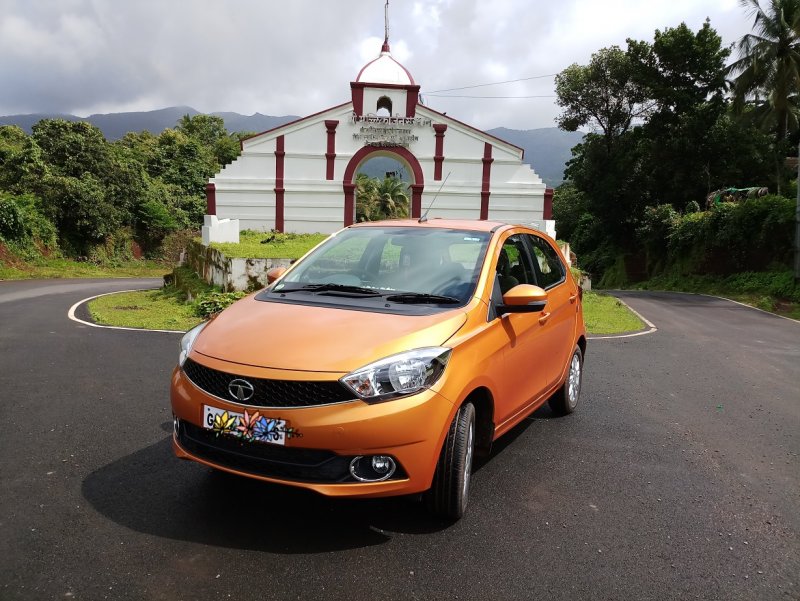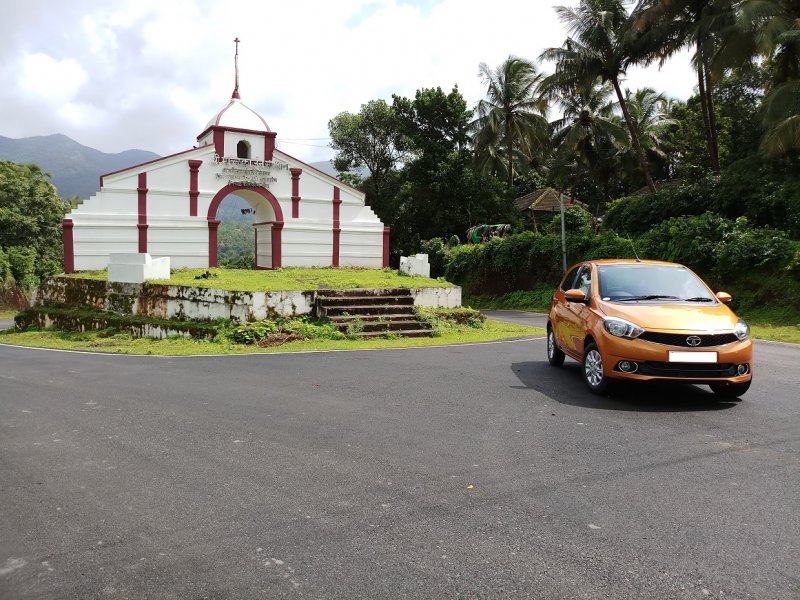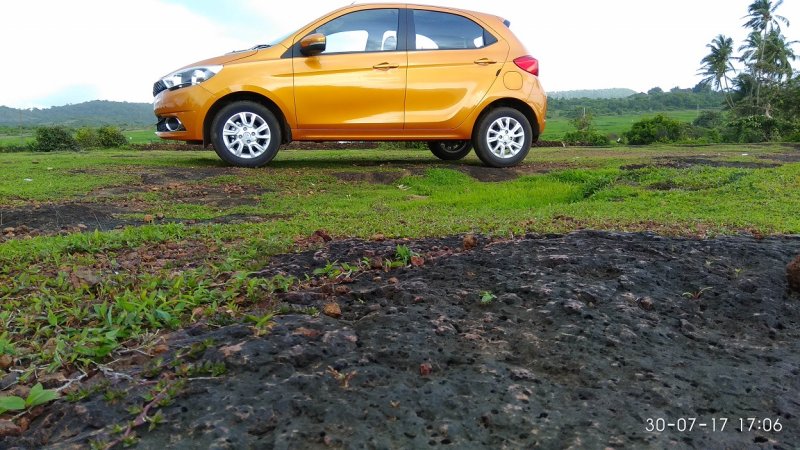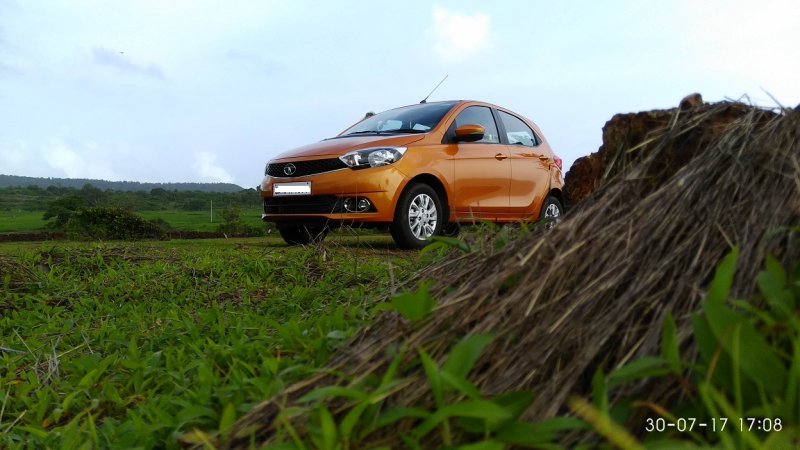 UPDATES
First Free Service Update - 1900Km
Last edited: