Joined

Oct 3, 2016
Messages

33
Likes

74
Location
Tata Tiago XZ (Diesel) 30k kms 5th Service Update (Page no.4)
I am no expert in reviewing cars, below written is my own perception and opinion about cars mentioned , apologies for mistakes if any and i hope you like my review.
So the search for the small family car began in mid 2015 which later prolonged and took so many months to finalise the car , my wife and me were looking entry-level hatch for day to day commute to work place about 10kms and weekend trips to solapur (about 80 kms) from my home town pandharpur . Our budget was about 5 to 6 lacs , AC, power starting, power windows were the basic requirements in the car.
The cars we were considering were Alto k10, celerio, wagon R , Eon and kwid which was about to be launched that time in September 2015. Of course we were looking for petrol car but later ended up buying diesel hatch , I'll explain that in subsequent part of review.
Alto k10
Alto k10 best selling product from MSIL for more than a decade. I felt Car design is outdated, and interior space bit congested for both of us, it wasn't the thing we were looking for.
Renault Kwid
The way initially Renault was advertising kwid , the looks and small SUV type design of the car , impressed both of us and we were seriously considering kwid. After the launch the waiting period went high , and even today car is a huge success story for Renault. In the mean time came across official kwid reviews and seriously speaking the cost-cutting in the car like 3 lugnuts for each tyre was kind of let down for us. Went for the test drive, but couldn't hear bells and whistles ringing in mind
Wagon R
My father has one blue eyed boy, most impressive thing one will notice in wagon r is the space inside the car. It's tall, spacious, getting in and out for car is easiest than most other cars we saw in the segment. But then high body roll due to tall design, dated dashboard and instrument cluster failed to impress. It was off the list.
Celerio
Celerio was a nice package overall with its fresh design compared to alto k10 and wagon R. I felt Ride quality was better than wagon R. The top variant even had 60:40 split rear seat. But boring dashboard design and very basic instrument cluster was a big let down, also the SA at the showroom was more interested in showing newly launched brezza rather than spending time for celerio.
Eon
Car is really very small, look wise car is better than alto k10 and wagon r, center console is okay, the fluidic design with Hyundai badge were the only plus sides. While having test drive my perception about the car changed from compact to congested. Ruled out this too.
Tiago
In early 2016 came across TMLs upcoming car tiago and with very convincing initial information , complete new product and that too with aggressive pricing , we were eagerly waiting for test drive car. Overall Reviews were positive. Official reviews were suggesting better refinement level of revotorq diesel than revotron petrol. Although Most of bookings of tiago were for petrol variant . We went for test drive of tiago at Sterling motors solapur in march 2016. TD car was sunburst orange petrol Tiago XZ. SA at the showroom Mr. Sagar was very enthusiastic and keen while presenting car and and it's features. Complete fresh look, great design, unexpectedly lavish interior , loaded with features , for me this car was an instant winner. Special mention to its 4 speaker 4 tweeter Harman music system which is fascinating , sound quality is way better than any other car in the segment. Top variant of sunburst orange (and berry red ) came with body colored AC vents with piano black finish dashboard and hand rests. Wife liked that very much. Took the short test drive of petrol variant as the diesel variant was not available for TD. I was impressed with nice Dashboard design, very informative instrument cluster. For my experience with other cars in the segment, this cars overall ambiance was heavenly. Suspension setup impressed again while driving through bad patch of the road. I noticed that SA closed all windows and was playing music while i was driving through bad patch of the road may be he was trying to hide any rattling, but frankly speaking there wasn't any.
Came home with positive feeling about the car. Talked with my father about buying the car, but father suggested to go for diesel variant. My father had good past experience with manza qj diesel . At present he owns wagon r and he really misses the diesel engine. I do have monthly running of more than 600kms , already read good review about revotorq diesel , i decided to go ahead and book sunburst orange Tiago XZ diesel even without test drive.
Went to the showroom and booked car with 5000 Rs. as booking amount. Waiting period told to us was near about 3 months. ( Waiting period for petrol variant was about 2months.) In early June 2016 got a call from showroom that the car i have been allotted is on the way and will arrive in 2 weeks. I was supposed to pay full amount of the car. At the end of 2nd week of June, car arrived at showroom. I told them that I'll do complete PDI and then only give final confirmation about the car. Reached the showroom early morning hours with complete PDI list . SA shown me the allotted car. Everything was fine and up to my satisfaction.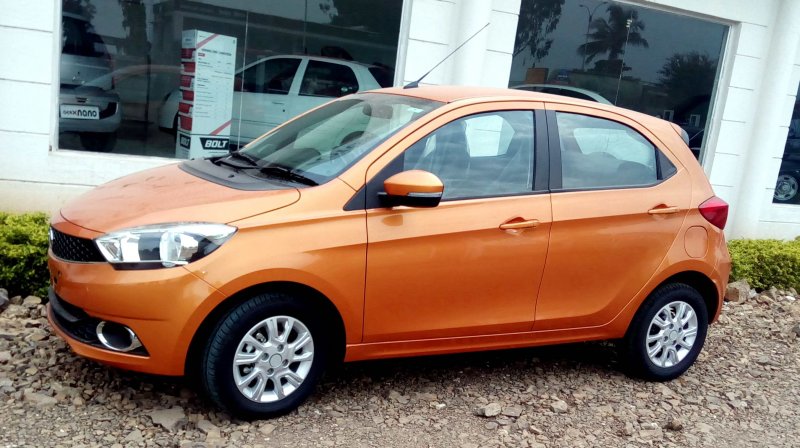 [Post PDI shot]
Gave them confirmation so they can go ahead with registration process. Took the delivery of the car bit late on June 22nd 2016. Showroom team arranged small ceremony properly although SA mr sagar was not there due to some work.
[Pic While taking delivery]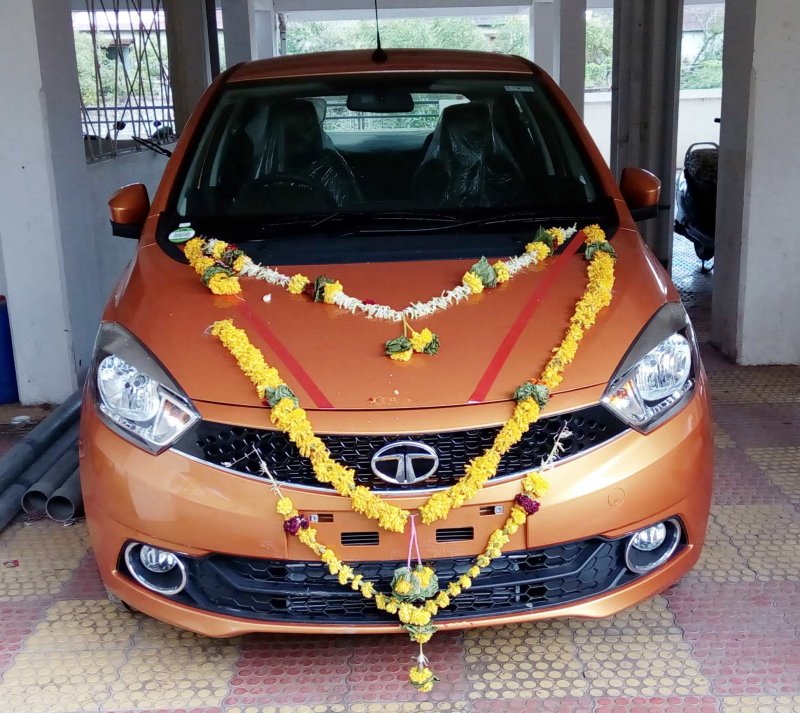 [Pic Car in my apartment]
Car cost total of 6.24lac on road (including registration and 1 year bumper to bumper zero dep insurance). Unlike some owners i didn't get any freebies from showroom.
Ownership review
Here are some of my observations about Tiago which i feel will help prospective buyers and current owners too.
Exterior
Smooth body lines without undue creases and cuts, Car has unique styling, looks clean and fresh. With it's beautifully designed front fascia , complete make over at the back (unlike it's ancestor : indica) car does manage to impress everyone. Headlights are bit bulged out from its body , nicely shaped indeed, note the side body line merging in the upper part of the headlight . Front grill lower edge in line with headlight.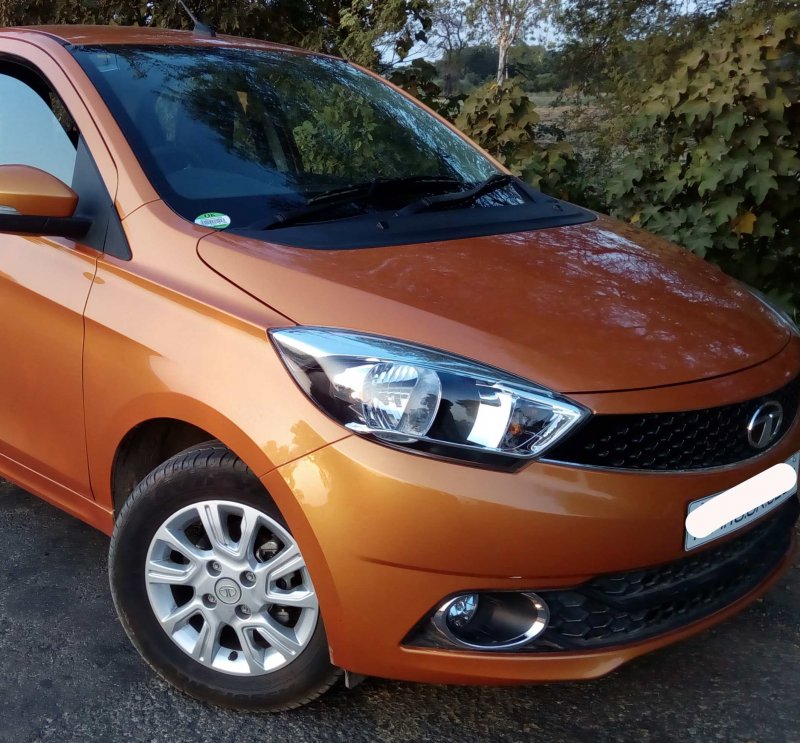 [Pic headlight and bodyline]
Rear windshield looks smaller and has semicircularly shaped defogger. I'm glad that Tata gave up the tall tail lamps running from top to bottom and gave tiago small funky tail lamp design. Rear part of tiago has resemblance to that of Ford figo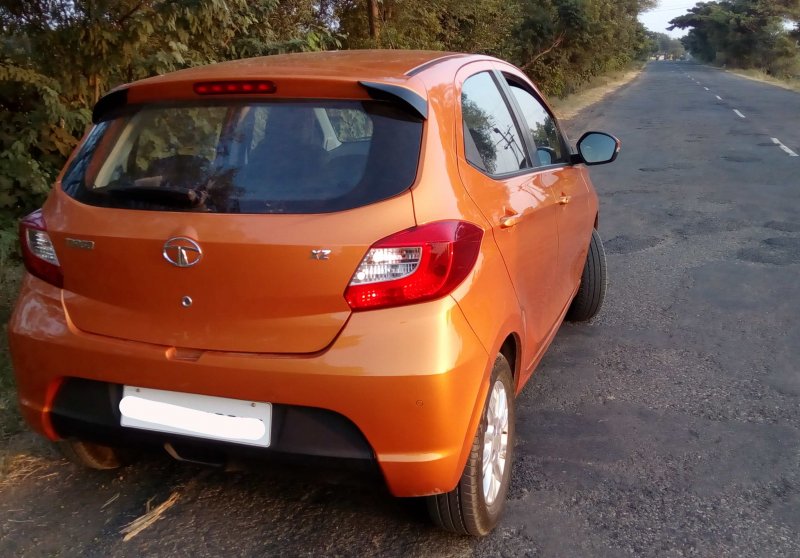 [Pic rear end ]
Interior
While sitting on driver seat 1st thing you'll notice is feature loaded center console, odo meter, 2 trip meters, distance to empty, instant fuel economy, current gear, expected upshift/downshift, precise door as well as boot open indicator, LED fuel and engine temperature indicators, RPM pointer which turns red above 5000 rpm mark, now believe me or not but no other car in the segment give you these features.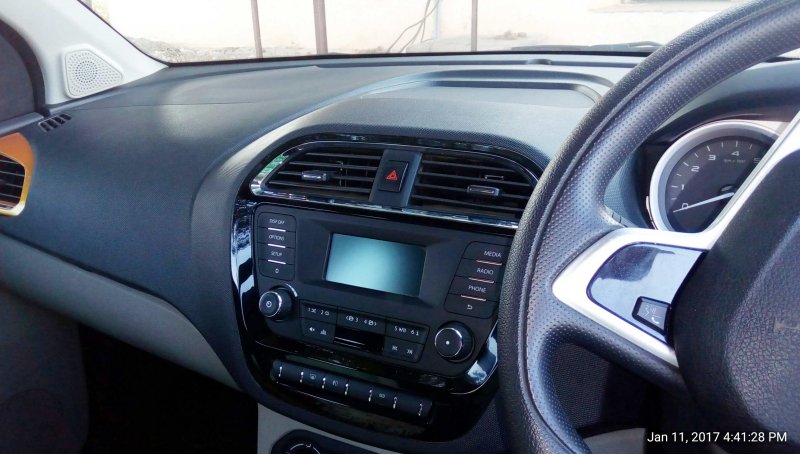 [Pic center console]
With total of 8 speakers , Harman music system can produce excellent quality sound, non Harman music system car owners will realise it better.
Body colored AC vents look pretty awesome (sunburst orange and berry red colors only). Piano black finish near music system and near hand rest area looks perfect. There are plenty of storage spaces which include AC cooled glow box too.
There is small carry bag holder hook near passenger foot well, also coat hook at rear side which are very handy at times.
AC struggles to chill the car, rather I'll say, it can cool the car and not chill. With my experience I'll advice to get beige colored jute/cotton type seat covers that helps AC to cool the car more efficiently. (Previously i had black colored leather like material seat covers which use to give me sweat-bath on daily basis.) 1 more thing i noted is AC works better in lower gears. Suppose If your car was sunbathing for some time then better lower the windows for a while than asking AC to cool.
Seats are very comfortable , they are neither too hard nor too soft. Maximum i have driven 300kms in a day and i haven't had faced fatigue at the end of journey. Driver seat gets height adjustment, something which you'll find in a car which is 1 or 2 segment above tiago.
Taller driver/passenger in the front, Rear seat has to face the crunch and rear passenger get lesser leg room. I feel rear seat is better for smaller adults and children.
[Pic rear seat leg room]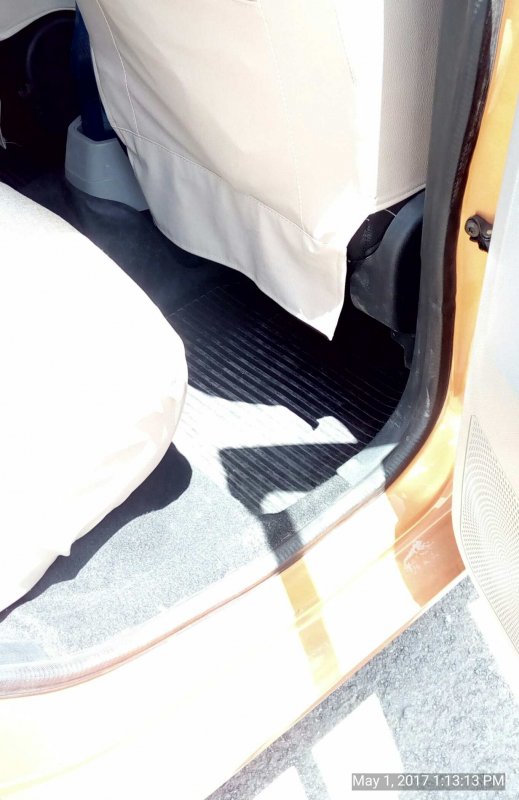 [Pic door knob]
Engine and gear box
I have driven both petrol as well as diesel variants, it's not like petrol is super silent, both engines make descent sound. 1049cc Diesel engine produce enough power for day to day city commute, with nice low end torque one can drive at 2nd/3rd gear in city traffic. At highway car can cruise at 80 to 110 kmph without getting exhausted. Car does struggle while overtaking at highway, i feel it's better to plan the overtake rather than flooring the A paddle ( some may not feel the same, may be it's because of my sedate driving style )
Gear box is one of the best in the segment. Small gear stick is well within reach and has Buttery smooth gear shift . It's not rubbery or hard feel like some other cars in the segment. When i compare tiago with it's elder family member manza, i feel tiago has better gear box. Sometimes reverse gear doesn't get engaged properly, trick is to apply 3 second rule, one has to press clutch paddle for about 3 seconds and then try to engage reverse gear.
Ride and Handling
Stearing is one the plus side of this car, it's precise , light weight to handle at low speed, once car picks up speed, stearing gains considerable weight , feels steady at high speed. Turning radius of the car is bit large, unlike some of it's competitors.
With disc brakes in the front , I have not faced any problem about Breaking , for me it's adequate.
As mentioned earlier car does have that diesel clutter, specially when your standing near the car. Once your in the car with all windows rolled up, then it's complete different story. Thanks to neatly done bonnet and firewall insulation , Engine sounds reduction is very much noticeable. Of course you can hear the engine running but for diesel car that's acceptable.
One can feel vibrations at dashboard only at lugging kind of situations. If you drive at proper gear then there are absolutely no vibrations at all.
One strange thing i would like to mention here, After long distance traveling whenever there is lugging like situation , engine makes this strange sound (Knocking sound) , either you have to downshift the gear or restart the engine to vanish that strange sound. i have noticed this 2 or 3 times.
Suspension
Tiago has got nice suspension setup, its not too bouncy or too soft, lies somewhere in the middle. Car manages small potholes and bad road patches very well.
Ground clearance is okay for day to day speed breakers and you may not notice car touched or scrapped below unless your car is full with 5 full grown adults on board. I have seen people with kwid complaining about ground clearance (which has more ground clearance than tiago), then i feel, it's not only about cars ground clearance, it depends on road conditions as well as suspension setup of the car. Overall it's good for Indian road conditions.
Fuel Economy
City driving with bumper to bumper traffic, the car can give FE around 13 to 15kmpl. Highway runs can give better results ranging from 20 to 25kmpl.
To increase FE one has to be gentle on A paddle, drive sedately, with no sudden accelerations and minimal gear change. (Which is possible on highways, low FE in city commute is unavoidable).
At present car has completed 10900 kms in 9 months , finished 2 free services, even after 9 months car looks fresh and new, apart from slight dashboard rattling that too on bad road patches, car is totally niggle free.
Last edited: