Joined

Dec 13, 2015
Messages

32
Likes

49
Location
This is Renault Kwid ownership review. Covering buying, ownership and maintenance experiences.
Hey Guys. I'm Rakesh.
Writing a review on My Renault Kwid.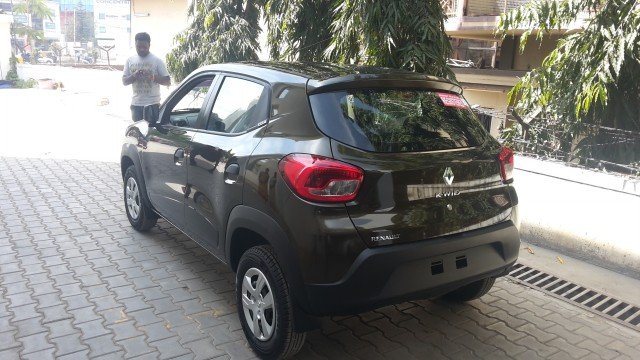 Finally My
Kwid
comes home after a long wait. Had to wait for 3 months for the car.
This is my First Car (Renalut Kwid)
The search for options
The criteria:
* Has to be a compact car
* Sufficient pep to lug along 3 people with A/C
* Supple ride quality
* Good legroom
* Budget - 4 - 5 Lakhs
All the research and selection procedures had to be done. Searched so may sites, showroom. One day when Searching through Internet I saw a car named Kwid Back in January 2014. The price was around 4 Lakh. But, I was just searching at that time and was that much interested to buy the car as this is gona launch only in 2015. So we just searched and said it's a nice car. However, by looking at the style of the car we said it would be around 6-8 lakh and we just dropped it. But, we said that if it would be priced 4 Lakh I would buy that and waited for long 1 year for the car to get launched.
The cars which I checked
1.
Datsun Go
- The car was surprisingly fast to drive and comfortable as well, but I didn't like the gear option. The gears located at Dash board. Looks disy.
2.
Alto Vxi
- Alto felt slightly more sturdier and better put together (Don't ask me why) than the new alto.
My Friend Arjun, who inspired me to buy the car.
Arjun took a new car Named Tata Zest.
The car was just awesome and the interiors I liked it very much. It had a touch display screen, automatic, climate control, steering mounted controls and a mileage with 27. Really it's very hard to get that mileage now a days. Let me share a pic of his and his car.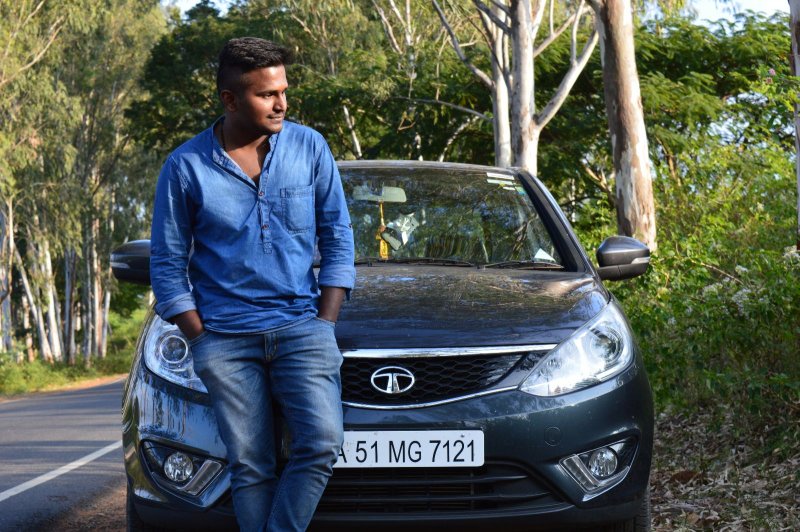 Also have more friends whose Name is
Anoop and Sylas John
. These 3 know more about the car. So I would ask these guys every time about the cars.
Actually Arjun was the one who booked the car. I din't even go for booking. Booked Outback Bronze on Oct 23rd.
The time between the delivery date and Oct 23rd: A true test of patience
.
Delivery date: 30 Dec 2015
Time in between : 3 month
Had the loan procedure done on November and it took only 2 days to get it process. Awesome.
Finance Guy Name -
Chandru.
Sales person Name -
Rajesh.
Was a nice Guy.
At last I was informed that the car would be delivered by Dec 20.
But it got delayed due to Chennai Flood. Car Productions Stopped for a 5 days. Faith. What to do. So Had to wait another 3 week.
Now The car delivery duration is 7 months.
It's not easy to have booked the car and wait for another week.
Waiting waiting. It's like Vijay's Dialogue. I'm Waiting

Finally the delivery Date. Sales person called me to make down payment.
Me (Rakesh) and Arjun went to showroom and made the down payment.
They said the car would get delivered by the December 23 before Christmas or Max by January 1st week.
One day Sale person(Rajesh) Called me and said the car would be delivered by Dec 31st
Happyyyyy.
You know the time never runs out when the delivery date is nearing. Was not interested to go to work. Was like thinking when will I get the car every time.
I used to stop every day near the White filed Renault show room and check the every day.
Delivery date 31st December, New years EVE Awesome.
But problem is my nick name. Sales guy said the car would be delivered 31st evening. Arjun & another friend Anoop said Not to buy the car in evening as you wont be able to see any scratches. That's True. So I called the sales person and said that I'll take the car delivery on Jan 1st on New Year. Now that's awesome. New Years Car.
At last after wait for long 3 months, it's delivery time.
Went to show room with Wife and asked Arjun to come to showroom, as he stays near the show room.
Renault Silk Board Show room.
I left to showroom by 10 by via. But Bangalore Traffic, I reached show room by 12.30. Mom hd said me to take the car delivery after 12:00 PM.
Now Delivery Time. Now I will let the pictures do the talking before i share my initial driving impressions.
My Car. Number Yet to come.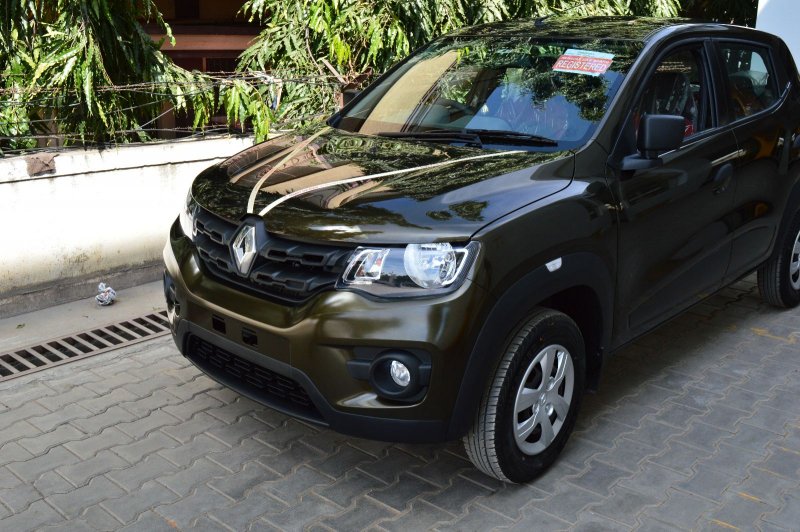 With Sales Person Rajesh and Manager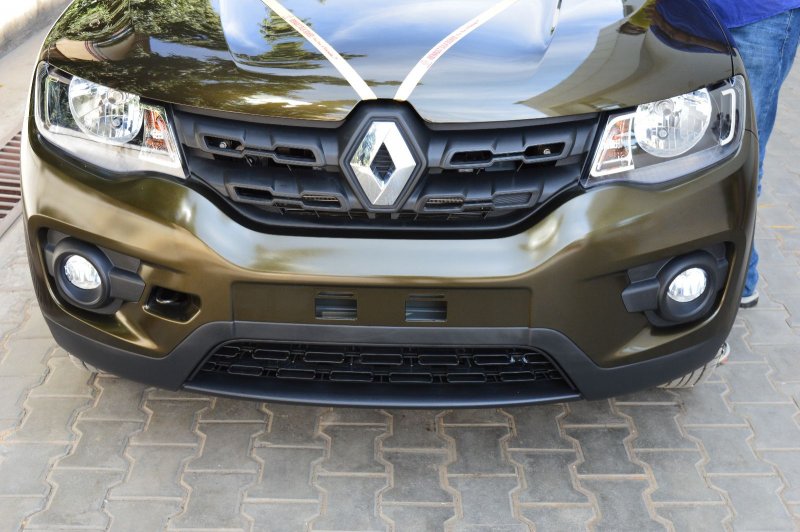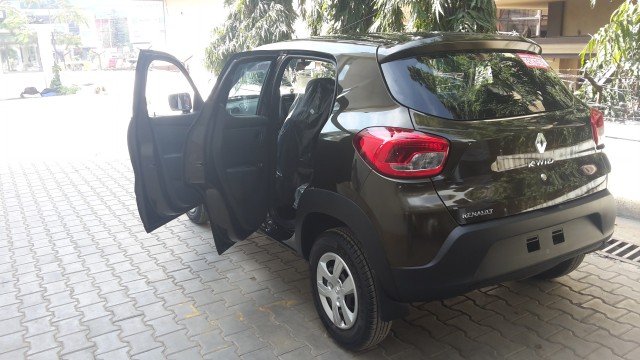 Rajesh Giving demo of the car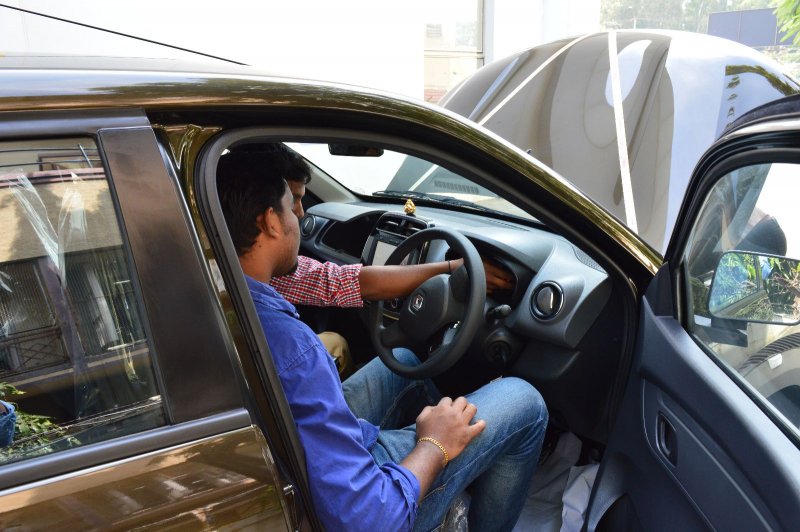 Infotainment
Car Stepney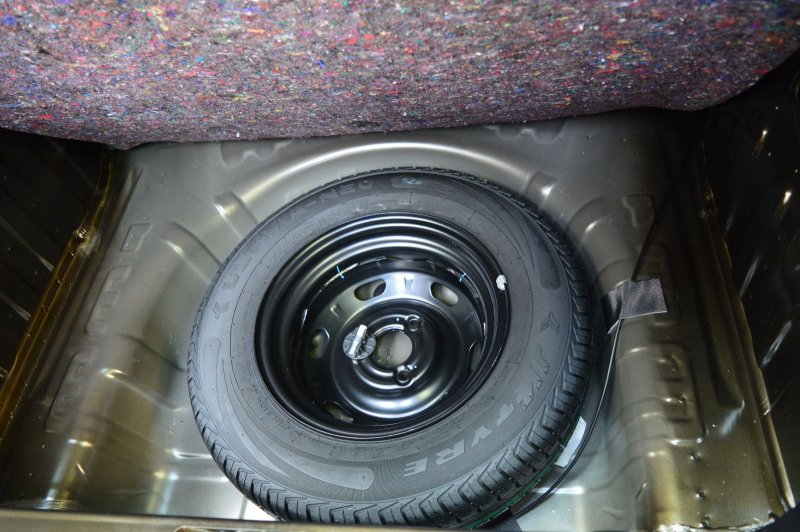 Now Me(Rakesh) and Arjun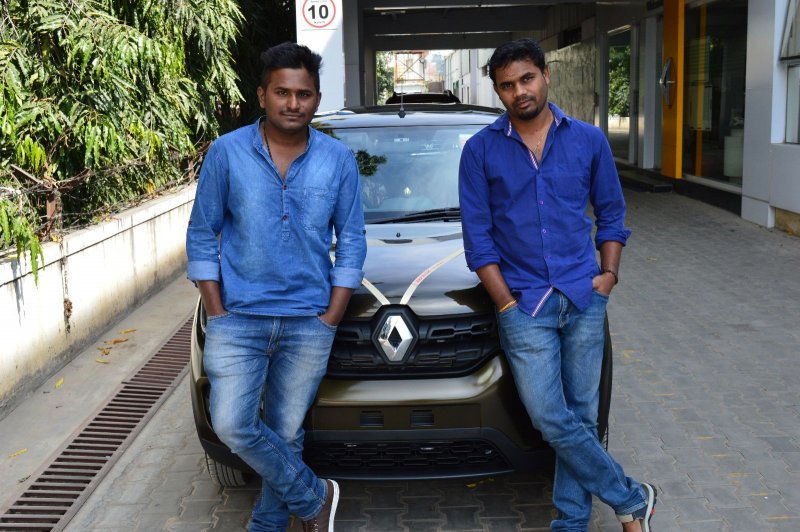 Tyre's are JK Tyre's.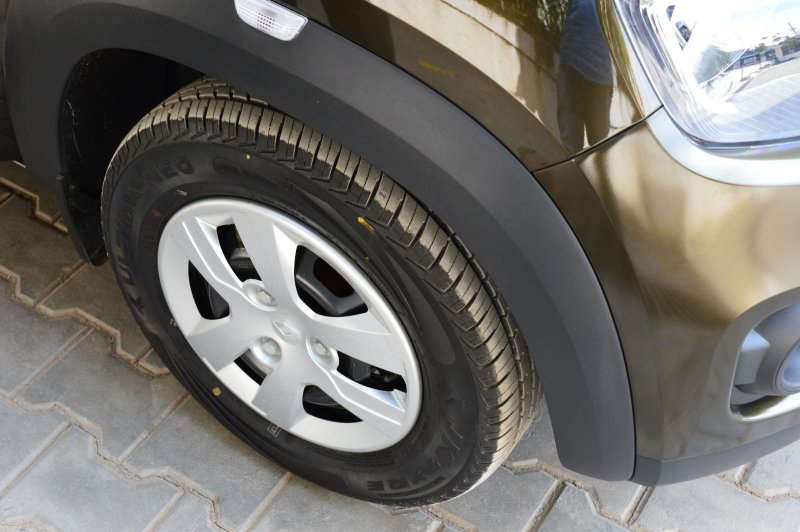 Went to Pooja with Mom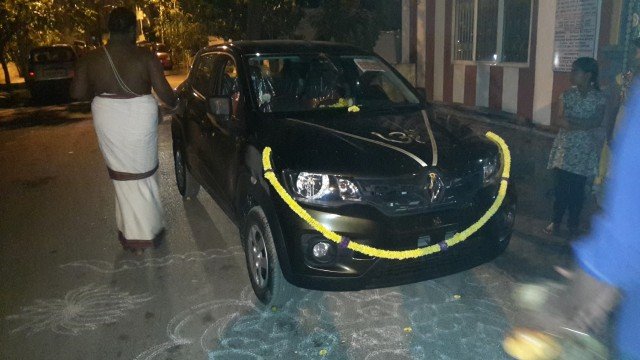 Some More pics.
What i like:
* The silhouette of the car. The creases and the optical illusion of it being bigger than it actually is
* Mini duster looks. The wheels though small, work well with the overall design
* The touch screen media interface with navigation. Super smooth to operate.
* Light controls
* Storage space inside the cabin
* The space on offer. The rear bench feels particularly wide and well executed
* You feel like you're getting your money's worth and then some
* Ground clearance of 180mm for those towering speed/car breakers
* OEM customization options for those who like to jazz up their ride
* Option to procure extended warranty for just 4.6K - additional 2 years
* Responsive engine
* Amazing ride quality
* Huge boot : Bigger than my uncles figo. Wow.
* The digital speedometer looks straight out of a Sci-fi movie
* 97 percent localization = spares should be cheap.
* Fells better put together than the competition despite the 660Kgs weight
* Accommodating front and rear seats.
LOOKS
Looks can be very subjective but i'd rate it a solid 9/10. The bold design camouflages the small dimensions and one can be forgiven for thinking that this car is actually just a tad bit bigger than an alto. My friend from work mentioned that it looks as big if not bigger than a Grand i10 parked right next to it . Visual drama at its very best. The straight forward side profile and the bland rear don't really do justice to the very technical looking front though. The rear lights looks a bit like the ones on the Grand i10 and come across as plain Jane. Although in isolation they look pretty smart. There is still a sense of cohesiveness in the design and the way various elements like, the kink in the roof , the window line which extends to the C pillar and the wheel arches all come together to make it an attractive little hatchback.
Kwid comes across as a very desirable product especially when you factor in the price and various USPs that it offers. My colleagues , friends and family members - whosoever has seen the Kwid so far has been overly impressed by it and the price has been a shocker for many. Fingers crossed as far as Renault service is concerned. I hope they roll up their sleeves and bring their A game forward.

That is all Guys.
Thanks to my friends.
I'm Happy
Last edited: