Hello friends and fellow travellers!
Hope this post finds you all in great travel spirits. Recently I and my wife drove down to the beautiful little hill station of Mount Abu in Rajasthan in our 2 year old Ertiga from Mumbai. The journey and the experience was memorable to say the least. While I understand that there is no alternative to actual traveling, I will still try and bring before you our experience through a mix of story, photos and videos. So here we go:
The idea of driving down to Mount Abu was never in the picture honestly. It was just that we wanted to drive away somewhere far and quaint from Mumbai, ideally about 300km max one way. You know, those days when you are eager to just drop down everything and put a pause to daily life, pick the car keys and just drive down. I know while reading this you are smiling because, we all travellers go through this bout often, very often.
The monsoons had begun and God's green carpet was just laid fresh on the brown terrain. While trying to figure out where to escape. My wife mentioned of Ambaji. "Ambaji? Where is it and how did you get to know about it?" I asked her. "Oh! It's a beautiful little place in Gujarat and has a very revered temple of Goddess Ambaji. I saw it in popular TV series." She replied. Not that I didn't want to go, but I was hoping more of the likes of Goa, Tarkarli, Malvan as a destination.
So there we go. The destination was decided upon as Ambaji and we got ourselves preparing for the journey. Ambaji is approximately 700 km from Mumbai (depending on where you stay). The route we would be taking is Mumbai – Baroda – Ahmedabad – Himmatnagar – Ambaji.
Along with the weekend I had taken 3 more days off and so this was going to be a leisurely drive halting and stopping practically every place we wanted to.
Webisode 1, the journey begins:
The journey finally begins and we land on the wet NH8. The lush green landscape is absolutely a spectacle and the rain lashing down is an experience to die for, as we quickly move through the winding but broad and well tarmacked NH8. I drive at an average of 80kmph and do not drive after dark ideally. So by 6pm almost we decided to halt in Baroda for the night. That way we could also get to see a glimpse of Baroda city.
Webisode 1 video:
https://www.youtube.com/watch?v=5STgYK6-faI&t=6s
Webisode 2, The journey continues
: After a snoreful night (which my wife complained to me of, in the morning), I was ready to move ahead. We stayed in a decent hotel, not very expensive, near the station. Just a word of advice here, Baroda hotels are very strict on ID proofs of every occupant (which is a good thing). I was carrying mine but my wife wasn't carrying hers. Thankfully in some mail that I had sent, was her ID also attached. Oh! The relief is unexplainable. We drive around Baroda to get a hang of the city before pushing off towards Ahmedabad through the fantastic expressway.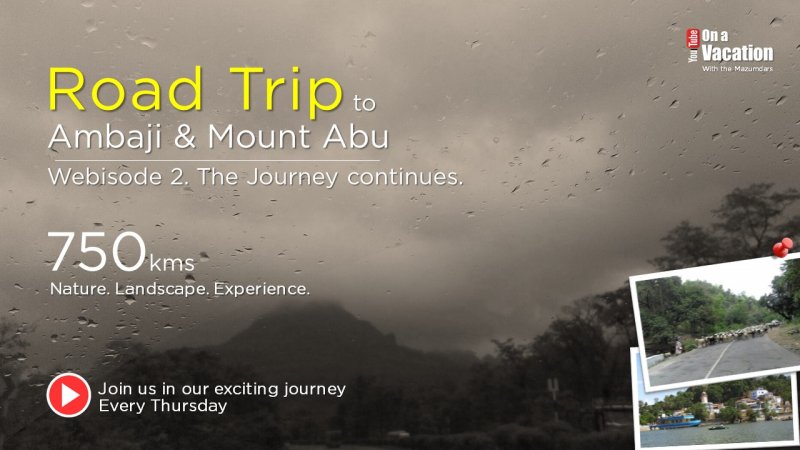 Webisode 2 video:
https://www.youtube.com/watch?v=YkkhrytYobw&t=5s
Webisode 3, Reaching Ambaji:
We quickly exit Ahmedabad and head towards Ambaji. Now, the real story starts unfolding. The story of beautiful winding roads, the rural backdrop and the nip in the air. Finally we actually feel that we are out of the city. Till Ahmedabad, even though we were on a highway (NH8), it hardly felt like we were out of the city. It's a busy stretch. Towards late evening we finally reach Ambaji. Oh it is a lovely feeling. Small town, clanging of temple bells in the distant, small hotels, smile on people's faces, we knew we were out of city life! Dinner in a little but noisy restaurant/dhaba and we crashed in our hotel bed. By the way, we did not prebook the hotel but had actually walked around post dinner and booked one next to the temple.
Webisode 3 video:
https://www.youtube.com/watch?v=vao3idBfE5g&t=9s
Webisode 4, Ambaji:
Going to a temple early morning in an unknown town is a wonderful feeling. Normally I prefer skipping taking a shower in the morning (whenever I can) but today it was different. I woke up early had a shower and was ready to go to the temple. We walked down to the temple and oh so beautiful and grand it is. The architecture, the carvings, the temple, the atmosphere was amazing. There is another place to go here on a hillock by a ropeway, called Gabbar! We decided to skip that and planned to be in the temple premises for a longer period, till we return back to Mumbai.
Webisode 4 video:
https://www.youtube.com/watch?v=qmK0WSMaB-U
Webisode 5, Way to Abu:
You know and am sure will agree, once you are out on the road, the road decides where you go and you just remain a mere pawn driving down to wherever it takes you. And that is just what happened. On enquiring, we got to know that Mount Abu is just 50kms ahead. I looked at my wife and she knew what was in my mind. "Chalo phir!" is all what she said. So that's how the Mount Abu trip sprung up. The scenery gradually but drastically changed. "Oh we are in the north, I can feel it, smell it" I exclaimed. Both of us actually grew up in Delhi so you see, north allures us a lot. The roads, the unfolding scenery, the sharp drop in temperature, the mist was just marvellous as we climbed uphill.
Webisode 5 video:
https://www.youtube.com/watch?v=m5Sj0FSi1VQ
Webisode 6, Mount Abu Finally:
Mount Abu! Finally we are surrounded by mist and cold. The beautiful narrow roads with shops adorned all along tempted us to walk down through the mist early morning. The chill in the air was magical. I really don't think any text could do justice to what both of us were experiencing. It was magical. We checked on the market, the Polo ground and around the town.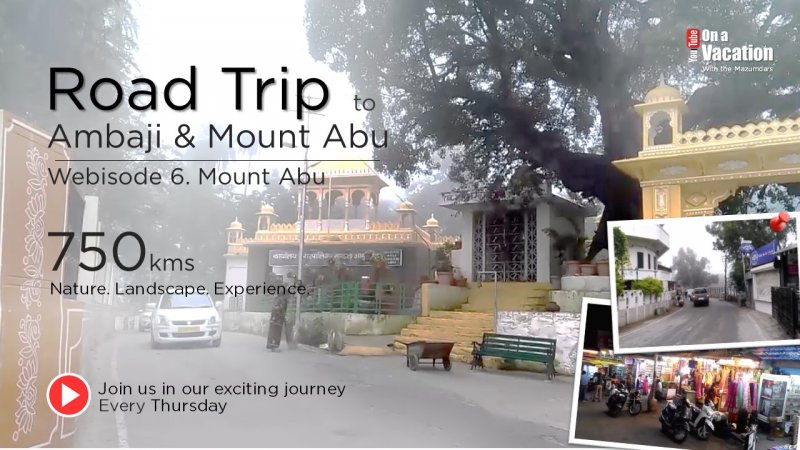 Webisode 6 video:
https://www.youtube.com/watch?v=BCB7YBn4TKE&list=PLRoZRGiOUfaivJDdB3UGUjal7NNwfCeWj&index=6
Webisode 7, Mount Abu
: Mount Abu was not even in our destination list and here we were extending our stay to 2 nights! The next day we went to the Dilwara temple and Nakki Lake where we tried our hand at boating. The lake is beautiful and the experience was great. The Dilwara temple is again another marvellous Jain temple and is definitely a must visit. Am sure we will be visiting this Mount Abu more often and winter would be a great time to drive down again.
Webisode 7 video:
https://www.youtube.com/watch?v=sKmu_pyXia4
Thank you all for reading through the experience and watching the videos. Hope I could bring before you a little bit of our entire journey and experience. Would love to hear from you all.
Best regards
Nilav
Last edited: