There is always unique excitement within us when we are about to travel. The roads and highways sometimes feel like man made marvel. From last two three months my work load index has grown like anything. I hardly get time to read travelogue and visit our very own TAI. I was waiting for Diwali festival so that I can combine official holidays along with personal leave and go for much needed travelling.
As usual the manager was reluctant to approve leaves but somehow, I convinced and got my leaves approved. The initial plan was to explore "Heart of India" (Madhya Pradesh) and move up to Nalanada covering Varanasi and Bodh Gaya as well. The plan needs to be compromised as it was not at all getting fit along with days in our hand. So, exploring South was only option with us!!
I could remember clearly one shot in film "Chennai Express" in which Shah Rukh Khan was driving on Pamban bridge. I had seen so many pictures of these bridge in some or other travelogues. This bridge is also a man-made marvel. Somehow, itinerary started building up in my mind for visiting Rameswaram. This place is also a famous pilgrimage spot as its one of the Char Dhams. Along with Rameswaram I was also trying to club Madurai.
I opened notepad and started planning the itinerary. Took help of TripAdvisor for getting Points of Interests. Had gone through few travelogues on identifying the road conditions. Took suggestion from H V Kumar who is well known traveler. Finally, the itinerary looked as below,
Day 1 – Pune - Bangalore
Day 2 – Bangalore – Madurai
Day 3 – Madurai – Rameswaram - Dhanuskodi – Rameswaram
Day 4 – Rameswaram – Kanyakumari
Day 5 – Kanyakumari – Vagamon
Day 6 – Vagamon – Alapuzha
Day 7 – Alapuzha
Day 8 – Alapuzha – Valparai
Day 9 – Valparai
Day 10 – Valparai - Bangalore
Day 11 – Bangalore - Pune
Day 1 – Pune to Bangalore
We did all our packing and slept early so that we can start from Pune in wee hours of morning. After a short prayer we started from Pune around 5:15am. The destination for the day was Bangalore. The roads till Satara was having many potholes. As soon as we cross Annewadi Toll the road quality changes to concrete with excellent surface, but still you cannot achieve a good speed as till Kolhapur there is miscellaneous traffic on road. Even if you honk to your limit no one will move out from your way.
Once you cross Kolhapur and enter Karnataka then you will be welcomed by amazing road and thin traffic. You can have a great drive in triple digits till Dharwad. There is this 30kms of single lane road between Dharwad and Hubli where you need to keep lots of patience. There are many truck convoys ahead of you. Either you need to stick behind them or need to overtake entire convoy in one go.
Suvarna Vidhana Soudha as seen from highway near Belgaum
After Hubli till Davangere you can again do triple digits and cover some lost time. There is road widening work happening between Davangere and Chitradurga, there are lot many diversions in this section which will slow you down tremendously. These diversions have all sorts of speed breakers, some visible from long distance and some visible only after front tires goes on it. Few diversions are having potholes as well.
You can again zoom from Chitradurag till Dobbaspet. Once you cross Dobbaspet then you will be again into traffic till Neelmangla and entry of NICE Road. As usual this time as well I somehow managed to miss the entry at NICE road. I need to enter Bangalore city to take U turn and come back at proper entry of NICE road.
I would like to say that NICE road is not so nice. At start the tar is vanished where you need to keep jumping into another lane. We were completely exhausted this time till we reached Electronic City. There is metro construction happening in this area where traffic is worsening. After struggling through traffic, we finally reached our hotel. After having some light dinner, we crashed in our beds.
Day 2- Bangalore to Madurai
We started a bit early from Bangalore to avoid traffic till Hosur. It was foggy in morning.
We took Bangalore – Hosur – Krishnagiri – Salem – Dindigul – Madurai. There was heavy truck traffic till Krishnagiri later it was literally a run way till Madurai. The roads in Tamil Nadu are amazing when compared with Maharashtra. We reached Madurai in afternoon itself, the lanes inside main town are quite narrow. We reached our hotel and took some rest.
In evening we visited Meenakshi Amman Temple. The temple timings are from 5:00am to 12:30pm and then again from 4:00pm till 10:00pm. They don't allow Cameras, mobile phone inside temple. You cannot carry bag inside temple as well. They have good facility at entrance to keep your mobile phones, baggage and footwears.
Gopurams of Meenakshi Amman Temple
There are total four entrance to temple, we went through west entrance.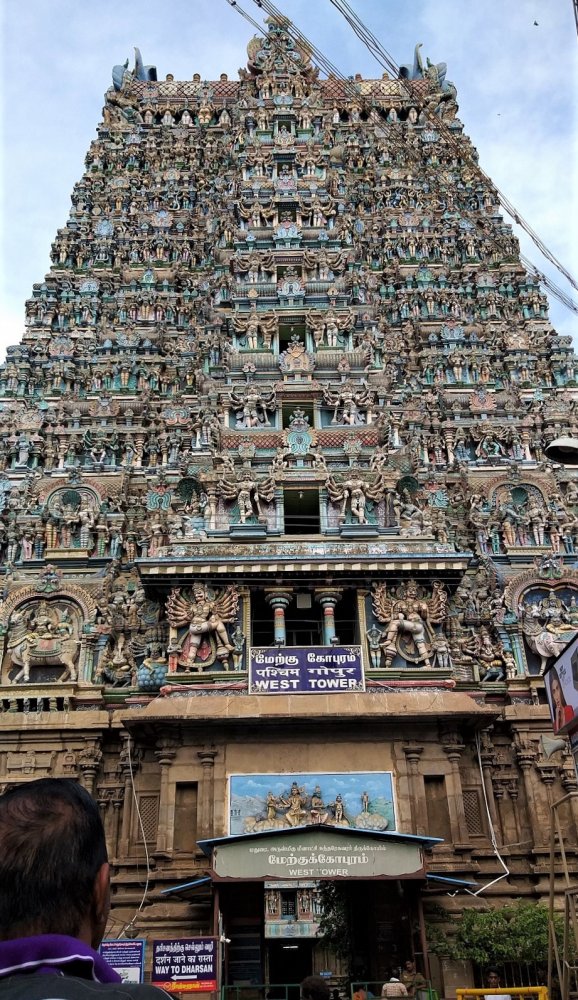 After entering inside temple, we saw that there are 3 darshan queues (one with Rs.50 ticket, second with Rs.100 ticket and third was for free darshan). We opted for free darshan as many were saying that it will take hours to have free darshan. But to my surprise within one hour we had our darshan. There is no artificial lighting near main deity. It looks so beautiful to see Meenakshi Devi in brightness of diyas.
After having peaceful darshan we roamed a bit inside temple campus. We visited their museum which is located inside temple campus. The main attraction of this museum is 1000 pillars mandap. Sculptures are craved on each pillar. There is huge idol of Shivas in Natraj mode inside this mandap.
When we came out it was already dark, the gopurams looks divine in moonlights. We went to have the famous drink of Madurai named "Jil Jil Jigarthanda". This drink is made from milk, sugar, dry fruits and some added flavors. We had this at famous Vilakkuthoon Hanifa Jigarthanda shop located at walkable distance from temple.
Jil Jil Jigarthanda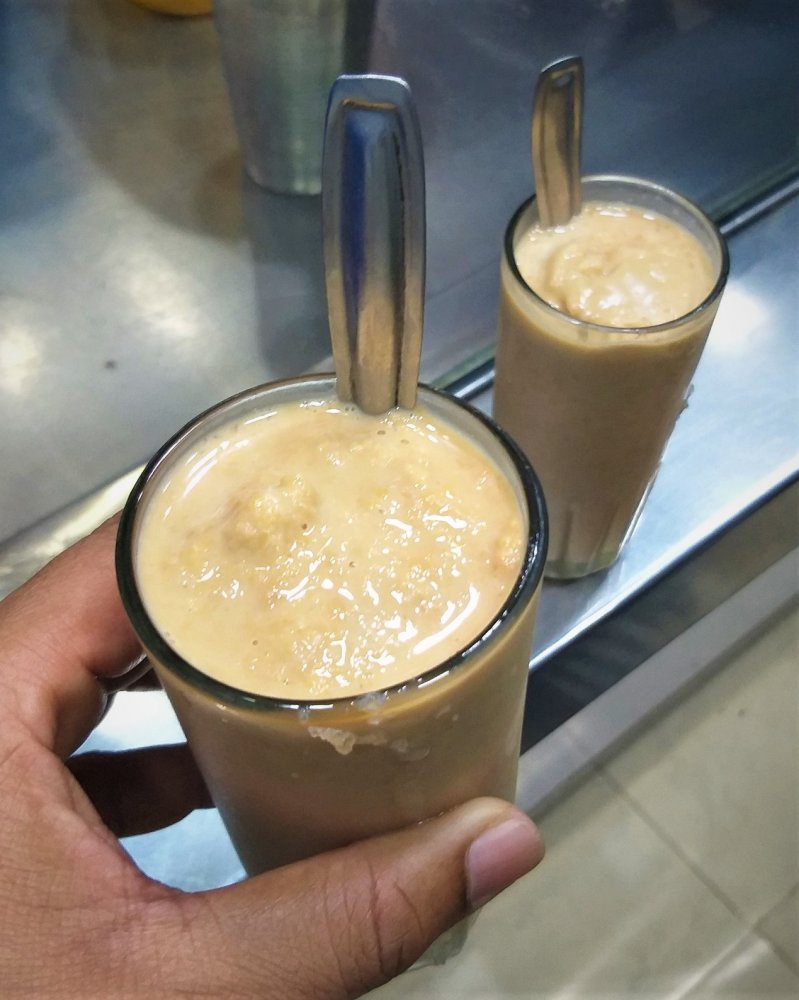 We roamed in narrow streets of Madurai. After having dinner we came back to our hotel. I would say that the car parking is very congested near temple. It is better to park your car at Madurai station and walk for 2 Kms or you can park in the lanes of Dhanappa Mudali street which is bit nearer to temple.
Day 3 : Madurai – Rameswaram - Dhanuskodi – Rameswaram
The entire night it rained heavily in Madurai. In morning as well there were rains with dark cloud surrounded in sky. We finished our breakfast and started our journey towards Rameswaram. The rains were increased as we were on road.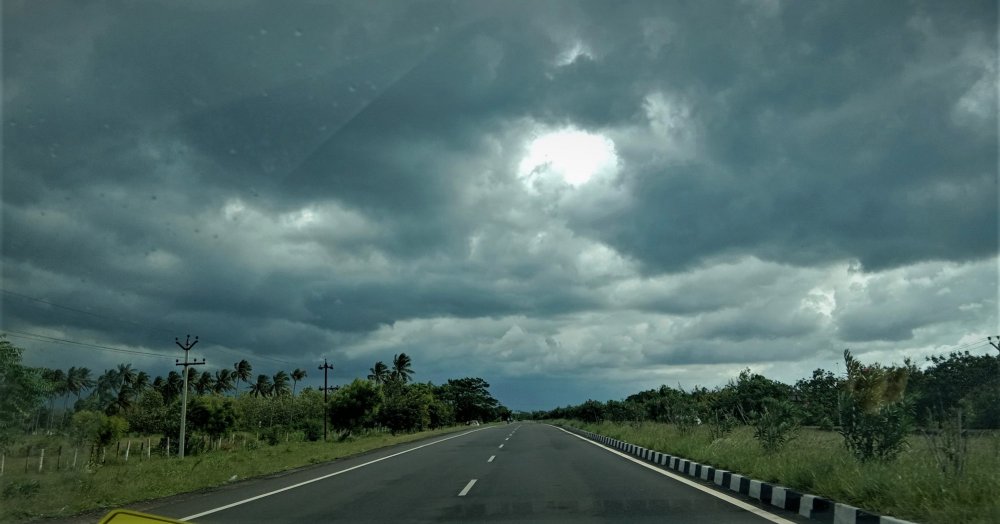 The roads are decent in this patch. There was a mix of 4 lane and 2 lane stretches. Until Ramnathpuram we came across rains which were lessened as we moved towards Pamban. The Pamban bridge is the connection between Indian land and Rameswaram island. Now we were driving on much awaited bridge which is approximate 2 Kms long.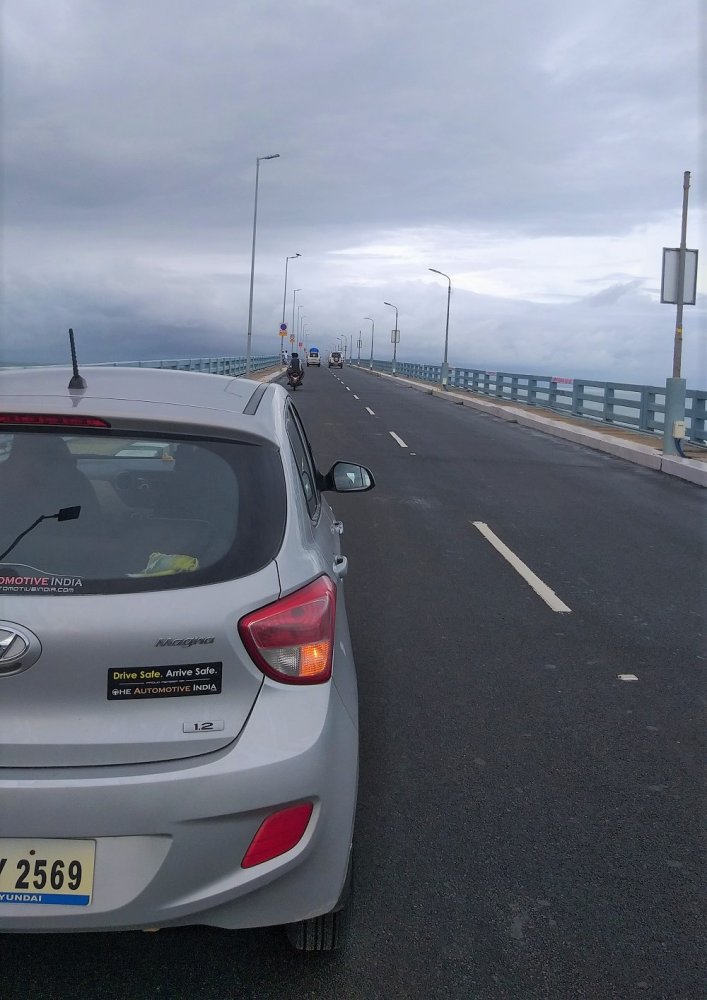 The railway line running parallel to road bridge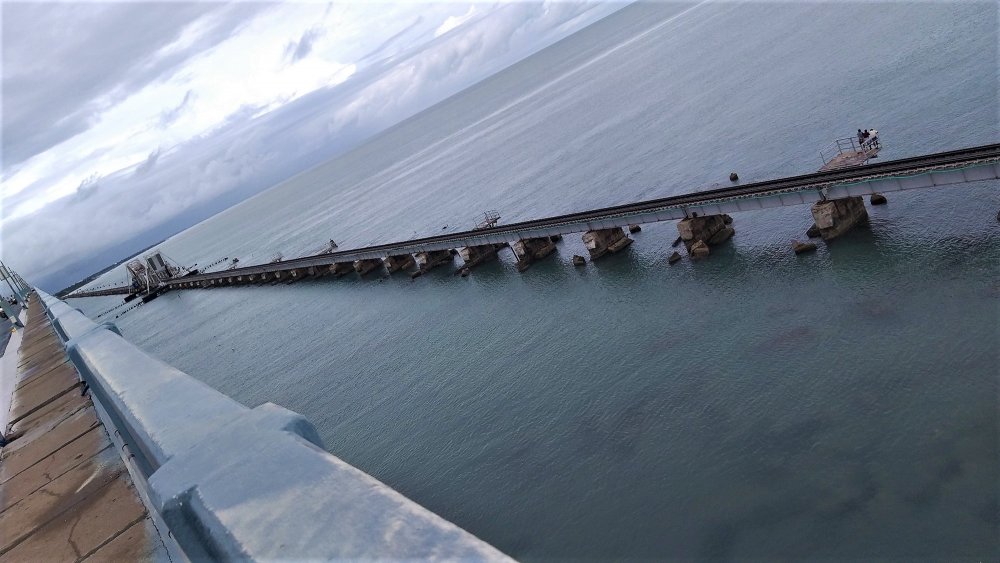 The bridge on railway line which gets open for ships to pass beneath it.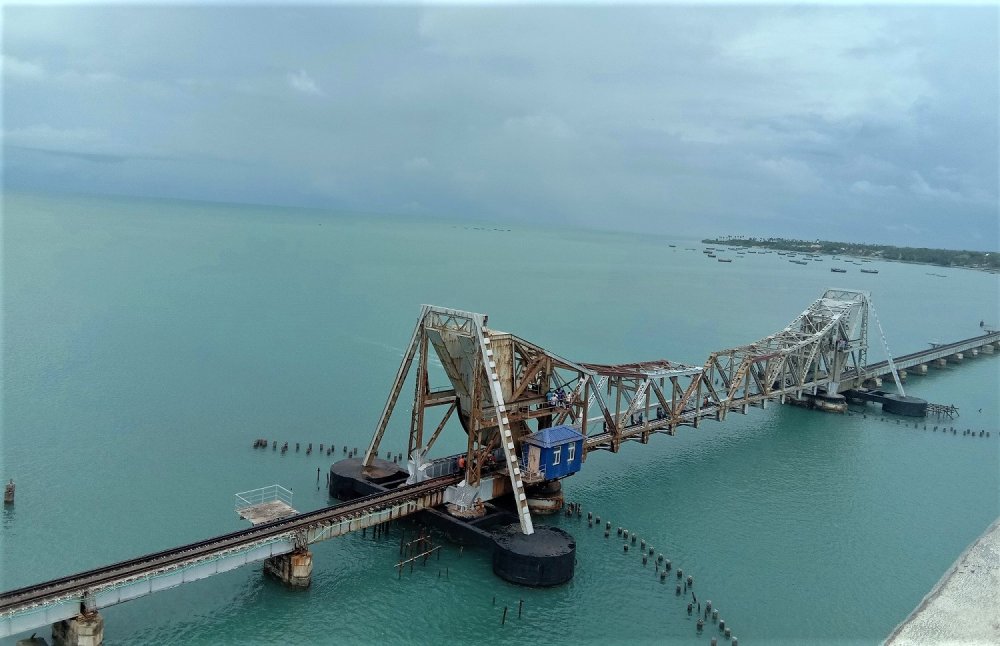 We entered Rameswaram after clicking few more photos on bridge. By this time the rains were stopped. There is Rs.100 entrance for cars into Rameswaram.
APJ Abdul Kalam Memorial near Rameswaram entrance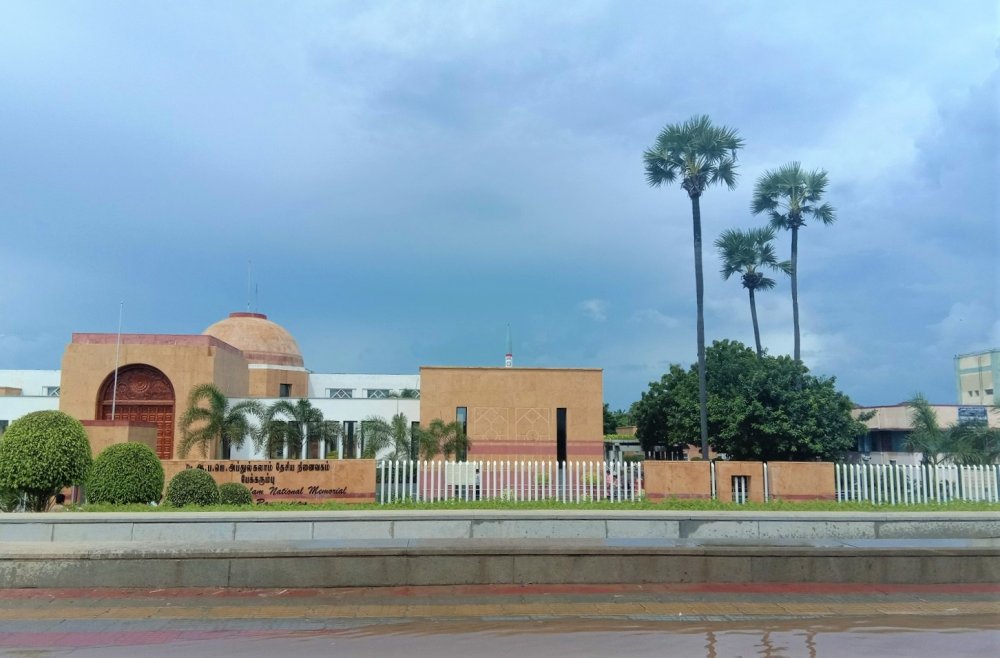 As sky looked open, we planned to visit Dhanuskodi first and the come back to Rameswaram. The roads for Dhanuskodi are excellent. It almost takes an hour to reach Dhanuskodi. We reached Dhanuskodi village and came to know that due to cyclone warning no one can go till tip. The security has placed barrier on road. With heavy heart we came back after exploring old village and beach of Dhanuskodi
Beach od Dhanuskodi
Dhanuskodi is an abandoned village. The town was destroyed in cyclone of 1964 and remains uninhabited in the aftermath. This is old church in Dhanuskodi village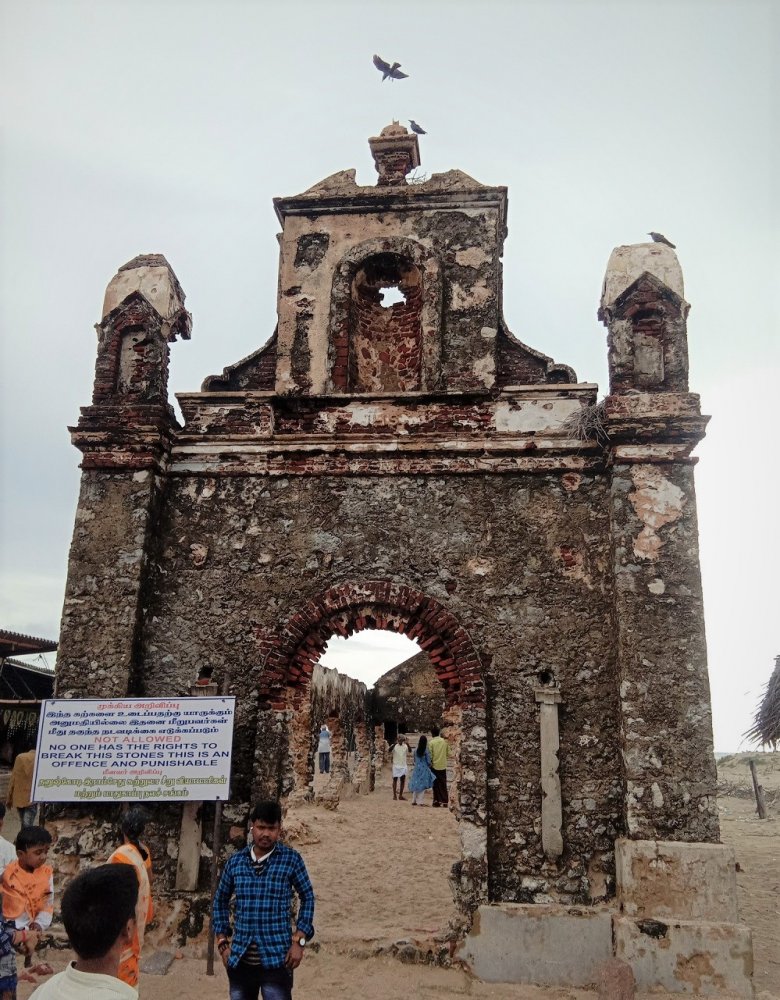 I just took my location from Gmaps.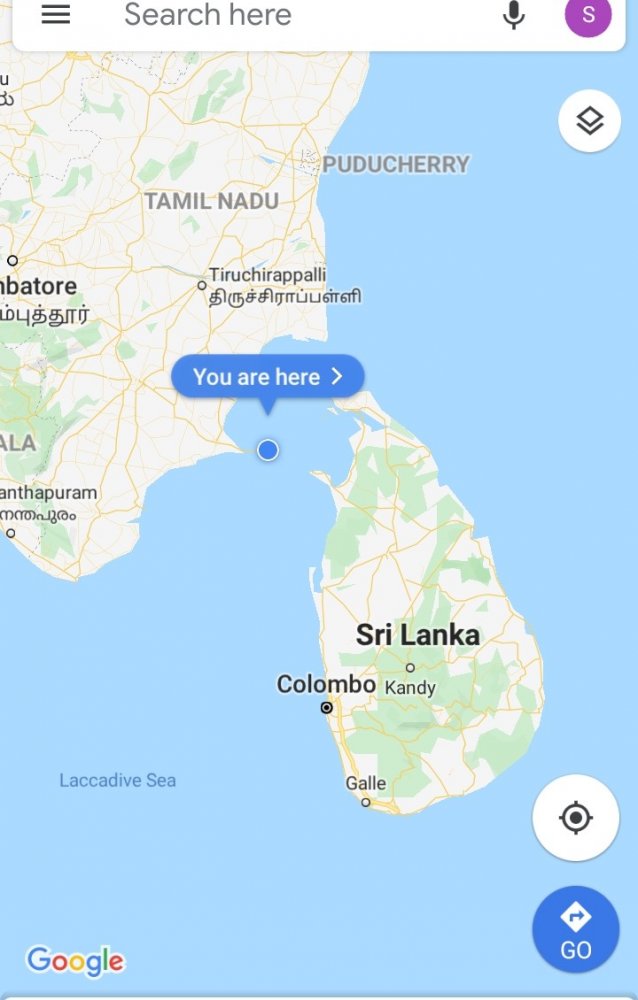 With heavy heart for not able to visit tip we drove back to Rameswaram. It strike suddenly to me that in my last Rajasthan trip we could not visit border from Tanot due to latest surgical strikes. Somehow, these things will be in mind which will make us to plan to go there again sometimes in life.
We came to our hotel at Rameswaram and took some rest. Meanwhile it started to rain outside heavily. The temple was at walkable distance from hotel hence we decided to visit it in evening. It was raining cats and dogs outside, we waited for rains to stop but all in vain. At last we took our umbrellas and started towards temple.
Ramanath Swamy temple is famous temple in Rameswaram. It is one of the "char dhams". They don't allow your mobile phones inside temple. There are many lockers available at nearby shop keepers to keep your mobiles. We proceeded inside temple, it takes almost an hour to have darshan and explore temple. When we came out of temple the rains were stopped.
Ramnathswamy Temple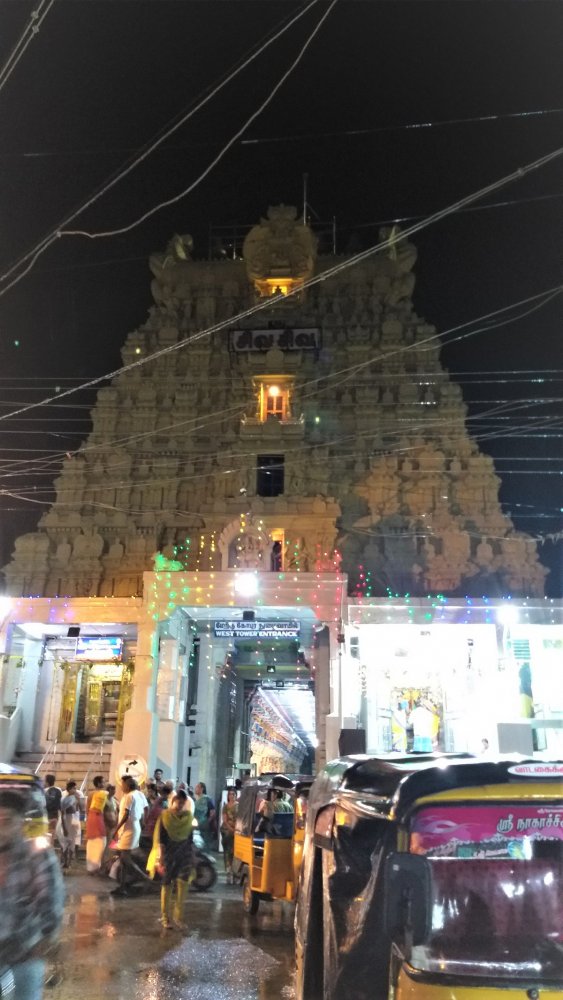 Rameswaram is also known for the home of APJ Adbul Kalam which is located at a walkable distance from temple through some narrow lanes. The house of Kalam sir is open for tourist from 8am to 7pm. When we reached there it was nearing to 7pm. We quickly went inside to see the gallery where all medals were displayed. It was proud moment to see Bharat Ratna and other medals.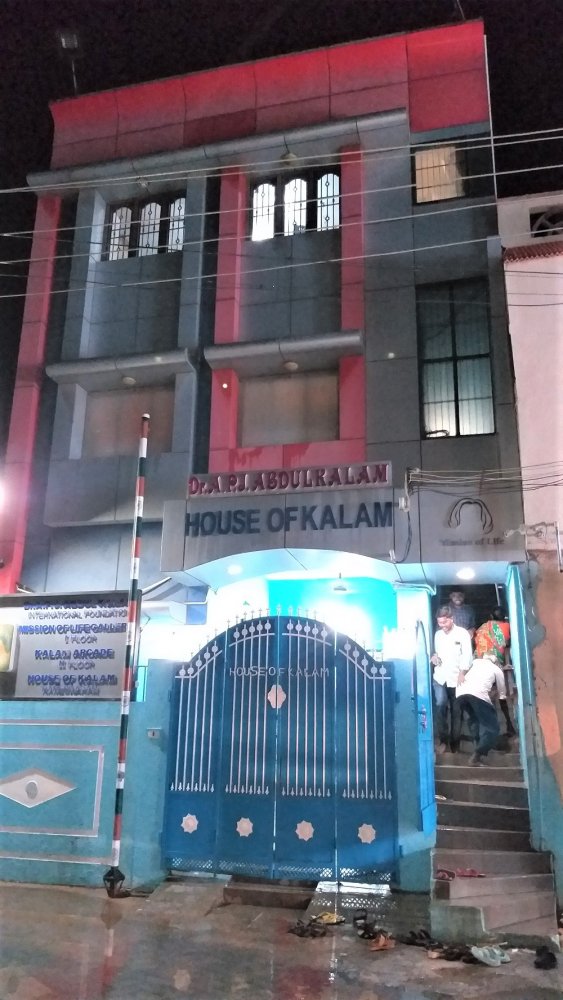 We came back near temple and has some wonderful south Indian dosas.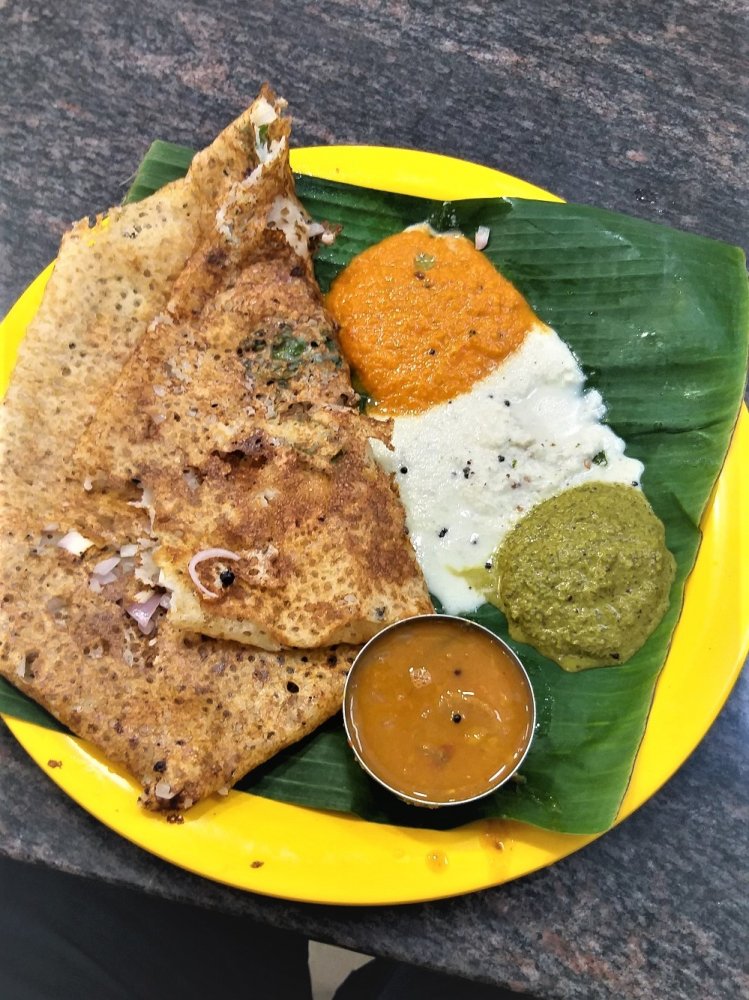 Day 4 : Rameswaram to Kanyakumari
I could see that now the rains have completely stopped. After getting freshen up we started our day with sumptuous south Indian breakfast having all in one thali.
Our journey towards Kanyakumari started. While crossing Pamban bridge we again stopped to have some clicks. We took Rameswaram - Thoothukudi - Tirunelveli - Kanyakumari route. The roads are fantastic throughout.
Some interesting hills on this route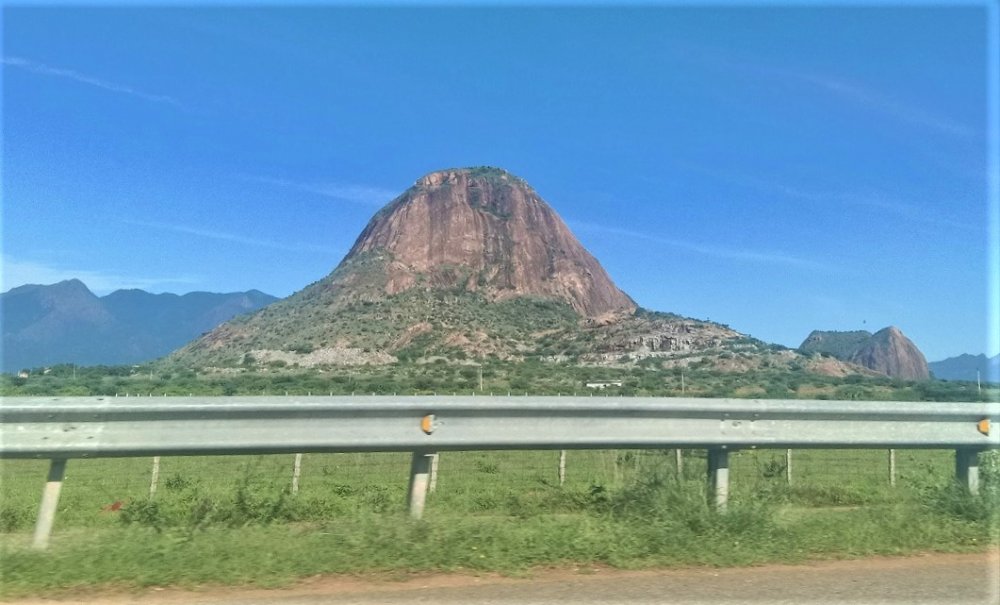 We entered Kanyakumari in afternoon after paying Rs.25 as a car entrance fee. We first checked in at our hotel. After resting for some time, we went for ferry ride towards Vivekananda Rock Memorial. I came to know from Tripadvisor that there is Rs.50 queue and Rs.200 queue for getting into ferry. Also, I came to know that Rs.50 queue is so long which takes hours to get ticket. But surprisingly when I reached, I could see only few people in Rs.50 queue. We took our tickets and grasped our seats in ferry. The last ferry towards rock starts at 4pm.
Ferry approaching
You need to take life jackets and then enter ferry. Ferry is having a good seating capacity. The staff is cooperative as well. There are two gates for entrance in ferry, they allow you through one gate and when half the ferry is full then they close first gate and open second gate for entrance.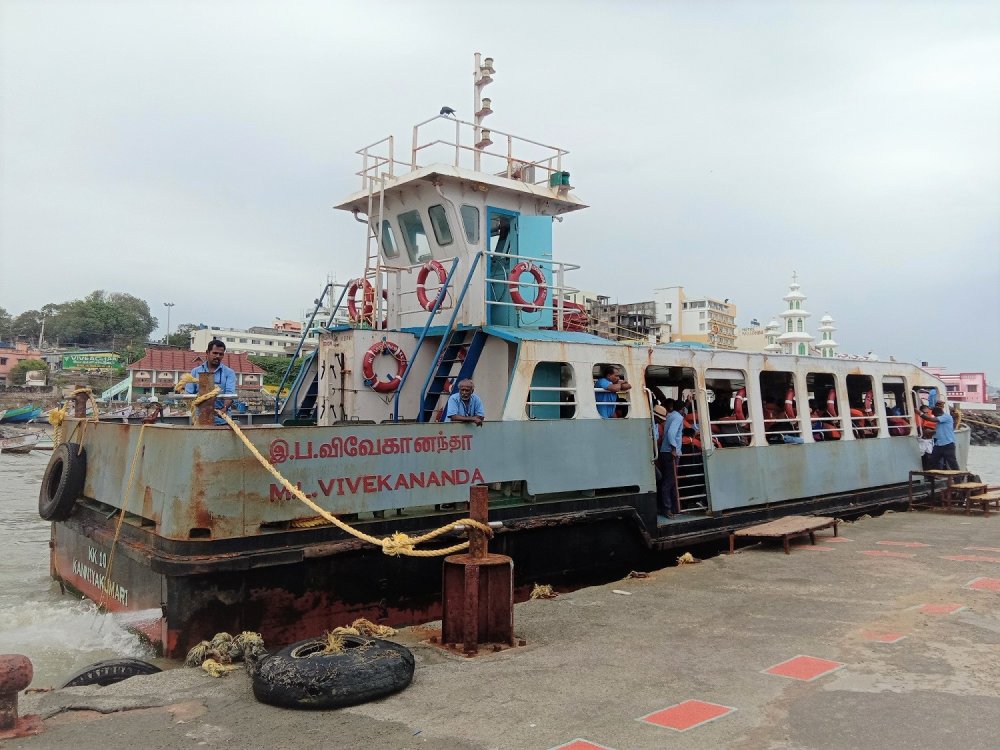 Now we were sailing through the sea towards Vivekanada Rock Memorial.
When you get down on the rock from ferry then you need to pay Rs.20 per person as rock entrance fees. I don't understand why the authorities don't club this amount with main ferry tickets.
Vivekananda Memorial
The place was packed with tourists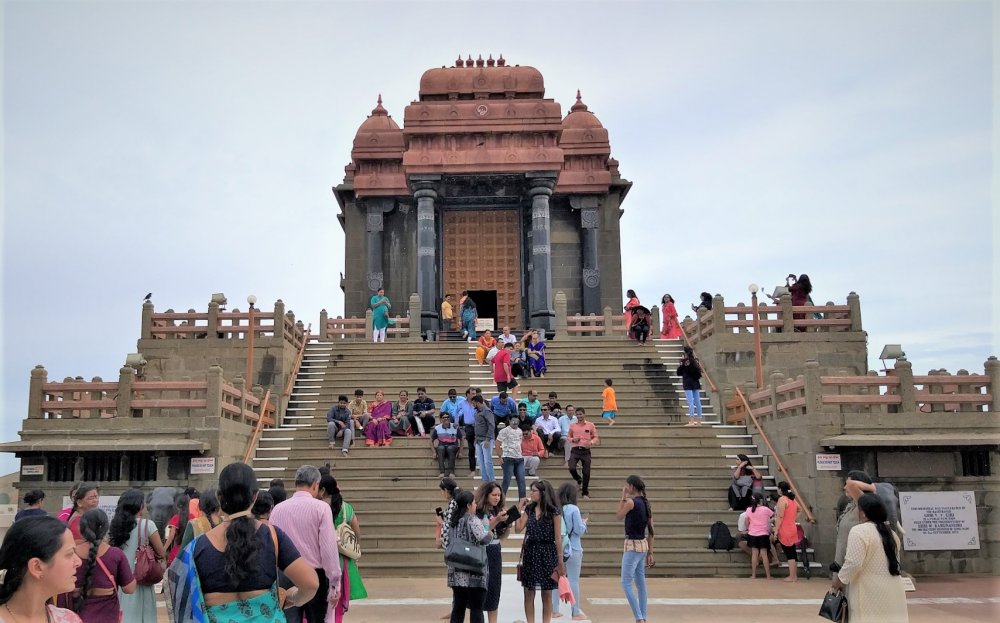 This is a statue of great Tamil poet and philosopher "Thiruvalluvar"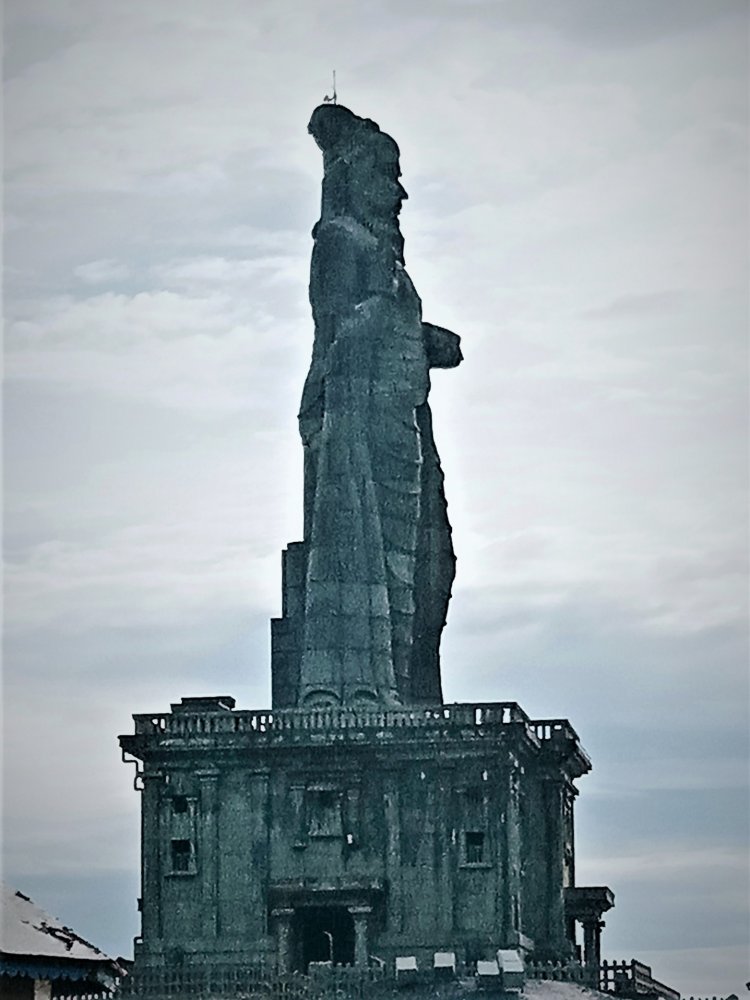 There are three main places to visit on rock which are,
1) Parvati Mandapam – It is said that Devi Parvarti did "tapasya" by standing on one foot and her foot print got imprinted in this rock. We could see the foot print in this mandapam.
2) Vivekananda Mandapam – This has a huge statue of Swami Vivekananda
3) Meditation Hall – It is said that Swami Vivekananda done meditation here prior to world visit. The hall has spiritual atmosphere where just an "Om" can be listened.
Photography is not allowed at above three locations
At the back of this rock we could see some multi-color sand. It is said that the Devi was rebuffed in her marriage. She was very furious, she threw all the food (Sambhar, Dal etc.) that was prepared for wedding guests. This was the reason why it is now looking red, yellow, brown and so on.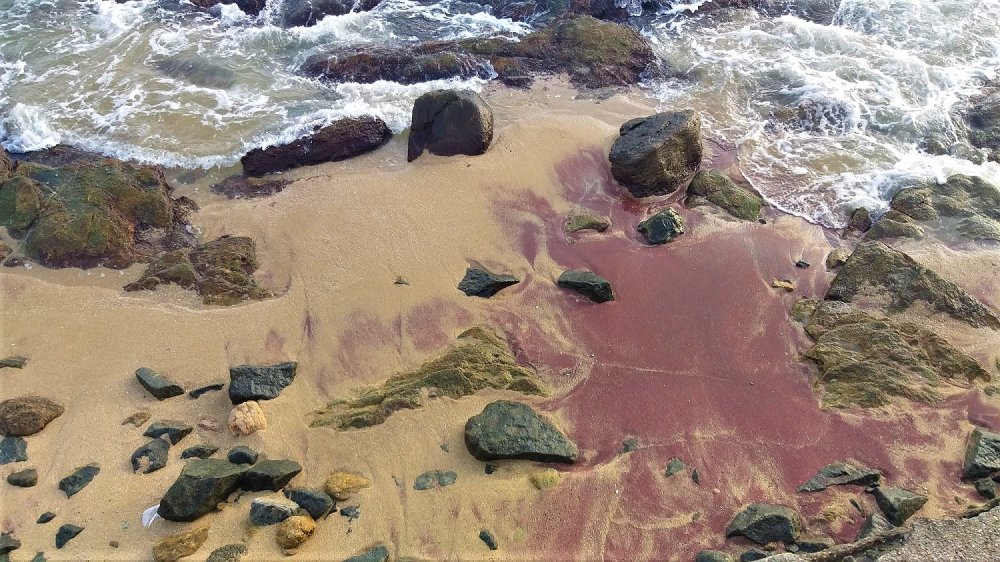 Kanyakumari is known to have view of all three seas, viz Arabian Sea, Bay of Bengal and Indian ocean. The location is known as Triveni Sangam. It's a religious point as few peoples were taking a dip here.
Vivekananda Rock from different angle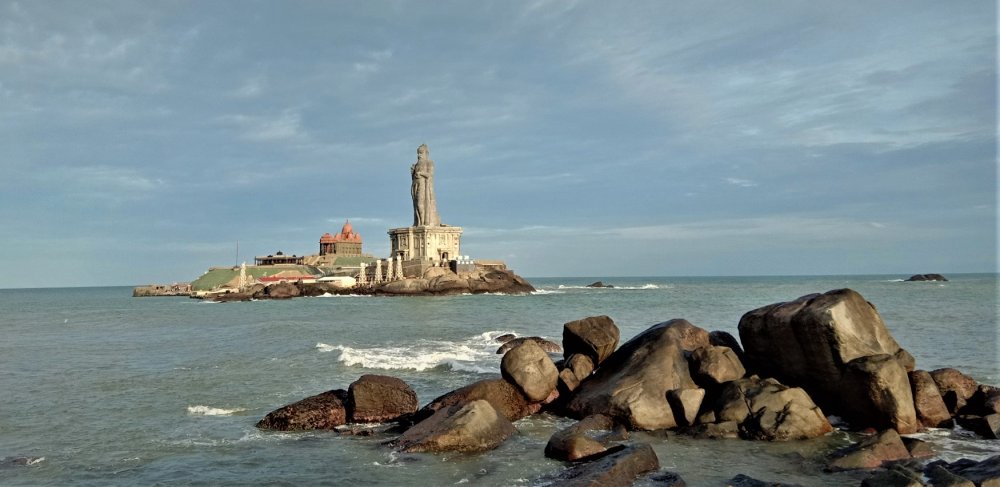 The roads of Kanyakumari are good for driving as well as walking. When we were coming back from seaside, I could see something flied quickly and vanished in bushes. After closely looking I could see it was none other than a peacock. It seems there are few peacocks in this area. I tried to click it as near as possible.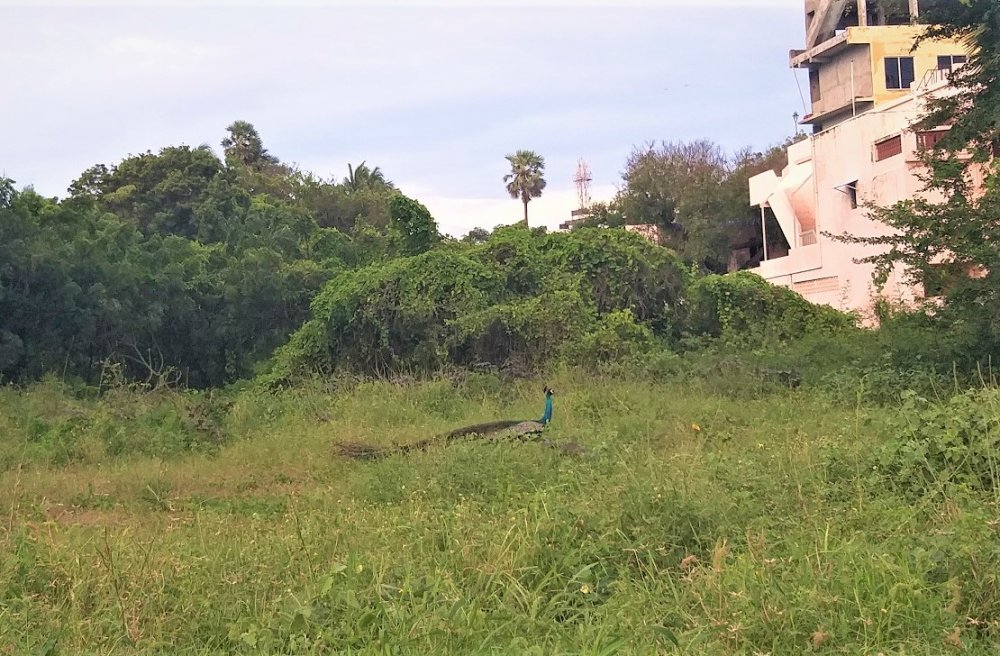 We reached Kanyakumari temple (Bhagvathy Amman Temple). There was less crowd in temple. I was little bit annoyed when they asked me to pay Rs.20 per head. This is the first time I came across temple where there is entrance fee. Photography is strictly not allowed inside temple.
The temple is nicely maintained from inside. In no time we reached the main sanctum of the temple. It was nice to see the divine goddesses in diyas brightness. Her nose ring was glittering very bright. It is said that seaside door of this temple is kept permanently closed as few ships mislead this glittering nose ring to be lighthouse and get crashed on the rocks.
We completed our darshan and went to Gandhi Mandapam which is located at walkable distance from this temple. The ashes of Mahatma Gandhi were kept here before scattering them into Indian Ocean. Apart from 2-3 peoples there was no one here.
The location where the ashes were kept is in center of hall. There is a hole in dome through which sunlight falls straight on this place.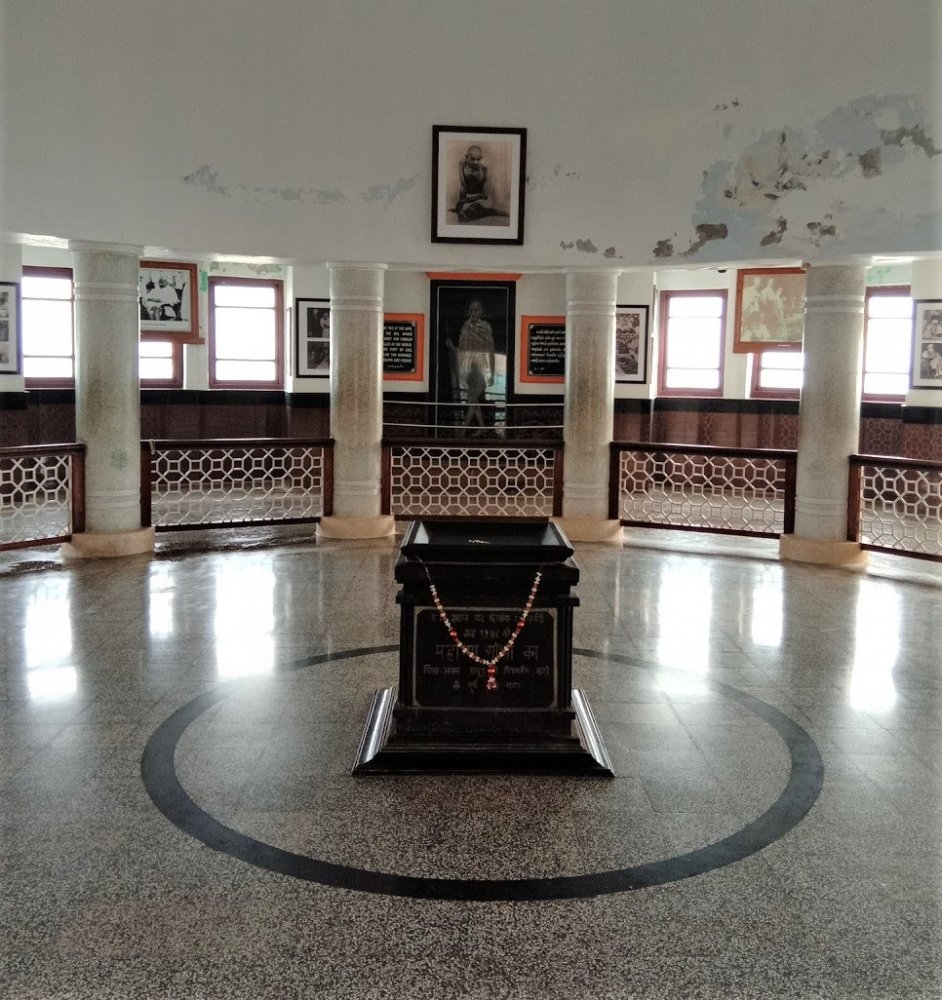 The sun had already set hence we started back to our hotel when we crossed this lighthouse which was throwing a high focus beam.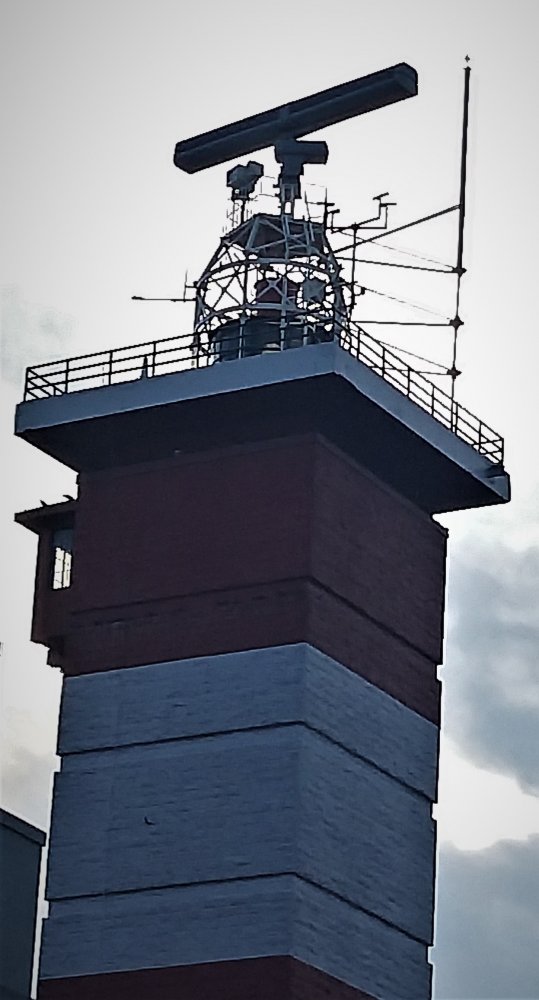 A screenshot from google map showing my location at the end point of India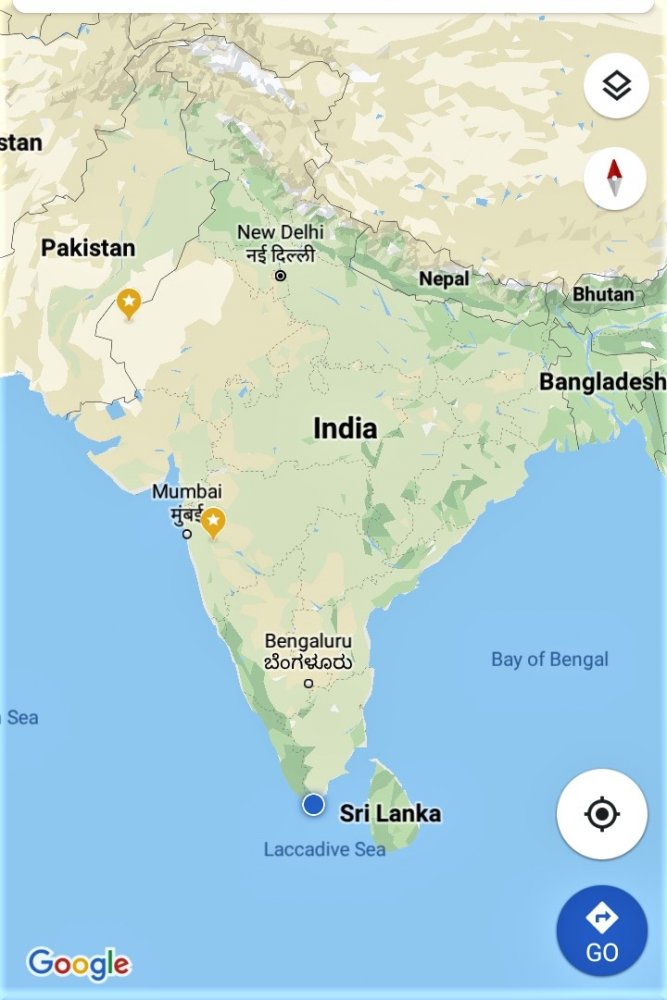 Day 5 : Kanyakumari to Vagamon
Today we will be leaving Tamilnadu state and enter Kerala. We finished our breakfast and started our car towards Vagamon. I had noticed that many buses in Tamilnadu has nice painting on rear. While moving towards Vagamon I again came across one.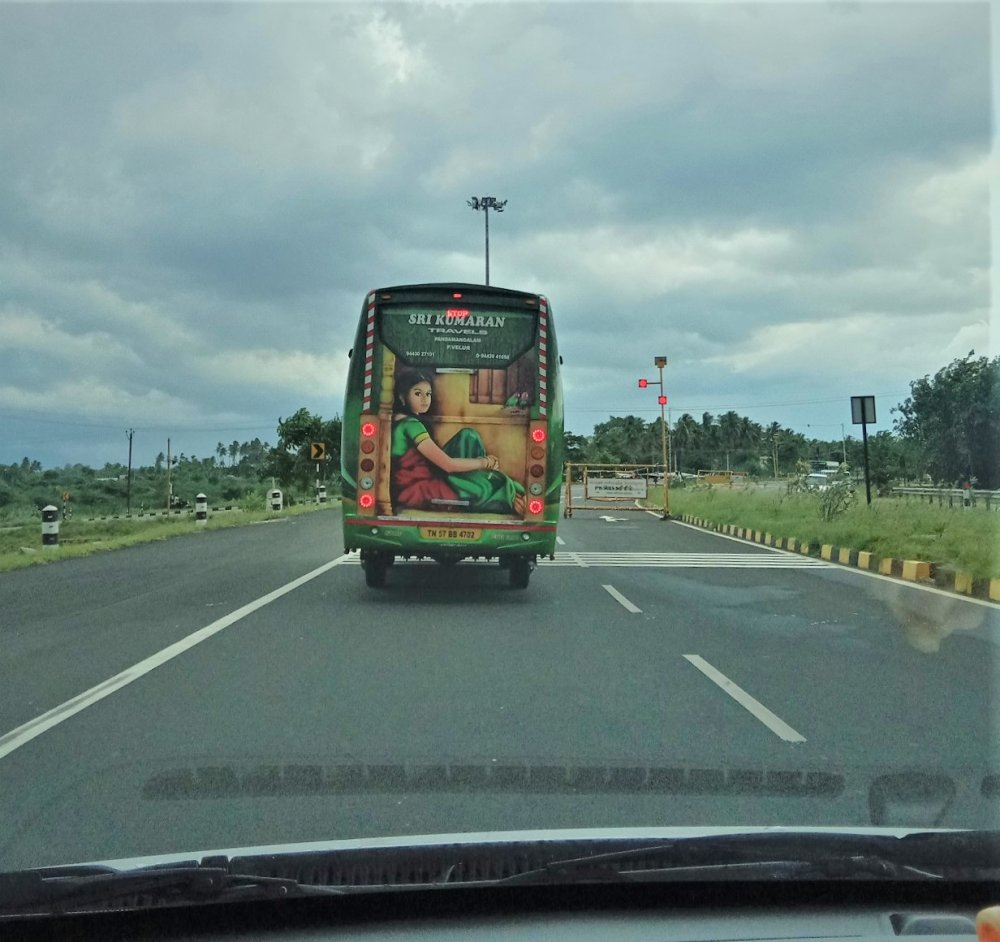 We were slowly progressing towards "Gods Own Country" which was very much noticeable as surrounding were getting changed accordingly. The road was lined with many palm trees.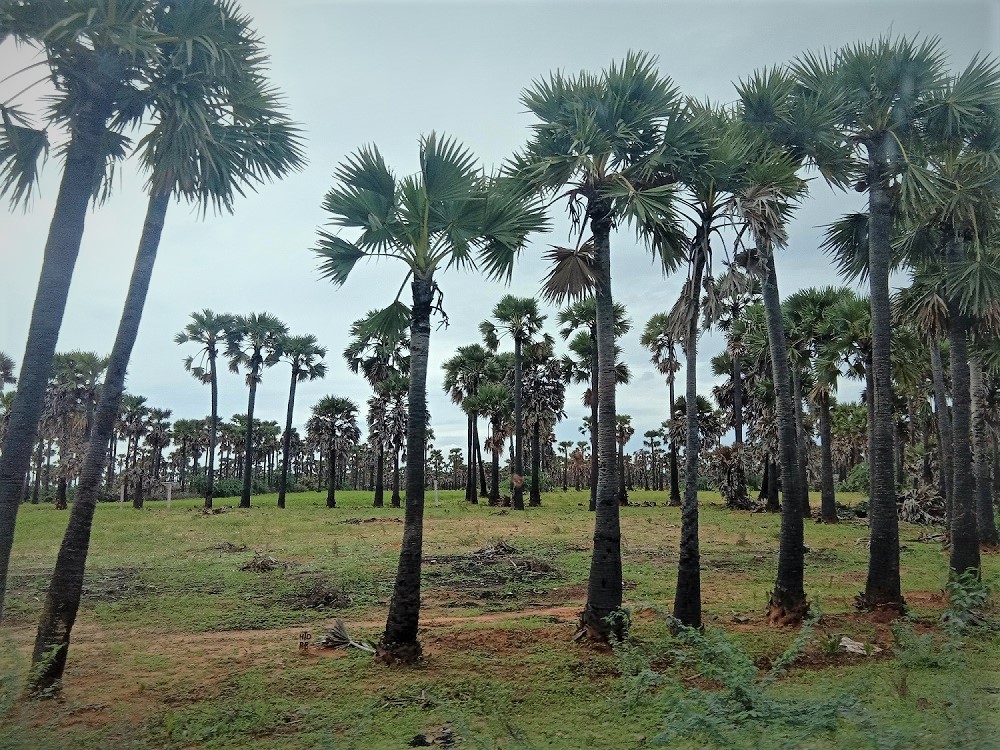 Paddy fields beside road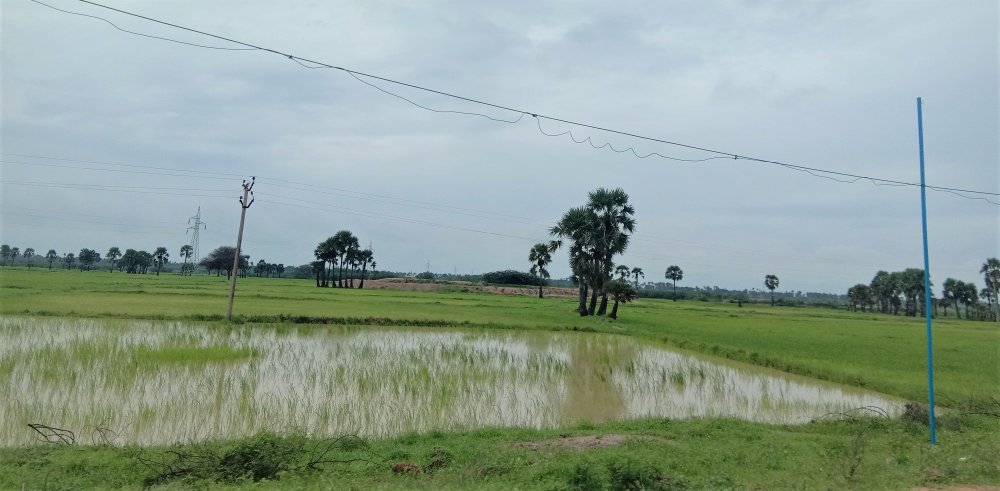 We stopped at a roadside hotel for lunch. I noticed that most of hotels just have meals in their menu in afternoon.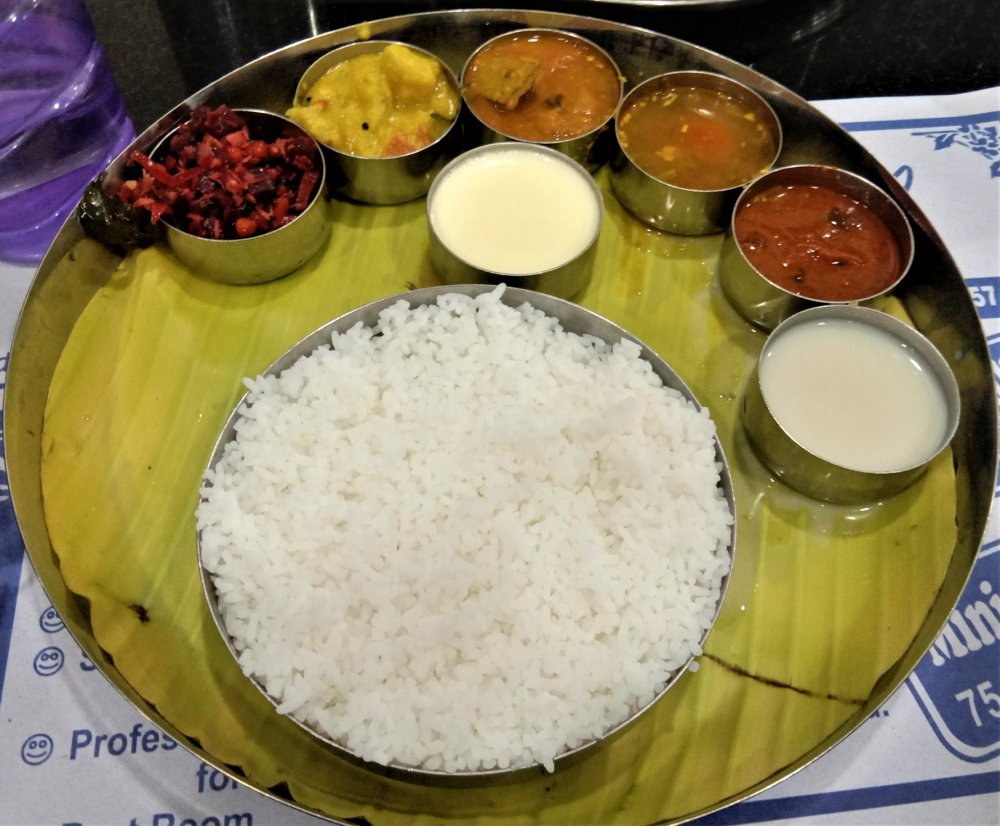 My car entered Kerala and was now moving in hilly area. There are so many wonderful churches on the way towards Kumily. I could not resist to click this church as it was looking like a structure in Disney land.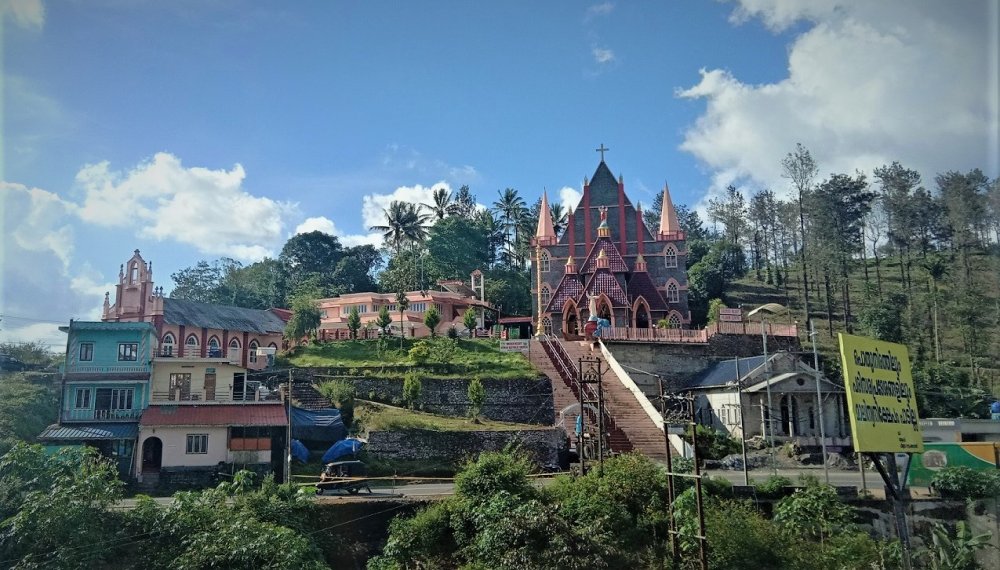 Lots of tea estates were spread across the area. The climate was getting cooler as we were proceeding towards Vagamon.
It was almost 4.00pm when we reached our hotel. There area was filled with mist all around. The evenings were colder in this part.
We took a little stroll in one tea estate and came back to our hotel. We ended our day after having a good dinner.
Contd:
Last edited: