Caution
: A lengthy Trip report / Trip-o-logue / Travelogue. A report of doing 3000 Kms in 8 days and covereing 3 states.
Diwali festival comes with lot of joy, just not because of festive season but it also comes with plethora of school holidays. The best time to travel somewhere long. The plan of exploring Rajasthan was cooking in my mind from long time. Hence with lot of enthusiasm created a rough itinerary of covering places like Udaipur, Chittorgarh, Jodhpur, Jaisalmer (Lonegwala & Tanot), Bikaner and Jaipur.
The above plan asked me for more days as this drive circuit won't get completed with minimum 12 days. Also with family it may go to 15 days as well. So decided to chop down few location and ultimately decided to explore east side of Rajasthan where the visit locations were Chittorgarh and Jaipur. Also gone ahead and added Agra, Ujjain and Indore to my circuit. The plan was chalked out and route was prepared. The leaves we got from office were 10 days, so keeping 1-2 days as buffer I made a bit crazy plan of doing all this in 8 days. So here it goes…
Route
: Pune – Nashik – Dhule – Manpur – Chittorgarh – Kishangad – Jaipur – Agra – Jaipur – Chittorgarh – Badnawar – Ujjain – Indore – Dhule – Nashik – Pune
Pune to Nashik
Instead of re-routing from Mumbai or Ahmednagar I decided to try NH60 (Pune – Nashik) section with making the start at 5:00am. We started by 5:30am and reached Nashik Phata (Bhosari) within 20 mins. From here there is one straight route towards Nashik. The four lane work between Pune and Nashik is almost 85% complete, the diversions are few which are properly marked. It took me four hours from Pune to Bytco Circle (Nashik) along with one breakfast break after Alephata at Hotel Gurudev.
Toll: Moshi (31), Chandoli (31), Chalakwadi (40), Hiwargaon Pawsa (40)
Nashik to Dhule
One can reach Mumbai Agra highway (NH3) bypassing Nashik city from Bytco circle by using Jail road which has less city traffic. The overall drive was smooth till NH3.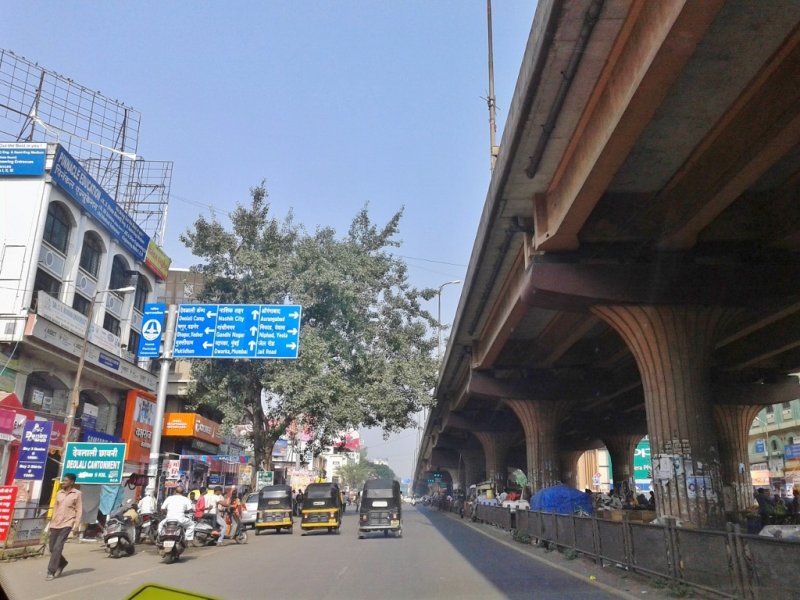 Mumbai Agra highway is four to six lane, but there are killer potholes from Pimpalgaon up to Dhule bypass. In addition to this there is lot of two wheeler traffic and truck traffic till Dhule which somewhat reduces your speed. Once you cross Dhule bypass then roads are smooth. Though two wheeler traffic is less but expect heavy truck traffic from Maharashtra border towards Madhya Pradesh.
Dhule to Manpur
The road in this section is good to cover the time lost in Maharashtra. Facilities on this road are very less, even getting a cup of tea needs to be planned but there are many fuel pumps en-route. You should be attentive in this section as there are speed breakers near few villages and junctions. Also came across lots of herds on road, need to be alert throughout.
Toll: Pimpalgaon (130), Chandwad(125), Shirpur (95), Songir (60), Jamli (86), Kalghat (50), Lebad (20)
Manpur – Chittorgarh
Here you need to leave NH3 and turn towards excellent 4 lane Manpur – Lebad highway. As soon as you leave NH3 the traffic gets decrease which can make your drive smooth. One can do triple digits in this section. Be aware of group of speed breakers (few unmarked) as there are many small villages on the road. You may come across some two wheeler traffic near villages. There are many helmetless riders doing 70-90 Kmph along with at least two pillions. Sad to see few riders carrying their family along with new born without any safety.
Toll: Chokala (46), Chikilia (40), Jaora (33), Piplia Mandi (34), Nayagaon (21), Nimbhera (20), Occhadi (35)
Chittorgarh
Chittorgarh is small town famous for its fort. As soon as you reach Chittorgarh bypass you can see signage for fort. The fort area is huge (approx. 13 Kms), hence taking your own vehicle up there is advisable. The way till fort road passes through market hence it is somewhat crowdie. The guides will follow you from Fort road itself on their two wheelers. Once on fort road you need to cross seven gates (named as "Pols"). The gates are very narrow where only one vehicle can pass at a time. There are two quite steep hairpin bends on the way. The last gate is "Ram pol" after which you need to turn right to ticket counter (flooded with guides).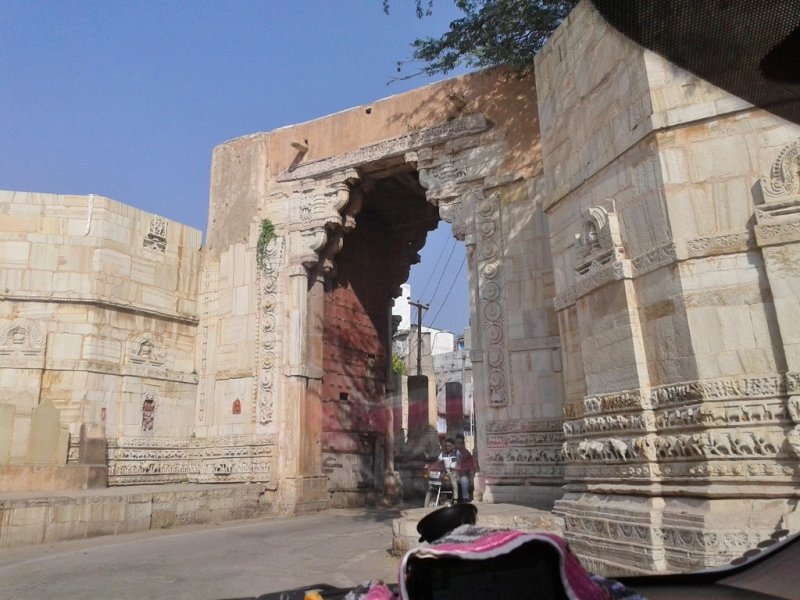 Chittorgarh Fort
Time:
- Fort remains open from 6:00am to 6:00pm
Tickets
– Rs.15/ adult. Free for children up till 15 years. You need to pay one time parking charge of Rs.50 at the entrance (you are free to park anywhere inside fort).
Guides
– The charges vary from Rs.200 to Rs.450 (based on bargaining). The guide sits on navigator seat once you finalise them and move along with you on fort. Actually there is no need of guide on this fort as you can go through Wikipedia /internet and gather information prior to visit.
But, still I would suggest to take guide, not for information but to show safe parking places on fort. Entire road inside fort is flooded with all sorts of tourist vehicles/ local autos with no sense of parking, you may scratch your vehicle while parking.
The roads inside fort are narrow and broken in most of the section. There are lots of jaywalkers and selfie syndrome crowd. To add to this there is no sign boards anywhere on fort to see the way for next attraction (sad state of Heritage site)
Main attractions on fort -
1) Rana Kumbha Palace
Currently in ruins. This is the place where some scenes of "Kabira" song from Bollywood film "Yeh Jawani Hain Deewani" were shot, also few scenes from film "Prem Ratan Dhan Payo" were also shot.
2) Fateh Prakash Mahal
This is converted into museum which is currently closed for renovation.
3) 11th Century Jain Kirti Stambh
The tower is near the Jain temples. Entry inside tower is restricted as the steps are in ruins
4) Vijayastamb
A tall nine storey tower which is one of the main attraction on this fort. Initially this was restricted for climbing above first floor but now entry inside itself is restricted for security reason.
This monument can be seen in song "Aaj Phir Jeene ki Tammana Hain" from old Bollywood film "Guide"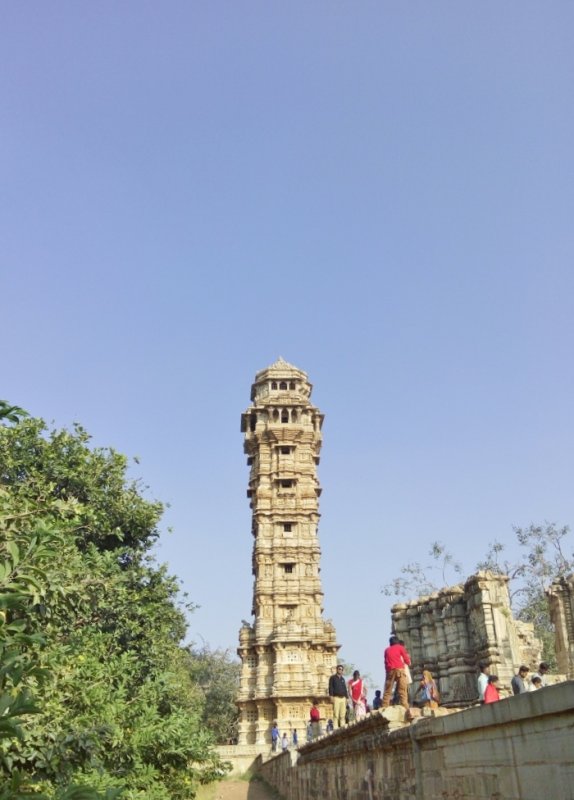 5) Padmini Mahal
This is last spot at the end of fort. The palace is inaccessible to tourist but one can click photo and sit there for some time. There was a mirror inside this palace where Allaudin Khilji has seen the beauty of Padmini through the reflection. You can see Dev Anand watching reflection of Wahida Rehman in this mirror in song "Aaj Phir Jeene ki Tammana Hain" from old Bollywood film "Guide"
6) Mansingh Palace
This is one of the attraction whose structure is still in good state. Here you can see lot of monkeys. Your tickets will be checked here at the entrance. A temple is present in palace campus
7) Meera Temple
The temple is made in the name of famous devotee of Lord Krishna.
Chittorgarh – Kishangad – Jaipur
Chittorgarh bypass is well designed. You will join NH48 here which will result in increase in multiaxle truck traffic as you move towards Kishangad. The roads are super smooth but you need to weave in and out of the lanes to overtake trucks and also to pass dead dogs. Very poor facilities in this patch when it comes to hotels / restaurants. There are pumps across this patch but few bunks are only for diesel. You need to be alert as there is lots of cattle's menace on road.
Toll : Jojro Ka Khera, Chittorgarh – Bhilwara (95), Kanwaliyas, Bhilwara – Kishangad (110)
See the mud guard flaps on this truck. In night it appears as someone has placed pair of illuminator board on highway…quite illusion effect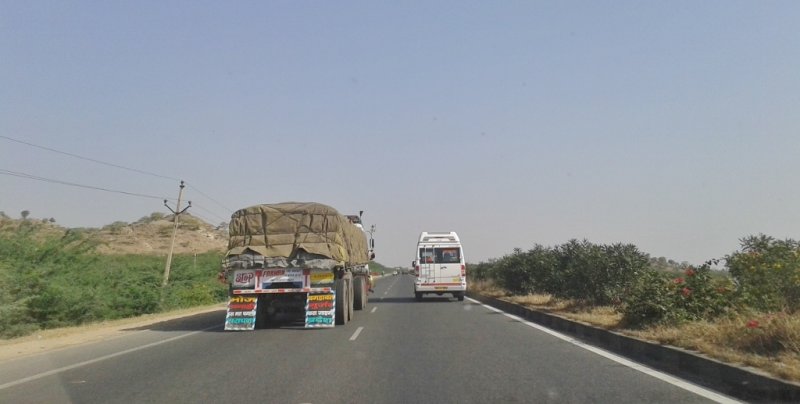 There is lot of jeep traffic (local transport mode) where people travel by standing behind as well. Also you will find few buses whose doors are open (held) by passengers so that two three of them can accommodate.
Once you cross Kishangad, you will be greeted with six lane silky road towards Jaipur. Good facilities on highway all through Jaipur. There are lots of bunks and restaurant throughout. Multiaxle truck traffic will be still with you along with supersonic private vehicles, tourist buses and two wheelers (on suicide mission). You need to utilize all three lanes to reach Jaipur bypass.
Toll : Kishangad (35), Thikaria (60)