Caution:
This is a lengthy travelogue / details of my recent trip to Ooty and Munnar.
A traveller is one who likes to keep travelling and explore different places. Initially, I was a petrol head where I was interested more in cars, their dynamics, their reviews and revving them. But from last couple of years I feel like I am transformed into traveller. Now I am more interested in getting knowledge of routes, travelling on roads, feeling the change in geography, planning itinerary and executing it.
This is the reason why the urge of travelling for long distance (especially cross state) keeps on firing inside me. Last summer I done Pune – Mysore, so now the question was "Where to go in this summer?". Due to blazing sun, the beaches are out of question. Last time due to time consent I could not plan anything ahead of Mysore. After coming back from trip most of the peoples were asking me one question - "You gone to Mysore and didn't gone to Ooty...Aww !!".
I had experienced that somehow the name "Ooty" was sending shivers down my spine, because there was some fear in corner of mind for travelling on 36 hairpin bends. I know there is some other route to escape these 36 bends but still other corner of my mind was tough insisting me to take hairpin route. Now, to go or not to go was the question!!

To know more about this route, I started reading lots of travelogues. The words in their travelogue like "Dreadful", "Dangerous", "Killing", "Torture", "Real Test" kept on revolving inside my mind for couple of days. Due to this I stopped reading travelogues and started viewing dashcam videos shot by vehicles traversing hairpin bend route. Somehow my fear started to vanish and my mind became ready for travelling to Ooty. I discussed this plan with family and as usual they given me green signal along with much needed confidence.
So, all in all we had got eight days in our hand. Just having Ooty for 8 days is an overkill hence started searching for some location which can be combined along with it. Ooty is the famous hill station in Tamilnadu so why not cover hill station in Kerala as well. The plan to combine Munnar along with it popped up. I started my homework by analysing maps and planning itinerary. After lots of lefts and rights I came with below plan.
Day 1: - Pune to Tumkur
Day 2: - Tumkur to Ooty
Day 3: - Ooty Sightsee
Day 4: - Coonoor Sightsee
Day 5: - Ooty – Kotagiri – Munnar
Day 6: - Munnar Sightsee
Day 7: - Munnar to Bangalore
Day 8: - Bangalore to Pune
The above plan was finalised and packing started. Along with us my car was also getting ready to touch another state of India. A day before drive everything was checked, alarms were set and we gone early to bed. As usual I could not sleep properly due to excitement which made me woke up half an hour before alarm.
The detailed road updates of this entire trip along with pictures are posted in
this
thread.
Day 1
In wee hours everyone got ready, I placed all the luggage in car, done small prayer and cranked engine. Early morning start helps you to touch highway without encountering any city traffic. We were zooming on NH48 within no time. We reached Tumkur in evening and rested for that day.
Day2
The next morning, we started from Tumkur towards Ooty. Last year we drove on same route towards Mysore hence the route was known till Mysore (Columbia Asia), this time as well we have tasted "Tatte Idli" and "Dosai" on Mangalore highway.
Within no time we bypassed Mysore and entered Bandipur forest road. The sight of deer and monkeys were refreshing.
After crossing Bandipur I took left turn towards Masinagudi. I was knowing that after this the hairpin bend route will be going to start. The huge mountain of Nilgiri's was standing right in front of me.
I took small break to relax myself and my car. There were so many peoples with their jeeps throughout Masinagudi who were insisting me to take safari ride in their jeeps. I came to know that they charge Rs.200 per person for 1 hour of Safari into Madumalai Forest. As per them, this is cheaper than Bandipur Safari which just lasts for 30 mins. I politely denied due to lack of time.
I cranked the engine and started my journey towards Ooty. Within no time I was in front of 1st hairpin bend marked at 36/36. Slowly I kept progressing and within in couple of minutes we crossed 26/36 hairpin bends. On 27th bend there came three cars descending back to back which made me to lose my momentum and I stalled my car right on the middle of bend. With a lot of patience, I restarted it and moved ahead. I kept on moving and within no time I crossed pin bend marked as 1/36. What a moment it was, a sigh of relief!! a sigh of achievement!! a sigh of conquers!! That day I came to know the meaning of below statement,
"It's better to see something once than to hear about it a thousand times."
With great satisfaction I entered Ooty which welcomed us with its cool breeze having temperature of 10 degrees. At last we reached our hotel and relaxed. Now entire evening was free for us, so decided to visit main market of Ooty (Charring Cross). Instead of taking car I decided to take auto (Auto fares in Ooty are very costly). We reached famous Adams Fountain at Charring cross.
Adams fountain at Charring Cross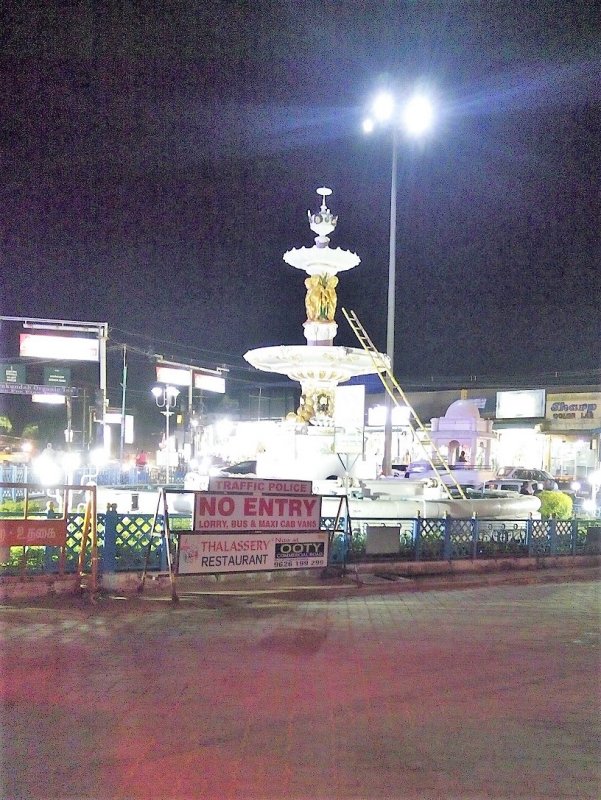 Ooty is famous for its homemade chocolates, hence we purchased some from famous "Kingstar Chocolates". There are many hotels in this area where you can have some delicious food. In evening the climate of Ooty became more chilled. We came back to hotel and rested for the day.
Day 3
This day as per my plan was for Ooty sightsee. We were ready and started from hotel around 8:30am towards Pykara (Gudalur) side.
The first spot on this road is Ooty Golf Club. The entry inside golf club is given strictly to the members. We saw this golf club from outside and move ahead towards Pine forest. The pine forest is located couple of kilometres ahead on left side of road.
1) Pine Forest and Kamarajar Sagar
There is no dedicated parking hence you need to park your vehicle beside road. There is entrance ticket for Pine Forest and Kamarajar Sagar which is Rs.5/head.(Children's below 12 years are free). For reaching Kamarajar Sagar water you need to walk on sloping ground of pine forest. It may be difficult for few ladies and aged ones. The facility of washrooms and restaurant is not available here.
Horse riding is available on the banks of Kamarajar Sagar. After taking few pictures, we moved ahead.
Pine Forest Ticket Counter
Pine Forest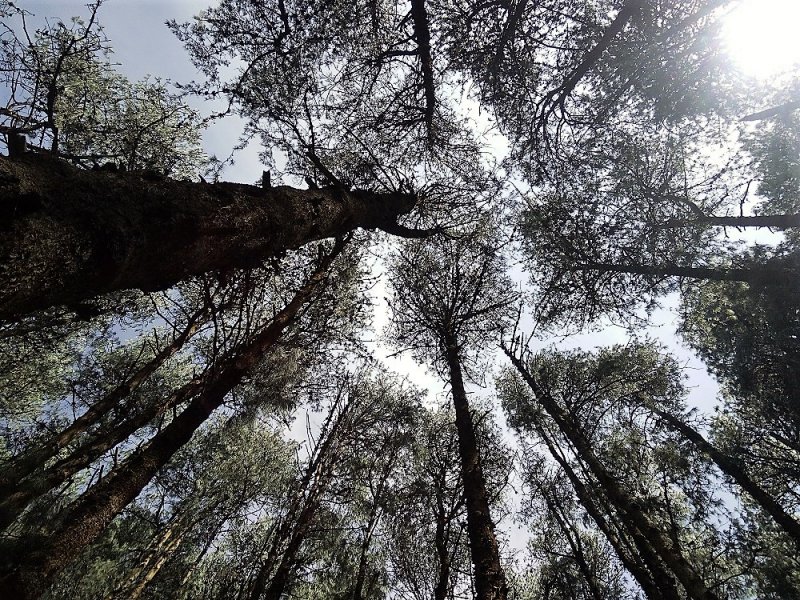 View of Kamarajar Sagar
2) 6th Mile
After few kilometres from pine forest you will find 6th mile on right side of road. There is neither entry ticket nor dedicated parking place. You need to park your vehicle beside road. 6th mile also has some dense pine trees but the area is small. At the end you can see some meadows. There were few professional photographers available to click your photos. The facility of horse riding is available here. There are no washrooms and restaurant available in this spot.
View from 6th Mile
3) Wenlock's Down
This location is also known as 9th Mile or Shooting Spot. It is located on same road few kilometres ahead of 6th mile on left side. You can see trails of vehicle parked on both side of road because there is no dedicated parking for this spot. There is entry free of Rs.10 per head. Facility of clean washrooms and few food vendors are available. Horse riding is also available but at steeper price.
At Wenlock's Down, for getting views you need to do small trek on hilly grassland to reach the top. Trekking is tiresome activity for ladies and aged peoples. There is no sitting facility, if you get tired you need to sit on grass. Carry a bottle of water, goggle and cap with you. The flow of wind is bit heavy on the top.
Trails of vehicles parked on both side of road
Ticket rates of Wenlock's Down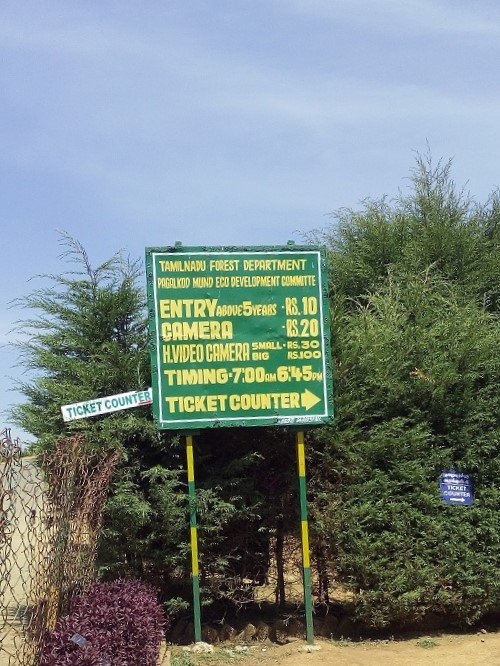 Ticket counter representing Toda (Tribal community in Nilgiri) style hut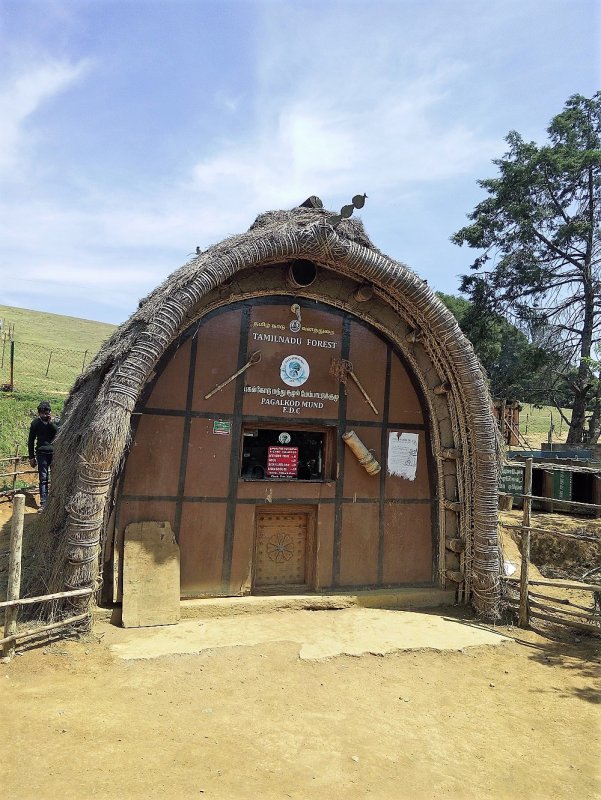 View from Wenlock's Down
View from 9th Mile
Horse ride rates at Shooting Spot
4) Pykara Water Falls
As you move ahead of Wenlock's Down in couple of kilometres you will see parking of Pykara Waterfalls on right side of the road. The falls are located at approximate 1 Km distance from parking spot. There are two battery operated golf cars with seating capacity of 8 peoples to take you up to the entrance of fall with charge of Rs.10/head. You may also opt for walk till the falls.
The entrance tickets for visiting falls is Rs.10/head. You need to step down approximate 50 steps to reach the falls. It might get taxing while coming up when you have ladies and aged peoples with you.
Entrance ticket counter of Pykara waterfall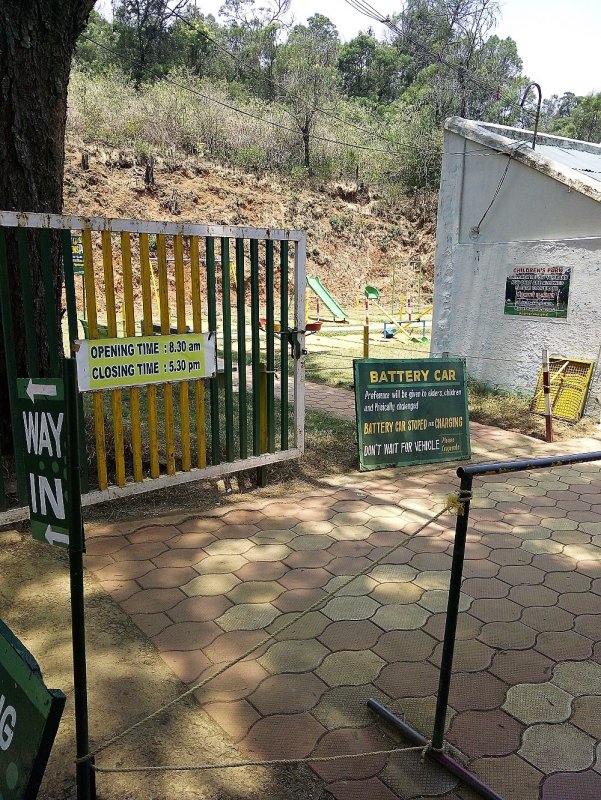 The Pykara Falls
While coming back you should walk till entrance after which you have choice to either take golf car or walk till parking. There are few vendors selling eatables near parking.
5) Pykara Lake
For Pykara lake you need to keep going ahead from Pykara waterfalls till you see board stating "Pykara Boat House" on your left side. Here you need to exit Gudalur road. They take Rs.30 as car entrance fee. The lake is situated at least 1-2 Km ahead from the entrance. This road is in painful state, there are many off-roading patches of few meters. They have made some one-way facility in between as well. This road will take you near parking spot of Pykara Boathouse (forgot the parking charges). There are few eateries available near parking spot.
You need to descend few steps to reach ticket counter. This place felt less crowdy. They have speed boat as well as motor boat (8 people capacity). The motor boat costs Rs.100 per head, you need to wait until there are 8 peoples or else Rs.800 can be shared within whatever available peoples. The boat ride is good and they cover large circle. Pykara lake has clean waters and some forests on its shore.
Pykara Lake
6) Doddabetta
This is the highest peak in Tamilnadu. You need to pay entrance of Rs.30 per car for visiting Doddabetta peak. The approach road is terrible and has some of the steep curves. There is one-way arrangement done while approaching Doddabetta peak. Ample parking space is available. You need to pay Rs.7/head as entry fee which also contains Telescope house visit. The view from top is good. There are few vendors outside selling eatables and knickknacks. Hardly 10-15 mins to view in all side, if time constraint then this can be skipped. (I felt it's a hyped place)
Doddabetta Telescope House
View from Telescope House
Vertigo inside telescope house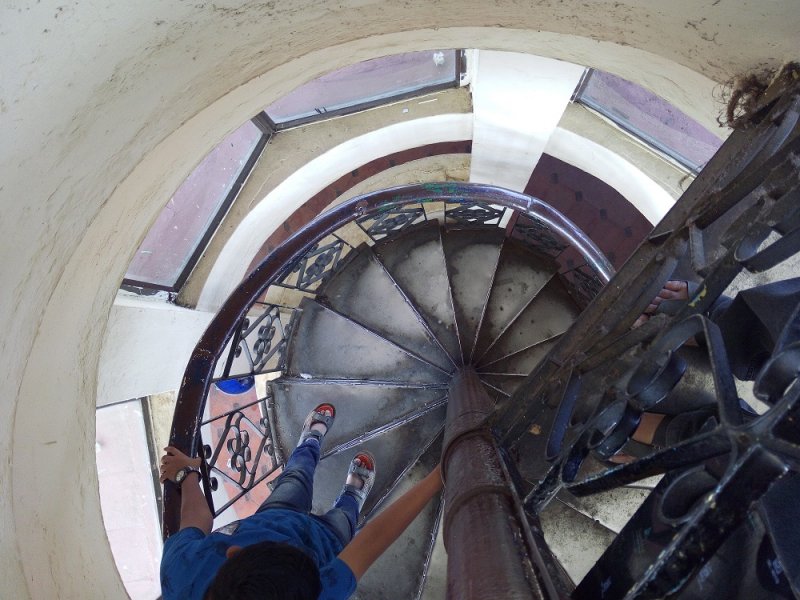 Interesting wall clocks at the seller outside Doddabetta peak
7) Doddabetta Tea Factory.
This is famous and old tea factory in this area. The entrance to factory has one steepest curve where security whistles and make you stop before climb if there is another vehicle on opposite side. There is one more tea factory named "Benchmark tea factory" on the way, they have made too much advertisement about it, you will find one person standing on road who will direct you towards their parking. Just ignore him and continue straight into Doddabetta Tea Factory parking.
Entrance to factory is free, they tie wrist band to every visitor. They show you factory along with audio presentation of tea making process. At the end they provide a cup of tea for every visitor free of charge. There is sales counter where you can buy different varieties of tea produced in this factory.
After purchasing few varieties of tea we moved ahead to our next stop of Botanical Gardens. On the way we came across this Chocolate factory
8) Botanical Gardens.
The parking is bit ahead from this garden. You need to pay entrance fee of Rs.30 / adult and Rs.15 / child (between 5 to 12 years). Food items are strictly prohibited inside garden. Washrooms are available here.
The garden is huge and nicely maintained. The landscape is green and have very old trees (some are million years old). You need to do good amount of walking inside to cover entire park. There is small flower garden as well inside this park.
The botanical gardens
Panoramic view of Botanical Garden
Some interesting trees (from past million years)
9) Rose Garden
This is one of the famous garden in Ooty. This garden is huge where it showcases large varieties of rose from entire world. They have put the boards stating names of each variety of rose. There is entrance fee of Rs.30 / adult and Rs.15 / child (between 5 to 12 years).
Rose garden is designed on different levels hence you need to walk a lot to explore it. They have a good and green landscape along with lot of benches to sit and relax. The time I visited was not a blooming period hence found very less roses in entire garden.
The roses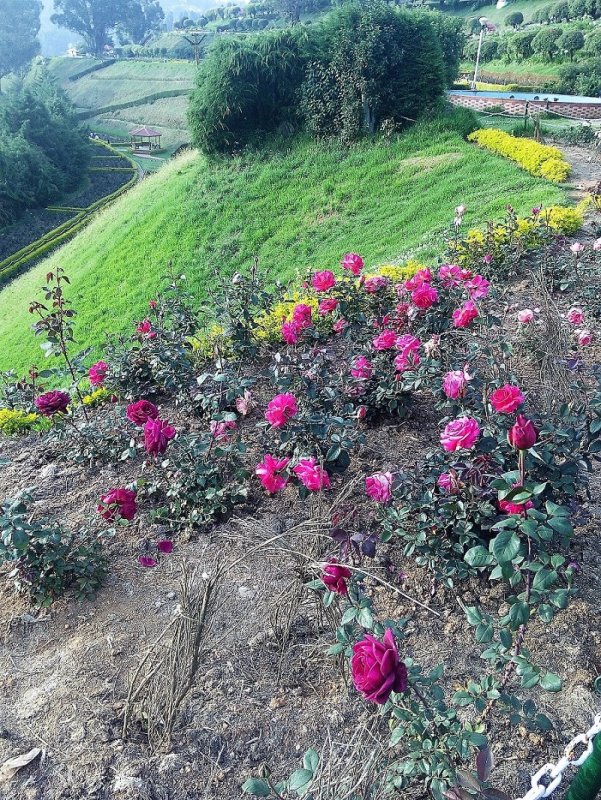 Some of the big roses I have seen for first time
A board inside rose garden
Panoramic view of Rose Garden
We relaxed here a bit, took few pictures and moved towards our last sight see spot in Ooty. Yes !! It is Ooty Lake.
10) Ooty Lake
This place is so popular that if you don't do boating here then you are disqualified from visiting Ooty. As expected, it is a bit crowdy place with lots of eateries and shops selling knickknacks nearby. There is entrance fee of Rs.13 per head. There is everything here, a boat house, horse riding, fun fair, mini train etc. Apart from this there is children's park, horror house, 3D to 7D cinemas etc. As we have already done boating at Pykara hence skipped it here. Also, the ticket counters were over crowded.
Boathouse at Ooty Lake
While coming back from lake towards Ooty town we came across one amusement park named "Thunder World"
11) Thunder World
This is newly created amusement park. The entry fee into their campus is Rs.10/head. They have full package Rs.350 (Includes Third Eye-60, Incredible India-60, Dinosaur-150, Haunted House-60, Rain Forest-60, Vortex-60, 5D theatre -100). We were tired after exploring Ooty for entire day hence did not explored this amusement park more.
We reached Ooty and had our dinner at charring cross. After this we straight away drove to our hotel. Ooty was chilling in night.
Day 4
According to my plan today we were setting out towards Coonoor. Initially, the famous Nilgiris Toy Train ride was not in my plan as reserved tickets were sold out. I checked it with hotel where they said they can arrange three tickets for my family in general quota. I agreed with them, they depicted their own person to station to buy tickets, we went to station where we met that person and took our tickets, it was 9:15am trains ticket from Ooty to Coonoor. The ticket rate was Rs.10 per head.
Ooty Station
Ooty station also known as Udagamandalam is still in its old grace. The station was crowdy with tourist. There were railway police who were checking the tickets, they don't allow you to enter platform if you don't have tickets. The train was already standing on platform packed with tourists. We also grabbed our tickets and swiftly entered train. It started at right time, the diesel engine gives long whistles prior to leaving Ooty.
You need to sit of right side of train while doing Ooty to Coonoor while you need to sit on left side of train while doing Coonoor to Ooty. This is because there is a mountain all along one side while valley view on other side. Tourist started to click pictures of whatever they were seeing on valley side. After some half an hour few of them were busy on their Whatsapp while others were sleepy. This train takes almost 1 hour to reach Coonoor.
If you have not sat in such trains then you should do it otherwise as per my opinion you can skip train ride and go by road to Coonoor.
Ticket counter at Ooty station
Ooty (Udagamandalam) station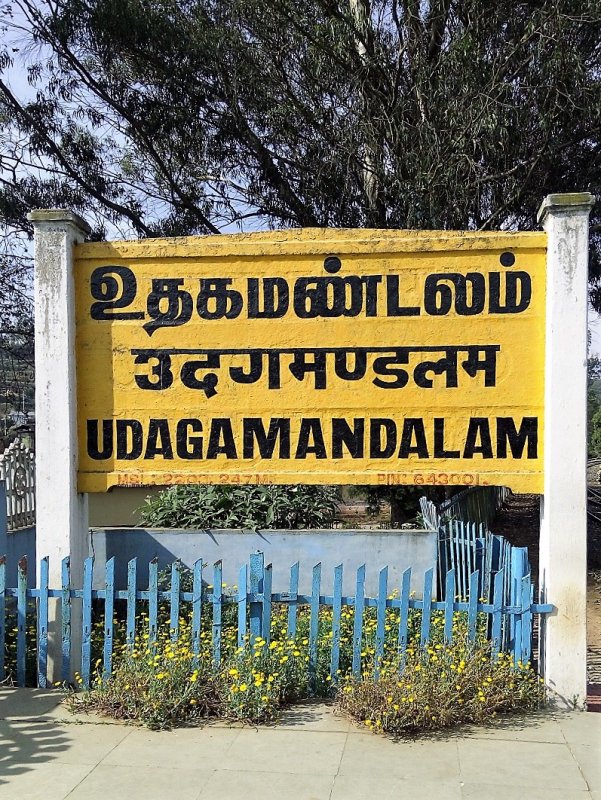 Train Timings
Ooty to Coonoor
09:15(Reserved train towards Coonoor), 12:15 (Passenger train towards Coonoor), 14:00 (Reserved train towards Mettupalaym), 17:30(Passenger train towards Coonoor)
Coonoor to Ooty
07:45, 10:40(Reserved train towards Mettupalayam), 12:35, 16:00 (Reserved train towards Coonoor)
Once you step out of Coonoor station, lot of Taxis and Auto drivers will gather around you for taking you to local sightsee, they have fixed sightsee where they will do pickup and drop at Coonoor station.