Joined

Apr 1, 2014
Messages

527
Likes

962
Location
This is one of the thread which I want to write at proper platform. Because my earlier blogs not the attention of people and it is not appearing in Google search also. Now I'm a TAI-ger and this is one of correct area to write this thread to fulfill my desires.
I'm writing this thread is not to spread that I visited to this place. I do write some threads like that to give information about the travel.
Basically I believe that our ancestors were more knowledgeable than scientists in Sci-fi movies of Hollywood. Somehow we missed to retain the knowledge. I like the historical places and the history behind the places.
Now I come to the thread. First it is about a small town named Tirukovilur in Villupuram Dist of Tamil Nadu.
THIRUKOILUR
Location:
Tirukovilur is small town in Villupuram Dist, Tamil Nadu.
It's 37 KM far from Villupuram Bus Stand which is there in NH 45. Tamil Nadu.
It's 35 KM far from Thiruvannamalai, Tamil Nadu.
History of Tirukoilur:
Those who read in tamilnadu, knows about Vallal Pari, Malayaman, Angavai, Sangavai, Kabilar and Ovvaiyar. This town played vital role in the history of above people. Also it is birth place of King Raja Raja chola who built the Tanjore Big Temple.
The Greatest Tamil king Rajaraja Cholan and his brother, The most powerful Chola Prince Aditya Karikalan was born in Keelaiyur, Thirukoilur
Rajaraja Cholan I was born as Arulmozhivarman, also called as Ponniyin Selvan (son of river Kaveri),"Raasakandiyar" was the third child of Parantaka Sundara Chola. Rajaraja literally means King of Kings.
'Rajaraja Chola's mother, Vaanavan Maadevi, was the daughter of Thirukkovilur king, Malayamaan Thirumudi Kaari'.
Before 1000 years Thirukoilur was one of the four largest cities in Tamilnadu like other cities named Kanchipuram, Madurai, and Thanjavur In later period Kings like Adiyamman demolished the city. Proof in Thanjavur Big Temple.
Tirukoilur is a place of historic importance. King Malayaman (Malayaman Dynasty), who is famous for his war and administrative skills ruled from here. "Vallal" Pari(Vallal - patron king, Pari is one of the 7 patron kings who supported "poets" and scholars. They are famous for their charitable activities.) daughters Angavai and Sangavai were married to Malayaman's son Deivegan and the marriage ceremony took place in a place called "Manam Poondi"[manam - wedding, poondi - lock/bond; place where the wedlock happened).
The famous chola king Raja Raja Chola Rajaraja Chola was born in Thirukoilur, as Arulmozhivarman, the third child of Parantaka Sundara Chola and Vanavan Maha Devi of the Malayaman dynasty.
Courtesy:
Tirukoilur - Wikipedia, the free encyclopedia
Now About the Temple:
Ulagalantha Perumal Temple is a Hindu temple dedicated to Vishnu located in Tirukkoyilur, Tamilnadu, India. Constructed in the Period of 6th - 9th Century AD.
The Bhagavata Purana describes that Vishnu descended as the Vamana avatar to restore the authority of Indra over the heavens, as it had been taken by Mahabali, a benevolent Asura King. Bali was the grandson of Hiranyakshipu, the son of Prahlada. King Mahabali was generous, and engaged in severe austerities and penance and won the praise of the world. With the praise from his courtiers and others, he regarded himself as the all powerful in the world. Vamana, in the guise of a short Brahmin carrying a wooden umbrella, went to the king to request three paces of land. Mahabali consented, against the warning of his guru, Sukracharya. Vamana then revealed his identity and enlarged to gigantic proportions to stride over the three worlds. He stepped from heaven to earth with the first step, from earth to the netherworld with the second. King Mahabali, unable to fulfill his promise, offered his head for the third. Vamana then placed his foot and gave the king immortality for his humility. In worshiping Mahabali and his ancestor Prahláda, he conceded sovereignty of Pátála, the netherworld. Some texts also report that Vamana did not step into the netherworld, and instead gave its rule to Bali. In giant form, Vamana is known as Trivikrama. The legend is associated with Thrikkakara Temple in Kerala, but also with this temple and Ulagalantha Perumal Temple, Kanchipuram.
The Posture of the Lord in the sanctum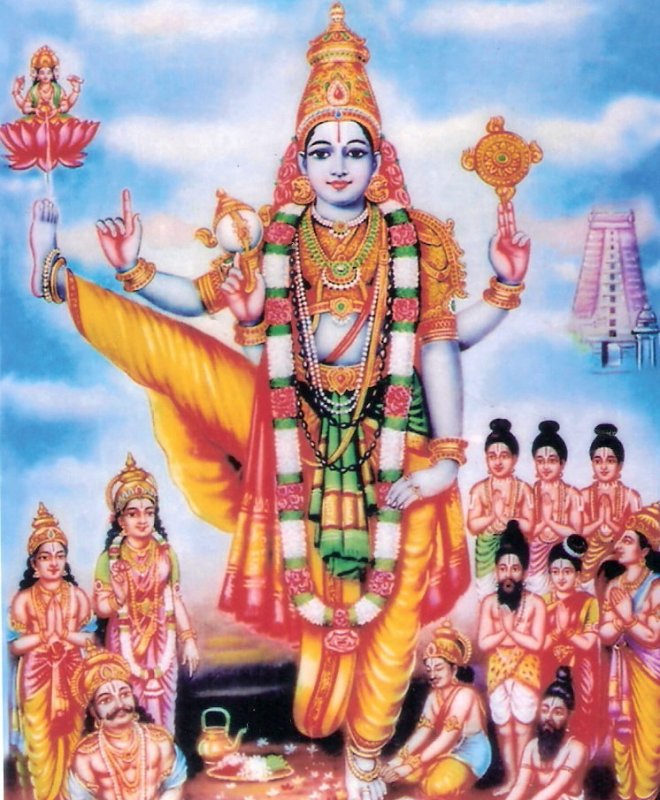 The gigantic Lord Trivikrama measuring over
20 ft in height
is seen in a grand standing posture with the left foot on the ground and his right leg raised 90 degrees to his right and with the conch in his right hand and the chakra in his left. This is described as His teaching wisdom to devotees.
Last edited: