Completed 500 km on my Micra CVT. Below is a review.
Choice of car:
The car had to be an automatic as they offer much more fun and an enjoyable/relaxed driving experience.

I try to drive safe (read: slow) whenever on the road (kids, families/human lives at stake), high speed driving is for racing tracks only, not commuter roads.
A sedate driver, I don't exceed 50-60 Kmph within city and 80-90 Kmph on highways.
Was not interested in anything above 4 m (paying any additional 12% duties to govt. didn't make sense to me).
Car to be used mostly within city/short highway runs with limited/no luggage.
Important criteria for selection -
1. Mileage
2. Safety (airbags)
3. Interior NVH
4. Smooth to drive
5. Light colour interiors
6. Price
Looks were not important. Functional features were most important. (Pretty headstrong am I, mind dominates heart).
Cars considered - Hyundai i10, Honda Brio and Nissan Micra
i10 sportz auto priced close to 6 L OTR. Brio and Micra were almost same (approx. 7.35 L)
i10 and Brio are one size smaller, had less comfort and convenience features (ex. no auto AC, auto-folding mirrors, keyless entry, start stop button etc.).
All cars are powered by 1.2 L petrol engines. i10 & Brio with a 4 cyl (80/88 hp) while Micra has a 3 cyl (77 hp). No significant difference in peak torque values of the engines.
i10 has a 4-speed torque converter auto box. Brio has a 5-speed torque converter automatic. Micra has a torque converter CVT.
Advertised mileage of the cars - Brio (~16 Kmpl)/ Micra (~19 Kmpl)/i10 (don't know)
Test drive of the i10 auto was disappointing. It wasn't smooth, engine/transmission felt strained and ride was bumpy/jerky. I suspect part of the problem was that the test drive vehicle had been roughly used. Though the interior shades are light and good, felt the quality of plastic material used not as good (subjective opinion). Sportz variant doesn't have airbags either. I was not impressed.
Test drove the Micra first as it appeared to be more value for money proposition in the short term. It was smooth to drive, felt adequately powered. The CVT kept the revs low helping keep car silent inside. On paying careful attention during idling I was able to feel a feeble 3 cyl thrum only, it wasn't a deal breaker; disappeared during drive. Dash computer displayed a mileage of 10.7 Kmpl.
Brio test drive car was not available.
I booked a white or brick red (if available) Micra. It was delivered after 1.5 months.
Dealer - Shivalik Nissan Pune.
Selling the car is less than 10 % of the job done as far as dealer experience/relationship is concerned. Long term service and support from dealer is most crucial.
I will cover this later and update in future.
Dealer initial insurance (New India/ICICI Lombard) quote was more than 6000 in excess of best available in market (Tata AIG). On showing online quote dealer agreed to offer Tata AIG at close to quoted price.
Pros:
1. City mileage with AC on 100 % of the time (14 Kmpl as per dashboard computer, manual calculation shows around 13.5-14 all on city roads)
2. Very low NVH on good roads. On broken roads there is road/tyre noise as in any other car. Ride/handing is Ok.
3. Pleasure to drive anywhere, power is available on tap easily, overtaking is easy. Engine and transmission have been mated well.
4. Dead pedal built into floor of car
Cons:
1. At idle, if you are very careful to notice you can feel a slight engine thrum from the 3 cyl engine. It disappears in drive.
2. Nissan's limited sales and service network.
Problems till now:
Bad roads in Pune resulted in the passenger window glass developing a rattle (on bad patches). I am hoping that it would be solved in first service.
Features I would have liked in the car
1. Driver arm rest
2. Side and curtain airbags
3. Cruise control (though not many roads where you can use because of lack of lane and speed discipline on our highways, situation may improve in next few years)
I would have preferred if the car had the above features instead of auto AC, auto folding mirrors, push button and keyless entry.
Still to assess quality, durability and reliability as those can be appreciated in the long term only.
Pics taken with my mobile phone.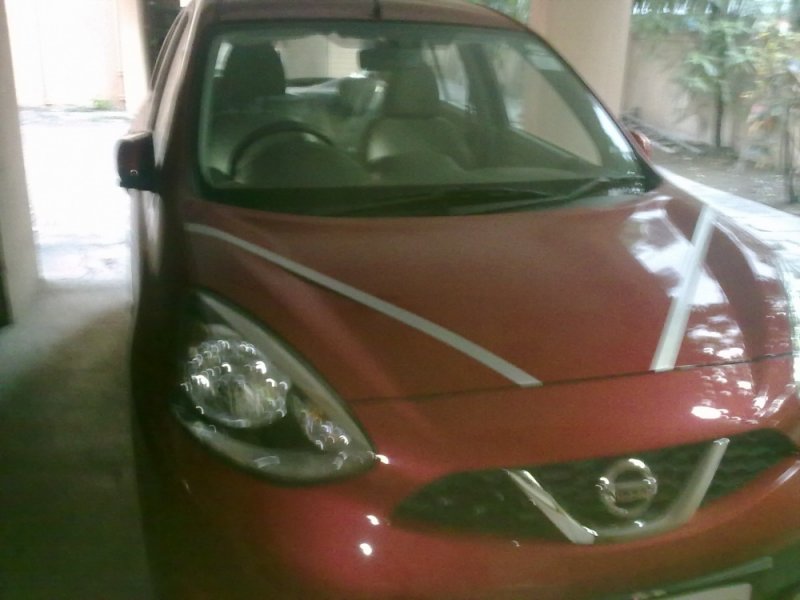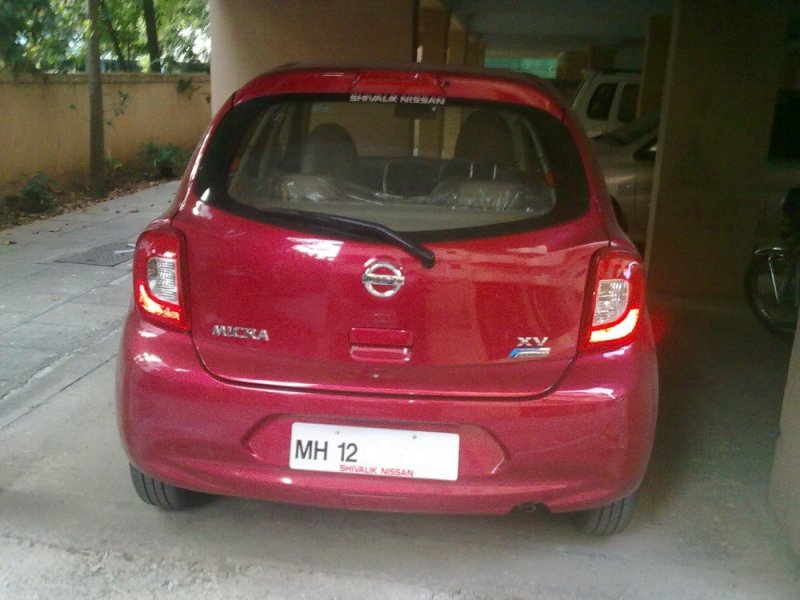 MID showing mileage of 14.1 Kmpl.
Last edited: