Joined

Jul 10, 2017
Messages

528
Likes

494
Location
Route:
Mumbai – Pune – Dharwad – Yellapur – Murudeshwar
Murudeshwar – Honnawar – Kumta – Gokarna
Gokarna – Dandeli – Dharwad – Pune – Mumbai
Time taken:
Mumbai – Murudeshwar = 759kms/ 12hrs
Gokarna – Mumbai via Dandeli = 733kms/ 15hrs
It was a long time dream to do Murudehwar/Gokarna road trip, wanted to do it during rainy season to enjoy the Jog falls and Apsarkonda Falls, but I just randomly decided to do a short 4 day trip to this place after the long X'mas weekend. Initial plan was to do Rajasthan but it required more days and also the weather was extreme for my kids. This was the 1st time I was travelling without any hotel bookings, because all the hotels were showing full online or charging exorbitant rates due to festive season.
Plan:
26th: Murudeshwar with overnight stay.
27th / 28th : Gokarna and sight-seeing around the town.
29th: return back to Mumbai.
Decided to leave on 26th early morning and reach Murudeshwar.
On X'mas day, I had a quick light dinner and went to sleep at 10.30 'coz plan was to leave Mumbai at 4am. But the excitement just couldn't let me sleep and same with my wifey. After 12 my wife suggested not to waste any time laying and leave early itself. So, we freshened up, had black coffee, packed the bags & kids and left at 1.30am towards our dream vacations.
The city roads were empty and I quickly crossed Panvel, Mum-Pune Expressway was a breeze with no traffic at all on the tolls and Khandala Ghats. Within no time I crossed Pune city and took my first break for tea at 4.30 after crossing the Khandala Ghats. Weather was chilling outside with MID showing 11deg. The roads till Dharwad was butter smooth and superb, driving was effortless and simple with the combination of night driving and beautiful roads. Refilled the tank before Dharwad and the mileage and avg speed was amazing till now.
Tyre pressure:
After filling the petrol previous night I checked the tyre pressure and kept it at 29psi for all tyres. After the 1st refill I checked the tyre pressure again and found it was too high at 40/39/40/36psi. This was after a 6hr/577km drive on the highways. Request all to keep a constant check on tyre pressures during drives of more than 250kms at a stretch.
There was a diversion from Dharwad and 6 lane highways turned into beautiful 2 lane roads laced with scenic and panoramic mountains and villages. But after Yellapur there was lots of road construction and constant diversions. Reached Murudeshwar at 1pm and straight away went to the temple.
Murudeshwar:
SPECTACULAR, BEAUTIFUL, BREATHTAKING
Must see in a lifetime place in India. The tallest statue of Lord SHIVA in the world. The temple premises are very clean with sufficient parking available. There is a cave below the huge Shiva statue and darshan is done in a very systematic way.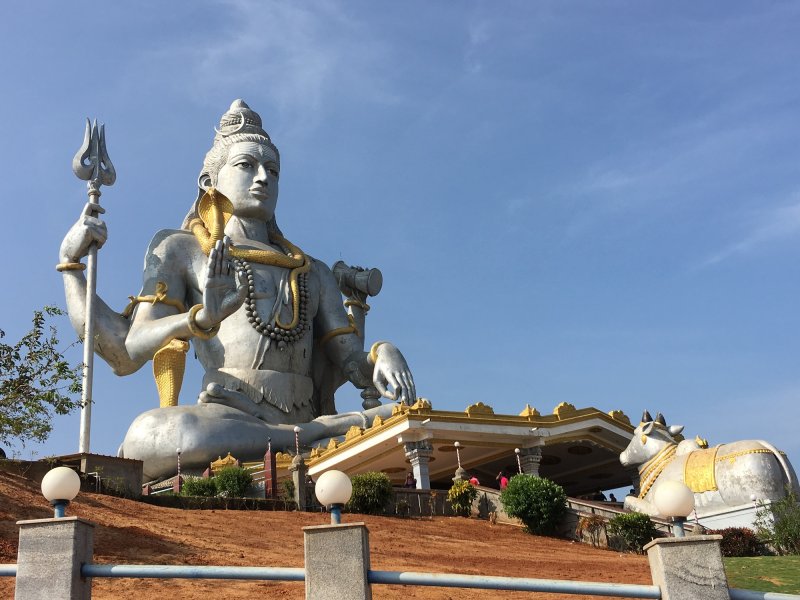 There is also the highest Gopuram in India near the temple. You have to take a ticket and stand in a queue where lift will take you to the top floor (18 floors), from the top the views are fantabulous. The seashore and the Shiva statue with sea in the background has to be seen to believe in the beauty.
Stayed at RNS highway hotel as it was the only accommodation available at Murudeshwar, nothing much to write about the hotel, average experience.
Visited Alvekodi beach in the evening and returned back to end the day with early dinner.
Visited the temple again next day in the morning and left for Gokarna.
Tips:
Stay at Gokarna and visit Murudeshwar for a day trip as it is just 2hrs drive and Gokarna has better stay & food options.
Gokarna:
Strong competitor to Goa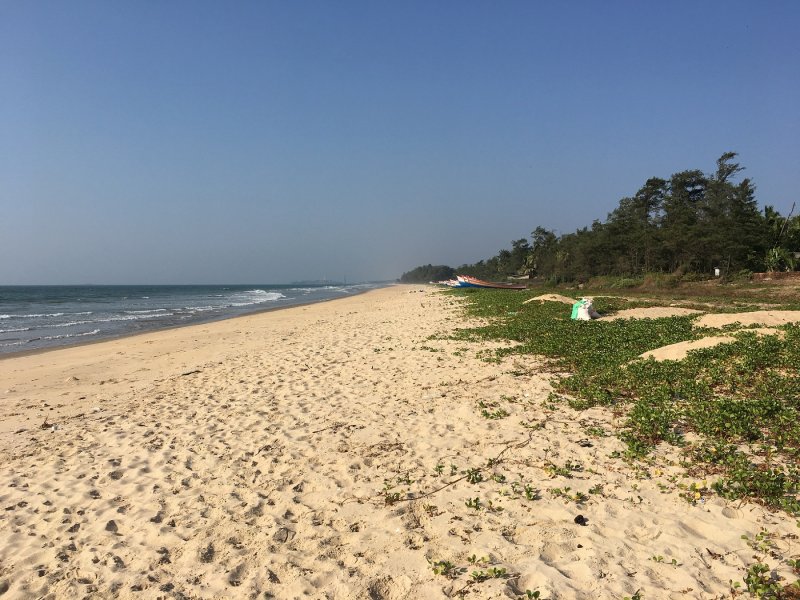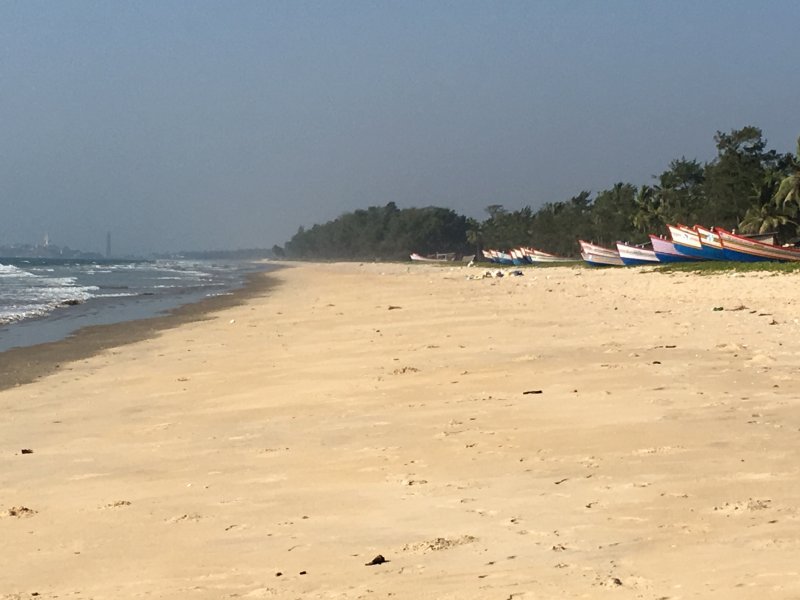 The beaches all around the coast are relatively less crowded and very safe for family and kids. Gokarna beach is the most popular beach lined up with stores, food stalls and huge parking. The beach has lifeguards and the waters are safe, there are public toilets with the facility of bathing. After the fun at the beach I started searching for my stay options, I had my list of hotels already with me. The top on the list was Sanskruti Resort and luckily, I got 1 cottage at a good price directly from the reception. after check in went to see Om beach and spent some good time on the beach.
Next day I went to see INS CHAPAL ship museum, Devbagh beach and Kudle beach.
INS CHAPAL museum is an average place, good for kids, you can cover the point in less than an hour.
Devbagh Beach
is a lonely beach with beautiful white sand and clear waters.
Kudle beach
is the BAGA of Karnataka, all the shacks lined up on the shore. White sands, clear waters, tourists playing frisbees, flying kites, yoga sessions on the beach et al. the approach to this popular point is little tricky, through the back lanes of other resorts, even the parking is a small off-road adventure in itself.
Days went by in a jiffy and it was time to head back home, while returning I had planned to visit Dandakaranya Disney Park in Dandeli for kids. Already had the map feeded in my ICE Navigation and headed towards the park after check-out. Reached Dandeli through single laned thick forest roads and via Kali tiger reserve park.
Dandakaranya Disney Park Dandeli:
Good park with lots of animated cartoons life size models, kids had a great time posing with their favourite heroes and cartoon characters. Spent close to an hour at the park.
Left the park at 3 and headed home via Dharwad.
Return journey was ordinary with traffic as normal on the highways. Could not maintain the avg.speed I had maintained in the night time. Had dinner at Domino's Karad just on the highway. Reached home at 2.30am.
Sanskruti Resort:
Beautiful Cottages with 2 pools, wish I had an extra day to laze around in the pool.
Maps in CarPlay:
Many are annoyed by the quality of the preloaded Nokia maps in the ICE Navigation including me. In the 1 year with the car I have always used G-Maps extensively. This time I thought of navigating thru the ICE Maps by using the Geo Co-ordinates. It worked wonderfully and sometimes the route options by ICE was better than G-maps. G-maps sometimes misleads you to narrow, non-existent, or deserted roads. Searching any destinations Co-ordinates was simple by using Latlong site. Just enter the data on Geo Coordinates and save it, you are ready to use it anytime irrespective of network strength.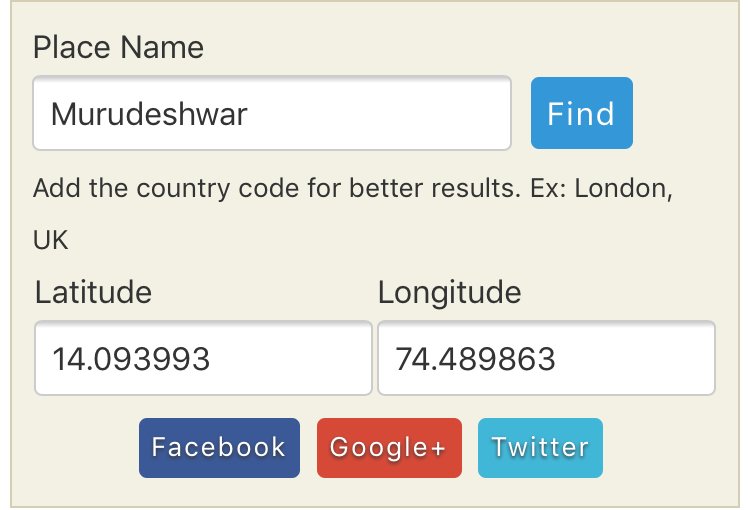 Fastag aka "Slowtag" :
All the tolls were having only 1 dedicated Fastag lane, which were full of heavy trucks and tourist buses. Even the system was slow in reading the tag except Mum-Pune expressway. Wasted 10 mins on every toll. With 4 tolls, wasted good 40 mins of the overall journey.
"Speedometer":
Amazing app, used it only once, but gave me all the correct info I wanted. Would use it more often on trips.
Headlights:
Baleno headlights with Bi-Xenon foglamps worked SUPERBLY lighting every corners and distant roads like day. A beautiful headlight setup makes night driving completely stress free.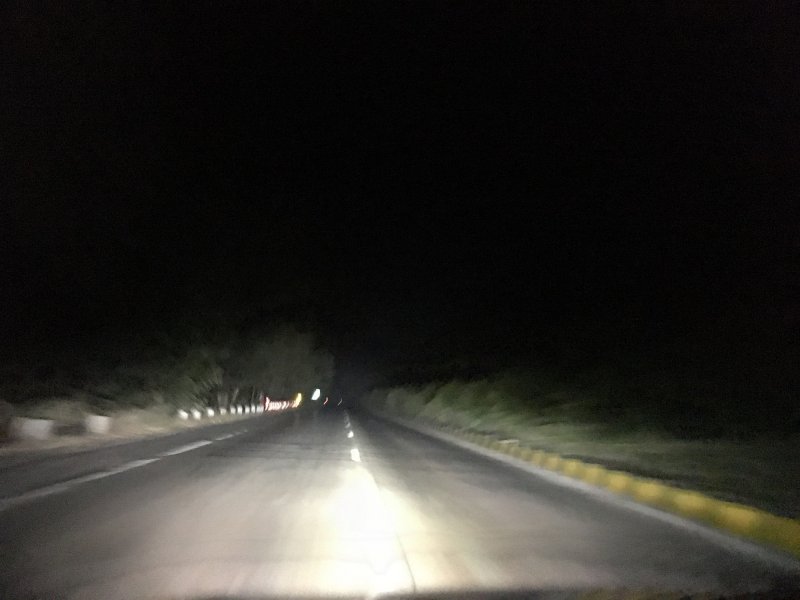 Had lots of delicious sea food, played a lot with my kids in the sea, made lots of funny sand castles and enjoyed every moment by the sea.
Perfect vacations to start off a new year.
Happy New Year 2018 to all Tai-gers