Mitsubishi Pajero Sport Review Synopsis: Mitsubishi Pajero Sport price tag is between Rs.24.98 – 25.28 Lakh. It officially launched in India on 15th Nov 2014.
Mitsubishi achieved cult status with the Pajero in most markets it sold. This vehicle is respected world over for its phenomenal off-road capabilities. The first Pajero was born in short wheelbase guise in 1982 which has evolved into the 4th generation Pajero, labeled as Montero in Indian market. It's sold and confused via various names in multiple markets, not many may know that its name is based on a South American species of Mountain cats. It is sold in different guises as the Challenger in Australia, Pajero Sport in Europe, Montero Sport in North America, South America and the Philippines, Nativa in parts of Central America and the Middle East, Shogun Sport in the United Kingdom, and G-Wagon in Thailand.
According to official website, the name 'Mitsubishi' refers to three-diamond emblem. 'Mitsubishi' is a combination of the words 'mitsu' and 'hishi.' 'Mitsu' means three. 'Hishi' means water chestnut, and the word is used to denote a rhombus or diamond shape. As customary, 'hishi' is pronounced 'bishi' when it forms a latter part of a word, hence the combination of 'mitsu' and 'hishi' reads 'Mitsubishi'." The Pajero Sport took birth in 1996, while the second generation came out in 2008. The Indian market has on offer a 2.5 Turbo Diesel with VGT while globally its available with a plethora of engine options. The current Pajero sport is based on the Triton pickup truck, also known as L200, Strada, Warrior, Sportero, Hunter in different regions. Someone could write a very uninteresting and confusing book on how many names the same vehicle can be baptized with worldwide and in some cases for good reasons.
But amidst all the naming confusion one thing that is common to all of the above is an unparalleled off-road lineage - it's no wonder hence the Pajero has had the most success in Dakar rallies (the Mecca of off-road endurance run) including an unprecedented 7 straight wins between 2001 and 2007. It is this endurance and durability that has helped Mitsubishi achieve a cult status with its SUVs and a legion of diehard fans. The learning, the lessons, the grueling engineering that goes behind lasting a Dakar rally leave aside winning is clearly incorporated in all Mitsubishi vehicles. Of course, Dakar vehicles hardly share a part with the conventional production models(in non stock categories), however the engineering lessons do carry over in a production guise and that is very evident.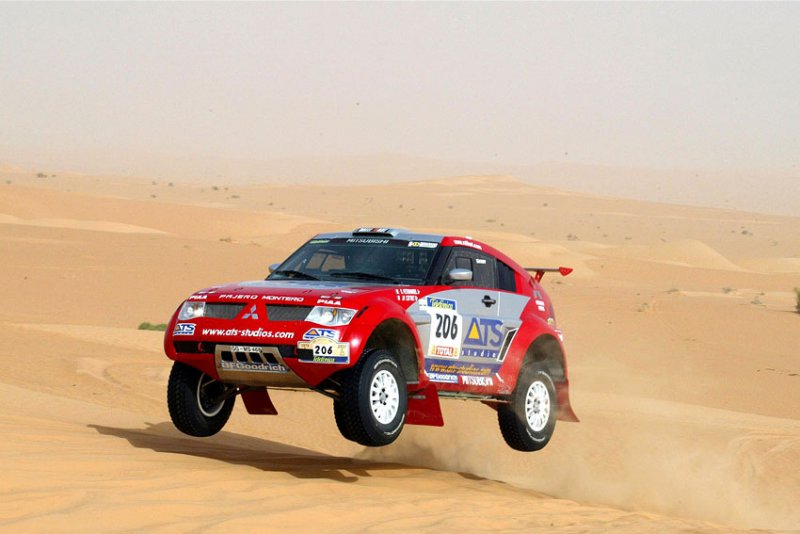 ​
New Generation Pajero Sport made its way into India in 2012, replacing ageing work horse, the Pajero SFX. Pajero SFX was one of the most famous celebrity vehicles in India since the last century. As a famed import, it was more of a status symbol in the 90s than an off road marauder though. The Pajero Sport anniversary edition launched one year later in 2013 to mark the completion of an year, our road test focuses on this anniversary edition model. It's the only Mitsubishi which is now being assembled in India, Montero(at the time of print) is still a CBU while the rest of the models have been discontinued.
Mitsubishi Pajero Sport comes with one engine option and sold in single variant only: 2.5-litre 16 valve, intercooled turbocharged DOHC common rail DI-D engine, giving a maximum output of 178 PS and a massive 400 NM of torque. The vehicle has been designed grounds-up with the primary motivation being to build a fast off-roader. There are many good off-roaders but a very few fast and real good off-roaders are rolled into one package. This is where the Pajero Sport shines.
Last edited: