This thanksgiving season, we would like to thank you!
Members are the backbone of The Automotive India and we relentlessly strive to serve you better. In an effort to show our humble gratitude to those who're constructively contributing to this community in some form or other, we're excited to announce the "Membership Awards" system. TAI-gers who actively support and help adding greater value to forum shall be timely awarded by the moderators based on criteria which includes:
High-Quality Contribution
Compliance To Forum Protocol
Active and Enduring Participation
You can check the list of awards and their recipients by visiting 'The Hall of Fame'. (Click on 'Community' link dropdown menu on forum navigation bar).

Awards listed under 'General Titles' are worth 10 Points each while those listed under 'Special Titles' are worth 20 Points each.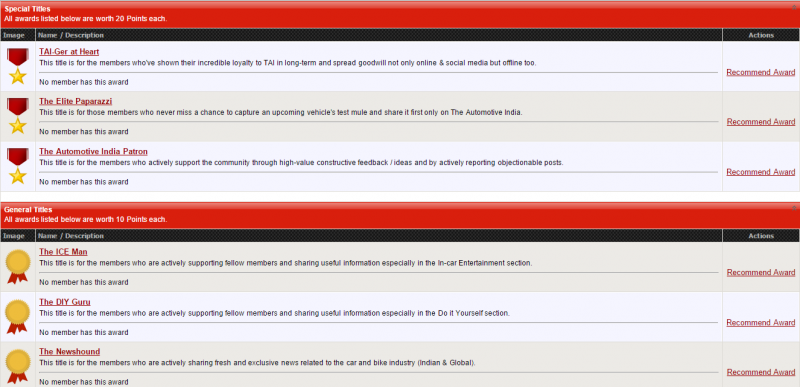 You can also recommend to us a fellow TAI-ger, who you believe truly deserves an award, by clicking 'Recommend Award' link to corresponding title.

Award recommendations are evaluated very seriously. Please make sure to enter a valid reason and exact username of the suggested recipient.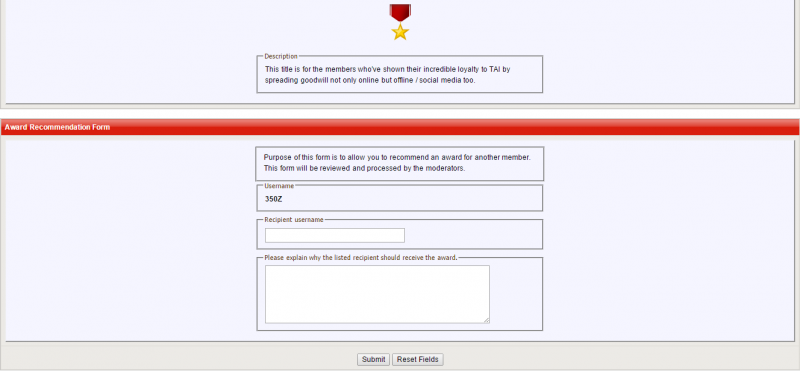 A member will receive an automated private message congratulating him / her whenever a new award is issued.

Full details of the award(s) received along with total accumulated points publicly show up in user profile under 'My Awards' tab.

Additionally, cumulative award points are also displayed under your avatar on every post.
​
Notes:
More award titles will be included in future as and when needed.
Any award recommendations with little or no details in the 'reason' field will be deemed invalid.
The official team members of The Automotive India will NOT be a part of the awards nomination.
A member may be given same award twice or more over a period of time if he / she continues to contribute outstandingly.
Some members have been awarded in the opening phase. We will timely keep recognizing members on basis of their contribution.
This system is only for recognizing

consistent

high quality contribution. Please use 'thumbs up' for any specific post(s) that you appreciate.
TAI-gers who perform exceptionally well in terms of sustained high-quality contribution stand a chance to be promoted to Honored Membership.
Drive Safe,
350Z
Last edited by a moderator: