Joined

Jul 20, 2015
Messages

162
Likes

124
Location
Why
I have been
driving an Alto K10
since January 2017. Before that I have been using an Alto 800 since March 2013. My requirement was a small car that was easy on the pocket, and they served me well. But the needs have changed. My daughter will start going to preschool from April and I wanted a bigger car with Isofix mounts, enough legroom in the rear for long drive and relatively mature handling out on the highway with decent engine power. All these also had to fit in a budget. You could say I am now a certified connoisseur of Maruti's bread and butter motor line - 800 cc, 1,000 cc and 1,200 cc. My incremental upgrade each time has been by some 200 cc.
But a brief goodbye to the Alto K10
Somewhere I read that Maruti Suzuki India Ltd, henceforth called MSIL here, has discontinued the K10, to be replaced by the S-Presso. I really miss the K10. It had good power and outright acceleration if driving without passenger load. It was tension free to drive in traffic. If my needs hadn't changed, I would have happily held on to the K10 for several more years. I have experienced leaving behind bigger cars with bigger engines behind during stop-and-go situations while driving the K10. So, here's a final send-off to perhaps the end of an era.
Budget
My budget was maximum 7 lakh on road. No ifs and buts. Maybe a little stretched with the right accessories.
Test drives
The test drive cars were - Swift, Tiago, i10 Nios and Ignis - all of them BS 6 models. My observations for these cars doesn't mean they are bad. It could be simply that my needs mismatched with the respective cars. Their owners have every right to enjoy the cars mentioned here and gloss over any fault that I may mention.
Swift
Vxi on road was 6.95. It came with steel wheels and puny 165 section, 14 inch tyres. The upgrade would have cost a lot more. Didn't like the low seating. Rear space still felt crammed, bad thigh support despite what they say about better space management in the new generation one. Thought it was way overpriced.
Tiago (2020)
Killer looks. Hands down best build quality in the segment. Respectably wide 175 tyres, 14 inch for the XT mid variant, the top end XZ Plus has 15 inch 175. The doors felt solid. The suspension as we all know here is legendary. And the cherry on top is the music system. The car felt like a bigger ride; didn't feel I was driving a small car. On the downside, the NVH was the same as I was in the K10. In fact the K10 seemed to have better insulation. Inside the Tiago I could very clearly hear the sound of a bike's exhaust that was at least 10 metres away. No matter what they say, there's no wishing away that three-cylinder motor. Also, I happened to take my mother-in-law during the test drive and she remarked that it would be nice to have more legroom. I have been to long road trips in the K10 and I know how it feels to see family members struggle to fit in the rear. So everything taken together, I struck off Tiago. And a big part of my decision to buy a new ride was to get more space. If the space increment is marginal, my buy wouldn't make any sense.
Grand i10 Nios
Excellent cabin design, spacious. The ride was firmer compared to the first generation i10, which I used to drive in 2010. Two reasons I didn't finally go for the Nios are - beyond my budget, and this is a subjective one, I don't like that fluidic, curvy design. End of matter.
Ignis (Delta trim)
It ticked all the points in the space and legroom department. The car is compact, yet it frees up a lot of space inside. It reminds of the Brio, which looks small from afar, but if you walked near it you realise it's a big bubble of a car with lots of space inside. More reasons why I went with the Ignis - 1) 1.2 cc engine (K12), four cylinders, definitely an upgrade from the K10. 2) Acceptable handling. It has stiffer suspension, which helps contain body roll for a tall-boyish design. I'm willing to sacrifice smooth ride for better handling and confidence 3) Easily within budget
Miscellaneous observations on Ignis BS 6 model
1) A very tiny factor in my buying decision of the Ignis was perhaps the SUV-ish look of the new BS 6 model. Since Maruti has no consistent design language, it can afford to mix and match whatever would work (sometimes, it fails too). In the BS 6 Ignis, they have taken SUV-ish elements in the front grille from Jeep Compass in the form of square horseshoe shaped chrome rings.
2) The BS 6 Delta model now comes with roof rails and rear spoiler. The Ignis now looks mature and palatable with the spoilers and roof rails added. Nothing can be done about that rear flat face look though.
3) The Ignis tyres (middle trim) are 15-inch, 175 section, which is not that bad compared to Swift's (middle trim) 14-inch 165 section. Takeaway: Ignis costs less even with bigger and wider tyres in the same trim level as the Swift.
4) I didn't go for the Zeta, one trim above Delta, though it came with alloys and push start, a feature I really don't need.
5) Build quality is not up to Tiago or Altroz level. From the sheet metal to the plastics inside, anywhere you apply pressure the material gets pushed or bends. I have no idea what Maruti's so-called "Heartect" is all about despite reading up and having discussions with people. In fact have noticed even those who cover the auto sector are not really sure how exactly to quantify the benefits of Heartect, whether it's a marketing trick to reduce weight and increase fuel efficiency at the cost of safety. One thing is for sure, Science says that when two objects collide, the heavier one will punch through the lighter one.
Price
Ex-showroom: 5.66 lakh
On-road: 6.4 lakh
Corporate discount: 5,000
Accessories
Set of four black MGA alloys - 29,000
Sony XAV 5000 capacitive audio receiver without rear camera (am old school, I like reversing using all my skills and the mirrors) - 22,000
Two Sony speakers at the rear - 2,600
Free stuff
MGA side moulding
Process
The sales adviser at Nexa (Rana Motors) in East of Kailash, south Delhi, was helpful and polite the whole time. I decided to try with Rana for a change after buying from Bagga Link twice in the past. All the people who I knew at Bagga Link (Kotla Mubarakpur dealership) have left the job, except for the accessories guy. And the people at Bagga Link Nexa in Lajpat Nagar was curt, unresponsive. So farewell to them. Rana Nexa is also on my way to work, which is another reason why I chose them.
The finance was done through HDFC Zip Drive in less than 20 minutes. I had a pre-approved loan of 20 lakh. Luckily, the salesperson said they can give Ignis Delta model the next day, so that solved a problem for me as I was selling my K10 at Cars 24 the same day.
The K10 went for 2.2 lakh at Cars 24. It had run 23,000 km, had bought it in January 2017, had four MGA alloys (Enkei) especially made for the K10. The price felt like a decent deal. This was the second time I dealt with Cars 24 and the experience has been good. They transfer the money in real-time and is watertight with paperwork.
On the day the car came, I did a pre-delivery inspection around 10 am and went to office. The inspection went well. Checked the VIN, engine bay, scratches, etc. Everything seemed all right. The car had run 40 km, which I suppose is the distance from the MSIL stockyard in Gurgaon. I returned at 4 pm to take it. It had started raining lightly and traffic was building up on the busy East of Kailash area, leading to some concern whether I would inaugurate it with a scratch on the first day itself. See, driving the Ignis in heavy traffic after years of being behind two tyres of Alto cars would surely need some adjustment.
I gave sweets to the sales advisor and drove off to the nearest petrol station. There the attendants congratulated me for the new ride, and I knew they would want to be tipped chai-paani, so they got their wish. In return, I got nitrogen filled in all four tyres for free, though I presume there's no real benefit to it unless you're going to drive on the track. That was the first time I got nitrogen filled in the tyres anyway. The tyre pressue is 36 psi for front and 32 for rear.
So far I have driven 100 km and I really like the car. Feel happy that I have made a good buy. Road trips and more legroom for mother-in-law, check. Dropping baby to school, check. Decent fun to drive engine, check. Fuel efficiency, check. Decent looks, check.
So that's it, guys. Do shoot any query this way. I'll be posting intermittently here as my car, which I have nicknamed "Roadrunner", ages. Will post proper photos later. For now uploading some random shots.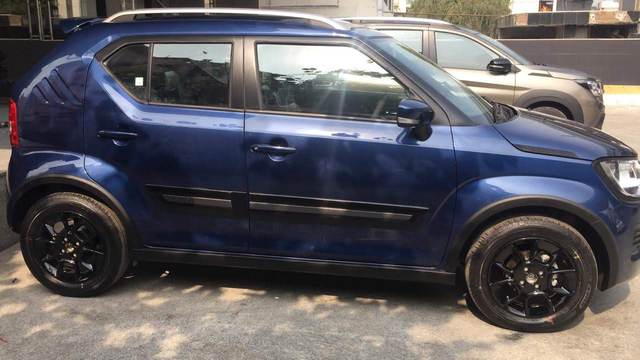 The day the car came to the dealership with the MGA alloys fitted. The black looks nice. This is without the black centre cap, which they added later.
They gave the side moulding for free after a hard negotiation.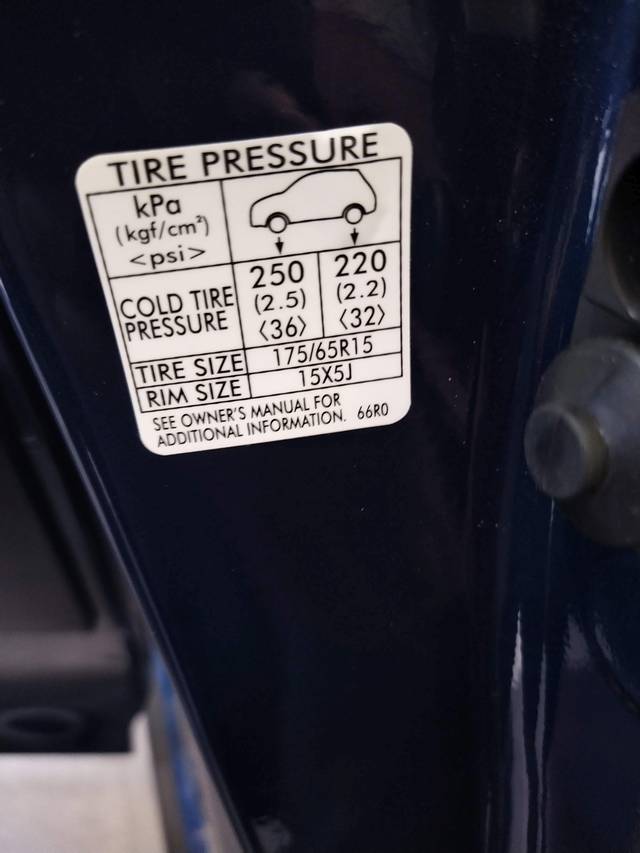 Tyre pressure chart. The Ignis has a stiff suspension, which improves handling at the cost of ride comfort. Maybe that's why the rear pressure is even less than the K10's recommended pressure at 35 psi.
Installing the Sony XAV-AV5000 receiver. It has Apple CarPlay and Android Auto.
The stock head unit that came with the Ignis Delta. Wanted to ask, can I sell this off? On OLX, a man wanted to know if it can fit in his 2016 model Dezire. I have no idea, so asked him to find out with Maruti first before buying from me. Also, at what price should I sell this?
A child seat from Luvlap.