Joined

Nov 9, 2014
Messages

222
Likes

110
Location
I am a newbie in writing reviews and this is My First Ownership Review...
Having used Honda Amaze for a year (24000 KMS) thought of going for an upgrade which has Airbags, ABS, decent looks, all the gizmos etc..
First thing to do is selling my old vehicle which i have done by posting in car trade. And thanks to Car Trade - the car got sold the same day as the asking price was set not too high and it was set according to the market value.
Car Trade link for my old car.
- Its Sold Now
Now the search begins for the new car. Budget set was <= 9 lk (for diesel)
Cars Considered.
Hyundai elite i20 - Petrol was not drive happy
Honda jazz - Price is high with what we get
Ford Figo / Figo Aspire - would have gone to this with my eyes closed if i was buying a Diesel
the newcomer Maruthi Suzuki Baleno
Test drove all the above and finally settled between
elite i20
and the new
Baleno
.
initially was thinking of going with Diesel mill. But changed my mind to petrol as I will be changing my job in the near future and Kms that i travel will be reduced. Done my calculations and finally decided for Petrol.
Now did the test drive again for Hyundai i20 and Baleno and finally selected Baleno as my next vehicle which has all the things that i am looking for.
Booking Experience and Delivery:
The experience i had with the Nexa was good but not premium. It is same i received as that of Honda. The only change i found is that Nexa was using all digital mode while Honda used more paper.
Booked the vehicle on Nov 5th. I have actually booked a Zeta Petrol and the colour options given were Granite Gray / Premium Silver / Arctic White.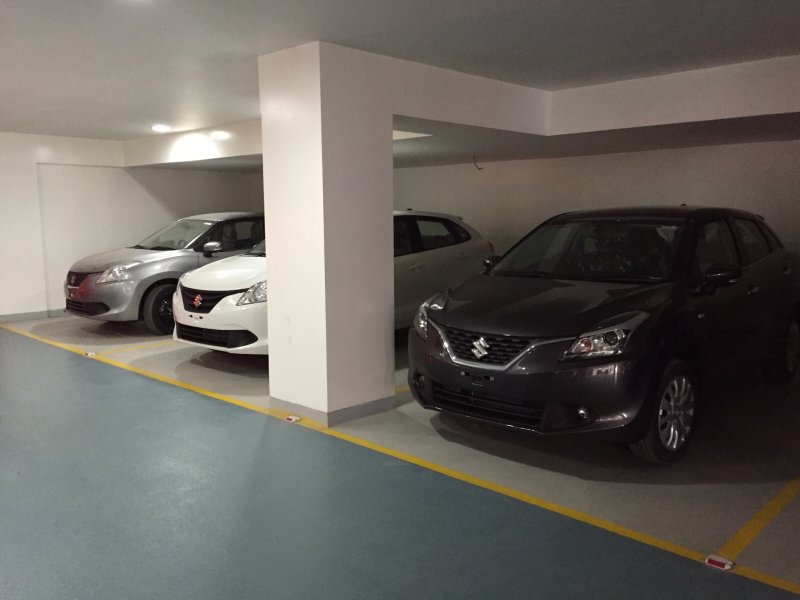 The promised date of delivery is 3-4 weeks approximately. And here comes the Diwali Holidays which has increased the waiting period of Baleno to 3 months. RM has called me and updated that G.Gray would take more time and he is trying for P.Silver and A.White which were being shipped in plenty from Maruti plant.
Got a call from RM on 24th Nov that a white Alpha in transit and If i would go for it. As my initial booking was for Zeta i was not interested in Alpha as i have to stretch my budget. The care was given to some other customer.
In the mean time went through different sources and came to a conclusion that Projector Headlamps will not be retrofitted as an accessory and now started thinking about going to Alpha.
Got a call from RM again on Dec 1st that there is a white Alpha and a silver Zeta in transit and if I would be interested in that. Discussed with the family, my close friends and looking the review by TAI I decided to go for Alpha. Confirmed the same to RM in the evening and he said the car will be arriving by Friday and I can come to the stockyard for PDI. I did my PDI and all set for delivery on 5th Dec.
The delivery experience was smooth and I was given a box of Ferrero Rocher Chocolates and Bouquet of Flowers along with car keys.
finally my white horse has arrived. (This is the 1st Baleno at my work place and also near my house locality. Was feeling happy and excited when everyone was coming and asking about the car and its features. Suddenly i became a RM

)
Initial Ownership Impressions
What I liked:
• Excellent Design from Maruthi and User-friendly cabin with loads of space.
• AC was very effective. Even my 11 year old Alto is very good in AC coolness. (so no complaints)
• Plenty of Boot space. This is one reason which stopped me going for a compact sedan.
• Petrol engine is smooth and the NVH levels are too good.
• Dual Airbags & ABS with EBD which was my top priority.
• Both sun visors get ticket holders and illuminated vanity mirrors. (only in Alpha)
• Loved the feature list such as UV-cut glass, projector headlamps + DRLs, reversing camera, Apple CarPlay, navigation, electrically-foldable ORVMs and more
What I didn't like:
• Seats are not as good as Swift. Under-thigh support for rear passengers is limited.
• Light build quality.
• Powerwindow switch and ORVM adjustment console borrowed from Swift / ertiga/ dzire. The ORVM control KNOB is very flimsy and i have a feeling it will not last for long.
• Maruthi should have included rear fog lamps for Indian Baleno as how it is doing for European models instead of leaving the bottom clear lens in the rear light as dummy for Alpha models.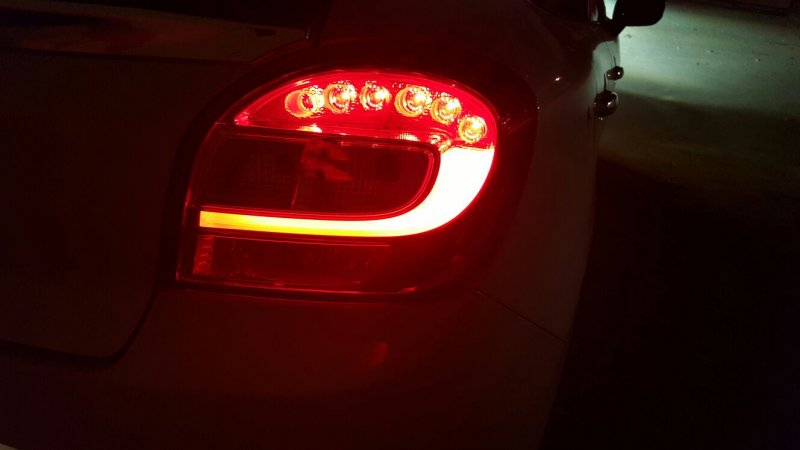 Registration Process
Pg 3 Post #43
Accessories installed:
Door visors, Side Door Beading, Mud flaps, Body Cover, Floor Mats, Seat Covers, Sports Pedals
Few Observations so far:
The mileage that is being shown on the MID is not accurate to my understanding. The MID showed 24.9 km/l at some stretch on a long drive. Finally when I has filled it with fuel to check the actual mileage i got tank full to tank full is 18.5 km/l which is also good considering the fact that I drive 50% city and 50% highway.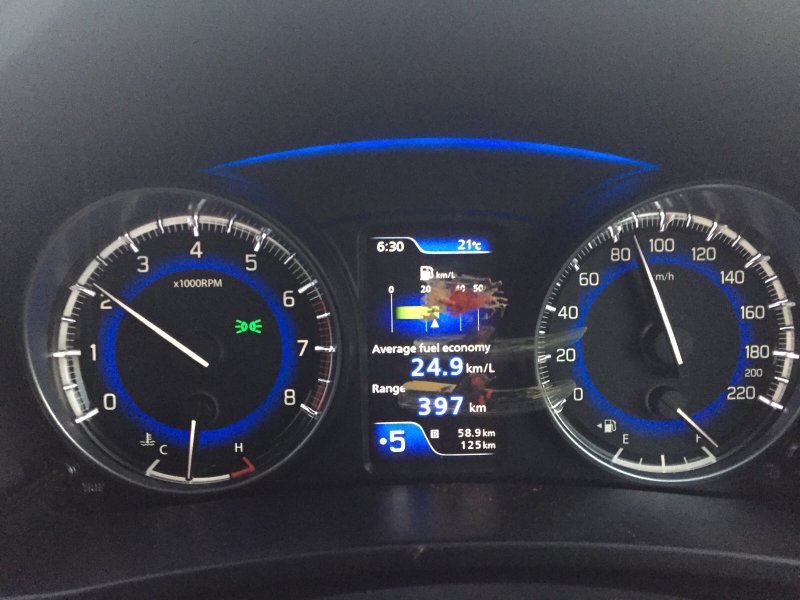 Took the physical key out of the key fob (for unlocking the door using the key if it gets locked) and left the key fob inside the car near the Gear Rod area. Now closed the door and tried to press the request sensor on the handle for locking. But it didn't lock and I heard some beep from inside of the car. Tried again and it didn't lock.
Now took the key fob out of the car and pressed the request sensor and it locked this time. I guess the request sensor detects the key only when the fob is with in close proximity. When i left the fob inside the distance is more than 2 feet and it might not have detected the fob. And that's why it didn't lock the door. And when it is in my hand it locked because the fob is very near to the sensor - say 1 feet.
Just one word – SMART
Recently noticed the rainbow effect on the alpha projector headlamps. Not sure if it is with every alpha car or just one off case. However the MASC SA told that its with every Alpha that has come for servicing. Had to verify it physically.
Service Experience:
1st Free Service
Done @ 1001 Kms.
Amount - 0 Rs.
Boot door sensor button was not sitting in its place and was coming off. Complained about that. They have adjusted it but i was still demanding for a replacement for which they obliged and put order for the part as it is not readily available. But sour point is, it might arrive only after new year due to Holiday period.
There is no specific bay for NEXA vehicles in regular Maruti ASCs as I read somewhere. The vehicles were being serviced alongside swifts, altos, wagonRs etc.
Nice to see that the Service History got updated in the NEXA app with KMs and Date of Service along with the dealer Name.
Also I have asked the SA about the auto rollup of windows. He called to couple of showrooms (Not sure if they are Nexa Showrooms or any other) and confirmed that it is not available for Baleno. I asked if Swift / Ciaz doesn't use the same power windows internals of Baleno for which he said NO. Will be looking to add window Autorollup feature.
DIY to avoid the noise created by the tools in the Boot.
Pg 3 Post #33
DIY - VVT Emblem on Fender.
Pg 3 Post #40
DIY - Carpet Base for cup Holder.
Pg 3 Post #44
Got Seat covers for Baleno
Seat Covers installation
For those who are looking for the Manuals of Baleno and Smartplay System:
Here it is
Baleno Car Manual
SmartPlay Infotainment System Manual
- Sandeep
Last edited: