It was really long pending for my XUV and finally I managed to change my XUV-500 (new age) 4 sounds and getting more than expected result.
6 months back I was on outing with my friends and they were complaining about XUV's sound are seem really basic (though I have W10 variant). I was quite curious and nervous too, to change anything in XUV, (touchwood) my XUV is niggle free till now.
In last couple of month I tried to search XUV owners who changed their XUV sounds but no luck in that. I contacted my Sales guys (Silver Jubilee Motors – Pune) too but as per them for new vehicle they have not received any change of sound request. Later, I contacted my service engineer and keep checking with their other customers for anyone is already opted sound change option. Unfortunately, no luck in this too.
Finally, I decided to visit private Car Accessories shop across Pune and started collecting more information about latest sound, its brand and XUV owners who opted this. Almost, many of them were telling me that they had lots of XUV for same sound change and it was really successful for them without tampering anything. But, no one is provided me their contact details.
Meanwhile in all this process, I come to know that FOCAL and HERTZ are good and standard brand for car sounds. Both are imported from USA and Italy respectively.
Fortunately, at one of accessories shop I found one old City Honda was installing HERTZ sounds in it and I waited to get demo (before and after installation) and it was really impressive about the quality of it.
Though
FOCAL
is really costly than
HERTZ
and as I already had live installation demo and its final output for same so I already opted HERTZ system for my XUV.

Front door Sounds :=> Hertz ESK 165L.5 Two way system 14390/- MRP

Rear door Sounds :=> Hertz ECX 165.5 Two way coaxial 7990/- MRP
But still I was not sure which accessories centre should I choose? As I was very keen for newly manufactured and genuine sounds. So I contacted HERTZ sounds Indian importer in Haryana - Orix Hi Fidelity and they provided me their regional Sales manager number by the name of Mr. Pande.
It was nice to talk with Mr. Pande in detail and he explained me pretty well about those sounds and its other variant too. He suggested me couple of genuine HERTZ accessories vendor from Pune. I called them up and checked with their availability of those sounds and its manufacturing date. Finally I opted Bafna Cars from Shivaji Nagar – Pune.
Mr. Dinesh (Owner of Bafna Cars) explained me about all things about HERTZ and FOCAL, and it was quite relevant to my gathered knowledge. And he assured me that it will be really simple and easy to switch sounds without tampering anything.
After discussing with him about rates he offered me 26% discounts on MRP of above two HERTZ sounds and I opted those.
Here, he shows me and explained me about DAMPING sheet. Honestly, I have not planned for this but Mr. Dinesh told me that I can go for lower brand of sounds but should opt this Damping sheet because it's Anti Vibration ( for doors ), noise isolation and heat isolation. It will be game changer for any of sound system.
I immediately checked on Youtube and found
https://www.youtube.com/watch?v=Sl-4sJ_1wTI
for same and decided to go for this. And my work has been started on same day itself.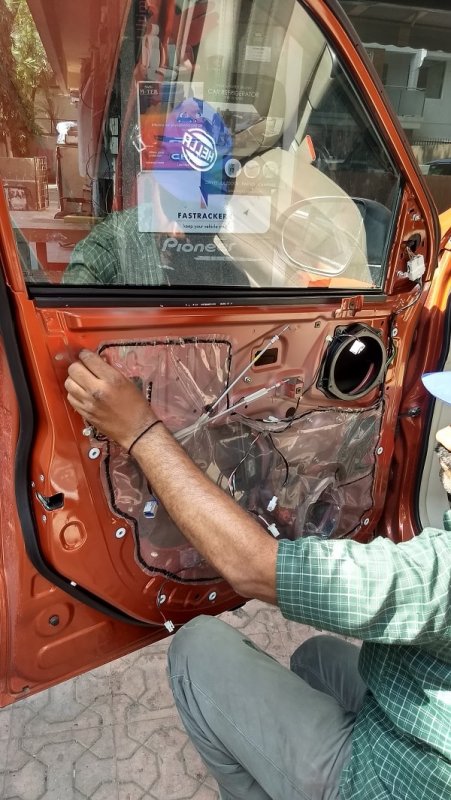 Company fitted plastic might be Damping plastic sheet.

Now I can see both side of Steel of the car
This is our XUV default sounds,
NIPPON
.
They started to open all 4 door panel first and then they will start installation of damping sheet and then new sounds.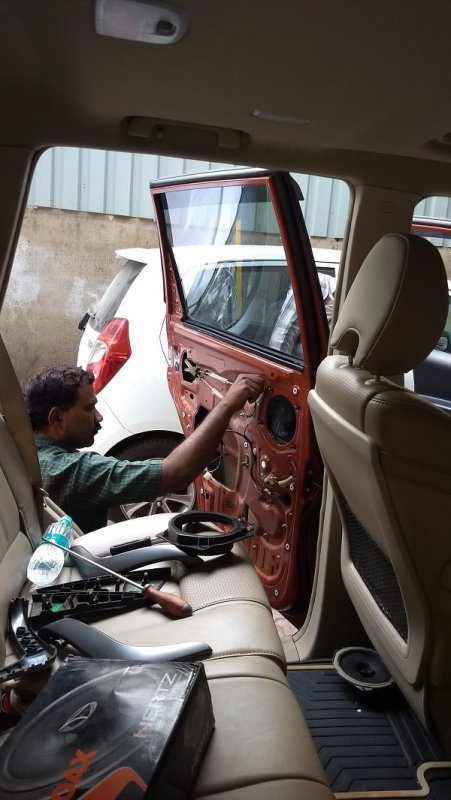 Left side doors are done.
Right side rear door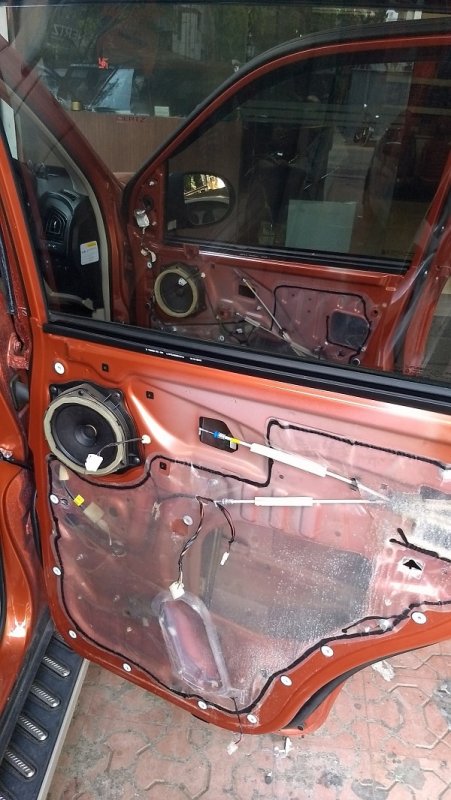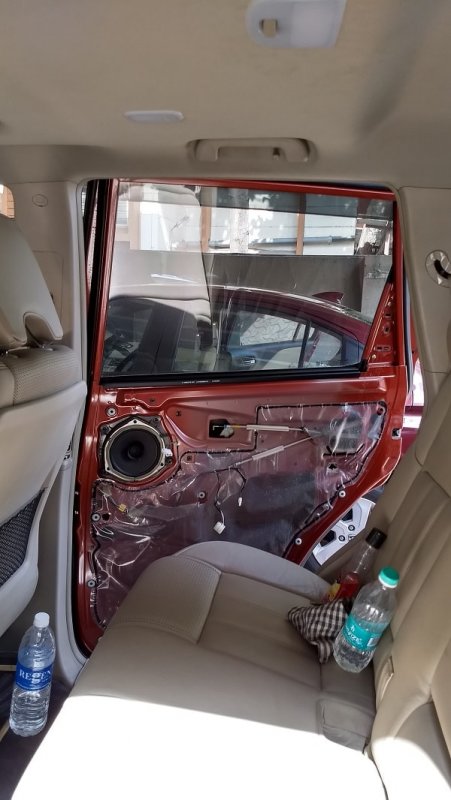 Right side front too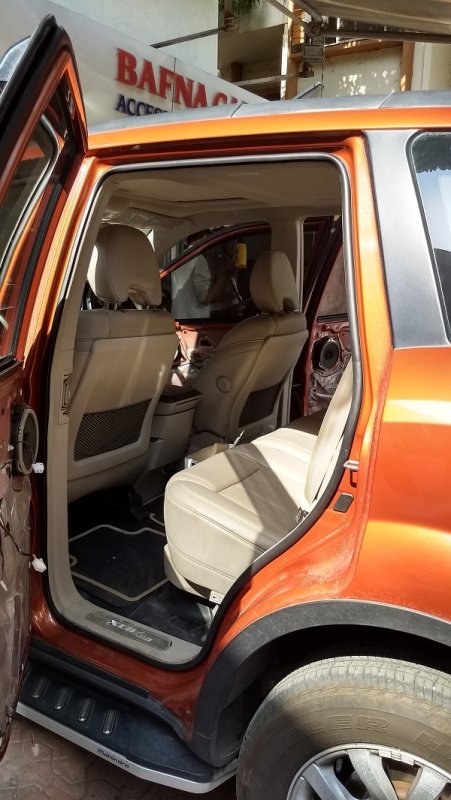 All 4 door are open and naked now. I was happy that there is not too much wires exists and which are exists those were properly intact with other. So chance to mess up with them
Thanks to Mahindra.
Here we goo..
It's time for Damping sheet installation. Every sheet is pretty thick and might be weight around 2-2.5 kg. It was too sticky too from one side and silver foiled from other side.
Left Front Door – Inner sider sheet installation done.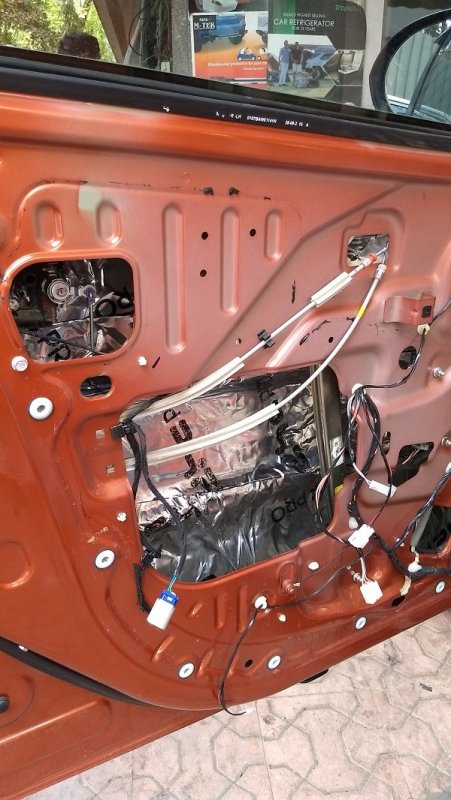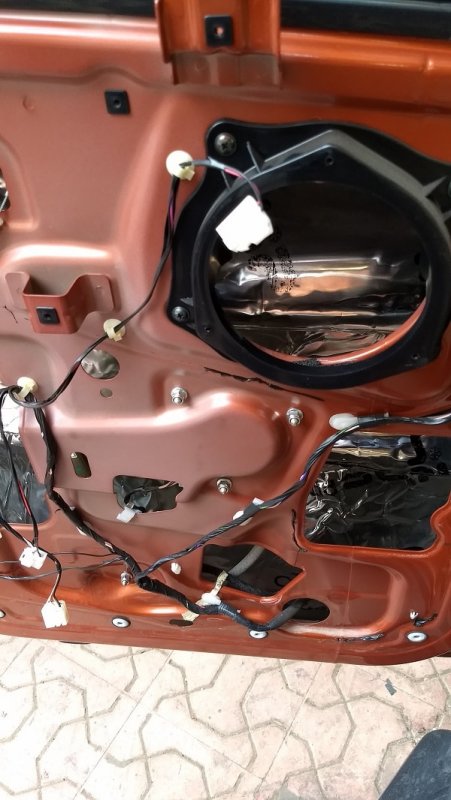 Now it's outside part
Finally first front sound getting installed.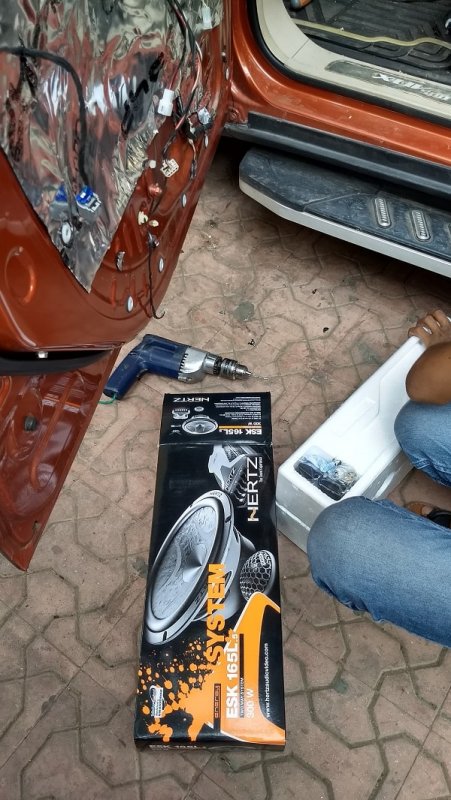 It's took almost 3.5 hours, 9 Sheet for 4 doors and around ~25K for all stuff.
After fitting of this I found lots of noticeable changes in XUV.
Outside noises are 98% vanish. Absolutely can't hear anything from outside.
Though, now you can listen good and crystal music.
Sounds are simply rocking as compared to default one.
Each door has loaded with extra ~4-5kg weight so found there is no vibration in door steel, which is highly noticeable. Really happy for this damping sheet.
Finally, HERTZ , now I can say it's PURE music which I can listen in my XUV.
It was really worth to change sounds and adding damping sheet in car. Using this since last 5 days and can't believe in ears for same songs playing before and after all this. Simply superb.
Last edited: