Joined

Nov 29, 2012
Messages

1,630
Likes

2,053
Location
Mahindra Scorpio m-HAWK Automatic, now available again?

I just happened to bump in to this piece of news on the relaunching of Mahindra Scorpio AT.
Usually new Ads for an already existing car or two wheeler in India is meant to reignite the interest around the product or highlight a new feature or offer that might have been introduced in the product. In case of the Scorpio's latest ad, the takeaway is the mention of the Scorpio being available with an automatic gearbox. For a while now, Mahindra had stopped producing the automatic gearbox equipped Scorpio due to difficulties in sourcing the 6 speed automatic gearbox. Now though, the sourcing issues seem to have been sorted out. So, the Scorpio's automatic variant might be on the verge of being relaunched.
source:
[Video] Watch the uncut version of the Mahindra Scorpio SUV Ad before its TV debut - Indian Cars Bikes
When I cross checked it with the official Mahindra Scorpio website, it does show the availability of Automatic variants in both 2WD and 4WD.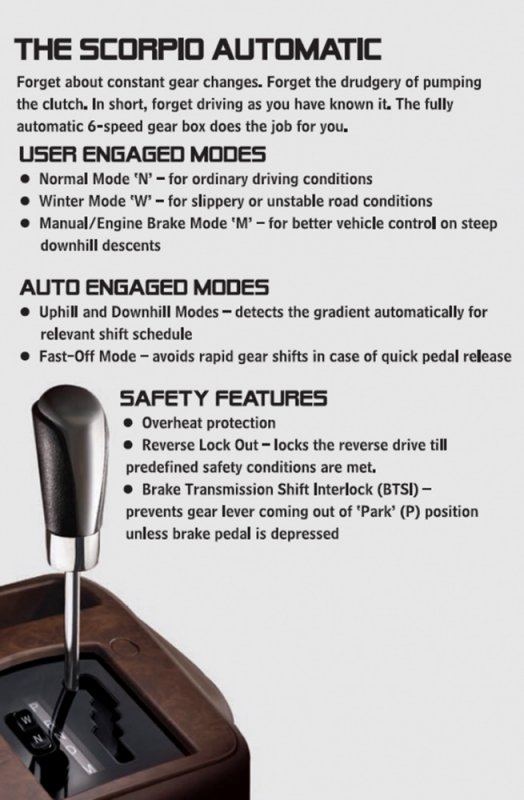 Modified Mahindra Scorpio | SUV Automatic | 4 Wheel Drive Auto
The pricing too looks very reasonable for AT+ 4WD options,IMHO. Around 11.5L for 2WD AT and around 12.5 for 4WD AT.
TAIns in India,please confirm this.
Last edited: