Joined

Feb 26, 2013
Messages

856
Likes

643
Location
Hello All,
This is going to be a long post, please bear with me.
Prep and weeks leading to the ride
Having a biking itch and going to Leh Ladakh is like going to pilgrimage in India. My biking itch is fairly new started when I was given a Yamaha FZ-16 in the year 2009 it has been close to 10 years and finally I was able to complete the pilgrimage.
It became possible because of my wife who literally pushed me into the ride, I had bought a Harley Davidson Street 750 right before the birth of my daughter, due to which we were not able to go on long rides together which effectively reduced my riding to commuting. So when our daughter was old enough to be left at home with her grandparents we decided it was high time we started riding again properly. We restarted with the HOGs in the month of January 2019 and right after the first ride, the idea of the Ride to Leh resurfaced. That time the idea was to prepare for the ride in the year 2019 and execute it in 2020, later we pre scheduled it to complete it in the year 2019 itself as it was the 10 year anniversary of our relationship.
The first main issue was getting the permissions from our parents which was The Herculean task for us however, this time surprisingly parents agreed without much persuasion.
Once that was done the hunt began to find riding partners I contacted a lot of my friends and most of them had previous engagements or were simply not interested but some of them agreed.
Now to figure out when to ride as you know the Leh season starts from June and goes till 1st week of October, with a variety of road and weather conditions. We were initially thinking of completing the ride in the month of July but as suggested by a veteran of Leh rides and a friend of mine it was shifted to September. The reasons being even though it will be colder but the road conditions will be better, lesser traffic and crowd and most of all no to negligible rains.
Once that was finalized the preps began, making lists of meds, clothes, trying to figure out how to load them up on the bike, we were going to use the Street 750 for this ride, so the changes needed on the bike like seats, carriers, lights etc, full riding gear for both and the luggage. As all of this stuff will turn out to be pretty expensive we decided to buy them slowly over a couple of months, as we got the permissions in the month of April we had around 3-4 months to get all the stuff.
Stuff for the motorcycle
Rynox Optimus Tank Bag 22L expandable to 31
Dirtsack saddle bags
A Regular 500rs bag from a local store
A 60L backpack from Decathlon
Custom Seat with gel pads sourced from Aeedea banglore
Jerry Cans for fuel = 20L worth of fuel
Cigarette Lighter Socket Charger
Mobile Phone holder and USB charger
Custom Carrier
Fog lights (1 pair of yellow, 1 pair of white)
Comfortable aftermarket handle bar
Height and Tilt adjustable windshield again sourced from Aeedea
New and upgraded bearings for wheels and steering column
Denali Soundbomb Mini
One of the biggest issue in taking the Harley to Leh was fuel, the motorcycle gives a range of 170kms in city traffic which would have reduced to 150kms in that region, and since there were 2-3 days where we had to ride for around 450kms in between fuel pumps I had to carry almost 3 full tank worth of fuel. The issue was resolved by adding a Jerry can holder custom made for the bike after putting in the saddle bags.
We didn't go for a regular tail bag as the legs of it were messing around with the jerry cans or the saddle bags.
Got Pumba serviced 2 weeks before to make sure that it is ready for the upcoming 6000km journey. Soms pics below of the bike getting serviced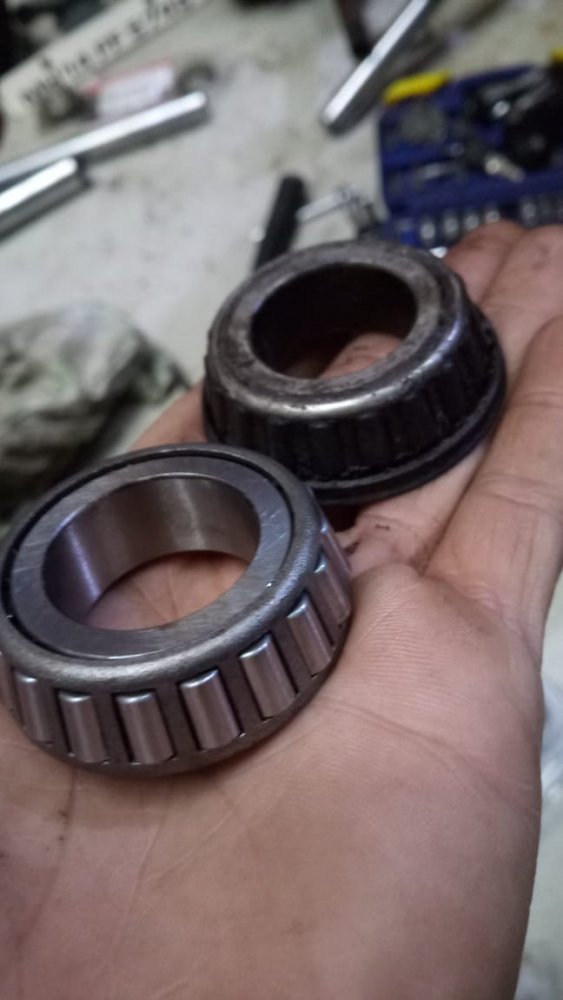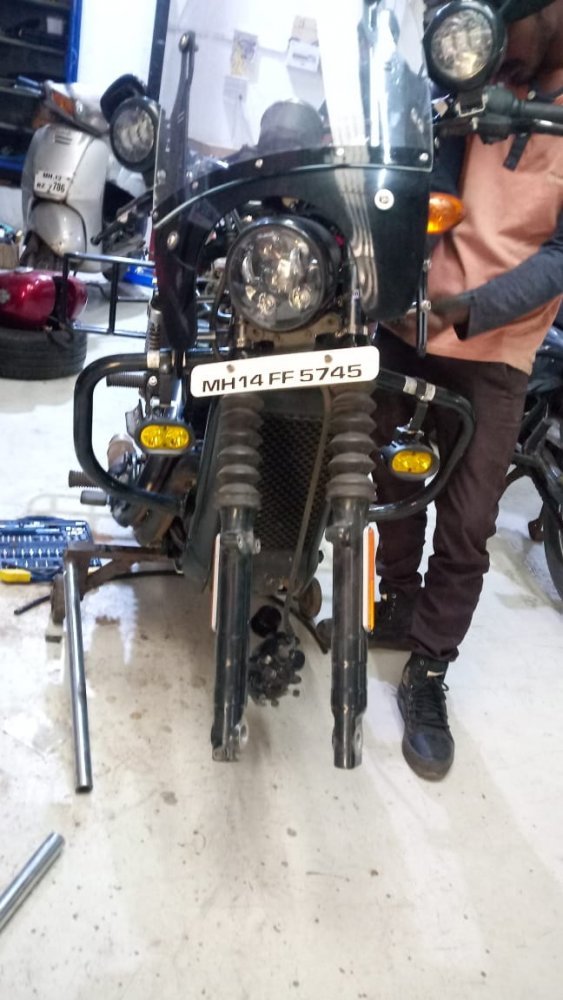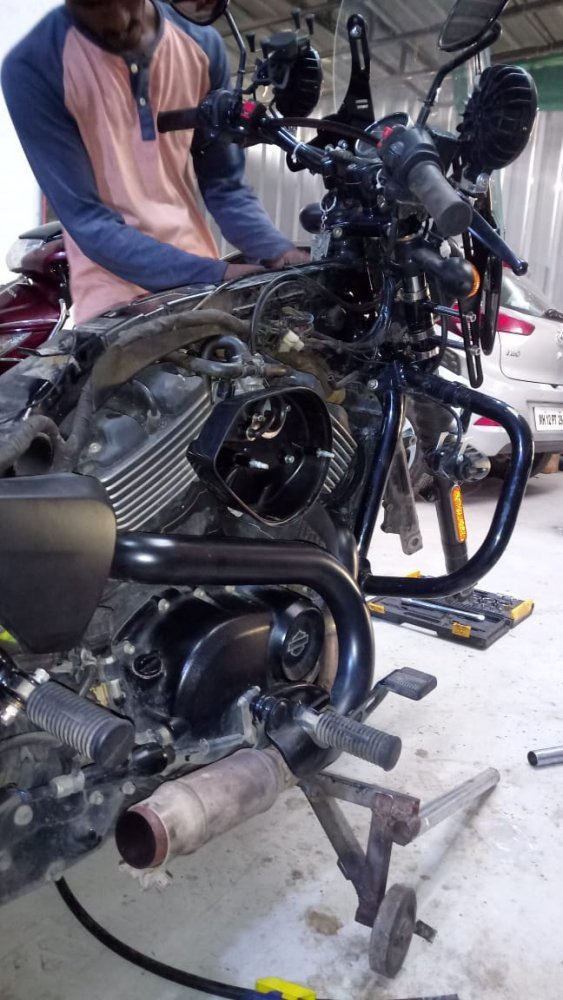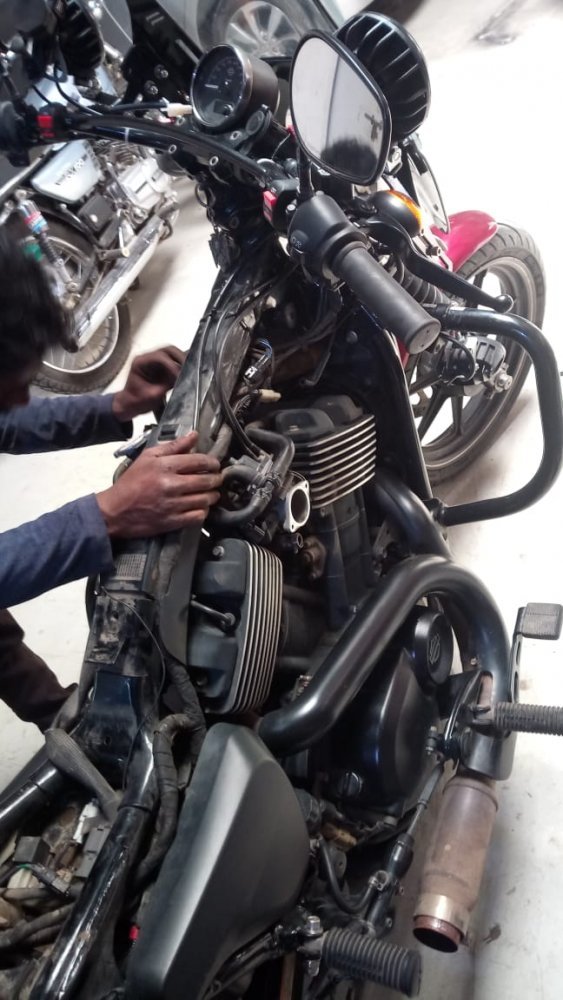 The list of things we carried are:
PFA the list of Meds, tools, spares and some misc items that we carried. Got it reviewed on the ownership thread of the motorcycle earlier.
Medicine List
1. Crocin
2. Combiflam
3. Roko
4. Sporlac
5. Pudin Hara
6. Diamox
7. Saridon/ DIsprin
8. Cheston Cold
9. Montek LC
10. Cetrizine
11. Betadine
12. Boroline
13. Cotton Swabs
14. Savlon
15. Small Scissor
16. Bandages17. Band Aids18. Reglan19. Avomine20. Tiger Balm
21. Vicks Vaporub
22. Crepe Bandage
23. Soframycin24. Relispray25. Omnigel26. Moov
27. Surgical Gloves
28. vizylac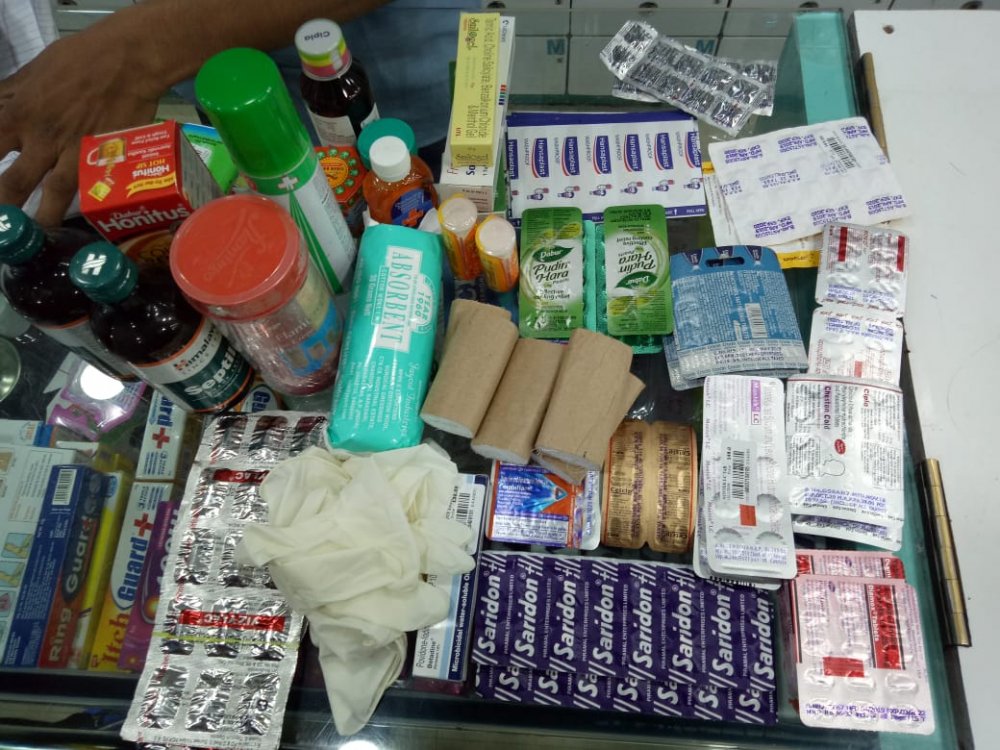 Spare List
1. Accelerator Cable
2. Clutch Cable3. Coolant 4. Spare fuses5. Engine Oil
6. Chain Lube for versys
7. Duplicate bike key
8. Jump start cable
Tools list1. Spanner set2. Allen key set
3. Screwdriver set small and big
4. Yellow Screw driver
5. Electrical tape6. Hammer7. Puncture Kit8. Pliers9. Air pump10. towing rope11. Siphon tube12. funnel
Tool pics and the packed tools in the Rynox Optimus tank bag.
Misc
Phone charger
Power bank
Memory cards for phone
Camera (Optional)
Camera battery charger
Bluetooth charger
Extra cables for phones
Blacalava
Selfie stick
Action Cam
Action Cam charger cable
waterproof cover for action cam
sunglasses
extra helmet visor
Torch
Wet wipes
Tissue Paper
Documents
Aadhar Card
Pan Card
Passport
Passport size photos
10 photo copies each
Bike RC
Bike insurance document
PUC
Drivers License
Digilocker of the above documents
As the bags were moving horizontally a lot on the carrier plate, so we got some self adhesive velcro strips and put one side on the carrier plate and another on the bag, so as to prevent the horizontal movement of the bag.
We were initially thinking of getting the bike transported to Chandigarh/Amritsar/Jammu via a truck/VRL or Indian railways but after inquiring these options they turned out to be pretty risky or expensive or both so we decided to ride the bike the entire way. The private SBK transporters were asking in the tune of 80k for 2 motorcyles for the 15 day trip where they will wait in Chandigarh for us to return.
We took the Chalo Ladakh package from HV Kumar. He helped us with the routes, accommodation options and a guide all throughout the journey. The Route map was uploaded by him on the Routo Map app along with the details of the facilities along the way. Routo Map app also work on offline basis.
We also got 2 different post paid connections for us, 1 from BSNL (the entire process took 20 minutes to get the sim from the bsnl exchange office and 2 hours for getting it activated), and another from Airtel
Our planned itinerary was as follows.
15th Pune to Chandigarh
16th Pune to Chandigarh
17th Pune to Chandigarh
18th Chandigarh to Manali
19th Manali (Permit for Rohtang) to Keylong
20th Keylong to Leh
21st Leh (stay for acclimitization)
22nd Leh - Lamayuru - Leh
23rd Leh - Turtuk
24th Turtuk Hunder Diskit
25th Diskit -Pangong Tso - Tangtse
26th Tangtse - Sarchu
27th Sarchu - Manali
28th Manali - Chandigarh
29th Chandigarh to Pune
30th Chandigarh to Pune
01st Chandigarh to Pune
We had to skip Tso Kar and Tso Moriri as we neither had the space to carry any more fuel nor the budget to take backup vehicle or taxi.
The total distance was coming to 5800km. (approx.)
We have had quite a number of issues before we even started the trip. The revoking of Article 370 lead us to change our routes because of fear of unrest in the Kashmir valley, After that the implementation of the new MV act amendment with higher fines and stricter norms, due to which we had to update and link each and every document and get the digilocker, then a richter 5 earthquake in Himachal Pradesh, release of Masood Azhar which lead to the increase in tension in Kashmir.
Parents were highly anxious because of the above 2 issues.
Finally we started off from Pune on 15th of September at around 5:30AM.
Last edited: