Joined

Nov 14, 2019
Messages

6
Likes

12
Location
The winter vacation was coming and my car was just back from the mandatory scheduled service. And this was the year end time with the chill setting.
Perfect timing for going for a road trip to the mountains.

We made a quick plan to visit the Kalimpong hill station this winter. The Morgan House was quickly booked from the West Bengal Tourism Department website. We planned to have a halt at Malda (as suggested by the forum, thanks for that :thumbs up).
The plan was to :
1. Day 1 : Travel to Malda from Kolkata
2. Day 2 : Travel to Jalpaiguri from Malda
3. Few days stay at Jalpaiguri
4. Travel to Kalimpong from Jalpaiguri.
I got my car serviced, tires checked and the travel kit ready. This was time to hit the road.
The vlog of the trip is uploaded here:
Kolkata to Malda:
We started early, at 5:30 AM. Plan was to take the Bardhaman - Morgram - Farakka - Malda route. But the Google aunt decided to suggest the Krishnanagar route telling me there is a congestion near Santragachhi. And I decided to follow the suggestion. This was the
biggest mistake
of the trip.
Jam. Jam. Jam. Jam and more Jam....This is what we experienced in the route of Krishnanagar :Frustrati. The road was not that good, plus the jam with the trucks. It took more then 3 hours to cross the first 50 KMs. I decided not to take this route ever for my return and future journeys. I had plans to get breakfast at Morgram and we reached there in the afternoon...that was the extent of delays. The jam was partially caused by fog, police giving challans to trucks and political unrest. It was feeling like walking would be faster, but planned against it since I did not have any prior experience of walking a distance of 300+ KMs. Life became little better once we crossed Behrumpur and went towards Morgram. There again GPS goofed up and landed us nearly on the Morgram railway station platform

. We received another parting gift of Jam 15 KMs before Farakka. But the barrage was OK.
We finally reached the Malda Tourist Lodge after 13.5 hours of tiring drive and went to bed. We practically did not take any bio break or lunch/food break for the whole journey and survived on on-board snacks of chips and chocolates. Thankfully my junior and wife was supportive during the whole drive. On the positive sides, this sort of drive reassures me on my driving stamina and the cohesiveness of my drive team.
We did not take this route while coming back. We ditched the google aunt and took the route as Malda - Farakka - Morgram - Palsanda - Gokarna - Kuli - Bardhaman - Kolkata route. Google had suggested that this route is 25 Kms longer then the route it suggested (straight from Morgram to Bardhaman). But the condition of this route is much better and kept the occupants of the passenger seats happy.
I have driven more then 10K KMs in my total drive tours I guess. But almost all of them were in the southern part of India where I stayed. Never had experienced this sort of traffic on Highways except once outside of Vizag. So, this was kind of new experience for me.
Malda to Jalpaiguri:
Next day we started for the second leg of the trip. Yesterday's memory was still fresh in our mind and site of any Truck gave us jitters. We decided to ban all trucks from Highways once one of us becomes the PM of the country :D.
This was a much better drive then yesterday. The road till Raiganj was good. Life got a balance in the stretch of Raiganj to Botolbari with bad roads and traffic. We took the Botobari route. The road condition was good, but since it ran through villages, we drive slow. There were lot of chickens and mutton in live condition on the road, so was careful not to hit one
. This is 50 odd kilometers of road and should be crossed in the day time. The last part (about few hundred meters) of the route suggested by Google is not there. I mean, the physical road is there. But jo karey apne gadi se pyaar....woh karey is road se inkaar. Very bad condition of the road. Better to take the left turn just ahead of that stretch and the same will take you to the same highway without making your car go oouch.
Islampur is a traffic bottleneck. Otherwise, traffic is smooth. The fulbari stretch gives a good sales pitch with a beautiful start. But soon the reality shows up with bad roads, so many diversions and dusts for the 4 lane work that is going on there.
The Ambari stretch gives a nice ending touch to the trip. All in all, this was a breeze compared to the drive the earlier day.
Jalpaiguri to Kalimpong:
We took a break of someday to spend with my family. Then started driving towards Kalimpong. We did this in a hired car and not in my own car. Again, we ditched Google for this route. I hope Google did not mind as we ditched her on our return journey also

. We took the route via Bodaganj - Millanpally - Gajaldoba - Odlabari to reach sevok and then Kalimpong.
The route was good. The condition of the road was not much different from last year's. The repair and maintenance is still going on. But all in all, the condition is good. We did not face any jam at Sevok (or other parts) and straight went to Kalimpong without any break (except for photos).
This was a pleasant drive. Though it started on a tiresome note, but ended in a good mood.
I have learnt from the drive that sometimes it is needed to follow our own instincts and navigation then blindly following the GPS. There might be unexpected blockers on the route and we can not do anything about that, just need to stick around and prepare plan B,C,D....Z etc. And that I can drive more then 12 hours on bad roads, traffic and unknown roads. And we (me, wify and junior) are an excellent team :).
Few snaps from the trip:
The Kalimpong Gumpha:
The Kunchenjunga: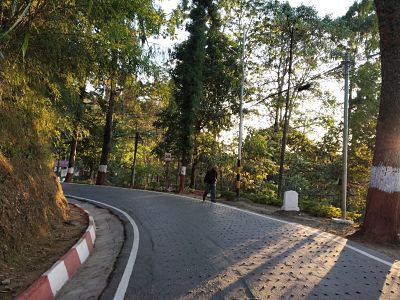 The Teesta River: