66,000 Kms Update
Did a 820km long "B'lore - Chennai - Nemili - Kanchi - B'lore" Trip on 18th and 19th November 2017. Left Home at 3:15 pm, halted thrice for "Coffee, Fuel top up and Dinner" and reached destination at Chennai at 9:00 PM. On Sunday, the 19-Nov-2017, left Chennai at 10:30 AM and reached Nemili in two hours. Then went to Kanchi for Temple visits. Left Kanchi after 6:30 PM and reached my Home at 11:30 PM.
Traffic / Toll Plaza Conditions:
B'lore City traffic was
surprisingly less
for a Saturday evening. Traffic on NH48, from "Hosur to Vellore to - Chennai" was
less than normal
. There are
7 Toll Plazas
from B'lore to Chennai.
In a long long time, I was crossing relatively FREE TollPlazas
; ONLY 10 to 12 vehicles in regular Lanes and 0 to 5 vehicles in
FasTag Lane
. Wow.
I mentioned "
potholes ridden
,
Kanchi to Chennai
" NH in this thread, in Post # 74 (
link here
), in Oct 2016.
Situation remains more or less same
. I was on the look out for these potholes and
also
for
drivers trying to dodge
potholes. There was NO NEED to
drastically change the driving direction
, but, some were cutting across lanes. HOW can I blame those drivers for poor work done by NHAI or concerned authorities ??? I accommodated 6 such guys,
diving into my path
, but
realised the hazard
in doing so; I needed the guy behind me
too to slow down
, for MY safety. So I did the usual "Running Away" part. BTW, the
Yokos did a very good job of taking on these potholes
.
My Question to Regulars on "Kanchi-Chennai" NH:
Some of you COULD be lawyers.
Why can't you challenge NHAI in Court,
for collecting Toll for a "pothole ridden Road" ???
Irritating incidences:
During the onward journey, at Krishnagii, I was in left lane, lined up to take the "Left Turn for Chennai" into the Service Road. As I was about to enter the Gap, one white board Innova dived ahead from my Right and forced me into an emergency braking. While going past me, the left passenger was looking at me, though I felt "What for ? ", I just ignored him.
Inside Ambur limits, I had stopped and was waiting for traffic to move. A TN Govt Bus was to my left and a mini goods vehicle was to my right. As I inched the Car ahead, a Biker entered the Gap between my Car and the Bus, but his Bike's Foot Rest got trapped in my front left wheel Cap. I hardly moved 2 feet, but, the bike was pulled by the wheel rotation, wheel Cap got damaged, Bike hit my Car with a "Thud" sound. I asked him to wait ahead, but he entered a side road and disappeared. Except the damage to the wheel cap, NOT EVEN a SCRATCH on my Verna. Thin Sheet metal would have resulted in some repair work.
While returning, between Krishnagiri-Hosur, I was doing 100 kph and a White Rapid dived ahead of me; similar to the incidence in Post # 46 (link here). Again Emergency braking. It was racing with a Blue Figo. My wife said that "just a Couple, 60 to 65 year old" were inside the Rapid. My new found resolution kicked in and I just ignored the Rapid; didn't do any catching up business. Me remaining a good boy.
Toll Charges:

Used
FasTag
in all Tolls. Toll Charges for "Onward" was
Rs. 395/
- (for
7 Tolls
) and for Return" was
Rs. 305/-
(for
6 Tolls
- didn't use the E-City's Rs 45 Toll). At both "
Sriperumpudur & Chennasamudram Tolls
",
I was automatically given discount for 24 Hour Journey
period.
Both are
Rs 50
, EACH, but on return I was charged ONLY
Rs 30/-
and
Rs 25
respectively.
FE and Economics:
Spent Rs 3,000 on Diesel and the MID shows 5 bars (out of 12 bars) now. I can expect about 15 lit useable Diesel still in Tank (Rs.61.45 / Lit x 15 Lit = Rs 920). So, ~ Rs 2100/- for 820 km was spent on Fuel; approx Rs 2.5 per km running cost.
MID declared FE : 21 kpl in the onward journey and 19.4 kpl in the return journey.
My Home-Office commute is just 3+ km. For distances traveled yesterday and today morning, i.e., just an additional 10 km, the FE has come down to 19.1 kpl today morning. Me laughing.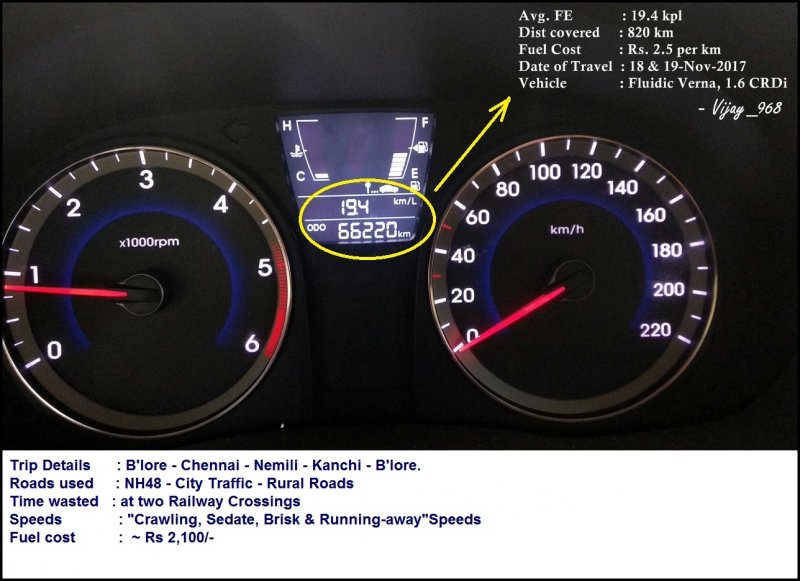 +++++++++++++++++++++++++++ END of Travelogue +++++++++++++++++++++++++++++++
Its highly tinny too.Kerb wt, of petrol one is
1010 kgs only
.In comparison my 2010 ritz vxi was
1030 kgs
.And it was
soo much shorter in length
in comparison to full sedan length ciaz.
In the mad race to give fuel economy maruti is damn concerned about the build quality of their cars. And baleno upped the game further. O god!!
Me giggling
. I found out that Maruti has
mentioned ONLY the Gross Vehicle Weight
for
Ciaz
(1490 kg -
link here
), and the popular
Swift
(1415 kg -
link here
). However,
BOTH
"Kerb weight and GVW" are given
for S-Cross
(1240 kg & 1670 -
link here
) and Baleno (890 kg & 1340 kg -
link here
).
I'm keeping my mouth SHUT on this

@ Mods:
Multi-quote Option
is
NOT available
in "TAI Smartphone Mode". Otherwise I would have replied to
mayankdixit
in the morning. I am not sure if it is a problem in my phone. Pls look into it.