Joined

Oct 2, 2017
Messages

28
Likes

23
Location
Hello guys This is my first topic here.Long write up so kindly bear wth me.
A brief background about me - I am a Mechanical engineer working in the Finance. Cars and bikes, however, remain my first love. My current drive a 2011 Chevrolet Beat Petrol which has barely done 20 k km since I mostly prefer to commute on my Bullet, except the monsoons and long distance duties done by a first gen Dzire my father owns.
The need for a new car - My wife , who works too was keen on switching to a car for commuting. The initial plan was that my wife would learn to drive first and use our barely driven Beat whereas we would upgrade to a SUV of my choice as the primary vehicle. Was always keen on the Mahindras - Scorpio , Thar and even the humble Bolero was on my radar. Couldn't care less about practicality or the rustic image of some of these vehicles. I have always been a heart over mind person. My wife had learnt to drive almost a decade back so we hired the services a trainer to refresh her driving knowledge.She would teach my wife on weekends. This however was frequently interrupted as the schedules did not match. In parallel , I would teach her within our Housing Society premises to speed up her learning. That is when I found out , the driving styles of her teacher and mine vastly differed.These contrasting styles only added to her confusion. Even at the end of 4 months , I did not see her making satisfactory progress nor did she seem confident.
That's when we took a decision to go for an automatic car in exchange on the Beat. It was a difficult decision to make since the car was barely used and we were hoping to make good use of it before we sold it. This would also mean my SUV purchase would get postponed by at least a couple of years.But practicality was the first priority also since Chevrolet had shut down operations, the resale value of the Beat would exponentially drop over the next few years.Made sense to to let it go.
The old faithful. It is a great car for the cities with it's compact dimensions and peppy 1.2 lt engine. Also the build and ride quality is much better than other hot selling cars in it's segment .
So the online research had begun . We decided to go for an entry level car and zeroed in on the Kwid and the Celerio automatic. The Kwid was a great package but the Renault's lackluster service experience of owners in my city and lack of a manual shift option made me drop it.So we headed out to test drive Celerio automatic at Chougule - a dealer in Pune.
The Celerio is nice, spacious and has a pleasant & airy cabin.However, parked next to the Celerio was this.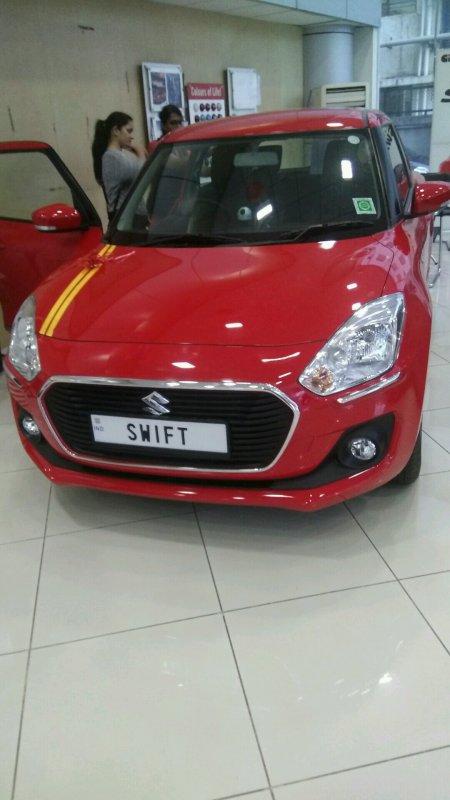 The difference was immediately obvious. The space and luxury were a notch above the Celerio. So then and there ,the decision was made to go for the Swift. Test drove it. Very easy to drive, big glass areas and a very light steering. Took the quotation and returned.On road ZXI automatic came to around 8.2 lacs. Had almost finalized on the Swift when my wife suggested we should also check out the Grand i10. We went to the dealer and checked it out . Neither of us liked it compared to the Swift. Hyundai was offering heavy monsoon discounts and exchange bonus of the car but that still didn't make us choose it over the Swift. Also I had read reviews that the automatic version had a very dismal mileage of around 9-10 kmpl in the city, which is extremely less for a car of this size.
A week or so passed and both the dealers were following up with us. Just as a random thought I mentioned the I20 to my wife. It would cost about 1.5 lakhs extra which was a stretch on our budget .My wife is not a car enthusiast and needed it just as a means to get from A to B. I had barely managed to convince her for the upgrade from Celerio to Swift and now I was pushing her for an even more expensive buy. I managed to convince her for a test drive by mentioning it would be a more worthy upgrade .
The same weekend we took a test drive of the I20. The difference was immediately obvious. The build seemed superior, ride is plush and the best thing I liked that the NVH levels were very less. There was barely any outside noise filtering in and it seemed like travelling in an expensive car.
So after much deliberation, the decision was made to go for the I20 CVT. This also meant the cost would increase by 30 to 40% over our initial budget of 6.5 lacs. Also since it was a hot seller , the dealer was not offering much in discounts and exchange bonus was less by 20k. Decided to keep the Beat for the time being .
The new Ride
Last edited: