In May 2017 I had to attend 2 functions one at Haldwani and other at Delhi, thought to take it as an opportunity to drive and cover few other parts of Uttarakhand at the same time. From Mumbai there are two routes to reach North 1) via Ahmedabad & Jaipur and 2) via Indore & Gwalior.
I have driven 2-3 times in the past on Mumbai - Jaipur route this time thought to try Mumbai – Indore – Gwalior route to connect to north. Read few blogs online but could not get much information on route and road condition. Route from Mumbai till Gwalior was planned, for route beyond Gwalior downloaded and saved few maps, thought to decide on which one to take on last moment. Finally below was the plan:
Day 1 – Mumbai – Gwalior
Day 2 – Gwalior – Haldwani
Day 3 – Haldwani – Nainital - Haldwani
Day 4 – Haldwani - Rishikesh
Day 5 – Rishikesh – Harsil (Gangotri)
Day 6 – Harsil – Gangotri - Uttarkashi
Day 7 – Uttarkashi – Chamba - New Tehri - Haridwar
Day 8 – Haridwar - Delhi
Day 9 – Delhi – Chittorgarh
Day 10 – Chittorgarh - Mumbai
Total distance – 4246.9 KM
Total passenger – 2
Vehicle – Mahindra XUV 5OO
ODO – 25989 (approx)
Total fuel – 300 Litre
Fuel average- 14.16 kmpl (60-70% A/C)
Toll: Rs 2949
Day 1 (29 Apr)
Route: Mumbai – Nashik – Dhule – Sendhwa – Indore – Dewas – Bhopal – Vidisha – Kurwai – Bina – Malthone – Lalitpur – Jhansi - Gwalior
Distance: 1215km
Travel Time: 18hrs (including 1.5hrs break)
On Apr 28th attended office, came back home by 8pm on the way back got tank full from nearest petrol pump, had early dinner and went to bed by 11pm. Got up around 2am and after taking shower left home by 2:30am. Mumbai – Nashik is a 4 lane divided highway, roads were empty crossed Kharegaon toll (after Thane on Nashik highway) around 3:05am, after that road was very good and traffic was sparse crossed Nashik (Dwarka circle) by 4:30am. After Nashik, roads were in good condition but had lots of speed breakers, crossed Dhule by 7am, after my last times experience on this route I knew I would not be getting any good restaurants till Indore so kept driving. After Dhule we entered in MP and road was again in very good condition with only difference, no speed breakers in MP. Due to trucks found some traffic on Khalghat, just 30-40km before Indore 2 wheeler traffic started which slowed down speed, finally reached Indore by 10:30am. I was hungry by then hunt for a good restaurant started but I took a right turn towards Dewas, after that it was an excellent 6 lane highway but no restaurants

, had some packed fruit cakes and chips as breakfast. Reaching Dewas was breeze, from there took a right turn towards Bhopal, road was 3 lane undivided highway for next 20-30km with no scope for overtaking, again connected to a 4 lane divided highway, road was in decent condition but there were many bikers, finally reached Bhopal around 1pm. By then I was very hungry but there were almost no restaurants on highway, searched Google maps it was suggesting to take a detour and go inside city which I was not interested, finally found a small dhaba, checked it, owner was nice person he arranges a separate place for us and switched on cooler too

. Food was good had butter milk in the last and we were ready to roll again. Crossed Vidisha in no time from there took a left towards Bina and finally reached Malthone by 4:45pm. Stopped at a tea stall just on the intersection of NH44, cleaned front glass for preparation of night drive. NH44 is a 4 lane divided highway in very good condition but there was lot of 2 wheeler traffic plus cattle, due to which could not maintain good speed. Crossed Lalitpur by 5:45pm and Jhansi by 6:45pm. After Jhansi till Gwalior road was in very bad shape lots of diversions, people were driving like crazy and most of them were using high beam which was making it more difficult to drive, that was the worst section of drive and very stressful, finally reached Gwalior by 8:30pm, stopped on outskirts searched hotel on makemytrip and booked one. Reached hotel by 9pm and retired for the day by 10:30pm. Till now this is my longest drive in a single day, covered 1215km in 18hrs.
Tropic of Cancer (between Vidisha and Bina)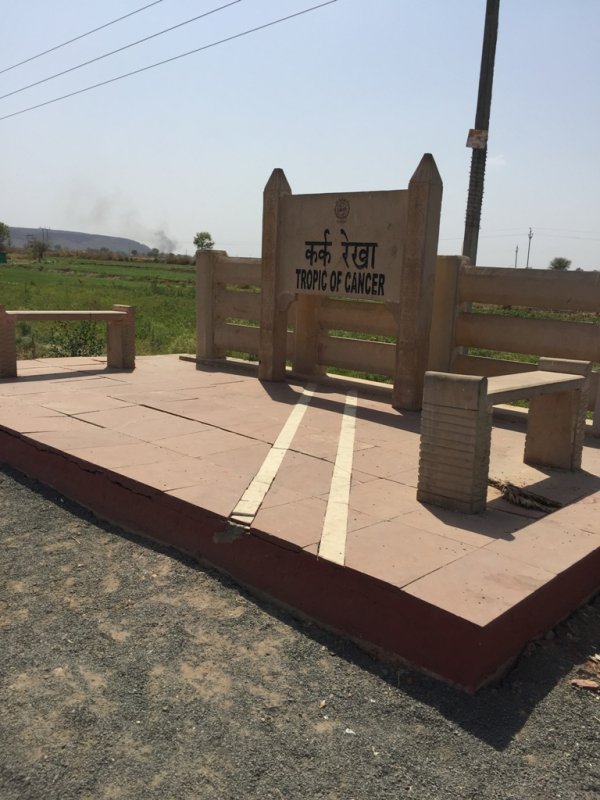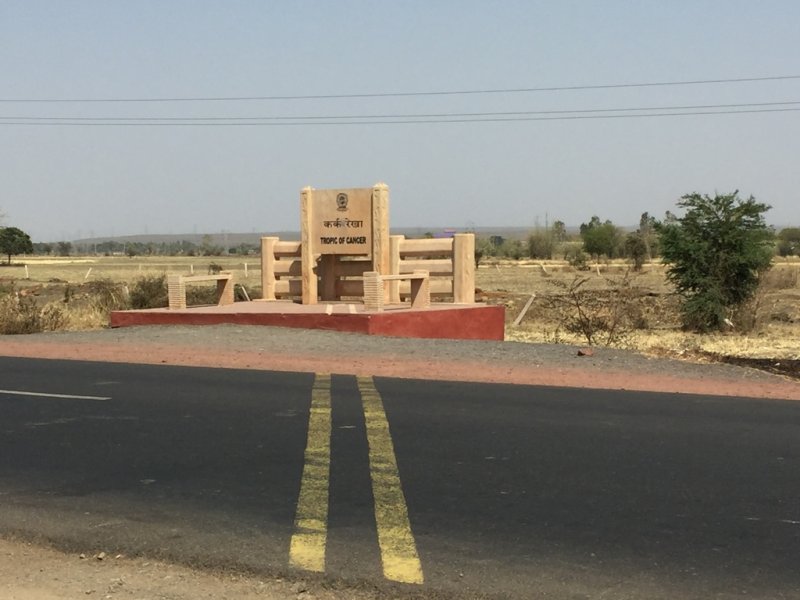 Butter smooth NH44
Last edited: