The 2014 F1 season is going to be exciting as new Turbo V6 engine is introduced in F1 car instead of V8 engines and other changes are lower noses, narrow front wing, central exhaust, ERS package, drive-train changes. It marks a complete turnaround of the powertrain regulations, combined with further measures to limit aerodynamic downforce of the cars in an attempt to improve the overall efficiency of the cars.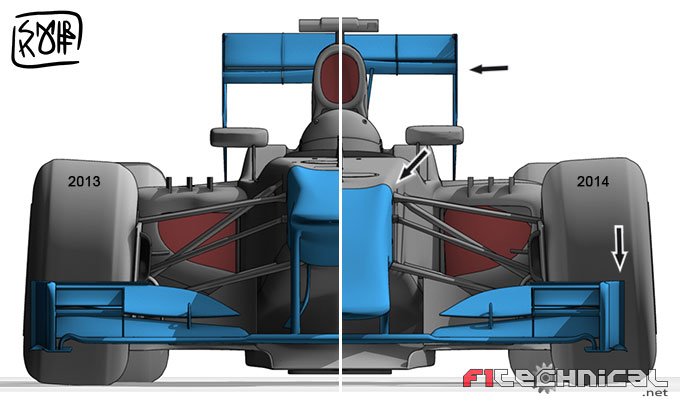 2014 Drivers Line-up
Red Bull
Sebastian Vettel, Daniel Ricciardo
Drivers up and down the grid will have been straight on to their agents when one of the Red Bull seats became available, but ultimately it was Daniel Ricciardo who was chosen to replace Mark Webber as Red Bull opted not to rock a boat which seems set to claim its fourth straight championship double.
Ferrari
Fernando Alonso, Kimi Raikkonen
Felipe Massa's time at Ferrari has come to an end, and in stark contrast to Red Bull the team has opted to buck the trend of having a clear number one driver and instead put two of the biggest names in the sport together to lead its 2014 charge. Only one current F1 driver has won the title for Ferrari, and it's not long-time team leader Fernando Alonso…
Mercedes
Lewis Hamilton, Nico Rosberg
Lewis Hamilton's switch from McLaren to Mercedes has proven to be a masterstroke, and with Nico Rosberg having already picked up two victories this season the team boasts one of the strongest line-ups with two proven race winners. The relationship appears to have remained good between the two despite often being close on track, and after major progress in 2013 the signs are good for Mercedes.
Lotus
Pastor Maldonado, Romain Grosjean
With Kimi Raikkonen's departure, Lotus is set to retain Romain Grosjean - who impressed towards the end of the season - and pair him up with Pastor Maldonado. Nico Hulkenberg had been in the running if the team could secure new investment from Quantum Motorsport, but in the end a deal stuttered and stalled, meaning it had to settle for Maldonado and his PDVSA sponsorship. A year ago the line-up would have been a risky one, but Grosjean has matured in the past 12 months and Maldonado has proven he can win races.
McLaren
Jenson Button, Kevin Magnussen
McLaren young gun Kevin Magnussen will fill Sergio Perez's seat next year after the Mexican got the boot in the lead up to the US Grand Prix. Perez joined just one year ago with high hopes and a 'multi-year deal', showing just how fickle Formula One can be. Jenson Button will remain at the team for another year while Perez's post-McLaren future is far from certain. Magnussen has plenty of pressure on his shoulders but has also shown he has the talent to succeed.
Force India
Nico Hulkenberg, Sergio Perez
Force India will boast another strong line-up in 2014, with Nico Hulkenberg being joined by Sergio Perez in an all-new pairing, Hulkenberg returns after a year at Sauber in 2013, while Perez comes in from McLaren and opens up "new opportunities" for the team in terms of sponsors from Latin America. Sutil has done a solid job on returning to the team this year and seems confident his future is secure, with the strongest link being Sauber.
Toro Rosso
Jean-Eric Vergne, Daniil Kvyat
Although Toro Rosso is known for being quick to discard drivers it doesn't think will make the grade, Jean-Eric Vergne has been given a third season with the team after closely matching Daniel Ricciardo. While Antonio Felix da Costa was the hot favourite to replace Ricciardo, Toro Rosso surprised many by opting for Daniil Kvyat instead. Kvyat - at 19 - will step up from GP3.
Sauber
Adrian Sutil, Esteban Gutierrez
It promises to be a busy close season for Sauber even with Adrian Sutil joining the team in what is effectively a straight swap as Nico Hulkenberg heads back to Force India. Esteban Gutierrez will stay on thanks to extended backing from Telmex, while Russian teenager Sergey Sirotkin is lined up for a test driver seat to help him secure a superlicense in 2014. Sutil's deal should bring some cash, but the bigger money is coming from Telmex and the Russians.
Williams
Felipe Massa, Valtteri Bottas
After a disappointing season for team and driver, Pastor Maldonado has gone searching for a drive elsewhere and Felipe Massa will take his place. Some of Maldonado's PDVSA millions will stay at the team, however, allowing it to keep the highly-rated Valtteri Bottas on board and bring in the experienced Massa. It should provide a stable mix for 2014 but only time will tell if the team can pull out of its nose dive in performance.
Caterham
TBC, TBC
Charles Pic signed a multi-year deal when he joined the team at the end of 2012 but he's hardly set the world alight and could yet find his seat under threat. Giedo van der Garde, however, has brought sponsorship and shown clear progress throughout the season, and with Heikki Kovalainen still close to the team and making appearances in FP1 it looks like being any two from the three currently on Caterham's books. That said, Kamui Kobayashi was rumoured to be at the Caterham factory in December and is believed to have $6 million to spend on F1 next season.
Marussia
Jules Bianchi, TBC
Times are hard for the majority of the teams on the grid so it's no surprise the backmarkers have to value drivers with funds so highly. Max Chilton has been fairly comprehensively beaten by Jules Bianchi so far this season and his seat looks in jeopardy after Bianchi was confirmed at the team in 2014. With Ferrari wanting Bianchi to have a second season with the same team it really could come down to the highest bidder getting the other seat.
2014 Race calender
Australia- march 16
Malaysia- March 30
Bahrian - April 6
China - April 20
Spain - May 11
Monaco - May 25
Canada - June 8
Austrian - June 22
British - July 6
Germany- July 20
Hungarian - July 27
Belgian - August 24
Italy - Sept 7
Singapore - sept 21
Japanese - Oct 5
Russian - Oct 12
United States - Nov2
Brazilian - Nov 9
Abu Dhabi - Nov 23
Last edited by a moderator: