Showcase - Drive Cleanin
Professional detailing services by Gurubaran, who is an enthusiast with immense passion to delivering excellence. Drive Cleanin offers surface treatment for cars (Hatch, Sedan & SUVs) with customized packages depending on treatment needed. At present, Drive Cleanin offers mobile detailing services but has soon planned to open an independent garage.
What I like:
Baran is an absolute delight to talk with. He is an extremely seasoned professional who offers customized services depending on what is required. He is not pushy but patiently listens to the customer's requirement based on which the service will be rendered.
What I don't like:
None as of now!
On taking delivery of my 'Brick Red colored Ertiga, I had to get the surface treatment and paint sealant done as soon as possible. Paint sealant helps to enhance surface durability and also makes cleaning easy. With my requirements set on the table, Baran started detailing following the below procedures meticulously.
Step 1 - Pressure wash followed by Foam wash. The car was then wiped clean using DC Basics Blue Giant Drying Towel.
Step 2 - Claying - This took a bit of time. The ride was just a couple of weeks old but because of the dealer's adamant and mandatory wash & wax session, there was some unknown sticky substance that had formed a harsh layer on paint surface. Claying was necessary to smooth out uneven, rough patches and remove this unknown sticky deposit.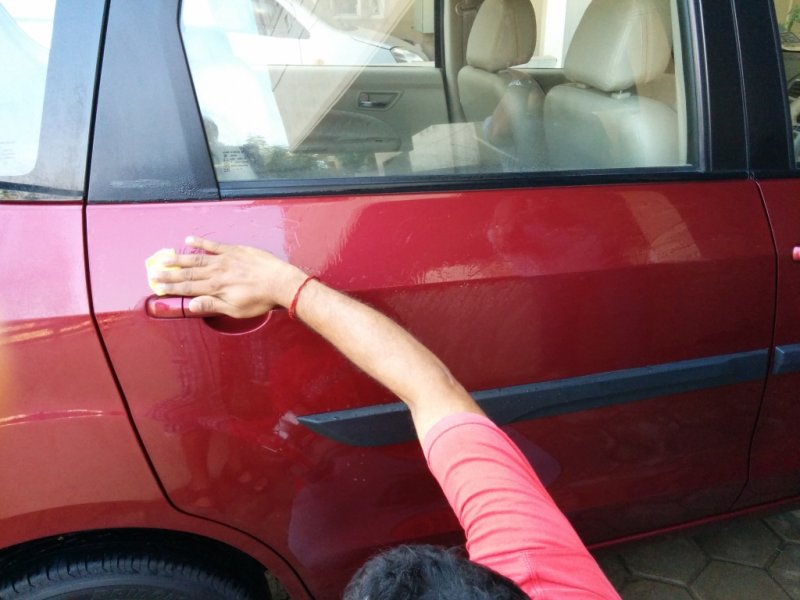 Surface contamination picked up after claying
Step 3 - Spot application of APC to remove water spots and dried polish. Masking emblems and other plastic/vinyl parts.
Step 4 - Interior plastics and 'art leather seat covers' cleaned. Carpets being beige in color had stains all over. As a part of interior cleaning, the stains were removed using Scotch guard Oxy fabric cleaner.
Step 5 - PRC and 'Finishing polish' were applied to enhance the gloss. The application also removed the minor swirls on the paint surface. Flakes popped out and looked absolutely fantastic.
Fantastic Flakes
Step 6 - Interior plastics, door gaskets and exterior plastics were protected using PERL
Step 7 - Exterior black plastics and tires were treated using Megs 'Back to Black'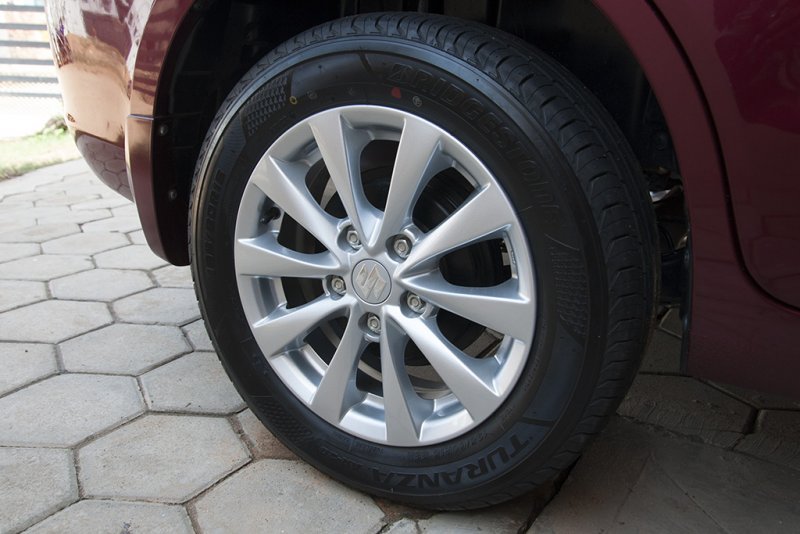 Step 8 - 2 coats of Gtechnique C2V3 sealant were applied over paint surface which was essential to protect the surface against harsh weather
Step 9 - Finally the 'Engine bay' was de-greased and dressed using Megs APC and hyperdressing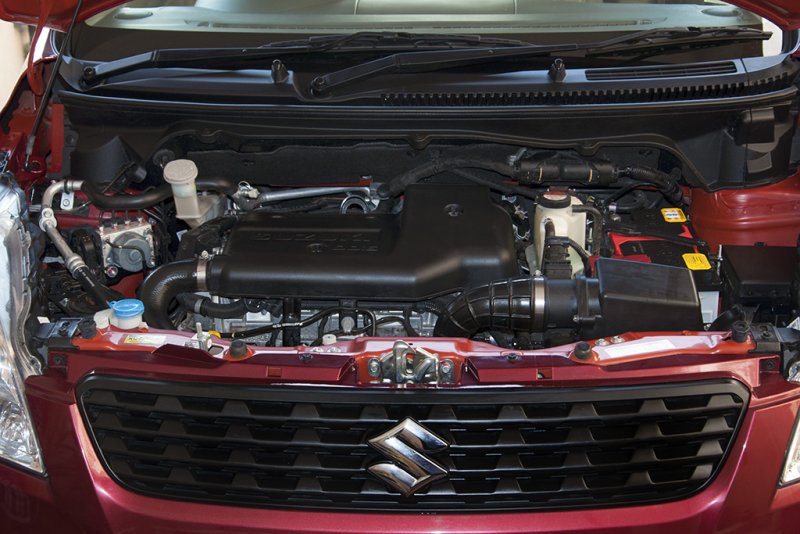 Finally a few pics on the finished product. I was grinning ear to ear all the way!! Just could not hide my excitement.
Look at the reflection! clean and clear.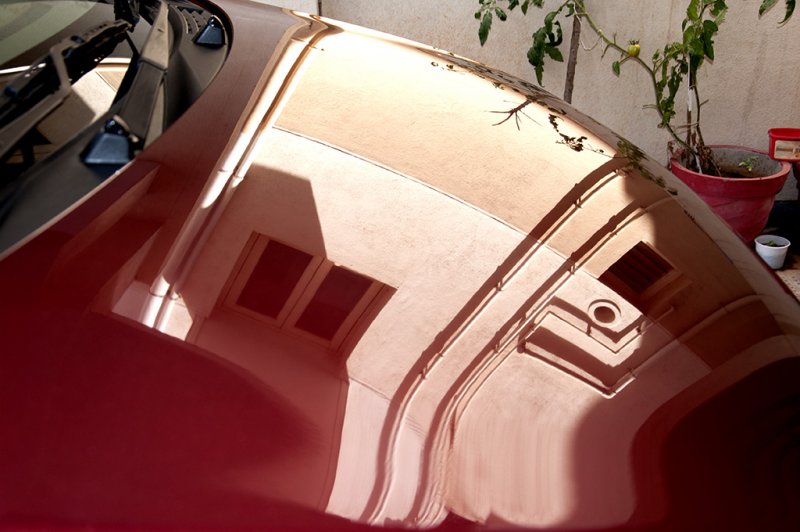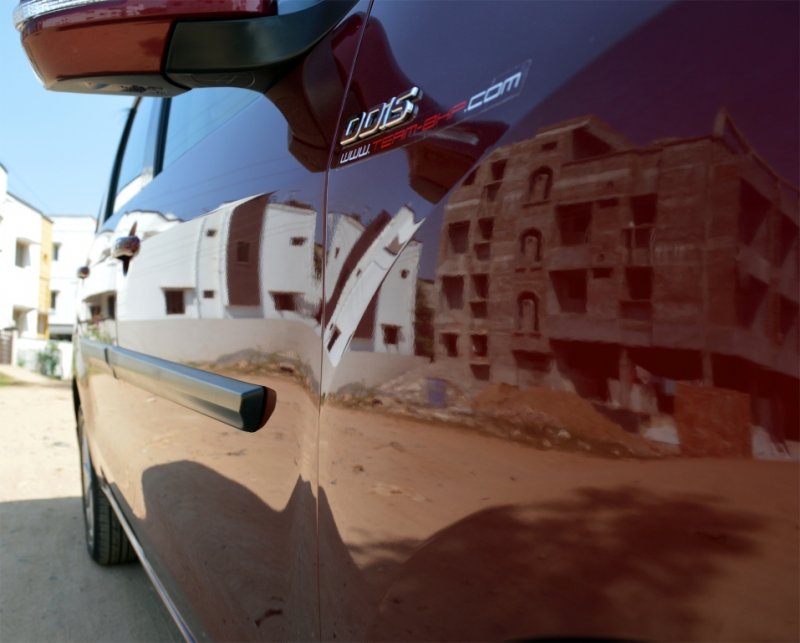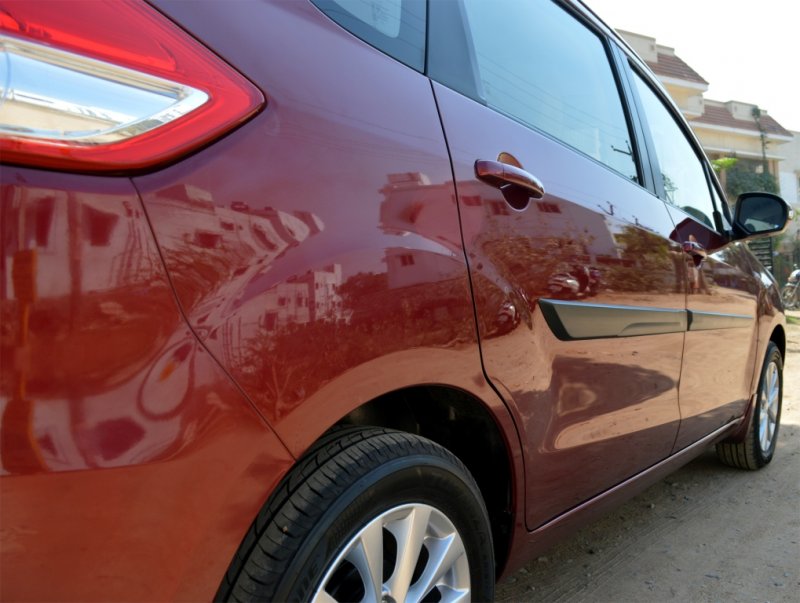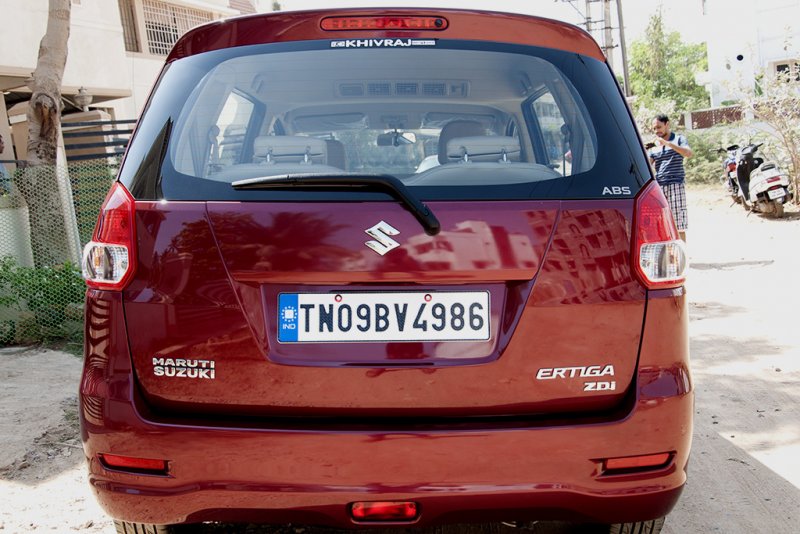 Finishing shots with the car.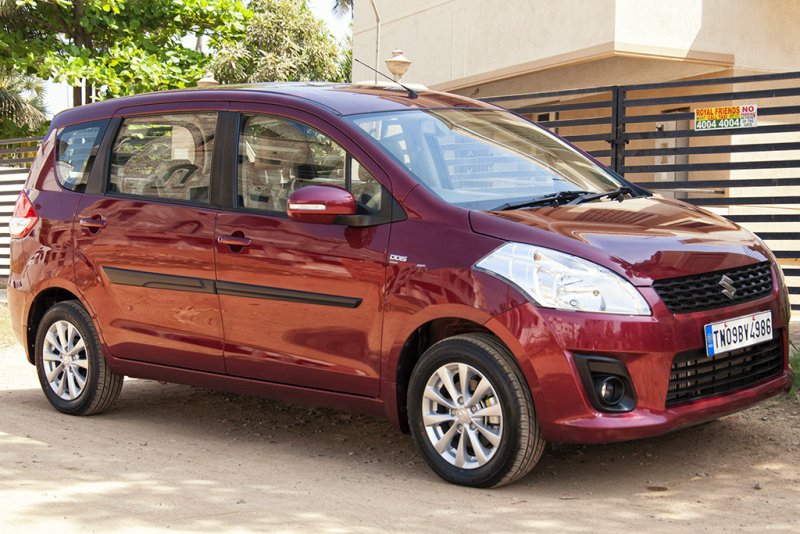 I am extremely satisfied with the service offered. The entire process took 6 hours with 30 minutes curing time between 'Gtechnique C2V3' sealant coats. The surface has becomes extremely glossy and the metalic flakes popped out like crazy. The car looked a zillion times better than how it was while taking delivery.
Recommendation for maintenance - Avoid washing for a week. Wash a couple of weeks later if necessary. Baran would do an inspection a month later to see how well the sealant has blended.
For in-house detailing, the customer should provide power/electric plug point and water pipe for RP and pressure washer.
Contact Information
Drive Cleanin -
https://www.facebook.com/driveclean.in
SPOC - Gurubaran
Pricing - Kindly talk to Drive Cleanin for initial inspection and price quotation
Mobile - 91-99529 64730