Requirement: To have a touchscreen android unit in car
Options considered:

1. Android HU. I didnt want to spend too much money since i am not a music buff and needed the display mainly for viewing data from OBD.
2. Tablet mount available online: Most of these were suction mounts on glass/dashboard which affect the visibility.
3. I was OK with slight loss of aesthetics as long as it did'nt look downright ugly.
4. Already had a spare Nexus 7 lying around so decided to use that.
Items needed:
1. Some wooden/plastic blocks
2. Sandpaper for wood
3. Velcro
4. 3M double sided Tape
5. 30 minutes
Getting Hands dirty? Not really!

Went around neighborhood and bought item 1,2,3 from different shops. Since the quantity needed was tiny, none of them asked for money. Had I bought from from one shop, I might had to pay something
1. Get the wooden blocks sanded properly. Make sure that the height is more than the central ON/OFF+Volume knob. As of now I have just stuck two blocks with 3M tape (one onto another) but will replace them with a single block once I find time. Also the length of the block should be such that it has enough contact area on HU for holding weight of Tablet.
2. Cut required length of Velcro and stick it on wooden blocks as well as either ends of tablet. I have kept soft strip on tablet and hard on wooden block. Measure the distance between two blocks and match it with Velcro on tablet.
These pics were taken before the blocks were sanded. Now they are silky smooth!
Ideally I wanted the blocks to be slightly nearer but this is the only flat place I could find.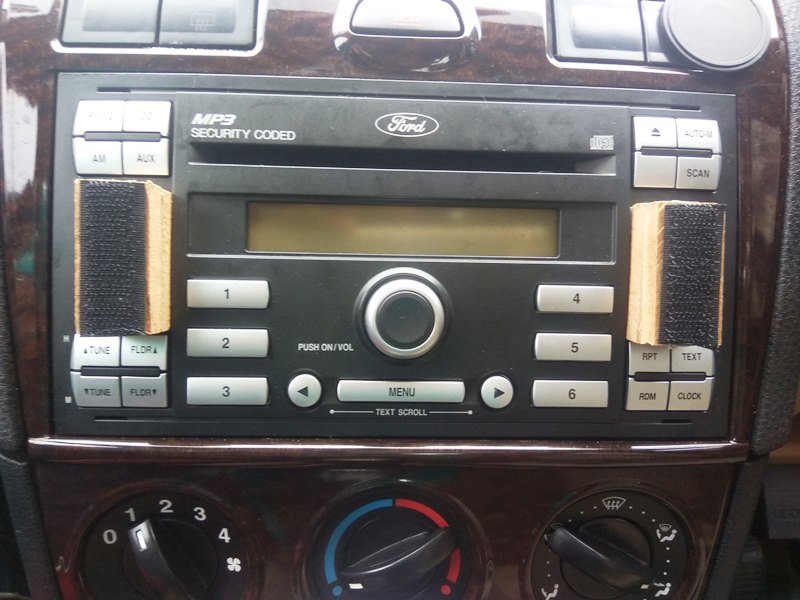 3. Thats it, job done! clap:
So now I get all readings from Torque pro without using my mobile. I also have a TANTRA bluetooth receiver connected to N7 and I can watch movies or listen songs while the sound gets routed to car audio. I cannot use it to make calls since my N7 does not have simslot. Doing a workaround to fix this.
The tablet does not vibrate/shake even on bad roads. One of the reasons for using Velcro and two blocks of wood with 3M tape. All have good dampening. One issue I am facing right now is to access volume knob when tablet is mounted. I am mitigating that by using volume options on tablet.
So thats it guys. I know many have done it much better but this is sufficient for me. Total cost?
About 4 inches of 3M tape!!