Joined

May 1, 2011
Messages

3,593
Likes

752
Location
Hi Friends,
I am here with a horrific story of the
car wash at your door step
.
There was a pomp-let/add which came with the news paper stating that your car would be cleaned at your door step. We come fully equipped.
Usually I just wipe the car with a damp cloth as in our apartment we have issues with water facility.
Though there is a wash center next to my building just 50 mtrs, I taught to get it washed from these guys as they had mentioned that they would even polish the car.
I had seen this type of service which our member Amit had got it done for his Scorpio. I taught this would be similar.
Link :
http://www.theautomotiveindia.com/f...mahindras-new-door-step-service-facility.html
Finally called him on Saturday, he told me has many bookings. Told him to come on Sunday. I had asked whether he would bring every thing necessary for washing, he told yes.
Finally I was not at home, he came home my mother handed over the car keys and told them to start the washing.
Now starts the shocking thing ! They had come in Activa with a vaccum cleaner and a pressure washer. Later after 15 min I reached home,
shocking thing is they were using my apartment's electricity & water.
So whats the point that -
we come fully equipped
.
The pressure washer was so good that it could not even take out mud from the car's mud flaps !
At last I had to pay 400rs, yes 400 rs !
Scolded them and told them never to come back.
After this, all my neighbors complained that I had wasted water and also made the parking lot dirty. This was a free gift / complement to me.

Sunday's lesson.
So friends, my suggestion never get these kind of services.
Just a alert from myside..
Here are some pic's.
Pomp-lets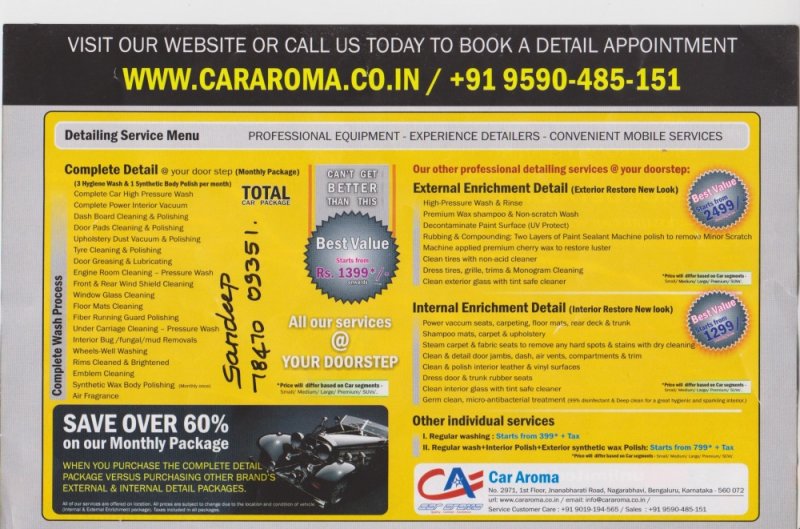 Last edited: