Introduction:
This is my pleasant experience of buying my LUV, yes that's my Maruti Suzuki Ertiga ZXI. Ertiga which means ER-Rows, Tiga –Three i.e swift with three Rows.( Found on Internet).I am too lazy that's why I am posting my Ownership Report After 7 months, so I apologize for this and for any grammatical or spelling mistakes.
History:
•
Fiat padmini Petrol(1991-2001):
It was a bought when I was just born, secret of buying was, a gift to my dad by my grandfather and also a big car for a family. Yes I was too small to understand, but I always loved that car, my dad used to take me on beaches, restaurant ,movies on weekends. My dad have drove that car 20/22 times on NH-17(Mumbai –Goa) highways, not even once it gave trouble.
It was renovated around 1999,changed color from gray to white, and pioneer stereo was added. My dad still appreciate that car, I cried like anything when it was sold.Had some 50000kms on it.
I knew all the functions of the car, and when my dad was outstation for few days or months I used to give ignition for few minutes.
•
Maruti Suzuki Omni(2002-Still going strong):
It was a 1994 model, well worshipped single handed model of my Grandfathers friend. My dad got another vehicle from his office for his official travel, even when we owned padmini, so personal car was never used unless a long drive. As family increased means my uncle and aunt, we needed a larger car to serve the need, so that's how our white Omni came home on April 20th 2002.It had done some 50000kms at the time of buying, and after that we have travelled around 75000kms,still going strong. It was Renovated and still with us, this was my first car in which I learned driving, I personally drove around 25000kms.This car thought me everything, from mechanical to electrical. Never gave any big issues, was low on maintenance.
Why New car?
• Our Omni was serving purpose well, but the need for much stronger car started hovering around our mind. Everybody thought that omni has served the purpose well and it's the time to give our work horse some rest.
• Also we needed a car which provided premium facilities such as power steering, good braking, comfort and AC.
• We would be keeping that car for atleast 6-7 years.
• It would be petrol since our monthly running is around 700-800kms.
• Need an occasional 7/8 seater ,rather it is used by 4 mid weight people for 75% of its running.
• Budget around 8/9 lakhs for new and 7.5 for old.
The Search:
The search initially started around 2 years back where my dad was zeroed to buying an Maruti Eeco, but held back due to financial commitments, but later around September 2012 our search began again, and it was serious. heheh
We visited Maruti Showroom Krishna motors at mulund November 2012, asked them about vehicles took down quotes for quotes for Eeco and Ertiga. Asked them TD, "Sorry sir they are not available".Me,my mom and sister opted for Ertiga, but dad was sticking to Eeco. Waiting time told was 2 months, means will get by January, unsure about getting 2013 vehicle so again delayed the plan as we wanted fresh piece manufactured in 2013.
Options considered:
•
Maruti Eeco:
Car was better than omni, but I hated boxy design, shape and also comfort levels. We needed 7 seater with AC, which is not available company fitted. So Ac would cost around 20 k(company fitted),2nd row ac again 20 k.
Music player would cost around 10 k, power windows around 8 k, other accessories, So would be investing around 80 k for accessories, that was too bad. So this thought made us go against this decision. Dad always wanted this car ,but turned down by all member of family.
+ve:
• low cost on road
• 1.2litre engine,with AC
• Comfortable than omni
-ve:
• Boxy shaped,did not like design.
• body roll
• No 2nd row AC
• Engine below drivers seat.
• No safety standards.
• no power windows and power steering
• no ABS
•
Toyota Innova: (pre-worshipped)
Thought of buying a pre-worshiped model, which would be costing around 7.5 lakh max, found many of them, Checked them.
+ve:
• It's a Toyota engine trusted
• Good built quality
• Reliability
-ve:
• Wear and tears, high maintenance cost.
• dull old fashioned interiors
• low average in city 11kmpl and highway 14 kmpl, convince me.
Turned down later since we would invest in new, rather than old.
• Chevrolet Enjoy:
It was just launching on april 2013, Its boxy design did not convince me first, powered by 1.4 lt engine was a good factor though.
+ve:
• Captain seats
• roomy interiors
• Cheaper than Ertiga by 60 k almost
• roof rails!!!
-ve:
• Boxy design
• FE was something I was unsure at that time.
• ASS
• Interiors were dull.
Did not want to experiment by buying a newly launch model.
•
Maruti Suzuki Ertiga:
Extremely VFM product by Maruti, 1.4 liter VVT engine was boon for it, was closely following post of Saby and Mahi, which largely affected on buying decision for ertiga. Family was too convinced with Ertiga after initial impression.
+ve:
• Modern, Stylish and Descent interiors and exteriors
• Maruti Support and its engine.
• Spacious for 4/5 people.
-ve:
• No ACC.
• Low luggage space.
• no roof rails.
• Niggles and squeaks.
Here comes the Ertiga!!!
Final decision:
So finally My family and uncle supported decision to buy Maruti Ertiga than a pre worshipped Innova. Therefore we browsed across variants and decided to buy Petrol VXI-Abs model. Color decided was Granite gray or Silky Silver. It took another week to finalize before we proceed. It was March End that time.
Dealership:
•
HARE KRISHNA motors Mulund:
We went to them on last week of March at 6 pm with my family of 4, representative was immediately assigned to us, we showed interest in ertiga, he immediately explained me features of it,budget and finance option. Asked him for TD, here comes again "sorry sir TD is not available", so immediately we told "No TD No Booking", some how he told me he has a customers car,we cannot drive but we can see interior and feel it, just that, and start the engine and we to agreed. It was a Diesel model, I really feel bad about the owner, that's why I did not started it.
Went inside talked about budget and payments, they told me option available,here goes short conversation between us about waiting period.
Me:Vxi variant
Representative:1 months sir.
Me: need it with abs,i.e. VXI ABS.
Representative: Who needs ABS in city,do you drive on ghat roads?(infamous dialogues)
ME: Yeah to often,whatever I need it, that's it.
RR: You would require at least 2 months then. Which color?
ME:G Grey
RR: Then it would be 3 months at least.
Dad and me looked at each other face and had a laugh, came to know they wanna bluff us, so asked him on discount, reply was plain "No discount Sir, it is best selling car". We were off the showroom did not like the attitude of staff there, also they were offering no discount on the car. So took our quotation and we were off the showroom.
•
Spectra Motors Chembur:
Asked for quotes, they were handed over to my uncle immediately who works nearby which was then sent to us by uncle.Me ,my dad and went to showroom on first week of april, Representative allotted immediately, they were very soft spoken to us, heard to our needs carefully, asked for TD reply was car would be here in 15 mins, offered us to drop us home in that car, till explain me further. Explained features and then asked me, models and color, he told me VXI abs would take a month to arrive, we have VXI G grey in transit, will allot you immediately, I asked for discount, gave 20k discount immediately, even if I change the color or variant. They took us for TD in a zdi, went for 2/3 kms, experience was pleasant,dadsat inside the last row and was happy with the comfort, everyone was satisfied and uncle asked dad to go forward with booking.
Bookings:
Same day we booked Ertiga VXi(without abs),by paying a sum of 1.75lakhs as booking amount, Total was something 8.12lakhs on road(including discount)
Signed of loan papers Of SBI bank for 3 lakhs, rest would be paid by cash.
Dilemmas Vxi or Vxi(abs) or zxi(steel wheels)
After booking happily went home, told mom about booking, she was happy asked me if it is with abs,I told no, So we both got trashing (me and dad),hehehe, so we decided that we would wait for Vxi abs and we were not in hurry those time.
Next day Me ,along with Mom went to showroom, told them we need VXI ABS model, they replied it has waiting, and as decided we told them we are ok with it.
Just then he went to change the invoice, when my mom asked by seeing in catelogue, will we get airbag, I told no, why she asked, me replied cause its not top variant. Asked me again why didn't you opt for top, what is the feature and price difference?.I explained here everything, told her price difference would be around 50 k.
She asked me to call dad, since he was at office, and told be to stop that representative. While I was coming back with representative ,she smiled at me and told me to that will go for zxi,what do you thing?
I was stunned, told her that's "cool ",then the representative told us that car would be in transit after 2 weeks.
So car was finalized
Maruti Suzuki Ertiga ZXi (Steel wheels)
for Rs.858000/- with discounts, and with accessories was something Rs.880000/-.
Car was invoiced around April 10th and sent to Mumbai, got sms about it car was in Mumbai around 15th April.
Till here my sister knew nothing, she was surprised when she came to know about it, that to after 15 days, kept mum intentionally due exams, but surprise was later spoilt.
Problemssss:
Here start the bad events my grandmother got serious and was hospitalized took 10 days to recover , then there was sudden death in family, being my neighbor it would not look good and after that my final exams along with rest of family went to native for 12 days for important function.
In this all we wasted around 1 and half months, now when we got free it was 23rd may, and our poor car was in transit all that time,started the procedure again, re-initiating everything.
PDI:
Went to Vasai workshop with dad and uncle where cars are kept in inventory, carried TAI PDI checklist and camera, checked everything top to bottom. Checked VIN no for date of manufacture, started it, clicked snaps of odometer.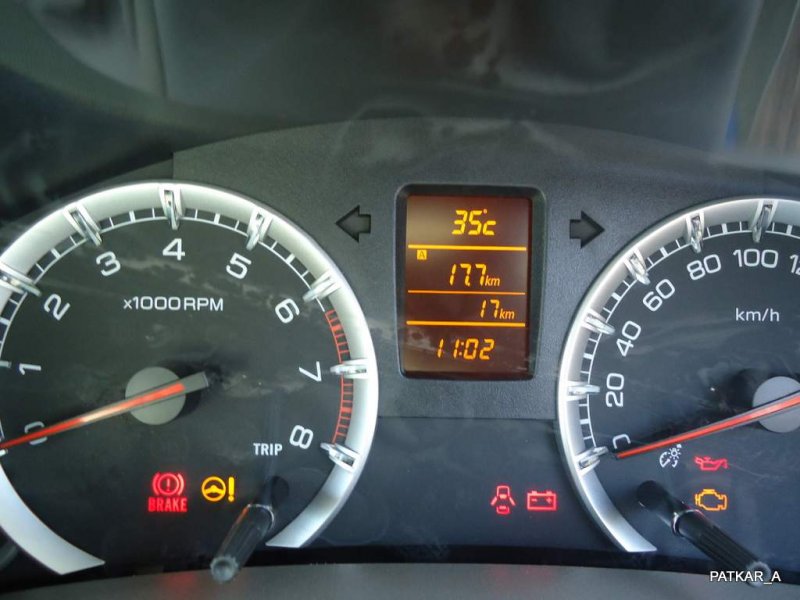 Then next day went to Chembur showroom paid the balance amount, got the check disbursed by bank for further processing.
Last but not the least aroused Another problem, RTO went on strike in which I lost another 3 days, got no that I wanted without paying any money.
Accessorized:From mass
Went with Rs.21k Premium package in which I got:
• Designer Floor mats
• RPA with camera(important cause was not comfortable with rear small glasses, also there are many small childrens playing around my building)
• Seat cover art leather
• Roof end spoiler
• Body side moulding
• Steering cover
• Door sill guard
• AC filter
Outside that package I bought
• Door Visor
And also got other freebies such as:
• Ganesh idol.
• Perfume.
• Sweet box.
Last edited: